Monitor Your Free Credit Score Monthly Without a Credit Card
We believe that consumers have the right to know their creditworthiness every single month. Credit Sesame gives you a free credit score (no credit card required) from Experian and a complete overview of your credit profile and debt situation. Our patent-pending analytics tools analyzes your credit and debt situation daily and shows you how you can save on your loans, credit card debts and home mortgages. Knowing your credit score means you'll know where you stand financially and how you can save money! Sign Up Now!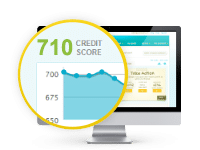 Free Identity Theft Insurance & Fraud Restoration Assistance
At Credit Sesame, we not only help you monitor and manage your credit, we help you protect it too! When you sign up for Credit Sesame's free credit monitoring, we automatically give you $50,000 identity theft insurance, plus live access to certified identity restoration specialists — free. In the event you are ever a victim of identity theft, we've got you covered.