A home is more than a status symbol. It's an investment that increases in value over time, especially when well maintained. This includes making necessary repairs — replacing the roof, updating the plumbing or fixing damage — as well as upgrades, such as renovating the kitchen or installing a swimming pool. If you don't have money sitting in the bank to cover the cost of these projects, then consider funding them with a home improvement loan.
How to Get a Home Improvement Loan
Lenders offer secured and unsecured options for home improvement loans. When vetting you for a loan, the lender looks at your credit score, whether or not you have sufficient equity in the property, and the type of home improvement project you plan to complete with the borrowed funds. Common home improvement projects that increase property value and look good to lenders include:
Kitchen or bathroom remodel or upgrade
Swimming pool or deck installation
Plumbing or air duct replacement
Slab or foundation repair
Well or septic replacement or repair
Room additions
Window or siding replacement
Insulation installation or replacement
Basement, attic or garage finishing
Credit Sesame's Top Home Improvement Loan Picks
There are two main types of home improvement loans: personal loans that let you use the money as you wish and project-specific loans that require you to use the money only for the intended renovation or repair. By researching the loan type, terms and qualification requirements, you save time by applying for only those suited to your home improvement project and credit history. We've reviewed the offerings of several major lenders, including important details such as home improvement loan rates, the application process and access to funds, and we put together our list of top picks.
Lightstream
A division of SunTrust bank, Lightstream is one of the nation's premier online lenders with rates as low as 4.29% for customers who use the autopay feature. If you have good to excellent credit, then you can get a home improvement loan ranging from $5,000 to $100,000 without using your home's equity to secure the loan. Loans have a fixed rate with simple interest installments, and you don't incur fees or penalties if you pay off the loan early. You even receive your money the same day you apply as long as you're approved before 2:30 p.m. on a business day.
Avant
Like Lightstream, Avant offers loans for home improvement projects. The plans have consistent monthly payments and fixed interest rates between 9.95% and 35.99% APR. You receive your money as soon as the next business day after approval. You can use the funds in any way you choose to improve your home, including purchasing furniture or updating the surrounding landscape.
Prosper
Prosper is a peer-to-peer social loan platform that offers unsecured loans to members. When you receive a loan through Prosper, other members around the U.S. provide the money to fund it. Although borrowers with excellent credit histories receive the lowest rates, you can still qualify for a loan through Prosper even if you have less than perfect credit. If that's your situation, then you may need to receive an endorsement from another Prosper member.
Wells Fargo
One of the nation's "big four" banks, Wells Fargo offers personal loans and lines of credit for borrowers to use for home improvements with a minimum of $3,000 and a limit up to $100,000 for personal lines of credit. There are no cash advance charges or balance transfer fees, and you receive the money within 24 hours of loan approval. With a personal loan from Wells Fargo, you have the freedom to use the money as you choose without informing the bank.
Our Top Picks for Home Equity Loans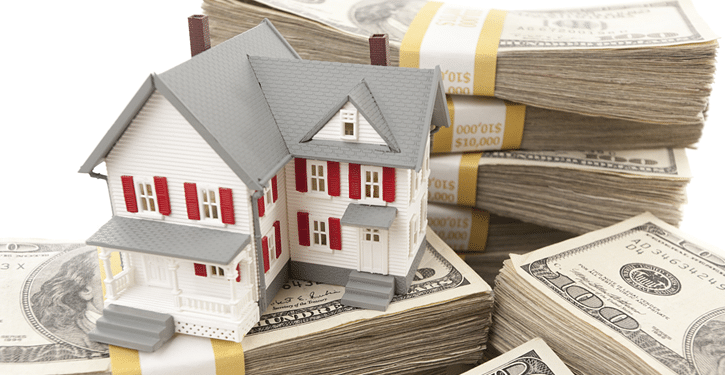 For some projects, a home equity loan is a better option, especially if you have less than perfect credit but enough equity in your property to reduce the bank's risk. The bank knows that if you default on the loan, it can sell the home for enough money to cover the outstanding debt, even if you already have a mortgage on the property. Our top home equity lenders offer a convenient application process and provide easy access to the funds so you have the money when you need it.
LendingTree
LendingTree is not a bank and does not directly loan money. Instead, it connects borrowers with lenders via its one-stop shopping experience. When you work with LendingTree, you complete a single application that includes questions about your income, assets, debts and property values. LendingTree shares this information with prospective lenders and sends you a list of those willing to give you a loan. You review the lenders and choose the one that meets your needs. One advantage to this process is that LendingTree selects the lenders that are most likely to work with you, and you don't waste time filling out applications to institutions that are unwilling to provide financing.
U.S. Bank
Based in Minneapolis, U.S. Bank is the fifth largest bank in the country. It offers home equity loans with optional origination fees and discounts for borrowers who choose to use its auto payment system. You receive your money as a lump sum on the fourth business day after signing the loan documents. You have up to 30 years to pay back the loan and enjoy peace of mind knowing that the payments stay the same throughout the life of the loan. To apply for a loan through U.S. Bank, complete an application online or over the phone, and be prepared to give proof of property insurance.
Bank of America
With more than 5,000 banking centers throughout the U.S., Bank of America is the second largest national bank. This presence combined with its online and mobile banking applications makes it easy for borrowers to apply for home equity loans and access funds. The bank does not charge an application or annual fee for home equity loans, and there are no closing costs. If you belong to Bank of America's Preferred Rewards program, then you can get an interest rate discount that ranges from 0.125% to 0.375% on new home equity lines of credit. The bank determines the discount when you apply for the loan. It also gives customers a choice between a variable interest rate or a higher fixed rate.
CitiBank
CitiBank gives you access to your home equity line via check, ATM and transfers to their linked accounts. Borrowers who have excellent credit, meet balance and loan-to-value requirements, use auto deduct and take an initial draw of at least $25,000 receive variable interest rates as low as 0.59%. To apply for a loan, complete an application online, over the phone or in person at a banking center. There are no application fees, points or closing costs associated with lines of credit, so it's an affordable option for those who qualify.
How to Finance Your First Home Improvement Project
Whether you need to make a major repair or you're ready to remodel, the thought of paying for your home improvement project can be overwhelming. If you have enough equity in the home and plan a project that increases the property's value, then financing is a viable solution. Three popular financing options for first-timers include home equity loans, home equity lines of credit and Title 1 loans through the government.
Home Equity Loans
A home equity loan is a second mortgage secured by your home's value. If you default on the loan, then your lender is second in line for a payoff after your primary mortgage holder. As with a personal loan, you receive the money as a lump sum that you can then use for the home improvement project. These loans have fixed interest rates for the life of the loan and are fully amortized, which means you pay a portion of the principal and interest with each payment. To estimate how much equity you have available, use a home improvement loan calculator to determine the difference between the home's value and what you owe.
Home Equity Lines of Credit (HELOCs)
Like a home equity loan, a home equity line of credit lets you borrow against the equity in your home. HELOCs differ in the way you access your money and pay it back. Instead of receiving the money as a lump sum, the bank tells you the full amount you may borrow. You then have a draw period during which you take the money you need when you need. At the end of the draw period, the loan transitions to the repayment period when you start repaying the amount you borrowed. These lines of credit have fewer upfront costs than traditional loans, but some lenders have origination and annual fees.
Title I Government Loans
The FHA backs loans to homeowners who want to make alterations, repairs or structural improvements to their homes as long as they've occupied the property for at least 90 days. It allows for maximum loans of $25,000 for single-family or manufactured homes on permanent foundations or $7,500 for mobile homes. It secures the loan with a mortgage or deed of trust for loans over $7,500. You can use the loan in conjunction with a 203(k) Rehabilitation Mortgage. Loan terms range from 12 to 20 years and have no prepayment penalty. To apply for a Title 1 loan, visit a bank or lender approved by the FHA and follow its application process.
Getting a Home Improvement Loan with Bad Credit Possible?
Although lenders reserve the most attractive rates and terms for borrowers with good to excellent credit, it's still possible to get a home improvement loan when you have bad credit. The bank wants to make sure you can pay back the loan, so reducing risk is the key to loan approval. One logical option is a 203(b) Title 1 loan through the FHA. If you don't qualify, then consider working with a private lender, asking a friend or family member to cosign your loan. In the meantime, take steps to do what you can for your credit score:
Check your credit report to make sure the accounts listed are yours and show the accurate limits.
Correct mistakes you discover on your credit report.
Pay your bills on time or early each month.
Pay off any debt listed in collections.
Reduce your debt-to-income ratio by paying down outstanding debt.
Avoid maxing out your credit cards.
Avoid opening new credit accounts.
Keep your current cards open to increase your total available credit.
Consider a consolidation loan to pay off credit cards.
What If You Have No Credit?
If you have no credit score because you've never opened a credit card or financed a vehicle and haven't lived in your home long enough for it to show up on your credit report, then you may have some trouble getting a home improvement loan. In the lender's eyes, you don't have enough credit history to prove that you'll pay back what you borrow. Start by talking to the bank that holds your mortgage since it already approved you for a loan. If that doesn't work, then you may need to apply for a FHA-secured loan after living in the property long enough. Alternatively, find a co-signer. You can also do the following to build a credit score:
Open a credit card account or store card, and use it occasionally, paying it off in full each month.
Apply for a small personal or auto loan through a community bank or credit union and make payments on time.
Continue paying your existing bills — think mortgage, utilities and phone — on time each month.
Although your lack of credit history may mean that you must delay a home improvement loan until you reason with lenders or establish credit, you can use the time to better plan the repair or renovation you want for your home.