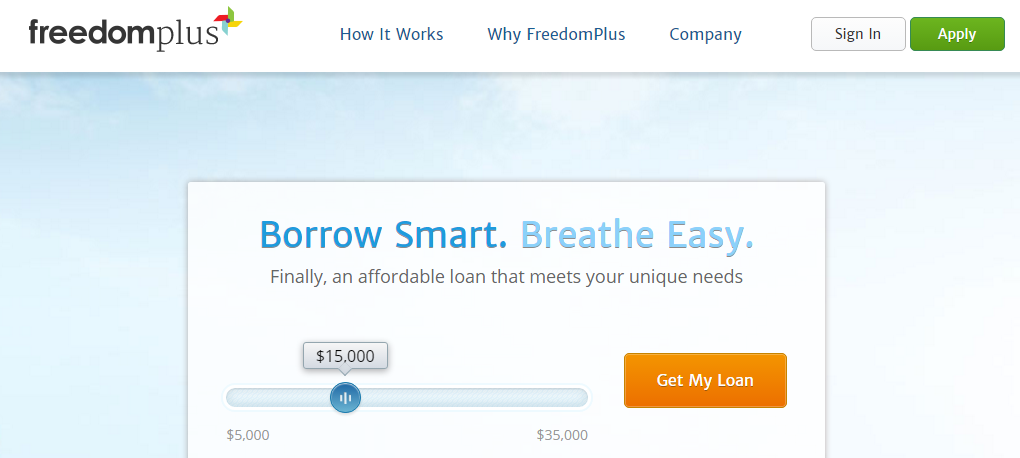 Finding the right personal loan can be a daunting task considering the number of available options. FreedomPlus is an online lender that offers unsecured personal loans with a range of annual percentage rates (APRs) to qualified applicants. Borrowers can use the funds for whatever they choose, including debt consolidation, major purchases, moving expenses and family vacations.
Freedom Plus has been accredited with the Better Business Bureau since September 5, 2014, and it has earned an A+ rating, which indicates that the company has committed to resolving consumer complaints and providing optimal customer service. Read on to learn more about this lender's personal loans before you compare the company to other options to find the loan that's right for you.
Loan Details
With a FreedomPlus personal loan, you can complete the application forms online and talk to a loan consultant, who can help you qualify even if your credit is less than perfect. Use the funds from a FreedomPlus personal loan for anything from debt consolidation to travel or home improvements. Loan amounts range from $5,000 to $35,000, with terms that vary depending on your creditworthiness. Select states have unique requirements that limit the amount of money you can borrow. For example, loans in Connecticut must exceed $15,500, Arizona loans must exceed $10, 500, Massachusetts loans must exceed $6,500 and Ohio loans must exceed $5,500.
As of July 2016, FreedomPlus lists the following loan information on the company website:
Rates: 6.99%–26.99%
Fixed APR: 7.93%–29.99%
Terms: 2 –5 years
Origination fee: 1.38%–5%
Prepayment fee: None
The better your credit, the lower the interest rate you qualify for with FreedomPlus. Origination fees are based on the size of the loan, and they vary according to the interest rate and term of the loan. These fees come off the top and reduce the total amount directly deposited into your bank account.
Requirements
FreedomPlus doesn't specify a minimum credit score needed for approval. Although the FreedomPlus website doesn't indicate any minimum, most applicants need a credit score of 700 or better, no history of bankruptcies within the past two years and an annual income of at least $25,000. Additionally, applicants need to be U.S. citizens or permanent residents, have valid photo identification and be age 18 or older.
How Are They Different?
FreedomPlus promises fixed rates that don't increase, no hidden fees and no prepayment fees. You can opt to have the lender send money directly to your credit card companies if you're consolidating credit card debt, or have the funds deposited into your bank account. FreedomPlus lets you choose your own payment date and use its online calculator to estimate your payment based on the amount of money you need and the term of the loan.
FreedomPlus Loan Comparison:
Before you make a final determination about whether a FreedomPlus personal loan is right for you, compare the terms to other comparable online personal loans. Popular online lenders and lending platforms include Best Egg, Avant and BorrowersFirst, each of which has its own strengths and drawbacks.
Best Egg
The APR offered with a Best Egg personal loan starts at a lower rate than the rates at FreedomPlus loans, with a range from 5.99%–29.99%, depending on your creditworthiness. Best Egg offers loans for as little as $2,000 or as much as $35,000 with terms that range from 3 to 5 years. Like FreedomPlus, Best Egg has a simple, streamlined application process. You can get a decision within minutes, and approved borrowers usually receive their funds within one business day.
Like FreedomPlus, Best Egg also charges an origination fee. Expect fees ranging from 0.99% to 5.99%, depending on your credit history. To make a decision, Best Egg relies on your credit history, credit scores and debt-to-income ratio to determine your acceptance and rates. Additional fees include late payment and returned payment charges of $15 each.
Avant
To qualify for personal loans through Avant, borrowers need a minimum credit score of 580, although the average for this lending platform's customers is closer to 650. Avant doesn't specify a minimum annual income required for approval, but most of its borrowers have annual income levels that range from $40,000 to $100,000. Approximately half of Avant's customers use their personal loans to consolidate high-interest debt.
Personal loans through Avant range from $2,000 to $35,000, with fixed APRs of 9.95%–35.99% and loan durations of 2 to 5 years.* There are no prepayment or personal check processing fees, however there is an origination fee of up to 4.75%. Late payments vary by state. The online application is simple, and many borrowers receive funds as soon as the next business day after approval, but it can take up to one week if you need to submit additional documentation to verify your identity and income.
BorrowersFirst
BorrowersFirst personal loans are funded by Cross River Bank. To be eligible, you must be at least 18 years old, be a U.S. citizen or a permanent resident and have a valid bank account. Be aware that this lender only operates in select states. As of July 2016, borrowers living in the following states are excluded from the BorrowersFirst application process:
Connecticut
Hawaii
Idaho
Iowa
Maine
Mississippi
Nevada
New York
North Dakota
Tennessee
Vermont
West Virginia
Wyoming
Wisconsin
In general, borrowers have access to loans ranging from $2,500 to $35,000, although the exact amount varies depending on your creditworthiness and the state in which you live. Once you're approved, you can have access to your funds as soon as two days from your approval date. Loan terms include 3-year and 5-year loans with fixed interest rates ranging from 5.99%–26.99%. Additional fees include a $15 failed payment fee, $15 late fee and a $15 check-processing fee. Unlike FreedomPlus, BorrowersFirst doesn't charge an origination fee.
Bottom Line
FreedomPlus personal loans can be a good option for borrowers looking for fast answers and anyone with less than perfect credit. You can talk to the company's loan specialists to formulate a solution that works for your situation; just remember that this isn't the least expensive option out there.
Before you decide on whether to apply or not, check your credit score to see where you stand. If you have good credit, you might be able to take advantage of less-expensive solutions with lower APRs and no origination fees. Zero-percent-interest credit cards and home equity lines of credit often provide access to funds at lower costs.
*Example: A $5,700 loan with an administration fee of 4.75% and an amount financed of $5,429.25, repayable in 36 monthly installments, would have an APR of 29.95% and monthly payments of $230.33.