Did you know that paying your rent on time can help build your credit? There are rent reporting services that allow your rent payment to be reflected on your credit report, thus helping (if you're paying on time) you build credit.
Introduction
There are many people that don't have much of an established credit history, but that do have a great history of paying their rent on time every month. However, many landlords do not report that payment history to the credit bureaus.
That means that your on-time rent payments are basically having zero impact on your credit score. They have to be reported by your landlord in order for the credit bureaus (Equifax, TransUnion, Experian) to be able to see and use that information in calculating your score.
While you can't report your rent payments yourself, there are rent reporting services and agencies that will allow your credit reports to reflect your rent payments fairly easily.
Why is using your rent to build credit important?
You would be hard pressed to find any number that impacts your financial life more than your credit score. This three-digit number, which ranges from 300 to 850 for the FICO score, can have an effect on everything from your ability to get a credit card or car loan to the deposit you put down when turning on utilities and even your ability to land some jobs.
However, as you can see from the data below when you add your on-time rent payments to your credit report, you can increase your score.
Average improvement to credit score by adding rental payments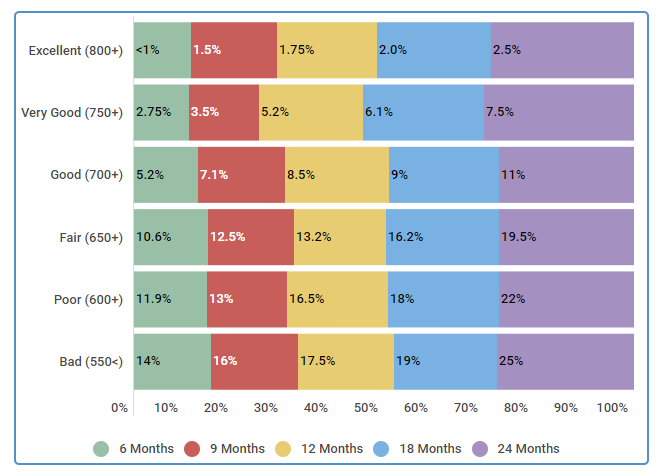 | Credit Ranking | 6 Months | 9 Months | 12 Months | 18 Months | 24 Months |
| --- | --- | --- | --- | --- | --- |
| Excellent (800+) | <1% | 1.5% | 1.75% | 2.0% | 2.5% |
| Very Good (750+) | 2.75% | 3.5% | 5.2% | 6.1% | 7.5% |
| Good (700+) | 5.2% | 7.1% | 8.5% | 9% | 11% |
| Fair (650+) | 10.6% | 12.5% | 13.2% | 16.2% | 19.5% |
| Poor (600+) | 11.9% | 13% | 16.5% | 18% | 22% |
| Bad (550<) | 14% | 16% | 17.5% | 19% | 25% |
Source: Survey of 2000 members and non-members 5/5/2018.
While the impact of adding rent payments was smaller for those who already had good credit, the data above shows us that people with bad credit were able to increase their score by 14% over just 6 months. And that was just the beginning. Their scores continued to increase over time, reaching a 25% improvement in just 24 months.
If you're curious how you can get your rental payments reported to the credit bureaus, let's look at the steps.
Steps to build your credit with apartment rent payments
If you don't have much of a credit history, adding your on-time apartment rent payments can be what you need to kick-start your credit score. You can use this to your advantage to build a credit profile. Yet, as we've discussed, rent payments remain largely unreported to the credit bureaus.
As you can see from the data below, only 19.5% of consumers with bad credit scores report having rental entries on their report.
Percent of US Consumers with rental entries on their credit reports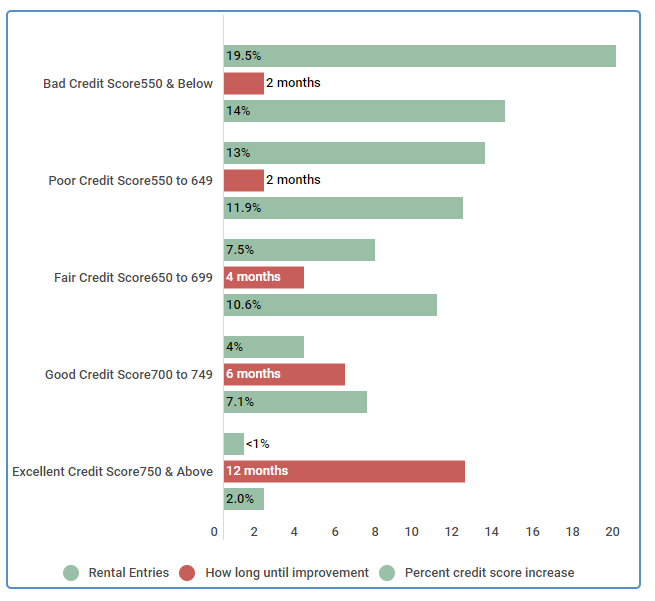 Score Range
Rental Entries
How long until improvement
Percent credit score increase
Bad Credit Score
550 & Below

19.5%
2 months
14%
Poor Credit Score
550 to 649

13%
2 months
11.9%
Fair Credit Score
650 to 699

7.5%
4 months
10.6%
Good Credit Score
700 to 749

4%
6 months
7.1%
Excellent Credit Score
750 & Above

<1%
12 months
2.0%
Source: Credit scores were calculated from 2,000 individuals on 5/5/18.
Let's look at the different steps you can take to have your payments reported to the bureaus:
Ask if your rent is already being reported
If you rent a home or apartment from an individual landlord or from a property management company, check your credit report to see if it's showing up. If not, ask the landlord or property manager if they are, in fact, reporting that history.
This is important to know for a number of reasons. Not only to see if you can use the information to improve your credit but also to learn if the information is being reported correctly. We spoke with Bridget, a Credit Sesame member, who had an interesting story regarding her rental payment history.
Bridget learned that her rental company was reporting her payments to a credit bureau
We spoke to Credit Sesame member, Bridget right after she discovered that her apartment complex had been reporting her monthly payments to a credit bureau.
Member Since: 4/16/2018

We spoke to Bridget on May 1, 2018. She is a 31 year old widow who lives in Milwaukee, Wis. She owns a small boutique and has decided to not own so she rents.
Q
How did you find out that your property management company reported your rental payments to credit bureaus?

A
I have an agreement with my landlord to pay on the 5th instead of the 1st of every month because with my company, it is hard to make sure everything is paid on time. Because of the way my company works regarding getting paid from vendors, I don't have money in my account on the 1st. I went to get a new car and I was turned down because of my credit. To say I was shocked was an understatement. I got my free credit report and noticed that it showed every month that I had a late payment for rent. It turns out that they had gone through a rental payment company and had forgot to not only tell the residents, but to also let the company know my payment arrangement.

Q
What effect did this have on your credit score?

A
It completely tanked my credit score. I had an excellent before, and now I only have a good credit score. I was so upset. Apparently I wasn't the only one. I immediately opted out of the credit reporting and even disputed it because it wasn't correct.

As you can see, this is a valuable piece of information to know and understand—as it can shape your financial profile.
If your rent isn't reported, sign up for rent payment services
If you learn that your on-time rental payment history is not being reported and you want it to be, you can sign up for a rent payment service that allows for the payment and collection of your rent to be recorded with the credit bureaus.
There are a few questions to ask before selecting a rent payment service:
What are the fees?

What credit bureaus will the service report to?

Will they show previous payments prior to starting the service?

Does your landlord have to be registered in order for it to work?
Below are some of the most popular rental payment services, their fees, and other important information.
Rental Payment Services and their fees

| Company | Fees | Reports to | Previous Payments allowed? |
| --- | --- | --- | --- |
| Rent Reporters | $94.95 and $9.95/month | Transunion | Up to 24 Months |
| Rental Kharma | $25 and $6.95/month | Transunion | Up to 24 Months |
| Rent Track | $6.95/Month | Experian, Equifax, Transunion | Up to 24 Months |
| Clear Now* | Free | Experian | No |
| Payyourrent* | Variable | Experian, Equifax, Transunion | No |
| eRentPayment* | $3.00/Transaction | Experian, Equifax, Transunion | No |
| Rentpayment* | $4.95/transaction + .05%-2.95% | Transunion | No |
Source: Companies and their fee scale found on individual websites.
*Only available if landlord is registered.
It's important to note that not all the services report to all three credit bureaus. Let's say you're specifically trying to improve your Transunion score, then going with a service like Rental Kharma would be okay. But, if you're trying to improve your credit history across the board or you're trying to establish credit, look for a service that reports to all of the bureaus. Also note that some of these you can sign up for yourself, while others require your landlord to be registered.
Regularly check your credit report to make sure payments are registered
Once you're signed up for the service of your choice, make sure you're checking your credit report regularly to see if the information is reporting correctly. Today more than ever, a credit history is vital to obtaining a number of financial services—from credit cards to auto loans. Considering the impact this can have on your financial health, it's important that responsible renters get "credit" for their payment history on their credit report.
If you notice any errors that are not factual, you can also file a dispute with the bureau.
How is rental payment data used?
Your credit score is calculated based on a number of different factors including your payment history, your mix of credit types, your balance between available credit and used credit, the length of time you've had open credit accounts, and more.
Here is a look at specifically how your FICO credit score is calculated and the importance of each of these factors:
FICO Scoring Model Calculation (Weight) Factors

| Credit Factors | Credit Score Weight |
| --- | --- |
| Payment History | 35% |
| Credit Utilization | 30% |
| Credit Age | 15% |
| Different Types of Credit | 10% |
| Number of Inquiries | 10% |
Source: Data found September 26, 2018. Boeing Employees Credit Union website. Understanding Your FICO
Score. Retrieved from https://www.becu.org/articles/understanding-your-fico-score
When your rental payment data is reported to the credit bureaus (and it's on-time and in good standing), it can impact several of these areas. Your payment history will improve, for example. It will also impact the age of your credit and the different types of credit that are reported to the bureaus.
As you can see from the data above, 35% of your score is made up with payment history. So, if you have no history of credit cards, or auto loans, or mortgages, you could see how having a rental payment history would greatly improve your score.
Benefits of learning how to use your rent to build credit
Building your credit profile, whether by using rent payments or more traditional methods, is important for a number of reasons—but primarily because an improved credit profile will open up doors to you financially that may have otherwise been closed.
As you can see from the data below, your credit score is directly correlated with the interest rates you'll receive on mortgages, auto loans, and credit cards.
Comparing Interest Rate Ranges of Credit Sesame Members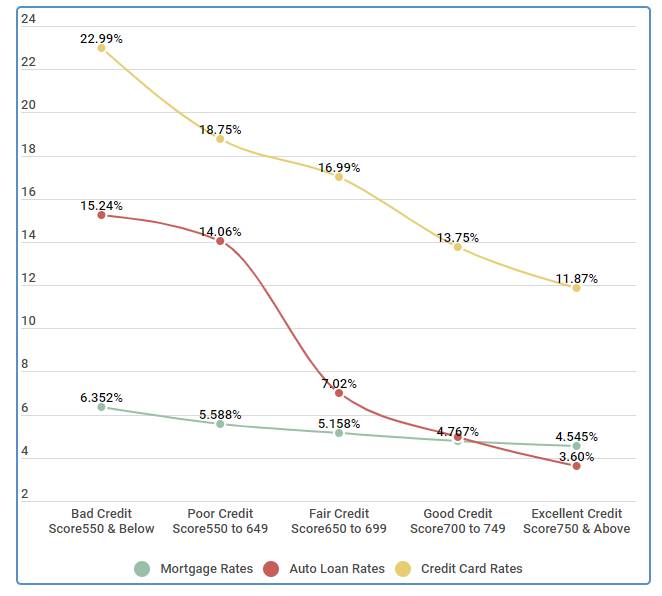 [table "" not found /]


Source: Credit scores were calculated from 5,000 Credit Sesame members on 3/11/18.
If you've been paying your rent on time for years, this is a great way to show your creditworthiness and your ability to repay your debts, while also improving your score.
Conclusion & summary
In summary, your credit score is the gatekeeper to your financial freedom. It impacts everything from your ability to get a car or home loan to the interest you'll get on credit cards and the deposits you'll be required to put down for other services. If you've had a great history of on-time rent payments to your landlord, an option for improving or growing your credit profile is to have that rent history reported to the credit bureaus. You can use a rent reporting service to achieve this, but be sure to monitor your credit report to ensure it's being reported accurately.