The way your credit score is calculated is going to change by summer of 2020. The Fair Isaac Corporation, the company that created the commonplace three-digit FICO score is tweaking its scoring model to include more data about people's level of debt.
While the changes to the scoring model look to be minor, it's worthwhile to know what's changing in the new FICO score, why it's changing, and what you can do ahead of time.
How are FICO scores changing?
Changes to FICO scores aren't a new thing. New versions of the scoring model have debuted every few years, including in 2009 and 2014. One of the most significant changes to the new FICO score model this time around is that Fair Isaac Corporation is debuting two new types of credit scores: FICO Score 10 and FICO Score 10 T. 
FICO Score 10 will pull in more data about a consumer's total amount of debt and the frequency and pace at which they pay down that debt and integrate that into the final credit score calculation.
FICO Score 10 T will also include trended data on how a consumer has used their credit cards over a 24-month period. This is meant to show the historical trend of how that person used their credit and paid off credit debt over time.
Here's a pie chart breaking down the different factors that currently go into your FICO score and how they're weighted against each other:
FICO Scoring Model Calculation (Weight) Factors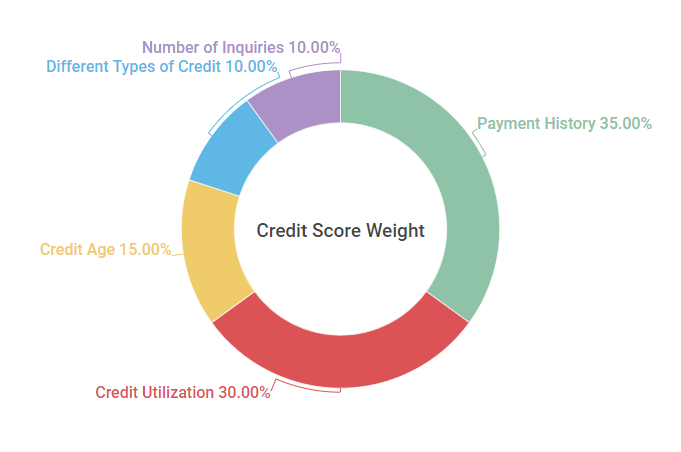 | Credit Factors | Credit Score Weight |
| --- | --- |
| Payment History | 35% |
| Credit Utilization | 30% |
| Credit Age | 15% |
| Different Types of Credit | 10% |
| Number of Inquiries | 10% |
Source: Data found September 26, 2018. Boeing Employees Credit Union website. Understanding Your FICO Score. Retrieved from https://www.becu.org/articles/understanding-your-fico-score https://www.myfico.com/credit-education/whats-in-your-credit-score
How does the new FICO score change affect you?
The overall impact for consumers will be small, at least in the near future. FICO Score 10 T isn't widely adopted by lenders yet. Fair Isaac Corporation estimates that approximately 110 million consumers could see their FICO credit scores change by less than 20 points. It also estimated that around 80 million consumers would see a score increase or decrease of 20 points.
Within the FICO score system specifically, though, there could be a wider gap between consumers who fall into "good credit" and "bad credit" categories. In the FICO Score 10 system, people with credit scores around 680 or higher,  generally classified as "good credit", who regularly pay down the principal on their debt would likely see their scores increase.
In contrast, people with fair or poor credit scores — usually around 600 or lower — who also have missed debt payments on their record or whose total amount of debt continues to increase over time may see their scores decrease by more points than they would have under previous FICO scoring models.
According to the Fair Isaac Corporation, it expects that FICO Score 10 will result in up to a 10% reduction in credit card defaults. It also predicts as much as a 17% decline in loan defaults by people with mortgages.
What should you do?
It's important to note that different institutions and companies use different credit scoring methods when examining your credit history. Even though the current FICO scoring model is FICO 9, lenders and other institutions who look at the credit score can use an older version, or a different scoring model completely. For example FICO 8, which was introduced in 2009, is still the most commonly used FICO scoring model according to Investopedia.
In addition to different versions of FICO score, there are different scoring models entirely, such as TransUnion's VantageScore® 3.0. Basically, the idea that you only have one credit score is a myth. Having a sense of where you stand in different scoring systems can be helpful, especially if you're planning to make a big transaction like an auto loan or mortgage and know that your lender uses a specific system when looking at your credit history during the approval process.
As always, it pays to make a habit out of managing your credit score actively to keep tabs on any sudden increases or decreases that require your attention. While Fair Isaac Corporation plans to rollout FICO Score 10 in summer of 2020, it's unclear when lenders will begin adopting it. As noted above, it's not a given that all lending institutions will automatically switch over to the newest scoring model as soon as it's available. If you've got a major transaction coming up in the near future you could try and plan around this change, but keep in mind that consumers have no real way of knowing which scoring model a lender is going to use. Monitoring your credit score in at least one of the systems can give you a benchmark for all of them.
How does Credit Sesame calculate credit score?
Credit Sesame uses VantageScore® 3.0, a scoring model provided by TransUnion, one of the three major credit bureaus. VantageScore® 3.0 was developed by all three of the credit bureaus to be an alternative to other commercial scoring models like FICO. According to Vantage, its scoring system is used by more than 2,400 lenders and 20 of the top financial institutions.
VantageScore® 3.0 is a completely different scoring model than FICO. That said it can be easy to mix the two up since they both use the same scoring range of 300-850 that the average consumer is used to seeing and reading.
Compared to FICO score, VantageScore® 3.0 avoids assigning exact percentages when weighting the different factors that go into your credit score calculation. Instead, different factors are described in terms of their "influence" on your score. That said, TransUnion does provide some percentage distributions, which we listed below:
VantageScore 3.0 Weights and Factors
| VantageScore Factors | Estimated Percentages |
| --- | --- |
| Payment history | 41% |
| Credit age & variety | 20% |
| Credit use | 20% |
| Balances | 11% |
| Recent credit applications | 6% |
| Available credit | 2% |
Source: Data found October 3, 2018. Your VantageScore website. (2017) VantageScore 4.0 Overview. (PDF file.) Retrieved from VantageScore 4.0 Overview. (2017). 1st ed. [ebook] VantageScore, p.4. Available at:
https://your.vantagescore.com/images/resources/VS4%20Overview%20WP%20-%20FNL.pdf [Accessed 3 Oct. 2018].
One advantage is that the most influential factors are uniform across FICO and VantageScore® 3.0, so getting a credit report card of your performance in one system positions you well to understand the other.