By Rebecca Lake, Naomi Mannino and Jessica Sillers 
So you're ready to rent an apartment or a house, but aren't sure how to navigate the rental landscape, especially if you have bad credit, no credit, or would like to request that your landlord start factoring rental payments into your credit score.
You've come to the right place to learn all about renting your first apartment and what impact your credit score has, if you're ready to make the big move.
Here is a what you can expect in this guide. Jump directly to the section you want to read first:
1. How Rent Reporting Works
2. How to Rent an Apartment With a Poor Credit Score
3. Here's What Happened When My Rent Payments Were Factored into My Credit Score
4. 8 Steps to Rent Your First Apartment
5. Top 10 Cities to be a Renter When You Want to Improve Your Credit
According to Credit Sesame data, 70% of our members are renters, and as home prices continue to climb, owning your own home may not be realistic in the near future, especially for Millennials who are saddled with student loan debt.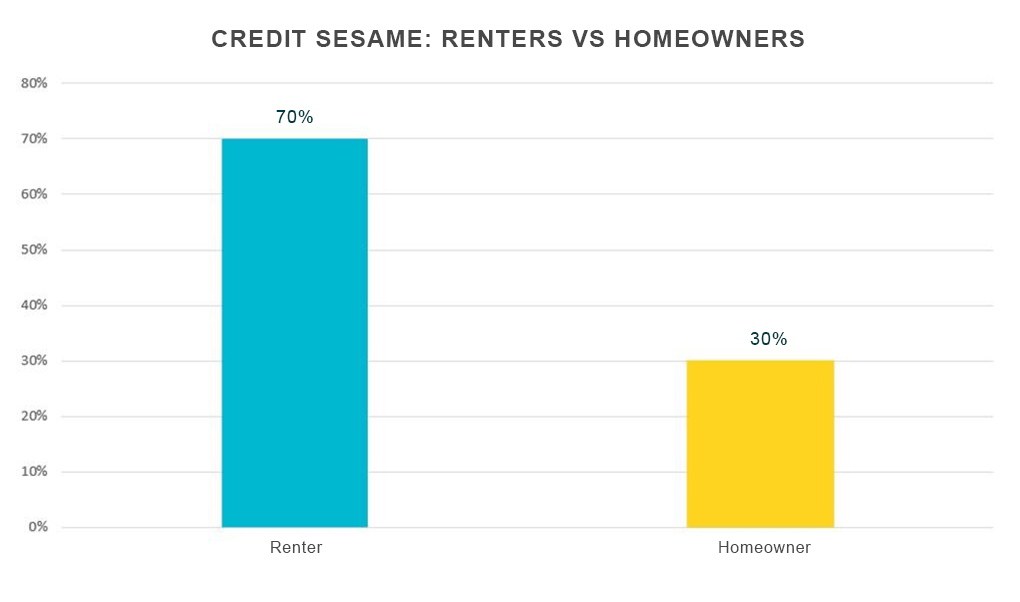 Credit Sesame data also shows that the Millennial generation is mostly renting. Those who 25 or younger, 86% are renters and 14% are homeowners, while among those who are 25-34, 16% are owners and 84% are renters.
| Age | Percentage of Renters | Percentage of Homeowners |
| --- | --- | --- |
| Credit Sesame Members | 70% | 30% |
| 25-34 | 84% | 16% |
| Under 25 | 86% | 14% |
Our data shows the clear credit score differences between those who are renters and those who are homeowners. Those who rent, have more credit scores that fall in the poor category (over 80%), than those who own (roughly 15%).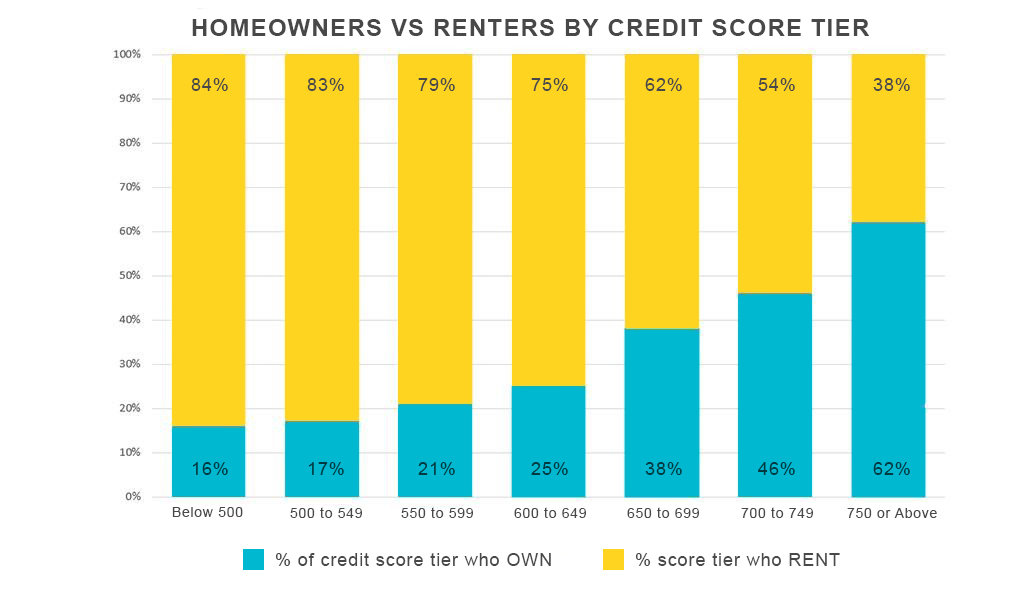 The good news is, this younger crowd has time to improve their scores, so they can start thinking about making a bigger purchase, such as a home or car.
Tip: When you improve your credit score, you qualify for lower interest rates — which can save you thousands over the life of your loan.
We've put together a complete guide that shows you all of the right moves to make, what factors to consider when moving, how to save more money, and we even listed the top 10 cities that are rental-friendly – particularly for those who need to improve their credit scores. If you want to learn more about where you stand, find your free credit score with Credit Sesame.
What is TransUnion® SmartMove® and how can it help me?
Many landlords, whether they operate as individuals or as part of a large property management company, perform rental background checks to assess an applicant's financial footing. Experian, Equifax, and TransUnion include rental payment history information on credit reports if they have it available. For consumers who don't have much or any experience with credit products like loans and credit cards, a renter's credit report, so to speak, is a great way to show your financial management habits.
You won't know which bureau a prospective landlord will access for a rental background check. A service like TransUnion My Smart Move can help you get your history in front of a new landlord.
TransUnion SmartMove allows independent landlords and rental applicants to use a screening process similar to that used by larger property management companies. Landlords can send a screening request that the applicant can approve or decline. Accepting the request releases credit and criminal records. The MySmartMove website claims that this screening process offers several important benefits for landlords and tenants:
The screening process moves more quickly.
Landlords have less paperwork to complete. In a competitive rental market, anything that streamlines a landlord's workload is a perk.
Because SmartMove works via "soft" credit inquiries initiated by the consumer, the credit check has no effect on the applicant's credit score. A poor credit score can mean an extended search for an apartment and lots of background checks, so protecting your score against further hits is important.
Some personal information, such as your Social Security number, is not released to landlords.
Visit MySmartMove.com to learn more about what information the TransUnion credit bureau releases and how landlords and renters can use SmartMove for rental background checks.
How to rent an apartment with a poor credit score
Here is a general guideline of how scores are broken down, per TransUnion (the credit bureau Credit Sesame works with):
| TransUnion Credit Score Categories | Credit Score Range |
| --- | --- |
| Excellent | 720 or higher |
| Good | 640 - 719 |
| Fair | 550 - 639 |
| Poor | 500 - 549 |
| Very Poor | 499 or lower |
Worried about renting with bad credit? You'll be glad to know that a low credit score doesn't preclude you from finding an apartment or home to rent. Some smart strategies can convince landlords that you'll make a great tenant.
Show them the money
Although the credit score is one way that landlords check to see whether you'll be a responsible tenant, it's not the only way. You can still prove your income. Offer pay stubs that show that the rent is affordable, and that you're dependable enough to hold down a job.
If your income varies month to month (if you get paid through commissions, for example, or freelance), provide a couple of recent bank statements to give the landlord an idea of what your typical income range is. Be prepared to explain how you'll make rent payments during a leaner month. That could mean shopping for an apartment on the lower end of what you can afford.
Budget
Of course, you can only prove you can afford the apartment if you're shopping within your means! Anyone, no matter what credit score, should look for apartments that fit their budget. This is especially important if a poor credit score makes you a less competitive applicant.
Remember, rent should be no more than about 30% of your take-home pay. If you're paying off credit card debt or student loans, aim for an even lower rent. The landlord will be more confident that you'll be able to pay, and that gives you the best chance at signing a lease.
Remember, rent should be no more than 30% of your take-home pay.
Click To Tweet
Shop small
Look past the big rental corporations. They're more likely to have inflexible protocol for credit checks. An individual landlord may not perform a credit check at all. If the rest of your application is solid, a non-corporate landlord might be more lenient on credit requirements.
Tell your story
Maybe you lost your job. As weeks turned into months of sending out job applications, you blew through your savings and quickly racked up credit card bills you couldn't pay. The streak of bad luck devastated your credit score, but with your new job in hand, you know you'll be a reliable tenant.
If a potential landlord is open to hearing an explanation for a poor credit score, you may be able to demonstrate that your score doesn't fully reflect how you handle money. This is where rental history reports can come in handy. A rental history that shows that you pay promptly makes it easier to convince a landlord that you just hit a temporary rough patch.
If you have no credit, or poor credit
If you have no credit or poor credit, roommates can be your best friend. Splitting the rent makes your share more affordable, which can make a landlord more likely to say "yes" to your application. If your roommates have great credit, their scores may make up for your less-impressive one. You'll sacrifice some privacy, but you may end up in a much nicer apartment than you could afford on your own.
The other way for someone else's good credit to help you is if someone is willing to cosign your lease. This legally obligates them to make payments if you can't. A landlord just wants to know that someone will pay the rent, so a cosigner opens doors.
The drawback is that because a cosigner will be liable to cover payments if you miss them, you risk damaging your relationship with that person if you ever come up short on funds. Even if you have a willing cosigner, search for an apartment you can comfortably afford without outside support.
Can I get a free rental history report?
You are legally entitled to a free credit report from Experian, Equifax, and TransUnion credit bureaus every 12 months. If you use a rental history reporting service, the rent data will be included. Experian, for example, has been incorporating positive rental history data on credit reports since 2010.
Another way to get a kind of free rental history report is to contact your former landlord. Ask for a letter of recommendation, with confirmation of your timely payments when you were a tenant. A personal vote of confidence from another landlord can be a very attractive sign in your rental application.
[Learn More:
Highest Credit Score
]
Can rent reporting services raise your credit score?
If you have bad credit and you rent, you may already possess a secret weapon for improving your credit score. Thanks to rent reporting services, it's possible to have your rental payment history appear on your credit report.
How rent reporting works
A handful of companies report rent payments to the credit bureaus, and each one sets its own parameters around what's reported and what's not. In general, these companies collect your rent and payment information from your landlord. They then pass that payment history on to the credit bureau(s) that they partner with. Some report only to one bureau while others share information with all three—Equifax, Experian and TransUnion.
Up to two years of rental payment history can appear on your credit report, depending on which reporting company you use. The credit bureau then uses the information to calculate your credit score. In exchange for helping you get credit for making your rent payments on time, the rent reporting services charges a one-time or monthly fee.
[Learn More:
Credit Bureau Reports
]
Which rent reporting company is best?
If you're thinking of using your rental history to try and bring up your credit score, you've got a few reporting services to choose from. Credit Sesame has the rundown on four companies that can help you get your credit on the right track.
PRBC
Cost: Free
PRBC is a credit reporting agency that specializes in non-traditional credit reporting. They use things like rent and utility payments to create your free PRBC credit report and score. This score runs from 100 to 850 and the higher it is, the better.
While PRBC is regulated the same as the three major credit bureaus, it's not affiliated with any of them. That means that your PRBC credit report and score doesn't have any impact on your credit history with the three major bureaus. You can, however, present your PRBC report to lenders or service providers as an alternative to a traditional credit report or FICO score.
RentReporters
Cost: Free 15-day trial; $9.95 monthly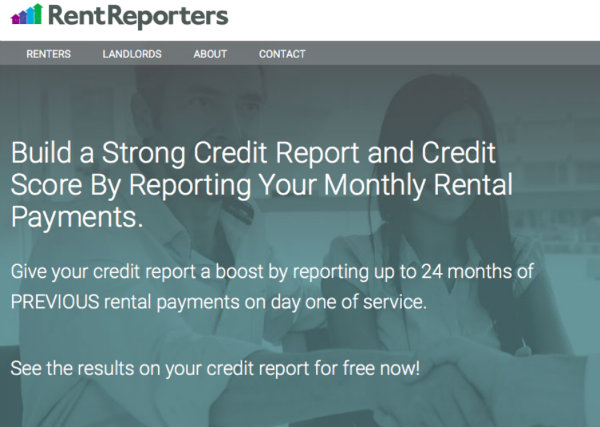 RentReporters reports up to 24 months of rent payments to TransUnion. You can sign up for free and try the service for 15 days; after that, the cost is $9.95 a month to have RentReporters continue updating your credit file with new payment information.
Sign-up is relatively quick and you should see your rental history on your TransUnion report within 30 days. According to the site, reported rental history can stay on your credit report for 7 years even if you decide to cancel at some point.
Rental Kharma
Cost: $40 verification fee; $9.95 monthly
Like RentReporters, Rental Kharma also reports to TransUnion, and can report up to two years of rental history. Your rent payments are reported within 7 days of making a payment, so you won't wait long to see an impact on your score. In terms of how much of a boost you can get, customer testimonials report increases of 20 to 78 points after signing up.
That sounds pretty tempting but of the rent reporting companies profiled here, Rental Kharma is the most expensive. New users pay a $40 fee to verify their rental information. After that, ongoing reporting costs $9.95.
RentTrack
Cost: $9.95 monthly (may be paid by your landlord)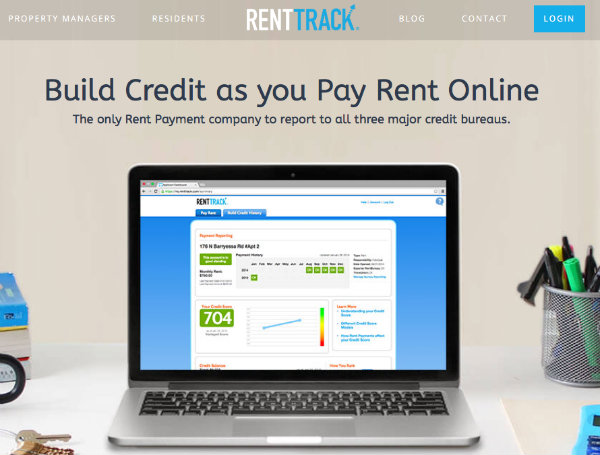 RentTrack works with Experian, Equifax and TransUnion to report rental history. They make it easy to pay your rent on time by allowing you to set up automatic payments through their service. The monthly fee is $9.95, and your landlord may opt to pick up the tab.
Another nice feature that RentTrack offers is a breakdown of your credit profile. When you sign up, you get one free VantageScore and access to an online credit dashboard. You can see at a glance how much of your available credit you're using, how many inquiries you've had for new credit in the last two years, the total number of accounts you have and the number of negative items. That's a plus if you want a more complete picture of your credit health.
Click to See Full Infographic
Personal Story: Here's what happened when my rent payments were factored into my credit score
by: Rebecca Lake
As a renter, I wondered just how much of an impact my rental history could have on my credit score. After researching the different rental reporting agencies, I decided to go with RentTrack.
Signing up for RentTrack was easy and took just a few minutes online. First, you have to find your rental by typing in your address. RentTrack will tell you right away if your landlord is part of their payment network.
If not, you'll have to send a request to your landlord to join the program. My landlord wasn't already in the RentTrack system so I had to wait a few days for them to accept my invitation to join.
From there, you enter your name, email address and a password to create your account. Once you're logged into the online dashboard, you have to verify your identity using your Social Security number and date of birth. This only takes a minute and it's considered a soft inquiry so it doesn't hurt your credit score.
When you verify your identity with RentTrack, you instantly get access to your VantageScore. This is the credit scoring system that was developed by Experian, Equifax and TransUnion. It's not the same as a FICO credit score, which is the score that's more often used in lending decisions.
My VantageScore at sign-up was 670 which, according to RentTrack, is higher than 19% of the population. Once my landlord accepted my invitation, Rent Track was able to add my rental payment history for the last 21 months to all three of my credit files. That caused my VantageScore to climb to 682, a jump of 12 points.
The leap wasn't huge, but I was pleasantly surprised by the results. According to a 2015 RentTrack internal review, the average renter who uses their services sees an increase of nine points in their score. Those who stand to benefit the most are consumers with scores of 650 or lower. For those people, the average increase was closer to 30 points.
Rent reporting vs. other credit building methods
One important caveat to keep in mind about rent reporting is that it only affects credit scores that consider rent payments. Standard FICO scores, which account for about 90% of the scores lenders use to make credit decisions, are not affected by rent reporting.
Rent does impact your FICO XD score, though, which is a credit score designed for people who don't have sufficient credit data in their file to assign a score. Rent also impacts your FICO 9 score, but FICO 9 is a fairly new scoring model that is not yet widely used. Finally, rent payments also affect your VantageScore.
What's a VantageScore?
VantageScore 3.0 is the credit scoring model developed by three largest credit bureaus. Many major lenders use the VantageScore to make credit decisions. The VantageScore ranges from 300 to 850 and is influenced by the same kinds of things that shape your FICO score:
Payment history
Age of your accounts
Credit mix
Total debts owed
Inquiries for new credit
While both VantageScores and FICO scores essentially measure the same thing—creditworthiness—they carry different weight with lenders. Rent reporting isn't going to be a fast fix if you have a low FICO score but it can help you get access to credit if you're working with a lender that uses the VantageScore instead.
Other ways to build your credit score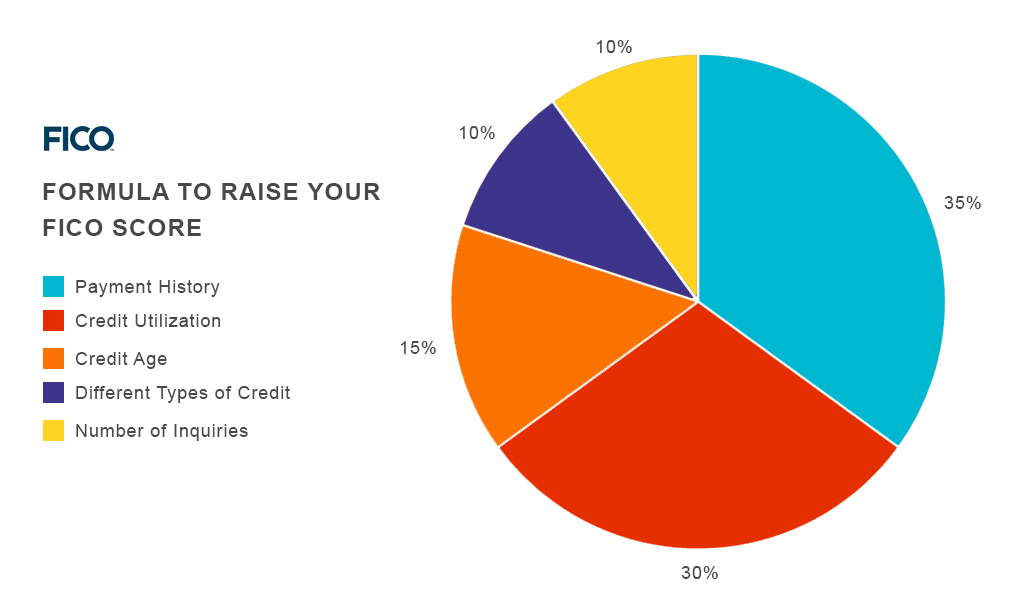 The formula for raising your FICO credit score is fairly simple. It all comes down to doing these five things:
Pay your bills on time – 35% of your FICO score is based on payment history. Missing even one payment can cause your score to drop by as much as 100 points.
Keep your balances low – 30% of your score is based on the amount of debt you owe relative to your available credit (your utilization). If you carry credit card balances from month to month, keep each card's balance below 30% of the credit limit.
Don't rush to close old accounts – 15% of your score is based on the average age of your credit history. Keep old accounts open even if you're not using them to keep your score up.
Use different types of credit – 10% of your score rests on the variety of types of credit products that appear in your credit history. For example, student loan, mortgage, auto loan and credit card.
Limit applications for new credit – 10% of your score is determined by the number of inquiries on your credit history. Apply for new credit only when you truly need to.
Rent insurance providers: how do they compare?
If you're renting, make sure your belongings are covered against incidents like fire and flood damage. A renter's insurance policy may cost you a few bucks a month but it can pay for itself a thousand times over if an unfortunate incident occurs.
In the event of a fire, for example, the property owner's insurance will pay for repairs to the building, but not for any of the contents of your home, including items damaged by fire or smoke. The following insurers offer policies geared towards renters. Remember that some of them may use your credit score to determine your premium.
Geico
Geico offers renter's insurance for as little as $12 a month. Policies include coverage for your personal property as well as liability in case someone gets hurt while hanging out at your place. If you also have car insurance through Geico, you could get a discount for adding on a renter's policy.
Allstate
Allstate offers lots of incentives to sign up for renter's insurance. You can save up to 15% if your unit has smoke alarms or a security alarm. You'll get another 5% knocked off when you sign up for autopay, and there's a multi-policy discount for customers who have other coverage through Allstate.
Esurance
Esurance is an Allstate company and the average cost of their rental coverage runs around $14 a month. Rates tend to be lower than what Allstate charges but Esurance doesn't offer rental policies in all 50 states.
State Farm
Renters can get insurance through State Farm for less than $1 a day and it covers damage caused by fire, lightning, windstorms, hail and ice. You're also protected against things like theft, vandalism or damaged caused by a vehicle.
Progressive
Progressive's renter policies start at $11 a month, which is good if affordability is your top concern. You can save even more if you have a car insurance policy with Progressive.
Liberty Mutual
Rates start as low as $12 a month for renter's insurance with Liberty Mutual. You're covered against theft, fire and some types of water damage and the policy even applies if you're in the middle of a move.
Nationwide
Renters who choose Nationwide can choose from several different policy features. For example, you can get optional coverage for brand-new belongings, water backup insurance, personal liability, medical payments and credit card coverage for unauthorized transactions.
Farmers
Farmers covers renters against property damage and theft, as well as personal liability claims. Rates are low and you can get discounts for bundling renter's insurance with a Farmers car or life insurance policy, having a security system or smoke alarm, or being a non-smoker.
8 Steps to Rent Your First Apartment
By: Naomi Mannino
If you just moved out of your dorm room or an apartment that your parents (or someone else) leased for you, or if your credit is tarnished and you think you might not pass a property manager's standard credit check, here's what you need to know about renting an apartment and using that rental to your advantage while you build your credit.
[Learn More:
How to Build Credit
]
1. Check your credit reports and score first
While in college, you probably didn't give much thought to your credit report and credit score.  But your credit report has been watching your money moves, especially if you use credit cards, have student loans or ever failed to pay a bill.
Before you try to rent on your own, the first step is to check your credit reports using the only website authorized by federal law to provide them from all three credit bureaus (Equifax, TransUnion and Experian) once per year. The information listed on those reports is used to figure your credit score, which you can check for free, now and monthly, on Credit Sesame.
See how your credit score compares to Credit Sesame members in the chart below.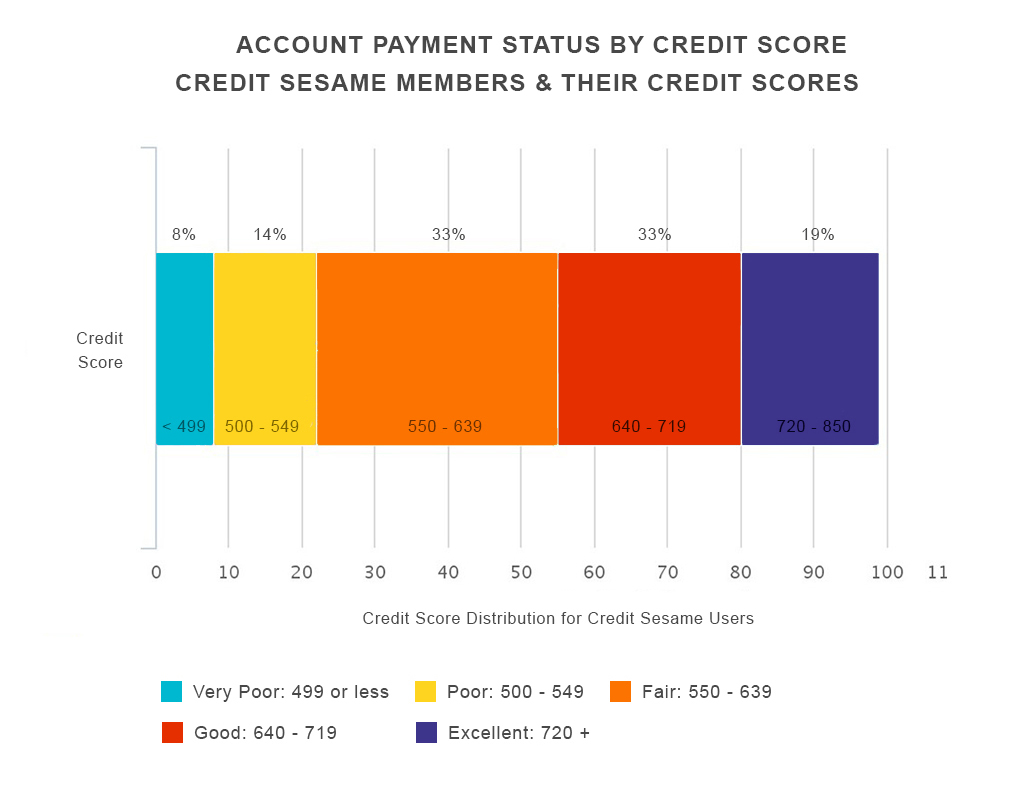 Many landlords check your credit history and score because it tells them how well you honor your financial commitments and whether you pay on time. Your credit report is a listing of all your credit accounts and any unpaid bills that were sent to a collections agency (such as a cell phone contract cancellation or a shared utility bill). Also, past evictions often appear on your credit report.
[
10 Reasons Why You Didn't Get the Apartment You Wanted to Rent
]
If you've never defaulted on a bill or had any credit accounts, you may have no credit reports and no credit score. Keep in mind that some landlords will approve an applicant with no credit history, because it shows that you haven't let an account go into default or been evicted.
It's best to review your credit report and score before filling out rental applications so you'll know what the prospective landlord will see.
If you find an error on one or more of credit reports follow the procedures they provide to dispute the entry immediately. You'll need to dispute errors with each credit bureau that's reporting it, as well as the original creditor.
Here's what a typical credit report looks like: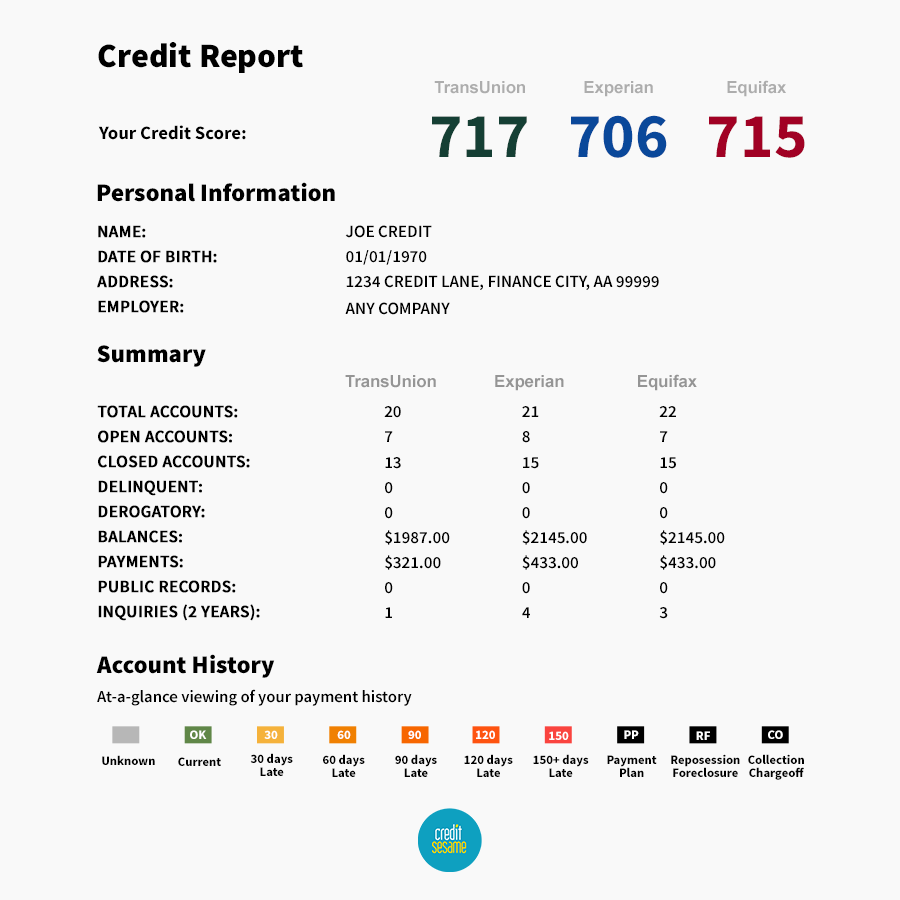 2. Budget your money and make payments responsibly before renting
Set up a budget now to get into the habit of managing your money responsibly before renting your first apartment, whether you've got that first "real" job or not.
If you have student loans, credit card accounts or car loans, pay attention to payment dates and your budget overall. When you pay credit accounts on time, those payments reflect positively on your credit. Late and missed payments reflect negatively and hurt your credit score.
Currently, most credit reports do not include utility or cell phone providers unless your account is in collections for non-payment. Some newer credit scoring models include this information, particularly when insufficient credit data exists in your file for the purpose of calculating a score.
3. Figure out your rent price range
The often-quoted simple rule of thumb for budgeting your rent payment is to spend no more than 30% of your take-home pay on rent. So, if you earn $2,000 (after taxes) per month, your ideal rent payment would be $600 per month.
You might think that sounds low, but keep in mind that you need to pay for electricity, water, cable, renter's insurance, transportation costs to work, your cell phone, food and clothes, as well as make deposits to an emergency fund savings account (that last item isn't optional; treat it like any other bill you pay).
Add to that your entertainment, student loan payments and any other bills you may have. Renting at a higher amount will only make your new financial life in your own apartment stressful.
4. Include moving costs and furnishings in your budget
Do you have a truck, or a friend with a truck who is willing to help you move? If not, you may need to rent a moving truck. Will you need basic furnishings for your new apartment such as a bed, a dresser, some lamps and a table and chairs for eating? It's best to save up cash for these items rather than rely on credit cards to bridge the gap between what you have and what you want.
Credit card debt will only add another monthly payment to your budget if you cannot pay the entire balance by the due date, and it's an important payment that you never want to miss or make late. Charging up credit cards and carrying a balance from month to month means you'll ultimately pay more for everything you charge.
Find out how you compare to our data, based on Credit Sesame members' credit card debt and where they reside in America.

[
America's Credit Card Debt is Still Out Of Control: Where Do You Stack Up?
]
5. Save up enough money to meet move-in requirements
The amount of money that landlords often require to move in is the first month's rent, the last month's rent and a security deposit equal to one month's rent (often called "first, last and security"). If your rent is $800 per month, you might need $2,400 to move in. (This figure differs from state to state and landlord to landlord. You might get in with a lower move-in amount.)
6. Be prepared to prove your income and your credit score
When landlords evaluate your rental application, they want to know that you earn enough money to afford the rent. You can show the landlord a month's worth of your pay stubs or a couple of recent checking account statements. If you can't prove that you can afford the rental on your own, you may need a cosigner, such as parent, to lease the apartment.
It's never a good idea to lease an apartment when you don't have a job or parents to support you until you do.
Another way to prove to the landlord that you can pay the rent is through a good credit score (usually 680 and up). If you have poor credit or no credit, don't despair.
Apartments for rent with no credit check do exist. Also, many landlords believe in helping young people get their first apartment. Sometimes individual landlords, as opposed to large management companies, are more lenient for first-time renters.
7. Read the lease terms thoroughly before signing
Every landlord and property has rules and regulations. Be sure you understand them. Simple rules like "no smoking on the premises" and "no pets" can lead to big fees or the loss of your security deposit if you break them. If you bring a pet into a "no-pets" apartment, the landlord may immediately charge you a large, nonrefundable pet fee (to cover any pet-related damages such as scratch marks or urine stains on carpets). Or the landlord can insist that you get rid of your pet or prepare to move out.
Understand who is in charge of lawn care and minor repairs (some landlords require that you handle these things; other landlords forbid you to do so), as well as whether the apartment can be sublet (rented by you to another tenant).
All three credit reporting agencies have a process for collecting and reporting rental history and lease default information on credit reports, so stick to the terms you sign your name to, to protect your credit and gain valuable references for your good rental payment history.
8. Consider a housemate or renting a room
A popular baby step toward renting your own apartment is to rent with others. You could also rent a bedroom in someone else's home in an area where you want to live. Sharing costs lowers the price tag for everyone involved. Also, if you rent a room it may already be furnished.
My first apartment checklist
If you're ready to move into your first apartment, here's what you need to do first to prepare:
Save some cash – Landlords want to know you can afford to pay the rent. Stash away a prudent reserve in a savings account to show that you're able to keep your budget in check and that you have a backup in case your financial situation changes.
Check your credit – Check your free credit report card and score through Credit Sesame to see where you stand. If you think your credit could use some help, check out one of the rent reporting services mentioned earlier.
Review the lease – Your lease agreement spells out more than just what you'll pay in rent each month. It also tells you what your rights are if you have a problem with the unit or the landlord, what you're responsible for as the renter, and any requirements specific to the unit. Read it over carefully so you know going in what you're expected to do and what options you have for resolving any issues that might come up.
So if you are ready to make your move… here are the best places you should consider, if you want to improve your credit score.
Top 10 Cities to be a Renter When You Want to Improve Your Credit
By: Rebecca Lake
Between April 2015 and April 2016, rent prices increased by 2.8% nationwide and according to Zillow, the median monthly rent price comes in at a cool $1,403. As long as rental housing remains in high demand, your credit score might make or break your ability to land a place.
When you have a lower credit score, finding homes and apartments with no credit check can be difficult. It's possible, but you'll need to do your homework. If you want to raise your credit score, moving to a city that's friendly to renters can make your job easier.
[
The Most Bang for Your Entry-Level Buck: Why New Grads Should Consider These 18-Hour Cities
]
So, how does your choice of city make a difference to your credit? A city with a low cost of living and low rent prices can leave you with more cash in your pocket that you can use to pay down your credit card or student loan balances (and improve your credit in the process). You'll have an easier time paying all of your other bills, too, when you're not struggling to keep up with housing costs.
Timely payments and low debt balances make up a combined 65% of your FICO credit score calculation so your choice of location could have a huge impact on your score.
Consider this: the number 4 city on our list, Cincinnati, has a median rent price of $653. Compare that with San Francisco's median rent price of $3,770 and you'll understand why we encourage you to look at renter-friendly cities if moving is an option for you.
Here are 10 cities that Credit Sesame recommends if you're a renter who's hoping to achieve a better credit rating.
1. El Paso, TX
Jeff Schultes / Shutterstock.com
Median rent price: $747
Median household income: $42,037
Percentage of income spent on housing: 22%
Cost of living index: 87
El Paso has become a hotspot for Millennials in search of job opportunities, and it ranks highly on the affordability scale. The overall cost of living is 13% lower than the rest of the country and renters spend less than a quarter of their pay on housing.
2. San Antonio, TX
Median rent price: $840
Median household income: $46,317
Percentage of income spent on housing: 22%
Cost of living index: 86
San Antonio attracts lots of 20-somethings and has the advantage of offering one of the highest median household incomes in our rankings. Again, renters aren't forking over a significant amount of their take-home pay to keep a roof over their heads.
3. Omaha, NE
Median rent price: $797
Median household income: $48,751
Percentage of income spent on housing: 20%
Cost of living index: 90
Living in America's heartland has its perks, especially in terms of income and housing. Omaha residents face a cost of living that's slightly higher than some of our other cities but they also spend the smallest percentage of their paychecks on rent.
4. Cincinnati, OH
James Marvin Phelps / Shutterstock.com
Median rent price: $653
Median household income: $34,002
Percentage of income spent on housing: 23%
Cost of living index: 88
Cincinnati boasts the lowest median rent price on our list and it's a great place to start a career or raise a family. The median income isn't as high as that of some of our other cities, but with ten Fortune 500 companies in the area, the potential to see your salary go up is very real.
5. Columbus, OH
Coral Sand and Assoc / Shutterstock.com
Median rent price: $822
Median household income: $44,774
Percentage of income spent on housing: 22%
Cost of living index: 89
In terms of crime, job opportunities and rent prices, Columbus is a highly livable city for just about anyone. The median household income is high enough that renters should have a real shot at growing their credit score.
6. Indianapolis, IN
Median rent price: $784
Median household income: $42,076
Percentage of income spent on housing: 23%
Cost of living index: 88
Indianapolis is a Midwestern city that's heating up in terms of its popularity with younger renters. Urban development projects have spurred the area's economic growth and rental housing is a bargain.
7. Springfield, MO
Median rent price: $668

Median household income: $32,473
Percentage of income spent on housing: 24%
Cost of living index: 86
Springfield is Missouri's third largest city and while it landed at number 7 overall, it has the second lowest median rent price in our rankings. It also tied with San Antonio for the second lowest cost of living.
8. Knoxville, TN
Median rent price: $745
Median household income: $33,494
Percentage of income spent on housing: 27%
Cost of living index: 84
While Nashville has grown by leaps and bounds in recent years, Knoxville is the better choice when you're trying to raise your credit score. By comparison, its cost of living is 13% lower than Nashville's, and the median rent is over $100 cheaper.
9. Phoenix, AZ
Median rent price: $876
Median household income: $46,881
Percentage of income spent on housing: 23%
Cost of living index: 95
Phoenix is a favorite with retirees but it's a good fit for people of all ages who want to rent their way to better credit. Residents bring in the second highest median income of the cities in our rankings and even though the cost of living is higher, rent doesn't cost an arm and a leg.
10. St. Louis, MO
Median rent price: $742
Median household income: $34,800
Percentage of income spent on housing: 26%
Cost of living index: 91
St. Louis rounds out the top 10 but it ranks third for the lowest median rent price. Housing eats up slightly more of residents' income but it's still well below the 30% cutoff that we and other finance experts generally recommend.
Methodology
To get the final 10 cities for our rankings, we analyzed rent, income and cost of living data for the 150 largest U.S. cities by population. Median rent prices and median household income data were drawn from the U.S. Census Bureau. The cost of living index was provided by AreaVibes.
Each city was scored according to how it ranked in four categories: median rent price, median household income, percentage of income spent on housing monthly and the cost of living index. The lower the numerical score, the higher the city ranked in each category.
The scores for all four categories were averaged together to determine our final rankings. The 10 cities listed here are the ones that earned the best scores overall.
| City | Median Rent Price | Median Household Income | Percentage of Income Spent on Housing Monthly | Cost of Living Index | | | | | | | | | | | | |
| --- | --- | --- | --- | --- | --- | --- | --- | --- | --- | --- | --- | --- | --- | --- | --- | --- |
| Cincinnati | $653 | $34,002 | 23% | 88 | | | | | | | | | | | | |
| Springfield | $668 | $32,473 | 24% | 86 | | | | | | | | | | | | |
| St. Louis | $742 | $34,800 | 26% | 91 | | | | | | | | | | | | |
| Knoxville | $745 | $33,494 | 27% | 84 | | | | | | | | | | | | |
| El Paso | $747 | $42,037 | 22% | 87 | | | | | | | | | | | | |
| Indianapolis | $784 | $42,076 | 23% | 88 | | | | | | | | | | | | |
| Omaha | $797 | $48,751 | 20% | 90 | | | | | | | | | | | | |
| Columbus | $822 | $44,774 | 22% | 89 | | | | | | | | | | | | |
| San Antonio | $840 | $46,317 | 22% | 86 | | | | | | | | | | | | |
| Phoenix | $876 | $46,881 | 23% | 95 | | | | | | | | | | | | |
Save
Save
Save