Credit Sesame on how it is possible to be credit rich and cash poor.
It's not easy to manage your finances on a low income. And yet, a recent Credit Sesame survey found there are plenty of examples of people who have built above-average credit scores despite below-average incomes.
Good credit scores are not reserved only for high earners. With some basic financial habits, you can earn good credit despite a low income. That's important, because having good credit can pay off in a number of different ways.
Can you have a good credit score on a low income?
How much chance do you have of earning a good credit score if you don't make a lot of money?
Credit Sesame's recent survey found encouraging evidence about this. A substantial portion of Americans with low-to-moderate incomes have credit scores that would be considered good or better: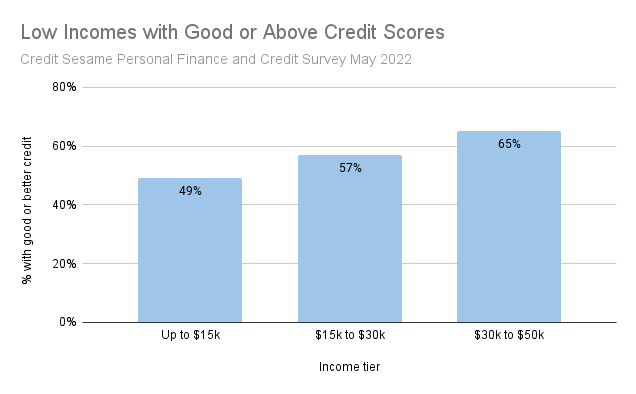 Even among people earning $15,000 a year or less, nearly half have credit scores that would be considered good, very good or exceptional.
Among people earning from $15,000 to $30,000 a year, more than half have good or better credit scores. And among those earning from $30,000 to $50,000, nearly two-thirds have good or better credit scores.
How does income impact credit score?
Why are so many people able to earn good credit scores despite not earning a lot of money?
To start with, income does not directly factor into your credit score. Instead, credit scores are based on these five things:
Your history of using credit and paying your bills on time.
How much you owe compared to how much credit you have available.
How long you've been using credit.
What different types of credit you've used.
Whether you've opened too many new credit accounts recently.
Certainly, the more money you make the easier it should be to pay your bills on time. But, having a good credit score depends more on living within your means than on how much money you make.
Benefits of good credit
Even on a modest income, having good credit can improve your financial well being. Here are some reasons for that:
More financial options. Good credit can give you access to the convenience and safety of using credit cards instead of cash and the option of paying for major purchases over time rather than having to save up in advance.
Cheaper borrowing. The better your credit, the lower the interest rate you'll have to pay on the money you borrow. This is especially true if good credit allows you to avoid predatory credit sources like payday lenders.
Better access to housing. Credit scores aren't just used by lenders. Many landlords look at them when reviewing rental applications. You'll have access to more places to live if your credit score passes muster.
A chance to build wealth through home ownership. Though it's not easy on a limited income, having good credit gives you at least a shot at qualifying for a mortgage so you can buy a house. Buying rather than renting can help you build wealth over time instead of continuing to spend a large chunk of your income on rent.
More and better job opportunities. Some prospective employers check the credit scores of job candidates. They view this as an indicator of how responsible the person is. It can also help them avoid people whose financial troubles might conflict with the job.
Lower insurance rates. Studies have shown that credit history can indicate how likely a person is to file an insurance claim. Though the practice is banned in some states, in many areas your insurance premiums could be based on how good your credit history is.
Keys to earning a good credit score on a low income
Building a good credit history is tougher on a low income. However, as the previous section of this article described, there are plenty of reasons to try.
Here are three stages of earning a good credit score:
1. Establish credit
Some people with low incomes shy away from applying for credit because they assume they'll be turned down or that it will create financial problems for them. However, you can't build good credit unless you demonstrate an ability to use it responsibly.
A secured credit card or a secured loan like a car loan can be a good way someone with limited means can get the kind of credit that will establish a payment history. A student loan can be useful for this purpose as well.
2. Use credit moderately and consistently
If you are able to get a loan or a credit account, start using small amounts of credit on a regular basis. Borrow, repay, repeat. Payment by payment, this is how a good credit history gets built.
The key is always budget before you borrow. Know exactly how you are going to repay a loan or pay off a credit card balance before you take on debt.
3. Keep up with your debt payments
Organize your payment schedule. You can set up automatic payments to help, though you have to coordinate when you get paid with when your bills come due so they'll be money available in your bank account.
Whatever method works for you, make it a priority to keep your payments up to date. Fulfilling this kind of financial responsibility is what good credit is all about.
While getting and keeping a good credit score may be more challenging if you have a low income, Credit Sesame's recent survey demonstrates that it certainly is possible. It's a financial achievement to be proud of, and one that can reward you in a variety of ways.
---
Disclaimer: The article and information provided here is for informational purposes only and is not intended as a substitute for professional advice.
---
Survey methodology
The Credit Sesame Personal Finance and Credit Survey May 2022 was designed and executed by Credit Sesame using the Momentive Inc. survey tool. General population data was collected online May 20-21, 2022. The survey sample comprised 1,222 U.S. residents aged 18 to 99 years balanced for age and gender using U.S. Census data. The sample data is accurate to within +/- 2.888 percentage points using a 95% confidence level.