Your credit score reveals a lot about how you manage your finances. A higher score tends to mean that you pay your bills on time, use a variety of credit products, have some years of experience with credit products, and don't max out your credit cards. A poor score hints that you may not always practice good credit habits.
A poor score can also lead you to make certain credit mistakes, creating a catch-22 of sorts that makes it difficult to take your score to the next level.
Credit Sesame recently analyzed data for our more than 8 million members to identify the worst credit mistakes that people with poor credit make. We found that people with poor credit scores tend to have these three credit missteps in common.
Mistake #1: They use too much of their available credit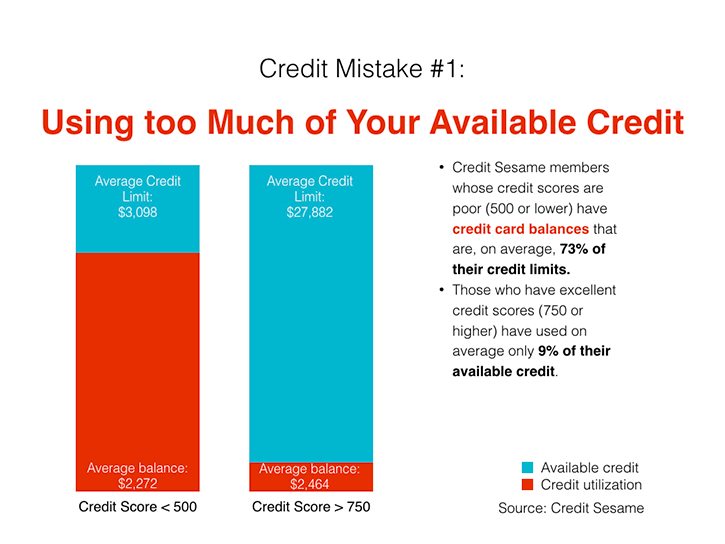 Thirty percent of your credit score is based on your credit utilization ratio. That's a fancy term for the amount of revolving debt you carry in relation to the amount of credit available to you. If you have a $250 balance on a card with a $500 limit, your utilization is 50%. Utilization is calculated for each card and overall.
When your credit card balances are close to or at their limits, that sends the wrong signal to lenders about how responsible you are when it comes to using credit.
When we dug into the Credit Sesame member data, we found that the average utilization ratio for members with credit scores of 500 or lower is 73%
In contrast, the average utilization ratio for members with credit scores of 750 or higher is just 9%.
The average credit card balances were fairly similar, at $2,272 for those with scores of 500 or below and $2,464 for those with scores of 750 or better, but there was a sizable gap in the average credit limit.
Among those with poor scores, the average credit limit was $3,098. For those with scores in the excellent range, the average limit was $27,882.
We also found that 22% of consumers with scores of 750 or higher have zero credit card debt, but only 3% of members with scores of 500 or lower could make that claim.
People with poor scores are more likely to rely on credit and use up more of their available limit.
That's a big reason they don't get approved for higher limits.
Mistake #2: They pay more bills late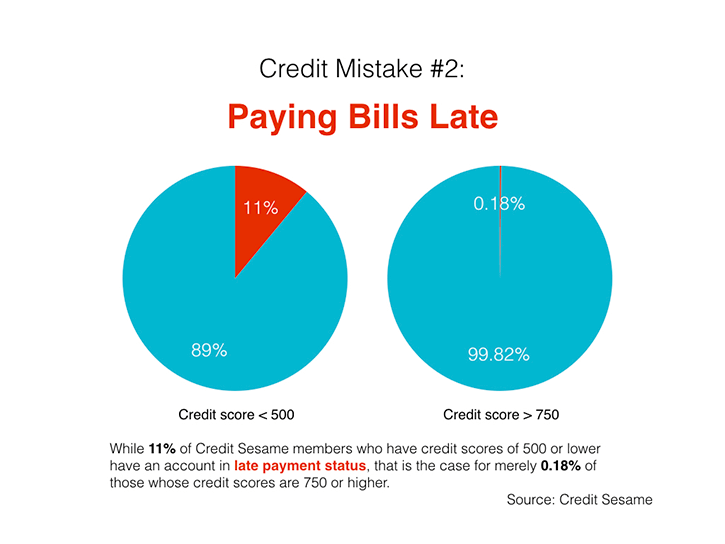 Even more important to your credit score is your payment history. Payment history accounts for 35% of your credit score and late payments can be detrimental to your credit rating. Among members with poor credit scores, 11% of debt accounts are currently delinquent (at least 30 days late).
The delinquency rate for those with excellent scores is substantially lower, at 0.18%.
Given how important payment history is to your score, the remedy for people with poor credit is obvious:
Get into the habit of paying your bills on time, every month.
Late payments can linger on your credit report for seven years but they begin to lose some of their sting after the first two years.  While making timely payments doesn't automatically erase past late payments, a positive payment history can help to turn a low score around over time.
Mistake #3: They have derogatory accounts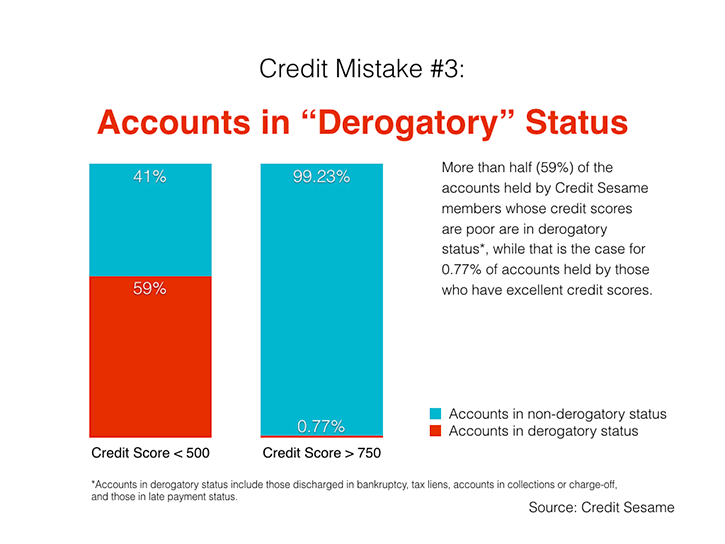 Derogatory data, including collection accounts, charge-offs, tax liens, debt settlement arrangements, a foreclosure or bankruptcy, can keep you from a higher score.
Among Credit Sesame members with poor credit scores, 59% of all open accounts are marked as derogatory.
More than half of the accounts on these folks' credit reports have some kind of black mark.
Less than one percent of accounts belonging to people with 750+ credit scores had derogatory marks.
Like late payments, derogatory marks can remain on your credit report for seven years.
If you have black marks on your credit that you think are erroneous or inaccurate, you have the right to dispute them with the credit bureau that's reporting the information. If your dispute is valid, the derogatory information must, by law, be corrected or removed. If the information is accurate, you could appeal to the creditor directly to ask them to remove it from your credit report. This doesn't always work.
Let Credit Sesame help you improve a poor credit score
If your credit score isn't as high as you'd like it to be, getting back on track is doable with the right tools. With a free Credit Sesame membership, you can monitor your credit score and view your free credit report summary to learn which factors are helping or hurting your score the most. From there, you can learn to avoid the credit mistakes that hold your score down.