When did you first hear about life insurance?
Was it because you knew one or both of your parents owned a policy? Or, was it when you got a new job and found out a small policy is part of your work benefits? For me, it was when I started my job at Haven Life.
These scenarios are common ways most people learn about or interact with life insurance for the first time. But this brief interaction with life insurance often doesn't provide enough clarity for people to understand the value of (and need for) life insurance in certain situations.
Life insurance is a valuable product that helps provide financial security to your loved ones if you were to die.
Thinking about an untimely demise isn't fun, but it's important to know and consider what financial state you'd leave your loved ones in if you did pass away. In many ways, life insurance isn't for those who will die. It's for those who will continue on.
When You Need Life Insurance
Determining if you need life insurance is pretty simple. Just ask yourself, "Would anyone be financially impacted by my death?" Usually, the answer is yes if you:
Are married, and one or both of you rely on each other to help cover the bills
Have a child
Have significant debts, such as a mortgage, cosigned school loans or medical expenses, and not enough assets to cover them
Don't have enough savings to cover burial and final expenses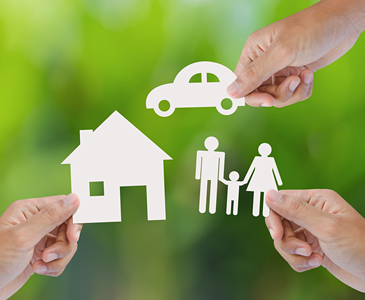 Some people assume life insurance is just for parents or think that maybe life insurance isn't necessary at all. This isn't the case.
Coping with the death of a loved one is already a traumatic, emotional event. Family and other loved ones shouldn't also be left to figure out how they'll cover the mortgage or those student loans they co-signed for you.
If people rely on you to keep your financial obligations, then life insurance is the responsible choice.
To further understand your life insurance needs, try out this free calculator.
When Don't You Need Life Insurance?
When you're young and single, most people correctly assume life insurance usually isn't necessary.
But it's not the case if you have debts that would be left to family members to pay off.
It's important that you have a clear understanding of what would happen to your debts when you die, as this factors into whether or not you would need insurance.
Credit Cards
Let's take the example of your credit card debt. What would happen to it if you die suddenly? If it's only yours and not cosigned by a parent or family member, then it would probably just be absorbed by the credit card company. However, if there is a family member or life partner tied to this account in any way, they may get stuck footing the bill.
Student Loans
Alternatively, what if you're one of the millions of college graduates who have student loans. Federally funded student loans are usually forgiven by the government in the event of your death. Most private loans, however, aren't as generous. And most people at that time in life (fresh out of high school with little to no credit or income) needed a cosigner for private loans. In the case of private loans, a cosigner would likely need to pay off the debt.
If you don't have debts, then you probably don't need life insurance. I fall into this category and do not own a life insurance policy.
Term Versus Permanent Life Insurance – Which Is Your Best Bet?
If you've decided that life insurance might be for you, it's important to understand the two main types of life insurance available to you: term and permanent.
Term life insurance is characterized by its set term (i.e., how long it will last) of coverage – typically, 10, 15, 20 or 30 years. You pick an amount and term length that fits your financial situation, and you pay the monthly premium, and you're covered. Term life is one of the simplest and most affordable types of life insurance. For example, a healthy 30-year-old woman could purchase a 20-year, $500,000 Haven Term policy for about $24 per month.
Permanent life insurance comes in a few varieties, but the most common are whole and universal. This type of life insurance covers you for a lifetime (often to age 100) instead of a term length and has a cash value component that can grow or decrease over time. Because of its complexity, most buyers work with a financial professional to choose and maintain a policy. Additionally, this type of life insurance is more expensive. Using the same example above, a $500,000 whole life policy would likely cost that same woman almost $400 a month.
For many people, term life insurance is a good, affordable option for ample coverage.
How Much Life Insurance Do You Need?
Most financial experts recommend you purchase life insurance that's 5 to 10 times your annual income. However, the right amount of coverage is personal.
When determining how much life insurance you need, it's important to take into consideration the following:
How much money your spouse would need to cover the mortgage
How much money is necessary to cover basic day-to-day expenses
If you want to pay for college for your children
How much money your loved ones would need to pay off any debts or medical bills
Without depleting assets and savings, how much is available to help cover the above expenses?
There's no need to crunch the numbers yourself, though. You can easily get a coverage recommendation and compare quotes to other top insurers here.
Life Insurance – The Nice Thing to Do (When You Need It)
Life insurance can help make a difficult time a little less stressful. That being said, not everyone has a need for a policy.
What's most important to understand is what life milestones and financial decisions trigger a need for life insurance coverage and to make sure that you're getting the necessary financial protection for the people you care about most.
Buying life insurance can be easy and affordable. And it's worth the peace of mind.
Brittney Burgett is a marketing and content development manager at Haven Life – a life insurance agency that provides a simple, affordable way to buy term life insurance entirely online in 20 minutes.
Haven Term is a Term Life Insurance Policy (DTC, ICC14DTC) issued by Massachusetts Mutual Life Insurance Company (MassMutual), Springfield, MA 01111 and offered exclusively through Haven Life Insurance Agency, LLC