When it's time to buy a car, finding the right vehicle is a satisfying experience. Unless you have the cash to pay for it outright, you also need to shop around for attractive auto loan rates. Many buyers expect to purchase the car and secure financing through the dealership in one fell swoop, but that may not be the ideal way to get the lowest car loan interest rates possible.
If you shop around first and walk into a dealership with a pre-qualification letter, then you have bargaining power when it comes to those dealership-sponsored loan packages since they now have something to compete with. It's plain good sense to shop around for auto loan interest rates, investigating banks, online-only banks and specialty lenders that serve niche populations, such as veterans and subprime (poor credit) borrowers.
How to Get a Car Loan
The process of getting a car loan often happens at the dealership after selecting a car. When you do this, you place a whole lot of trust in the dealership to acquire the ideal loan for you. Our advice? Branch out beyond the car lot. Shopping around for a car loan the same way you would with any other type of loan is an important step in getting great rates and terms, regardless of your credit or the type of vehicle you purchase. There is no right or wrong way to shop around for new and used car loans so long as you realize that shopping around is what's likely to save you money in the end.
There are two main approaches. You can contact traditional banks and credit unions, typically those where you already have an account in good standing, and apply there for a loan. Alternatively, you can cozy up to the computer and apply for new or used car financing through online-only lenders. In either case, the point is to shop several lenders to discover which one offers you the most desirable rates and terms.
As a rule of thumb, limit this search to a short, two-week period so you don't harm your credit with multiple inquiries. We've identified several lenders — both traditional and online, as well as some specialty services — to get you started on the right foot as you research the lowest car loan rates possible.
Top Online Auto Loans
Shopping online for the lowest auto loan rates is probably the easiest way to quickly compare companies and the packages they offer, which should include not only new car interest rates and terms but other options as well, such as purchasing used cars and buying out leases. The website's clarity and ease of use are clues to other intangible benefits to working with the lender, such as customer service and how easy it is to manage your loan using the online tools. Among these companies, here are two of our favorites.
CarsDirect
Although it made its name as a car buying service, CarsDirect offers a full menu of car-related services, including a loan lead generator that connects buyers with lenders that can process their loan. One of the nicest aspects of the CarsDirect auto loan portal is that it connects you with lenders that have no minimum requirement for their loans. Many traditional banks want you to take at least $5,000 or even $10,000 to make servicing the loan worth their time. CarsDirect can also connect you to lenders who offer used car financing without a limitation on mileage. Again, most banks cap cars at 100,000-125,000 miles.
MyAutoLoan
MyAutoLoan works similar to CarsDirect in that it connects you with lenders through one easy-to-use portal. An added benefit to MyAutoLoan is that it also deals with lease buyouts, not just used or new car financing. Featuring a handy, geographic-specific loan cost estimator along with an extensive FAQ section, the website is packed with information that educates customers about financing in general and helps them anticipate the real costs of their loan over time.
Top Bank Auto Loans
When you already have a relationship with a bank or credit union, that's often a great go-to when for auto loans, particularly if you have a good or excellent credit score. Many banks offer their customers interest rate discounts for making automatic payments, for example, and credit unions, which are non-profit and owned by their users, on average have interest rates that are between 1-1.5% lower than traditional banks.
Bank of America
Getting a Bank of America auto loan carries benefits if you are an existing customer. Not only does it streamline payments, but current customers may qualify for an interest rate reduction. Also, because of the bank's extensive reach to all 50 states and its reliability as a lender, most dealerships readily accept Bank of America financing.
Bank of America's online services make getting information so easy that you may not even need to step into a physical location. It also allows customers to purchase a vehicle from private sellers and provides financing for used cars that are up to 10 years old with up to 125,000 miles.
Lightstream
Known for its super-low interest rates for highly qualified buyers — you need both a great credit score and a relatively high income — Lightstream auto loan rates can be as low as 1.74%. A branch of SunTrust Bank, Lightstream auto loans range from $5,000 to $100,000, and there are special packages for financing classic cars as well as new, used and leased cars and vehicles sold by private parties. The company also offers some insurance in the form of its $100 guarantee, which pays you $100 if you are unsatisfied with any aspect of the loan process after 30 days. You just need to fill out a survey.
US Bank
Offering some of the most diverse options, US Bank auto loans consistently rank among the top available from traditional banks. If you're in the market for a used car, US Bank allows for vehicles with up to 100,000 miles, and it doesn't automatically generate used car interest rates that are higher than those for new cars. US Bank also reduces your used or new car loan rates if the vehicle you purchase is on the EPA's SmartWay list of environmentally responsible vehicles.
Chase
Much like Bank of America, the other big name on our list, the lowest Chase auto loan deals are available to current Chase customers. The company offers an up to 0.5% interest rate reduction to customers with an existing Chase personal checking account. Getting a Chase car loan as a Chase customer may result in the lowest rate out of all the companies you research. The Chase website has a convenient online tool that allows you to view Chase auto loan rates almost instantly, so you don't need to walk into one of their locations to know how its rates compare, although the bank does has a vast physical presence making it convenient to go in person, too.
Are You a Veteran? Get Top Veteran Auto Loan Offers
As a veteran of any branch of the U.S. Armed forces, there are a number of veteran-specific car loans and car loan companies that you can work with to get lower rates than civilians. This includes getting a USAA car loan as well as taking advantage of veterans-only discounts through traditional lenders and services like MyAutoLoan. Other popular military auto loan providers who work with both active-duty and retired (20 years plus) veterans are:
Miles
Navy Federal Credit Union
Omni Financial
Pioneer Services
Top Auto Loans for Bad Credit
Although there is certainly no shortage of auto loan options out there, many are geared towards people with good or even excellent credit. For drivers with poor credit — a FICO score between 600-700 — the choices are much more limited. Nevertheless, there are some lenders out there willing to work with you and some who even specialize in getting car loans into the hands of subprime borrowers.
Auto Credit Express
Auto Credit Express dedicates itself to working with shoppers on the low end of the FICO scale. The company understands the particular struggles of those with poor credit and uses that knowledge to facilitate loans that often result in lower interest rates compared to traditional lenders. Auto Credit Express even works with people who have declared bankruptcy and allows customers to patronize rent-to-own dealerships and "buy here, pay here" dealerships (where the purchase and financing is all done in-house). Since the company has no limits on loan amounts or car age, borrowers with poor credit have more freedom to select inexpensive cars they can more easily afford, which may be older with higher mileage.
Capital One
Although it is a nationally recognized brand, Capital One does offer specialized loan products to those with less than stellar credit. In fact, Capital One auto loans are among the most popular for those with poor credit since they come attached to a big brand with physical locations in many states. In addition, the Capital One Auto Navigator tool on its website allows users to pre-plan their purchase more accurately by providing them with different payment scenarios before they apply.
How to Get the Lowest Car Loan Rates
When it comes to comparison shopping, taking the time to look at a variety options is the number-one way to get great used and new car loan rates. When it comes to actually getting quotes, you need to know, at minimum, your budget and credit score. You can get a free credit score from Credit Sesame, and online auto loan calculators can help you foresee your expected monthly payment.
Don't feel left out if you're already financing a car that you're happy with, either. There are a number of ways to capture a better car loan rate on your current loan through refinancing. In fact, most of the lenders we've mentioned offer auto refinancing options. There are also dedicated companies, such as the National Auto Loan Network, that specifically cater to auto loan refinancing, offering rates as low as 2.99% for some borrowers.
How We Picked the Top Auto Loans
Choosing the top auto loans for 2016 is no small task, but we've presented these companies to you based on a number of specific considerations. You should note, though, that finding the ideal auto loan rate for you is an individual process. The important thing is to shop around and find what's right for your situation.
Auto Loan Calculator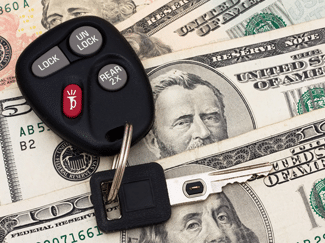 Before you go shopping for car loans, you must understand what you can afford. This includes how much money you can put towards a down payment — perhaps the value of your current vehicle factors into this — as well as the interest rates you can reasonably expect to qualify for. You should also identify a monthly car payment that fits into your budget. We suggest starting with your credit report to determine a reasonable interest rate and then using a tool like the Edmunds calculator to crunch the numbers and arrive at the ideal sticker price range for a car. Then, use the loan calculators provided by the banks, credit unions and online-only lenders that you are considering to compare their specific terms.
Top Car Loan Lenders Provided:
For the record, however, we did look at specific traits among car loan lenders. There was a lot more than interest rates at play here. Instead, all our top-rated lenders also provided:
All or most major loan types
Instant or same-day online approval
Online payment calculators and other resources
Comprehensive customer support
Competitive interest rates
Solid customer service
Summary and Checklist
Finding a great auto loan is as important as finding a great car, and just as challenging. Researching companies and packages with an eye towards your specific situation can help you save money — and guide subprime borrowers to affordable bad credit auto loans and away from disreputable lenders. Here are some other things to think about before you start seriously shopping.
Know your credit score and what it translates to in terms of lending. If you sit down with a bank or a dealer and know you have 750 credit, the representative is less likely to talk you down on terms and rates.
Be ready to walk away from a car or a loan if something feels wrong. Remember, there is a solution for every person and every credit score, so don't feel pressured in the moment.
Research reliable car insurance companies that offer coverage on the type of vehicle you want, particularly if it's new. Savvy buyers know how to get cheap car insurance on new vehicles when they realize where to look.
Armed with some serious prep and knowledge, finding the right car and the right car loan is easier than you think.