What would you do if you found out your beloved pet needed an emergency $3,500 trip to the vet to ensure a long life ahead? That actually happened to me and my cat, Beeker (yes, my husband named her after his favorite Muppets character).
Luckily, I was prepared. I had enough money in savings to pay for the vet bill, but just barely. I brought Beeker home a few days later—alive—and I'm pleased to report that she's now happily snoozing away on her bed.
I also have two other pets: a fluffy poofball cat named Pasha, and a weird lab named Juno. If they got sick, what would happen? Beeker depleted my savings.
I could put it on a credit card. I could beg my parents for a handout. I could start up a Go Fund Me page and offer snuggles in return for dollars.
I have a better solution: a personal loan.
Why take out a personal loan for emergency vet bills?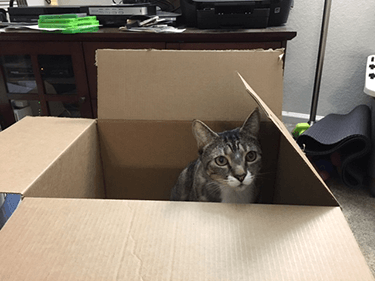 There are three good reasons to consider a personal loan for veterinary care when you haven't saved up enough to cover the emergency.
First, personal loans are generally cheaper than credit cards. You'll spend less money overall on interest if you take out a personal loan versus finance it with a higher-interest credit card, especially if you have good or excellent credit.
Second, you'll save money by having a fixed payment term, generally three years or less. On the other hand, with credit cards, payments can stretch out for decades if you only pay the minimum due. You'll also end up shelling out thousands of extra dollars in interest payments in the process.
Third, a personal loan helps you diversify your credit portfolio. Creditors like to see that you can handle multiple types of debt, and more variety can give your score a small boost. Right now I only have credit cards and student loans, and by adding a third spice to the mix I can improve my credit standing.
How to explore personal loan options using Credit Sesame
My vet recommends $5,000 of emergency savings per pet just in case something bad happens. For this exercise, I'll stick with that number as a worst-case scenario to see what my financing options are.
If you don't have an emergency fund saved up yet, follow along so you can be fully informed of your options for future reference.
When you first log into your Credit Sesame account you'll see a blue stripe across the top of your screen. If you click on Borrowing Power, you'll go to a page that shows you offers from Credit Sesame partners for financial products like mortgages, credit cards, or in our case—personal loans.
Here's what the Personal Loan section looks like for me: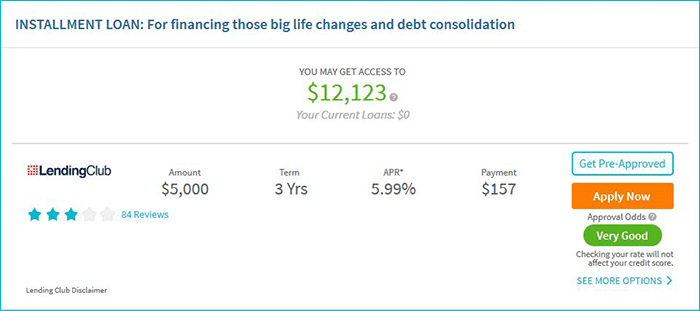 This section gives you a great deal of information. I decided to dig in a little further and see if I can reliably count on getting a personal loan if I need it. To do this, I clicked on Get Pre-Approved. This will allow Lending Club to perform a soft pull on my credit (it won't show up on my credit report or affect my score) and give me a better idea of whether I'll qualify (and for how much).
Here are the results from my pre-approval offer: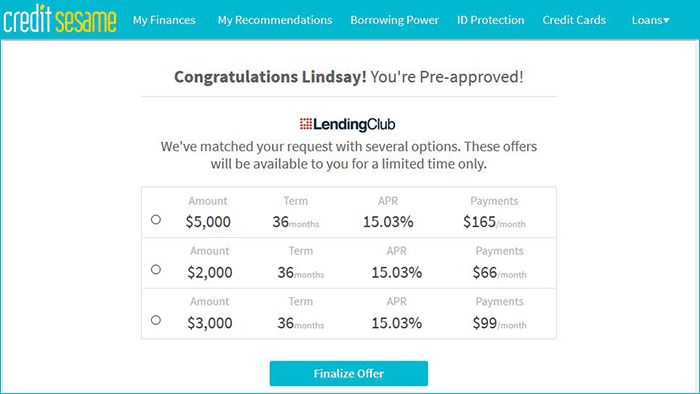 Success!
This screen shows me several useful pieces of information, including:
I can take out a smaller loan, if needed, and know ahead of time what my monthly payments will be.
My APR is higher after going through the pre-approval process.
Now I can sleep well at night knowing that I can count on a personal loan if something happens to my pets before I'm able to save up a fully-funded emergency fund. But I know it'll cost me.
How much could a personal loan save me in time and money?
I've told you that a personal loan is a better choice than a credit card, but is that actually the case?
I decided to put my offer to the test.
My personal loan offer showed slightly lower interest rates than my credit card. I'd pay 15.03% APR on this personal loan, compared to 16.49% APR on my current credit card. It doesn't sound like a big difference, but over the course of a few years, the interest charges are significantly lower on the personal loan.
Where the personal loan really shines is in its payment structure. For lack of a better way to say it, the loan forces me to pay off the debt sooner. If I charge $5,000 to my current credit card and only pay the minimum required payment (interest + 1% of the balance or $25, whichever is greater), then it will take me just over 18 years to pay off my credit card, and I'll pay $5,954.66 in interest charges—more than the original bill.
On the other hand, if I pay off $5,000 according to the terms of my personal loan offer, it'll take me just three years to pay it off, and I'll only pay $1,242.40 in interest—still a good chunk of money, but far less in comparison to the credit card debt.
Using a personal loan for emergencies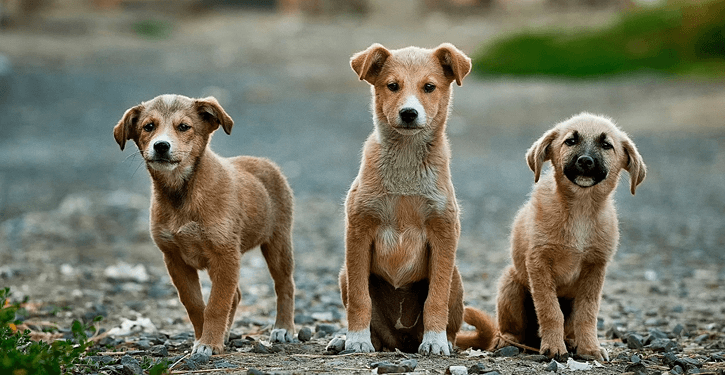 Before you settle on a plan of attack for your own personal financial challenge, note a few details.
Personal loans can take a week or two to fund, so if you need to pay a bill pronto, this strategy might not work without some adjustment.
In that case, you have two options: ask the creditor for a brief reprieve, possibly showing evidence that you are in fact trying to secure financing. Or, put the charge on a credit card for the time being. Then, when you get the loan, use it to pay off the higher-interest credit card.
In the meantime, it's great peace of mind to know that if one of my other pets gets sick unexpectedly, I don't have to plan its memorial. I can use my alternate plan of attack to ensure that I can afford proper care so that those little guys can live a long, healthy life with me.
---
Disclaimer: This article reflects examples of the authors experiences and may not reflect the experience of other loan applicants, individual results vary. Having a credit score in a particular range is not a guarantee that you will be approved for credit or a loan or for the terms you applied for. Lenders, credit card issuers, and other financial institutions use a variety of different types of credit scores and other criteria to make credit and lending decisions.
Advertiser Disclosure: Many of the offers that appear on this site are from companies from which we receive compensation. This compensation may impact how and where products appear on this site (including, for example, the order in which they appear). This site does not include all companies or all available products or all available credit card offers. Credit Sesame is an independent comparison service provider. Reasonable efforts have been made to maintain accurate information throughout our website, mobile apps, and communication methods; however, all information is presented without warranty or guarantee. Please visit the provider's site for current information and verify all terms and conditions of any offer prior to applying. The editorial content on this page is not provided by any company or credit card issuer. Any opinions, analyses, reviews or evaluations provided here are those of the author's alone, not those of any company or credit card issuer, and have not been reviewed, approved or otherwise endorsed by any company or credit card issuer. All images and trademarks are the property of their respective owners.
Disclaimer: The article and information provided here is for informational purposes only and is not intended as a substitute for professional advice.