Feeling burdened by your student loan debt? If it's any comfort, you're not alone. In fact, according to many estimates, in 2019 the total student loan debt in the United States topped $1.53 trillion, with more than 44 million Americans carrying this type of debt. The typical student loan payment amount for borrowers between the ages of 20 and 30 averages $393.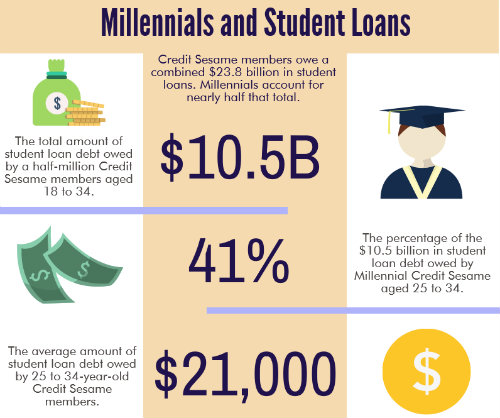 Those are some big numbers. Thankfully, you have the option to consolidate your student loans, which may save you a considerable amount of interest, lower your monthly payment and simplify your bill-paying schedule.
If you're looking to consolidate federal student loans that were issued after 2006, you already have a fixed rate, so you won't save much on interest, but you can extend the term of your loan to lower the monthly payment. Student loan consolidation rates can save or cost you money, depending on the rates that the lender offers and the rate you already have.
Even those student loans with interest rates on the low end can benefit from consolidation, which simplifies multiple loan payments by rolling them into one payment. This reduces the chances that you might miss a payment and increases the likelihood of securing a better rate on your loan.
Student Loan Consolidation
Before you decide whether student loan consolidation is right for you, take inventory of your existing loans. Note the balance and the interest rate of each. Research some of your available options to get a reasonable estimate of the interest rate you can expect to pay, or take advantage of an online student loan consolidation calculator to see how your monthly payment might change.
How Does Consolidation Impact Your Credit Score?
If you want to establish a positive credit history but you sometimes struggle to make your payments, consolidation can help you achieve your goals. Student loans are essentially considered installment loans. Making regular, timely payments is crucial, letting you avoid dings on your credit report. If you miss even one payment on your student loan, this can lower your credit score. Because consolidation groups multiple payments into one, it helps ensure that you can make your payments on time. Additionally, lower rates and lower monthly payments help you budget your finances better to keep your credit on track.
Private Student Loan Consolidation
There are two primary types of student loan consolidation companies: federal and private. Federal student loan consolidation only works for federal student loans; private loans and parent loans are not eligible. Private student loan consolidation may allow you to consolidate a combination of private and federal loans. Lenders for these consolidation loans look for applicants with strong credit histories or qualified cosigners. The terms and conditions for private loan consolidation vary among the different lenders.
For example,  Wells Fargo student loan consolidation comes with variable interest rates of 3.00%–8.99% APR or fixed interest rates of 3.74%–9.99%. These private student loan consolidation loans offer no application fees, no origination fees and several incentives to earn lower interest rates. In contrast, Citizens Bank offers 5 to 20-year consolidation loans with interest rates starting at 2.29% variable APR or 3.45% fixed APR.
Popular Companies for Student Loan Refinance or Consolidation
Before you get started, take a good look at your credit report to assess your strengths and creditworthiness. Shop around with different lenders to find the one that effectively meets your needs. Some of the more popular companies for student loan consolidation include SoFi, CommonBond, Earnest, and Citizens Bank.
SoFi
SoFi refinances private and federal student loans to help lower your interest rate and monthly payment while improving your finances. The ideal candidate has a financial position that has improved since graduation. SoFi offers 5, 7, 10, 15 and 20 year terms with variable interest rates that starts at 2.31% and fixed interest rates starts at  3.20% APR with selection of auto-pay.
What makes this lender different is its decision to stop using FICO scores as part of its decision-making process. SoFi looks at your record of paying bills on time, cash flow, the amount of money you have left each month after you've paid all expenses and other indicators of financial stability and responsibility.
CommonBond
CommonBond offers competitive rates with fixed interest rates between 3.21%-6.45% APR and variable rates that range from 1.81%-6.29% APR. This institution requires you to have a credit score in the high 600s, although the typical CommonBond borrower has a score of 750 or better. The lender doesn't specify a minimum income necessary to qualify, but typical borrowers make more than $100,000 per year.
CommonBond's term lengths set it apart from other lenders. For example, this lender's 7-year term comes with your choice of a variable or fixed rate, while the 10-year hybrid has a fixed rate for the initial five years and a variable rate for the last five years of the loan.
LendKey
LendKey offers a unique service to student loan borrowers. Instead of lending directly, LendKey compares different offers from over hundreds of banks and credit unions to help match you with the most helpful consolidation loans for your needs. Fixed APRs start at 3.39% and variable APRs start at 1.90%. LendKey offers 5-, 7-, 10-, 15- and 20-year loan terms with no origination fees.
Earnest
Earnest's lending model gears itself toward applicants who earn entry-level incomes and have short credit histories, making it ideal for recent grads. Like other lenders, Earnest offers competitive fixed and variable rates and personalized terms between 5 and 20 years. Where Earnest sets itself apart is in the borrower's ability to customize his or her repayment plan.
For example, you can choose an 8-year, 3-week and 4-day term or a 6-year, 6-month term; you pick your term based on how much you want to pay every month. While Earnest considers your credit score, the lender also looks at your employment history and education to offset recently established credit histories.
Citizens Bank
It can be challenging for a traditional bank to keep up with non-bank startups, but Citizens Bank and its student loan consolidation options do just that. In addition to offering competitive interest rates, Citizens Bank provides a 0.5% interest rate reduction if you have an account with the institution and authorize autopay to make your loan payments.
Additionally, Citizens Bank doesn't require applicants to graduate before refinancing their loans. The lender simply requires that you make at least 12 consecutive on-time monthly payments before applying. To qualify, you need a minimum of $10,000 in remaining loans and no more than $90,000 for loans applied to an undergraduate degree.