Credit Sesame discusses why it may be a good idea to apply for credit before the next recession.
Talk of recession is so common these days it may become a self-fulfilling prophecy. Like a gathering storm, people are anticipating chaos and casting a nervous eye towards the horizon. Just like a hurricane, it may fizzle out without event. However, if it doesn't, there are some common-sense moves you can make so you're not caught unprepared.
For example, if you think you might need to apply for a loan or new credit over the next year or so, you might be wise to do so sooner rather than later. If you wait for a recession to hit, you might find it harder to get your application approved.
This article looks at how the availability of loans and other forms of credit might dry up if a recession comes, and why it may be important to apply for credit ahead of time.
Household finances are already showing some strain
Though it's not yet enough of a slump to be declared a recession, the U.S. economy did shrink a little in the first quarter of 2022, according to the Bureau of Economic Analysis. Their preliminary look at how the economy did in the second quarter will be available near the end of July.
Whatever the official economic numbers say, household finances are starting to show the kind of strain associated with recessions.
A recent survey by Credit Sesame found that rising prices are already eating up more of people's paychecks. As a result, the percentage of people who are spending 90% or more of their pay from week to week has doubled over the past year: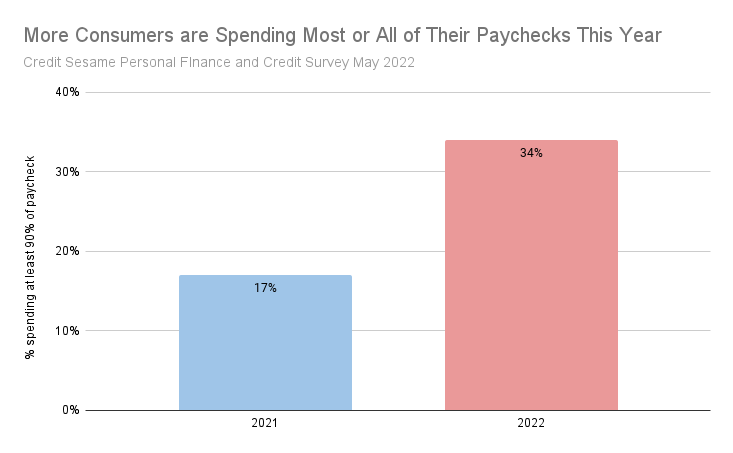 With less room in their paychecks, people are relying more on credit. The survey found that the percentage of people who are carrying credit card balances of more than half their credit limits has increased this year: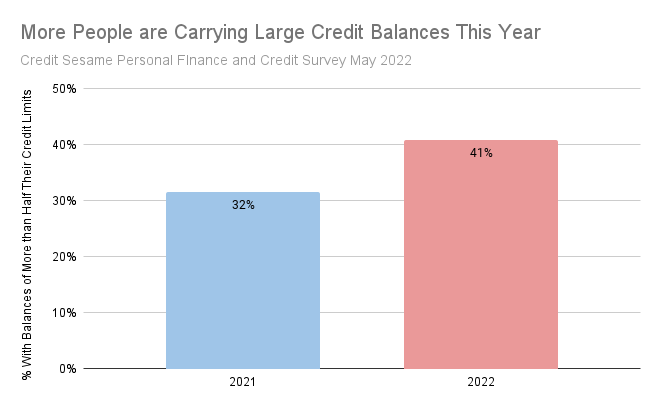 This greater reliance on borrowed money is both a symptom and a cause of financial distress. It is a sign that more people can't afford to make ends meet without borrowing. In turn, the greater interest expense associated with more borrowing causes even more strain on household budgets.
In some cases, that strain is too much. The survey found that the percentage of people making credit card payments late has jumped this year: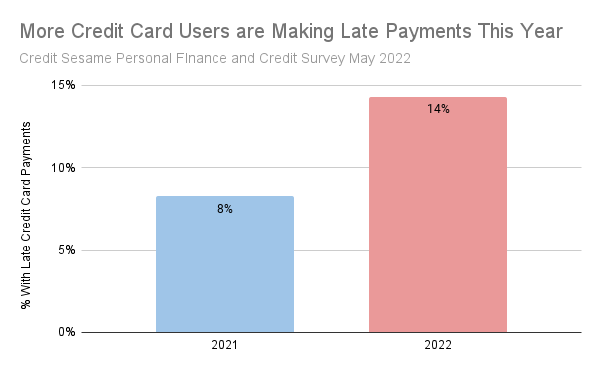 How financial problems affect credit scores
Some of those financial strains are likely to take a toll on credit scores.
One factor in setting credit scores is credit utilization ratio. Using a high proportion of your available credit makes you looked stretched thin financially, and this counts against your credit score.
As noted in the previous section, the Credit Sesame survey found more people are carrying credit card balances of greater than half their credit limits. Those people who are ramping up their credit card balances are likely to see their credit scores start to decline.
An even bigger factor in credit scores is payment history. Since the Credit Sesame survey found more people are missing payments this year, that's a bad sign for credit scores.
It's not just declining credit scores that could hurt your likelihood to get approved for a loan or a new credit card. If a recession hits, it typically means more people lose their jobs. Lenders like it when applicants have established employment. Another reason to apply for credit sooner than later, if you think you'll need it.
Credit standards get tougher in a recession
While your personal financial status may get weaker in a recession, the standards lenders demand might get tougher.
In a recession, a higher percentage of consumers default on their loan and credit card payments. This costs lenders money.
To manage their risk, when the economy is weak lenders tend to shy away from borderline applicants. They are likely to demand higher credit scores, greater job stability and lower debt-to-income ratios. Besides approving a lower percentage of applicants, lenders expect anyone other than the most creditworthy applicants to pay higher interest rates to compensate for the added risk.
In summary, in a recession you see two things moving in opposite directions. As a whole, the financial credentials of consumers get weaker. At the same time, the approval standards of lenders get stricter. That combination makes new credit harder to secure during a recession.
How credit can help you in a recession
It's unfortunate that credit can be so hard to come by in a recession, because it can be very helpful in a tough economy.
Credit gives you more flexibility to make ends meet when cash is tight. While you shouldn't count on relying on credit forever, having it available as a temporary bridge can be crucial.
Ironically, it is exactly when money is hardest to come by that better deals can often be found. The recent spate of inflation has been caused by demand that has far exceeded the supply of many goods and services. In a recession, demand drops off. That could cause some prices to ease, for those with the cash or credit available to buy things.
Of course, a recession is not a good time to splurge on credit. However, if you are confident in your job security and budget carefully, credit can be a very valuable thing to have in a recession if you use it carefully. Just be aware that it might be tougher to apply for credit and succeed once a recession is officially underway.
You may also be interested in:
---
Disclaimer: The article and information provided here is for informational purposes only and is not intended as a substitute for professional advice.
---
Survey methodology
The Credit Sesame Personal Finance and Credit Survey May 2022 was designed and executed by Credit Sesame using the Momentive Inc. survey tool. General population data was collected online May 20-21, 2022. The survey sample comprised 1,222 U.S. residents aged 18 to 99 years balanced for age and gender using U.S. Census data. The sample data is accurate to within +/- 2.888 percentage points using a 95% confidence level.