Protect Your Financial Standing with Free Credit Monitoring!
You've worked hard to build your credit standing. But have you ever thought about what you can do to protect it? At Credit Sesame, we'll provide you with your free credit monitoring, along with your
free monthly credit score
and personalized money-saving advice.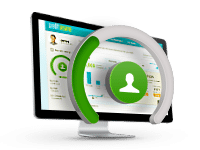 What is Credit Monitoring?
Your credit report can change daily, so credit monitoring tracks your credit report and notifies you when something changes. There are more than 35 different triggers for alerts, including balance changes, new accounts opened, late payments, derogatory comments, inquiries and bankruptcy.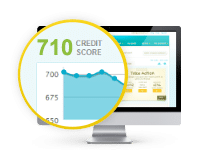 Why is Credit Monitoring Important?
Staying on top of your credit standing and score can mean big savings over time, since credit scores often determine your access to loans, interest rates and monthly payments. By monitoring your credit, you can better manage your existing loans and improve your access to future loans.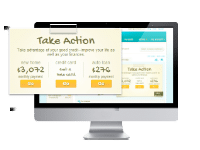 What are Key Benefits of Monitoring Your Credit?
Credit monitoring can give you peace of mind and help you protect your financial standing. The service will notify you of balance changes and when new accounts are opened, which can help limit the impact of identity theft. If you receive an alert that contains incorrect information, contact the credit bureau immediately. This helps protect your credit score and ensure there are no surprises when you're applying for a loan.
The Difference Between Free Credit Monitoring and Premium Credit Monitoring
As a Credit Sesame member, you are entitled to receive your credit monitoring services based on TransUnion credit data. The premium credit monitoring will monitor credit data from all 3 credit bureaus: Equifax, Experian and TransUnion. The platinum plan also monitors your social security number, public records, and black market websites.
The best credit monitoring services: reviews and comparison
Identity theft is a massive problem that's getting worse every year. Roughly
16.6 million people
suffered some type of identity theft in 2012 (the most recent data) and this caused $24.7 billion in financial losses. What makes identity theft so damaging is that people often don't discover that there's a problem until months or even years after the theft. At this point, their credit has been destroyed and it becomes a huge headache to undo all the financial damage. The best way to protect your credit is by taking a proactive approach and signing up with a credit monitoring website. These companies watch over your credit records and personal information for signs of fraud. Any time someone uses your account to apply for a loan or credit card, you'll receive an alert so you'll know if there's a problem. If your identity is stolen, the monitoring website will help you repair the damage. This is an important job and you shouldn't trust just any company to protect your personal information. There are a number of companies available and some are clearly better than others. To help you with your decision, we've reviewed the best credit monitoring companies on the market today.
Credit Sesame
Credit Sesame is a top choice for your credit monitoring needs. Our Pro Credit and Platinum Protection plans monitor your information at all three credit bureaus daily so if anyone tries to steal your identity, Credit Sesame will discover the problem. Both programs also give you your full
credit report card
and
free credit score
every month. The plans are competitively priced at $15.95 a month for Pro and $19.95 for Platinum. The Platinum plan comes with extra features like the monitoring of your Social Security number, your public records, and black market websites where thieves may try to sell your personal information. It comes with $1 million of insurance to cover your losses in case of identity theft. The other plans, including the free plan, offers $50,000 of coverage. Credit Sesame also offers a Basic plan for $9.95 a month and a free plan. These plans only monitor one bureau, TransUnion. The free plan doesn't come with customer support, so you'd need to address identity theft issues on your own. What really sets Credit Sesame apart from other companies is that all of our paid plans offer 24/7 customer support for credit report inaccuracies. If someone steals your identity, you need to move as quickly as possible and can't afford to wait for regular business hours. With Credit Sesame, you can address the problem right away.
Identity Guard
Identity Guard is another solid choice. Their Total Protection and Platinum plans ($19.99 a month and $24.99 a month) monitor all three credit bureaus and give you your full credit report. The key difference between the two plans is that the Platinum gives you monthly updates while Total Protection is only quarterly. The Identity Guard plans all monitor your Social Security number, black market websites, and provide $1 million in identity theft insurance. If your identity is stolen, their support team will help you with the issue. However, support is not 24/7. These plans also offer some interesting extra web protection like encryption for your keyword to protect your passwords, antivirus software, and account access with their mobile app. You can also sign up for identity theft protection for your children for $9.99 a month, something that is becoming more important as thieves target minors as well as adults. Identity Guard also offers a Basic plan for $9.99 a month that only covers 1 bureau, doesn't review your public records, and doesn't offer the online features. They do not offer a free plan but you can try all their plans for 30 days for only $5.
Lifelock
If you'd like extra protection, Lifelock is worth considering. Their Ultimate Plus plan not only provides full credit monitoring of all 3 bureaus, it also tracks your bank accounts, investment accounts, and retirement plans. If anyone tries to open a bank account under your name, Lifelock will contact you. This is a nice feature that isn't available at the other companies. It's important because after all thieves go after more than just your credit. The downside is that this plan is quite expensive at $29.99 a month. Lifelock offers less expensive plans to track your credit, but they don't offer as many features as you'd receive for the same price at other companies. For example, their Advantage plan costs $19.99 a month and only gives you your credit score once a year and only from one bureau. For the same amount of money, Credit Sesame would give you monthly updates from all three bureaus. As a result, the only plan worth the money at Lifelock is the Ultimate Plus because of its extra protection.
TrustedID
TrustedID is one more popular credit monitoring service. They only offer one service at $16.99 a month. It's a good overall credit monitoring program that tracks all three bureaus and gives you monthly updates for your score. It also offers some interesting extras like junk mail reduction and Facebook privacy monitoring. If your identity is stolen, their representatives will be there to help though they don't offer 24/7 service. TrustedID offers a few special pricing discounts for their plan. They take 40 percent off, if you sign up for a year, so it comes out to $14.17 a month. They also offer a family plan where you can sign up two adults and all your children for $29.99 a month. All their plans have a 14-day free trial period. It's a good overall program that makes the most sense if you'd like to sign your entire family. To help you with your comparison, here's a helpful table that breaks down each credit monitoring company's features:
| Credit Monitoring Company | Credit Monitoring | Cost | Credit Score Updates | Free Plan? | What Makes It Special |
| --- | --- | --- | --- | --- | --- |
| Credit Sesame | Strong, all 3 bureaus | Low, $15.95 - $19.95 a month | Monthly | Yes | 24/7 customer support for identity theft |
| Identity Guard | Strong, all 3 bureaus | Moderate, $19.99-$24.99 a month | Monthly or quarterly | No, 30-day trial for $5 | Extra online protection |
| Lifelock | Strong, but only for most expensive plan | Expensive, $29.99 a month | Monthly or annually | No | Tracking of bank accounts and investment accounts |
| TrustedID | Strong, all 3 bureaus | Low, $16.99 a month | Monthly | No, 14-day free trial | Pricing discounts for annual and family plans |
Other Credit Monitoring Services
Costco credit monitoring services.  Your Costco credit monitoring is directly provided by Identity Guard.

Costco Executive member $8.99/month
Costco Gold member: $13.99/month.
Pros: Same full services for Identity Guard. Low price point.
Cons: members complain receiving charges after cancellation. Potential difficulty to get help from live agent

Experian Credit monitoring:

Pros:

$50,000 insurance and 

 access to a Fraud Resolution Specialist in case your identity is stole

Daily monitoring of your Experian credit report with alert notifications for key changes

Unlimited online access to your personal Experian credit report and FICO Score

 Cons:

expensive. $19.95/month
You have to purchase the whole package
Not comprehensive ID protection
Are credit monitoring services worth the cost?
You can try out the free credit bureau service from Creditsesame.com. If you like it, then consider an upgrade to the 3 bureau credit monitoring service and compare with other credit monitoring providers. At the end of day, you are buying peace of mind and protecting your credit. It is especially useful when you are shopping for loans, such as applying for a mortgage. Be aware, credit monitoring will not block activities that hurt your credit. It will only alert you when potential damage happens, and help you restore your credit. Theoretically,  you can monitor your own credit, especially with the free credit score service from Credit Sesame. However, it takes expertise and tons of time. If you are offered free credit monitoring, it's worth a try.