Credit Sesame survey reveals characteristics of the unbanked in the United States.
Most Americans take having a bank account for granted. It's not unusual to have multiple bank accounts. A bank account keeps money safe and easily accessible. It also can be a gateway to a variety of other financial services.
Credit Sesame asked over 1,500 adults about their banking habits, and 98%of respondents had at least one bank account. The 2% exception represents millions of adult Americans more likely to be lower-income consumers. This number tallies with figures from the Federal Deposit Insurance Corporation (FDIC), which reports that in 2021, 4.5% of U.S. households were unbanked.
What does it mean to be unbanked?
The term "unbanked" is used to describe adults who do not have a bank account. Poverty itself is not a barrier to having a bank account and most low-income Americans have bank accounts. So why do some people remain unbanked?
Credit Sesame grouped respondents into three income tiers:
$50,000 or less
$50,000 to $100,000
$100,000 or more
The chart shows the percentage of each income group that is unbanked.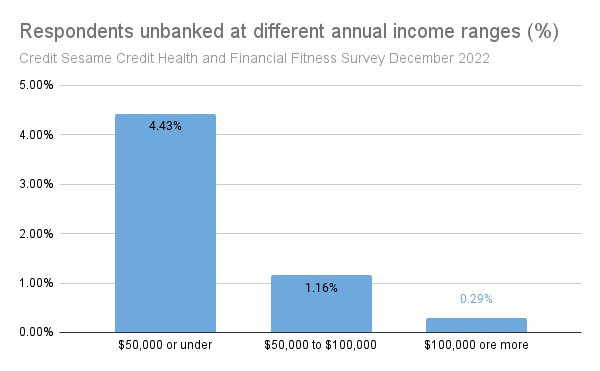 The lowest income group members are fifteen times as likely to be unbanked as the highest income earners.
Why do people choose to be unbanked?
Historically, poorer neighborhoods had fewer bank branches. However, online banking has broken down that geographic barrier. It's worth noting that the survey was conducted online. Anyone with access to the survey should also have access to a bank. And yet, some respondents remain unbanked. Reasons given for remaining unbanked include:
Cannot meet minimum balance requirements. But there are many banks with no minimum balance requirement.
Do not trust banks. But bank deposits of up to $250,000 are protected by federal insurance.
Prefer to keep money in cash. But cash is vulnerable to theft or loss. It is bulky and inconvenient and no longer acceptable in many retail outlets.
Spouse or partner has a bank account. But this means you have to rely on the goodwill and time of your partner if you need a bank account.
Disadvantages of being unbanked
Not having access to traditional banking services (including online banking) can have several disadvantages:
Limited access to credit. Without a bank account, it can be difficult to obtain credit or loans from traditional financial institutions. This can make it challenging to make large purchases or invest in a business.
Higher transaction fees. Unbanked individuals often have to rely on check-cashing services, money orders, or prepaid debit cards to manage their finances, which can come with high fees and charges.
Limited financial services. Banks and credit unions offer a range of financial services, including savings and checking accounts, retirement accounts, and investment products. Without access to these services, unbanked individuals may miss out on opportunities to grow their wealth.
Increased risk of theft. Keeping cash on hand can make individuals more vulnerable to theft and fraud, as there are fewer protections in place to safeguard their money.
Difficulty paying bills. Without a bank account, paying bills can be more difficult and time-consuming. Unbanked individuals may have to rely on money orders or pay in person, which can be inconvenient and may incur additional fees.
Saving without a bank account
Nearly twice as many lower-income respondents with bank accounts have savings compared to unbanked respondents.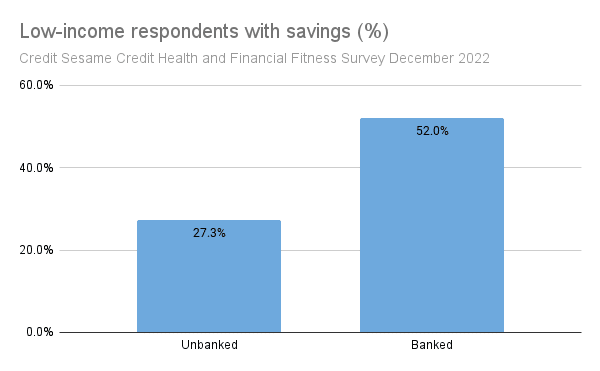 And banked respondents in the lower-income bracket had on average ten times more funds saved than unbanked respondents.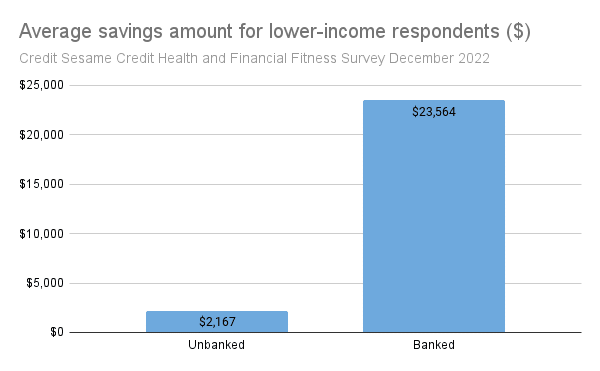 What is being done to decrease the unbanked population?
The unbanked in the US include individuals from low-income households, minority communities, rural areas, immigrants , young adults and unemployed or underemployed individuals. In the 21st century, unbanked individuals are considered to be at a disadvantage for the reasons given. Several initiatives aim to increase access to banking in the United States.
Bank On. Bank On is a national program that promotes access to safe and affordable bank accounts. Participating banks and credit unions offer low-cost accounts with no overdraft fees, making them more accessible to low-income individuals.
Community Reinvestment Act (CRA). The CRA encourages banks to invest in their local communities by providing credit and financial services to underserved areas. Banks are evaluated on their performance in meeting the credit needs of low- and moderate-income neighborhoods.
Mobile banking. Many banks now offer mobile banking apps that allow customers to manage their accounts using their smartphones. This can make banking more accessible to people who may have difficulty accessing physical bank branches.
Financial education. Financial education programs can help individuals understand the benefits of banking and how to manage their finances. These programs may be offered by banks, non-profit organizations, or government agencies.
Partnerships between banks and non-profits. Some banks have formed partnerships with non-profit organizations to provide banking services to underserved communities. These partnerships may involve financial education programs, credit counseling, or assistance with opening bank accounts.
If you enjoyed Who is unbanked in the USA? you may like,
---
Survey methodology
The Credit Sesame Credit Health and Financial Fitness Survey December 2022 was designed and executed by Credit Sesame using the WebEngage survey tool. The survey sample comprised over 1,500 Credit Sesame members with a credit score distribution resembling the U.S. general population. In aggregate the sample data is accurate with a 2.5% margin of error using a 95% confidence level.
---
Disclaimer: The article and information provided here is for informational purposes only and is not intended as a substitute for professional advice.