There's more to getting great home equity loan rates than meets the eye. You can choose from two main types of home equity loans, including a fixed-rate loan with set monthly payments over the term of the loan. Home equity line of credit (HELOC) loans have variable interest rates that start low and increase once your repayment term begins.
Even the lowest HELOC rates can leave unprepared borrowers strapped once the repayment term begins. Whether they use home equity loans to consolidate their debts or to fund big purchases, qualified borrowers who shop around to find the right lenders can enjoy low rates and favorable terms.
Home Equity Loan Providers Compared
Before you start comparing home equity line of credit rates, take a look at some of the differences among major lenders. Read on to learn more about home equity loan providers to see which one might be right for you.
LendingTree
LendingTree got its start in 1996 when founder Doug Lebda experienced the complicated process of getting a home loan before he bought his first house. His innovative idea to create a method that let banks compete for borrowers' business launched in 1998. This loan marketplace connects you with lenders in addition to offering informational resources and tools to make it easier to manage your finances.
LendingTree advertises rates as low as 2.88% for home equity loans, depending on your credit profile and loan terms. To get a home equity loan, simply fill out the online application. LendingTree then connects you to lenders who offer customized loan offers based on your creditworthiness. If you have a solid credit history, you may receive as many as five loan offers in a few minutes. Once the offers roll in, you can choose the one that works well. LendingTree doesn't charge any application fees or loan origination fees. The closing costs, processing fees and other loan fees vary from lender to lender.
Citibank
You have a three ways to apply for a home equity loan with Citibank: online, by phone or at a local branch. This big-name lender offers home equity loans and home equity lines of credit (HELOC).
Both loan options include no application fees, no points and no closing costs, although you can choose to pay closing costs for some home loans in exchange for a rate reduction of 0.25%–0.50%. Closing costs range from $672–$24,527, and Citibank charges an annual fee during the draw period of a HELOC.
HELOC rates are variable and range from 0.59% plus the prime rate to 3.74% plus the prime rate. Fixed-rate home equity loans have an APR that ranges from 5.99%–7.99%. If you choose to have your payments automatically deducted from your bank account, you qualify for lower interest rates than people who opt for another payment method.
Wells Fargo
In 2015, the Wells Fargo home equity loan phased out of the lender's line of financial products. Instead, the company switched to only offering HELOCs. It offers several loan types, including a standard line of credit with a variable rate and several lines of credit that feature a fixed-rate advance (FRA) for a specific period before rolling into a variable rate. To understand how Wells Fargo HELOC options work, consider the following table. Rates are based on a borrower with a credit score of 740 who lives in Philadelphia, Pennsylvania. The borrower's home is worth $300,000, he owes $100,000 on his mortgage and he applies for a $100,000 HELOC.
Wells Fargo offers a relationship discount if you have a Wells Fargo account and sign up for automatic payments. Wells Fargo also lowers your interest rates if you pay for closing costs. The amount that you qualify to borrow and the APRs depend on your credit history and the transaction details.
Third Federal
Third Federal has been providing mortgage and savings products since 1938 when Ben and Gerome Stefanski founded it in Cleveland, Ohio. Third Federal offers several options if you're looking for a home loan, including fixed-rate home equity loans with 5- and 10-year terms, HELOC and a 5/1 adjustable equity loan, which features a fixed rate for the first 5 years. Home equity loans and HELOCs are offered in the following states:
Ohio
Florida
California
Kentucky
Pennsylvania
North Carolina
Virginia
New Jersey
One of the features that makes Third Federal special is its Lowest Rate Guarantee. If you find a rate lower than the one it offers you, it either matches that rate or pays you $1,000. Third Federal charges variable APRs determined by your creditworthiness and the details of your loan.
U.S. Bank
With its online rate estimate tool, U.S. Bank makes it fast and easy to get an approximation of the rates available based on the value of your home, where you live and the amount of money you want to borrow.
Apply for a U.S. Bank HELOC, which has a variable APR, or a fixed-rate home equity installment loan with a term of 5, 10, 15, 20 or 30 years. Variable rates typically range from 3.99%–8.24%. Fixed rates range from 5.99%–8.49%. The application process is simple to complete online.
To apply, you need to be age 18 or older, a legal U.S. resident and a current homeowner. The application asks for information about your current mortgage, the estimated value of your home, your Social Security number, the annual household income and your employer's information.
Bank of America
Like Wells Fargo, the Bank of America home equity loan offerings were discontinued in 2015. As a borrower, you now have access to the Bank of America HELOC, which features a 10-year draw period and a 20-year repayment term. You can request $25,000–$1,000,000 for a primary home and up to $500,000 for a second home. The lender has zero application fees, no fees for making transfers using online banking, no closing costs on HELOCs of $1,000,000 or less and no fee to convert a variable rate HELOC to a fixed-rate loan option.
The fixed-rate loan option lets you convert all or a portion of your Bank of America HELOC to a loan with a fixed rate and predictable monthly payments for the term of the loan. Additionally, members of Bank of America's Preferred Rewards program qualify for APR discounts of 0.125%–0.375% based on their reward level. Bank of America bases its reward levels on the combined balances in your BOA banking accounts and Merrill Edge or Merrill Lynch Investment accounts. Levels include:
Gold: Members carry average combined balances of $20,000–$50,000
Platinum: Members carry average balances of $50,000–$100,000
Platinum Honors: Members carry average combined balances of more than $100,000
Chase
Chase is a big-name lender with more than 5,000 branches in 25 states. With no closing costs, easy online banking and rate discounts ranging from 0.25%–0.50% just for having a Chase checking account, Chase offers reasonable terms and a healthy dose of convenience when you borrow here. This lender consistently receives high ratings for its stellar customer service and easy application process.
There's no option for a Chase home equity loan, but the Chase HELOC loan offers competitive terms if you have a good loan-to-value ratio. Chase's Fixed Rate Lock option lets you convert all or a portion of your HELOC to a fixed rate with predictable payments and no extra fees.
Home Equity Loans Basics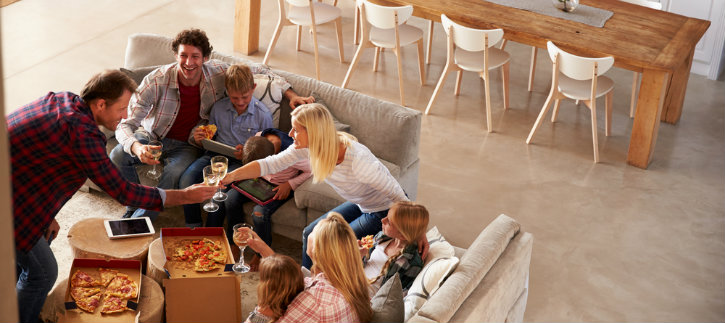 Before you start shopping for a home equity loan, it's helpful to understand exactly how this type of loan works. Read on to learn more about the types of home equity loans available and what to expect when you apply.
What Is a Home Equity Loan?
Even the top unsecured loans can't beat home equity loans for borrowing power, low APRs and long repayment terms. Often called "second mortgages," these loans allow you to access the cash value of the difference between the fair market value of your home and the balance of your mortgage.
For example, if you have a home with a fair market value of $300,000 and a mortgage balance of $100,000, then you have a total of $200,000 in equity. You can apply for a loan to borrow against that equity.
How Does a Home Equity Loan Work?
Home equity loans work similarly to mortgages because they allow you to use your home as collateral in the loan. To get started, you should first figure out how much money you require and exactly what you need in order to determine the type of home equity loan that works well. If you need a lump sum now, you should pursue a traditional home equity loan. If you want to borrow money over time, you can opt for a HELOC instead.
After figuring out what you need, shop around to find the lender with the right rates before applying for a loan. The application process typically includes providing proof of ownership, proof of the amount of available equity, pay stubs, tax returns, bank statements and documents that verify your identity.
How Much Can I Borrow?
Just like getting the lowest mortgage rates, qualifying for the lowest home equity loan rates depends on factors such as your credit history, home value and the loan amount. Before the housing market collapse in 2008, many lenders permitted borrowers to borrow up to 100% of their homes' values. In 2016, few lenders approve borrowers who want to borrow up to 95% of their equity, but most cap off borrowers at the 80% to 85% mark. For example:
Jim has a home worth $500,000 and a primary mortgage with a balance of $350,000. This gives him a loan-to-value ratio of 70%. Jim's home equity lender agrees to let him borrow up to 85% of his home's value, which gives him an available total of $75,000 for a HELOC.
Patty has a home worth $300,000 and a primary mortgage with a balance of $100,000. Her loan-to-value ratio is 33%. Her lender also agrees to the 85% cap, which gives her access to a total of $155,000 for her home equity loan.
What Is a HELOC?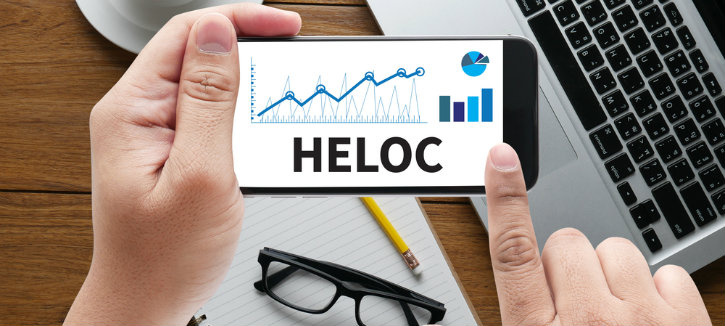 HELOCs (home equity lines of credit) work similarly to credit cards. They give you a set credit limit and the ability to access that credit over a specific length of time known as a "draw period." During the draw period, you can freely use the money and your payments are based only on the interest of the loan.
Once the draw period ends, you enter the repayment period, during which your payments go toward interest and principal. This raises your monthly payment amount. By the end of the repayment term, you must pay back the loan in full regardless of the current market value of your home. Even exceptional HELOC rates can vary or leave you with large monthly payments, depending on the term of the loan.
The Good, the Bad and the Ugly of HELOC Loans
Like a traditional home equity loan, a HELOC uses your home as collateral. This means that the lender relies on your credit score less than it would with an unsecured loan, which makes it easier to get the money you need if you have less-than-perfect credit. This loan is right for you if you plan a project that requires a series of payments spread out over time or if you want to have easy access to a large chunk of cash.
Although HELOCs offer low rates, even the lowest introductory rates don't last. These loans come with variable APRs based on the prime rate plus a specific percentage outlined by the lender. The rate markups can vary according to other indexes, too. Read the fine print before you sign, because some lenders charge extra fees to borrowers who don't meet minimum balances or withdrawals.
Even worse, many HELOC loans require a balloon payment at the end of the repayment period, which could leave you strapped if you're unprepared. Additionally, you risk having an upside-down or "underwater" loan, which means that you owe more than your home is worth. This happens when your home loses value after you take out a home equity loan.
Before you take out a HELOC, use a HELOC calculator to examine the true costs of this loan. This is the most effective way to decide whether it works for you and your budget.
National Average Interest Rate
To give you an idea about what to expect in terms of rates, it's helpful to look at the national average interest rate. In January 2016, the national average interest rate was slightly over 5% for a fixed-interest home equity loan of $30,000. Online tools can help you stay on top of current rates for more accurate estimates.
How to Find the Right Home Equity Rates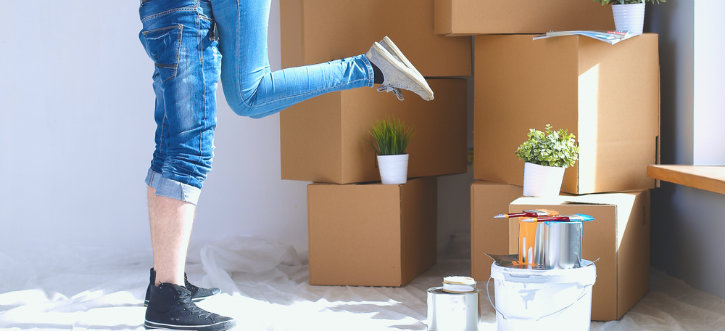 Comparison shopping remains the single most effective way to find the right rate for home equity loans. To qualify for these rates, you should have a relatively low amount of debt compared to your income and have good credit. Aim for a debt-to-income ratio of less than 40%. Lenders view borrowers with higher ratios as higher risks.
Although your credit score matters less with a home equity loan or HELOC than a personal loan, having an excellent score puts you in the running for the lowest APRs. A low credit score can prevent you from getting the loan at all. Use a home equity loan calculator to investigate the rates available.
HELOC vs. Home Equity Loan
Before you settle on one or the other, investigate both options fully. Compare all of the fees, including loan origination fees, appraisal fees, title search fees, attorney fees and application fees. HELOCs are often less expensive to get, but they can cost more in the end depending on the terms of your loan, which may include cancellation fees, transaction fees and annual fees.
Home Equity Loans
Home equity loan requirements vary from lender to lender. The biggest requirements include having enough equity in your home, meeting the lender's age requirements and having a credit score that falls within the lender's acceptable range. If you get a home equity loan with bad credit, this can help put you on the road to establishing a positive credit history if you use the funds to pay off high-interest debts and consolidate your debts into one manageable payment.
HELOCs
HELOC loans aren't ideal if you have unstable income or can't afford the rate increases. HELOC loans can be more challenging than traditional lump-sum home loans because of the following characteristics:
Fluctuating interest rates
Advance period terms
Balloon payment terms
Additionally, you have different access to your funds. While home equity loans pay out a lump sum, HELOCs give you a checkbook or a credit/debit card.
---
The information, including rates and fees, presented in this article is believed to be accurate as of the date of the article. Please refer to the provider's website and application for the most current information.
See the online provider's website or application for details about terms and conditions. Offers are subject to change and the terms displayed may not be available to all consumers. Please visit the provider's site for current information and verify all terms and conditions of any offer prior to applying.