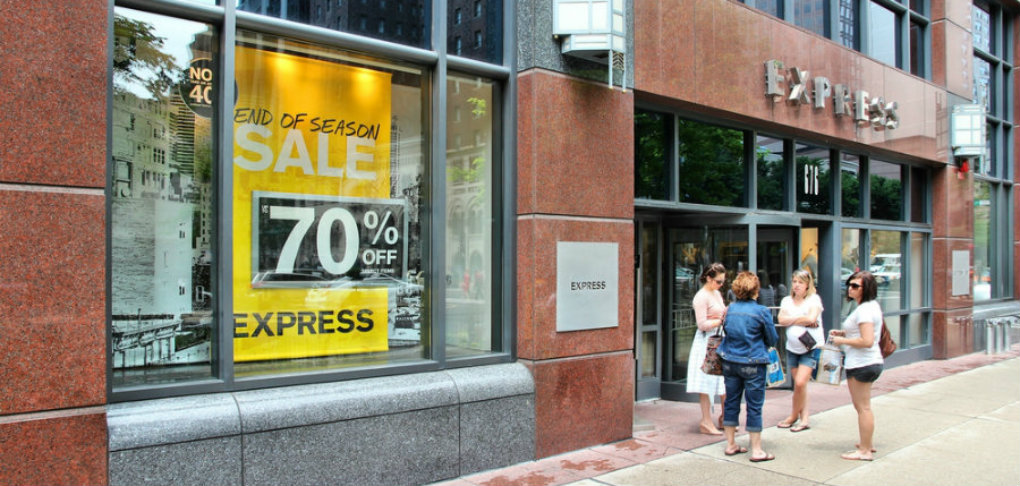 EDITOR'S NOTE: ALL THE CREDIT CARD OFFERS MENTIONED IN THIS ARTICLE ARE EXPIRED AND ARE NO LONGER AVAILABLE
Shoppers who want to stay abreast of the latest looks value the au courant, on-trend clothing that Express is famous for. If you shop at Express frequently, the Express NEXT credit card could make itself at home in your wallet. This card offers a solid rewards program, giving 15 points for every dollar spent in the store; 2,500 points earn a $10 reward to redeem at participating Express stores. You can apply for this card online or in the store, and, if approved, you get 15% off the first purchase made with the card.
Like other store credit cards, the Express credit card comes with a high annual percentage rate (APR). Evaluate all the potential costs, including the APR and other fees, to determine whether or not it's a good fit for your requirements before applying.
EDITOR'S NOTE: ALL THE CREDIT CARD OFFERS MENTIONED IN THIS ARTICLE ARE EXPIRED AND ARE NO LONGER AVAILABLE
Express NEXT credit card fees and APR
Comenity Bank, the financial institution that issues the Express credit card, doesn't charge an annual fee be an Express NEXT cardholder. The bank bases its variable 25.24% APR on the market and the Prime Rate.
Late payments cost up to $37, and returned payments cost an additional fee of up to $25. Comenity Bank charges interest of at least $1 for every billing cycle in which interest is due, and the bank calculates the minimum payment based on $5 or 5% of the new balance on the card, whichever is greater.
Handling the high interest rate on the Express NEXT credit card
If you think there's no getting around that hefty APR, think again. To avoid getting charged interest, pay the entire balance on or before the due date every month. If you are unable to pay the balance in full, paying it off as quickly as possible saves money in the long run.
To mitigate the high interest rate associated with this card, pay off this card in full each month.
For example, if Sheree charges $500 on her Express NEXT card and only pays $25 per month, it will take her 27 months to pay the balance and it will cost a total of $655.67. If instead Sheree pays $100 toward that balance every month, it will take her six months to pay the balance, for a total cost of $534.06.
In addition to earning rewards, use the Express credit card to establish a positive credit history. To maximize the benefits, avoid charging more than you can pay, pay the bill on time, and avoid carrying high balances, which can drag a credit score down.
Minimum credit score for the Express NEXT credit card
Comenity Bank, the institution that issues the Express NEXT credit card, doesn't specify a minimum credit score needed for this card. Like other store cards, if an applicant has a score of at least 600 to 650, he or she stands a good chance of approval.
If you don't know your credit score, take advantage of the right to get a free credit report annually from each of the three credit bureaus (TransUnion, Equifax, and Experian) to find out how your finances are faring. Free credit report cards, including tips for improving your score, and a free credit score (updated monthly) are available on Credit Sesame.
Understanding your credit score
The bureaus collect financial information from lenders and creditors who report it to them. These bureaus each take the information on a consumer's credit report and use it to calculate his or her credit score based on payment history (35%), the amount of money owed (30%), the length of his or her credit history (15%), the types of credit he or she has (10%), and any new credit (10%).
Credit bureaus commonly use two types of credit scores. FICO® and VantageScore credit scores range from 300 to 850. Lenders define credit scores differently, but the following list provides a general idea of how most credit scores rate:
Excellent: 750+
Good: 700-749
Fair: 650-699
Poor: 600-649
Bad: below 600

Higher scores show lenders that an applicant is financially responsible, while lower scores indicate that he or she is a greater risk. Make payments on time and carry low balances on every credit card to craft a good credit reputation.
Express NEXT rewards
As an Express credit card holder, you have access to the rewards program. Earn 10 to 15 points for every dollar spent on qualifying purchases, which exclude gift wrap and boxes, gift card redemption, sales tax, and shipping charges. You'll then earn a $10 to $15 reward for every 2,500 points accumulated. You also receive a birthday gift every year. The rewards are tracked in an online profile, eliminating the need for paper certificates.
The Express Mobile card
The Express Mobile card allows cardholders to transform their phones into their credit cards. This innovative perk provides easy access to an Express account's details and eliminates the need to carry a plastic credit card. Enroll your phone and you're ready to shop.
Make the A-list
Reward members who earn 7,500 points in the program year (March 1 through the last day of February) receive an automatic upgrade to A-list status. A-listers earn a $15 reward for every 2,500 points they accumulate, get a premium birthday gift every year, and enjoy free standard shipping on Express.com online orders.
Maximizing rewards
To earn the most points from every shopping trip to Express stores, always pay using an Express credit card, which lets you earn 15 points for every dollar spent. If you use any other payment method, you earn 10 points for every dollar spent should you decide to enroll in the Express NEXT rewards program without the card. If you enjoy browsing the store's fresh-from-the-runway looks and are prepared to stay on top of card payments, the Express NEXT credit card might just be a great choice.
---
Advertiser Disclosure: The credit card offers that appear on this site are from credit card companies from which this site may receive compensation. This compensation may impact how and where products appear on this site (including, for example, the order in which they appear). This site does not include all credit card companies or all available credit card offers. Credit Sesame is an independent comparison service provider. Reasonable efforts have been made to maintain accurate information throughout our website, mobile apps, and communication methods; however, all information is presented without warranty or guarantee. The editorial content on this page (including, but not limited to, Pros and Cons) is not provided by any credit card issuer. Any opinions, analysis, reviews, or recommendations expressed here are author's alone, not those of any credit card issuer, and have not been reviewed, approved or otherwise endorsed by any credit card issuer. All images and trademarks are the property of their respective owners.
Disclaimer: All the information about the Express NEXT credit card has been collected independently by CreditSesame.com and has not been reviewed or provided by the issuer of this card. The Express NEXT credit card is not available through CreditSesame.com.
See the online provider's application for details about terms and conditions. Offers are subject to change and the terms displayed may not be available to all consumers. Please visit the provider's site for current information and verify all terms and conditions of any offer prior to applying.
Responses are not provided or commissioned by the bank advertiser. Responses have not been reviewed, approved or otherwise endorsed by the bank advertiser. It is not the bank advertiser's responsibility to ensure all posts and/or questions are answered.
Disclaimer: The article and information provided here is for informational purposes only and is not intended as a substitute for professional advice.