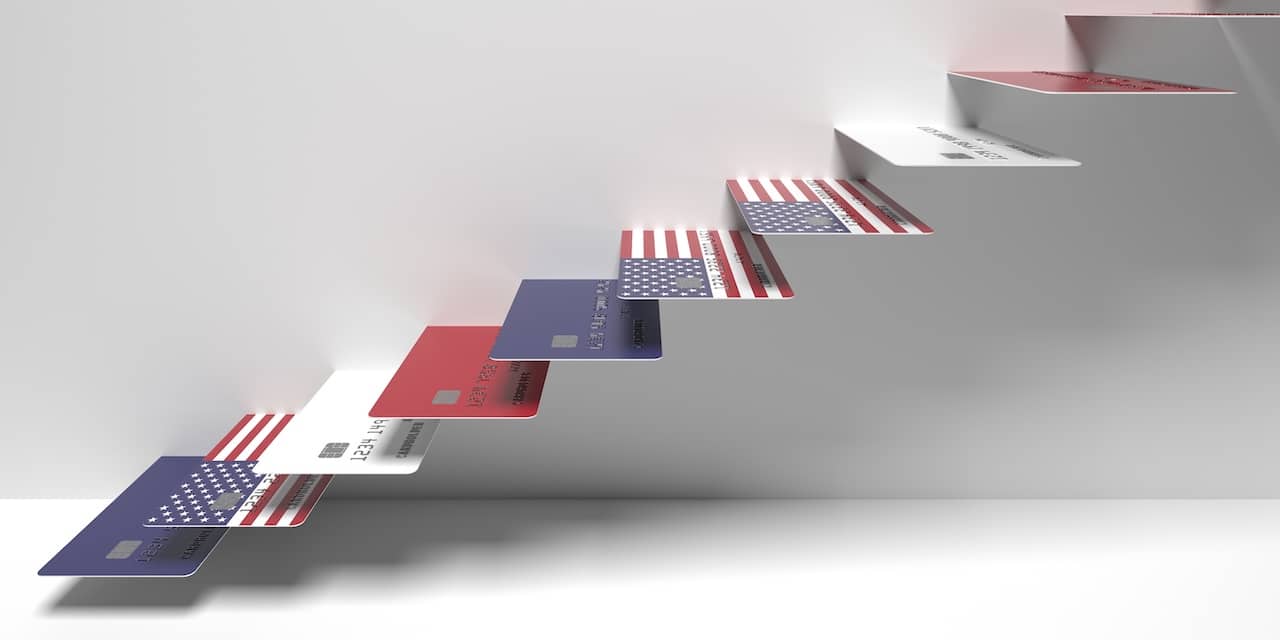 Credit Sesame examines the reasons for rising credit card debt and the consequences of spending beyond means.
Normally, strong consumer spending indicated by rising credit card debt is considered a sign of strength for the economy. In today's high-inflation environment though, it raises two key questions:
Why are consumers spending more?
Are current spending levels sustainable?
A closer look at these questions suggests that for at least some consumers, continuing their current spending habits would mean heading for trouble. The best solution is a change in those habits – especially how they use credit.
Credit card debt had a record first-half increase this year
The New York Federal Reserve Bank recently released its Quarterly Report on Household Debt and Credit. The numbers showed that overall household debt reached a record high of $16.15 trillion in the second quarter of 2022.
Mortgage debt, auto loan debt and credit card balances were all up during the latest quarter, but it is credit card balances that deserve special attention.
Long-term borrowing like mortgages and auto loans doesn't reflect day-to-day consumer habits. Credit card spending does. Also, mortgages and auto loans generally have fixed interest rates, while credit card borrowing is more immediately sensitive to interest rate increases.
Taking that into account, it is alarming to see how fast credit card debt is growing. According to the New York Fed, the 13% year-over-year increase in credit card balances was the largest in over 20 years.
Further analysis by Credit Sesame found that credit card debt is growing at an unusual time. Credit card spending is very seasonal and tends to peak in the fourth quarter of each year due to holiday spending. Then people pay down debt somewhat in the early part of the following year.
This year is different. Credit card debt outstanding increased in the first six months of 2022. That's just the fourth time in the past 19 years that credit card debt has increased in the first half of the year. Moreover, with a $31 billion net rise in credit card balances, this is the largest increase in history.
Why are consumers racking up credit card debt?
Rising credit card debt is not necessarily bad news. After all, consumer spending can be a sign that people are optimistic about the economy. Economists have traditionally viewed consumer spending and consumer confidence as positive indicators for the economy.
On the other hand, there can be a negative side to credit card borrowing. It may mean that people are struggling to make ends meet. The reason may be this year's extraordinarily high inflation rate.
When inflation is high, increased spending isn't necessarily a good thing. It can show that people are having to shell out more money just to buy the same things they've always bought from month to month. Putting money on a credit card can be a short-term way of coping with inflation. In the long run though, if wages can't keep up debt may spiral out of control. Eventually spending has to slow down.
So which does the current boom in credit card spending represent: confidence in the future, or distress caused by inflation?
Inflation is causing serious financial problems for many consumers. A survey by Credit Sesame found that more people are maxing out their credit limits and missing credit card payments this year than last year.
A sampling of credit files by VantageScore found that credit card balances have risen especially fast over the past year for younger borrowers and those with subprime credit scores. For each of those groups, credit card debt rose more than twice as fast as it did for the general population.
Meanwhile the New York Fed reported that payment delinquencies are rising among lower-income and subprime borrowers.
The picture this paints is one of borrowers whose budgets got caught short by inflation. With nowhere else to turn, they've been borrowing against their credit cards to fill the gap. This approach may soon make the inflation problem even worse.
Are current spending levels sustainable?
Borrowing against your credit card to cover increased spending due to inflation may only lead to other problems:
Falling credit score. The closer you are to maxing out your credit limits, the riskier you look to lenders. This may cause your credit score to fall. That score will fall even faster if you start missing payments.
Higher interest charges. Interest rates are generally rising, but they may rise even further if your credit score falls. Credit card companies charge higher rates to riskier customers. The interest rate gap between rates for high and lower credit score customers may become wider if payment defaults generally become a problem.
Maxed out limits. As noted previously, using more of your credit limit could cause your credit score to fall. Also, you may eventually run out of room to borrow any more. This could happen sooner than you think, because credit card companies sometimes cut the limits of higher-risk customers.
Late fees. If your financial problems lead to you miss some payments, you'll add late payment penalties on top of the higher costs you're already paying.
In a pinch, borrowing against your credit card might seem like a solution to the inflation problem. In the long run, it just adds to that problem.
How to achieve sustainable credit use
It's no surprise that inflation is hitting lower-income and lower-credit score consumers hardest. These are the people whose finances were already closest to the edge. Unfortunately, rising credit card debt for individuals is unlikely to be sustainable.
To prevent your financial problems from getting worse, you need a sustainable solution. That means adjusting your household finances so they don't rely on continued borrowing.
There are two ways to bring your spending back within what your income can afford:
1. Cut your spending
This is never easy, but you can get it done by paying attention to details such as:
Prioritize your purchases, so you have money available for what you need the most
Look for less expensive substitutes, such as store brands rather than national brands
Shop around using online resources to find the best bargains
2. Raise your income
One thing consumers have going for them is that strong demand for workers is creating opportunities to earn more income. Possibilities include:
Ask your current employer for a raise by preparing a list of all the ways you add value to the company
Look at your local job market to see if there are higher-earning jobs available to you
See if you can add a part-time job to supplement your income
Put in some overtime – just a few hours a week could put your budget back in balance
Making these changes takes some effort. In the long run though, you'll find making these sustainable adjustments easier than dealing with an ever-growing debt problem.
---
Disclaimer: The article and information provided here is for informational purposes only and is not intended as a substitute for professional advice.
Join The Discussion
Become a vital part of the SesameThrive community and share your experiences and insights.
You can trust that we maintain strict editorial integrity in our writing and assessments; however, we receive compensation when you click on links to products from our partners and get approved.
Published August 9, 2022
Related Links