What is a Schumer box?
A Schumer box is a table that discloses pertinent information about a credit card, including interest rates, fees, terms and conditions. It is named for Charles Schumer, the lawmaker responsible for legislation that requires all credit card terms to be presented in a standardized, easy-to-read format. The legislation was enacted in 1988 but did not take effect until 2000. In addition to stipulating what information must be displayed, the law also stipulates that the interest rate be presented in large font (18 pt) and the remaining terms in normal – not tiny – font (12 pt).
[cta button="text for button" image="http://override-default-image-url" link="http://override-default-link/"]Get your free monthly credit score—no credit card required![/cta]
The Schumer box includes:
The annual percentage rate(s) for purchases, balance transfers, cash advances, and penalties
Any grace period and how to avoid paying interest
Minimum charges
Annual fee
Transaction fees
Penalty fees
Here's an example borrowed from a credit card from June, 2014 (Note these terms are no longer available, this offer is expired, the information in the Schumer Box, tables and any rates, fees or terms mentioned in this article are used for illustration purposes only.)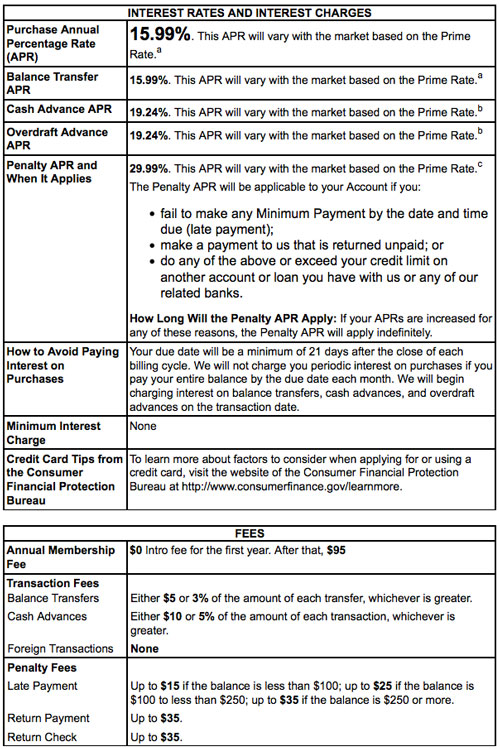 Credit card issuers also provide the following information, although in our example it is presented as footnotes outside the box:
Information (when applicable) about variable interest rates – how and when they change
How the balance and finance charges are calculated

Why the Schumer box is important
Fine print and legalese can confuse even the most intelligent consumer. Standardized information from credit card issuers allows consumers to compare apples to apples and choose the right product. Importantly, the Schumer box also helps consumers understand the difference between promotional terms and ongoing terms. If there's normally an annual fee but it's waived the first year, or there is a $0 introductory annual fee, the Schumer box clearly shows that. A reader who reads the Schumer box is not likely to mistakenly believe that it's a no annual fee card.
Red flags
The Schumer box is only part of the picture. You still need to read all of the terms and conditions and be sure that you understand them.
Look for common industry traps that could have a negative effect on your credit. For example, penalty rates. The issuer will convert this account to a penalty interest rate of 29.99% if the cardholder misses a payment on any other account with the issuer, even if this account is current and in good standing.
A similar example is the universal default clause. Some creditors will impose a penalty rate if the consumer is reported to have missed a payment to any creditor at all.
Deferred interest is another term to watch out for. Some credit cards offer introductory promotional interest rates as low as zero percent. But if you don't pay the entire balance before the introductory period expires, you'll be charged interest on the entire amount back to the date of purchase, even if you've already paid a portion of it off. Home improvement store credit cards are well known for this.
What the Schumer box doesn't tell you
The Schumer box won't tell you everything you need to know about your credit card.
Rewards program details. Rewards and loyalty programs are governed by separate terms and conditions that are not tied to or dependent upon the terms described in the Schumer box.
Prime rate predictions. Variable rates are tied to an index that changes periodically such as to the prime rate and the Schumer box can only tell you what that is on the day you apply. No one can predict when the prime rate will change or by how much.  The card issuer can and will raise the interest rate when the prime rate changes.  As a side note, not all variable rate credit cards are tied to the prime rate, some, for example, may be tied to the London Interbank Offered Rate (LIBOR) so be sure you check the Schumer box to see which index the rate offered is tied to.
More on Credit Cards:
---
Disclosure: The credit card offers that appear on this site are from credit card companies from which this site may receive compensation. This compensation may impact how and where products appear on this site (including, for example, the order in which they appear). This site does not include all credit card companies or all available credit card offers. Credit Sesame is an independent comparison service provider. Reasonable efforts have been made to maintain accurate information throughout our website, mobile apps, and communication methods; however, all information is presented without warranty or guarantee. The editorial content on this page (including, but not limited to, Pros and Cons) is not provided by any credit card issuer. Any opinions, analysis, reviews, or recommendations expressed here are author's alone, not those of any credit card issuer, and have not been reviewed, approved or otherwise endorsed by any credit card issuer. All images and trademarks are the property of their respective owners. .
See the online provider's application for details about terms and conditions. Offers are subject to change and the terms displayed may not be available to all consumers. Please visit the provider's site for current information and verify all terms and conditions of any offer prior to applying.
Responses are not provided or commissioned by the bank advertiser. Responses have not been reviewed, approved or otherwise endorsed by the bank advertiser. It is not the bank advertiser's responsibility to ensure all posts and/or questions are answered.
Disclaimer: The article and information provided here is for informational purposes only and is not intended as a substitute for professional advice.