If you have a 650 credit score, you may be wondering what that means. Is 650 a good credit score, a bad score, or somewhere in between? What does having a 650 credit score mean for your wallet? Read on to find out all you need to know about having a 650 credit score.
650 credit score basics
While there are different models and algorithms for calculating your credit score, for the purposes of this article, we're going to talk about your FICO Score. A FICO Score is a three-digit number, ranging from 300 to 850, and the higher your score, the better. A 650 FICO score is generally considered to be Fair.
If you have a 650 credit score, you may still be denied some loans and credit cards — and you may be forced to pay higher interest rates for the ones you are approved for. You need at least a 700 score to have Good credit — but 650 isn't considered Poor either. Rest assured that a little bit of credit improvement can result in saving a lot of money.
The chart below shows the various credit range scores. As you can see, if you have a 650, you fall into the Fair category, along with 21 percent of our credit sesame members.
Comparing Credit Score Ranges of Credit Sesame Members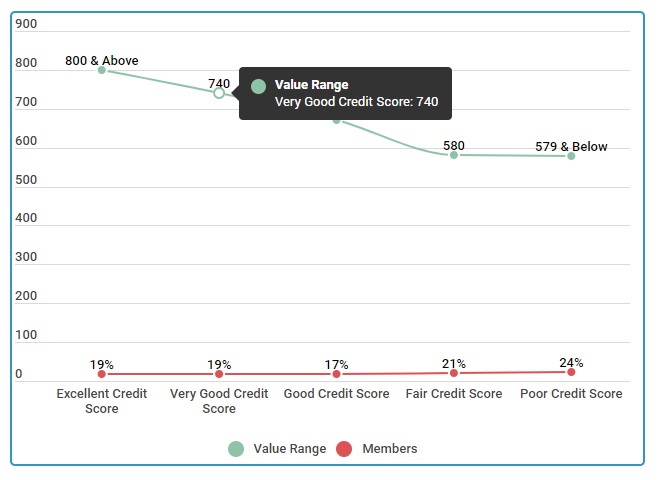 | Score Range | Value Range | Members |
| --- | --- | --- |
| Excellent Credit Score | 800 & Above | 19% |
| Very Good Credit Score | 740 - 799 | 19% |
| Good Credit Score | 670 - 739 | 17% |
| Fair Credit Score | 580 - 669 | 21% |
| Poor Credit Score | 579 & Below | 24% |
Source: Credit scores were calculated from 5,000 Credit Sesame members on 2/6/18.
Now you know you are not alone in having a 650 credit score, let's find out more about your credit score and the steps you can take to help you increase it.
How to improve your 650 credit score
If your credit score isn't where you want it to be, don't fret — there are steps that you can take to help build and improve your credit:
Make all of your payments on time — every time. This is the single biggest thing you can do to help improve your credit score. Consistently making your payments on time will lead to a steady increase in your credit score.
Reduce your credit utilization. Your credit utilization is a ratio of the amount of debt you currently owe to the sum of your total credit limits. The lower this number, the better — so always aim to use less than 30 percent of your available credit at any given time.
Limit the number of hard inquiries. While it doesn't hurt your score to check your credit yourself (a soft inquiry), a hard inquiry, such as when applying for a new credit card, can ding your score slightly. Limit the number of credit applications to see a rise in your score.
These are just a few of the steps you can take to improve your credit, but there are many different steps and strategies to improve your credit score. However, the data below shows how some of our Credit Sesame members were able to improve their score over three months, six months, and 12-months using some of these strategies.
For example, by reducing their debts, members increased their 650 score by two percent in just three months, four percent in just six months, and nine percent in 12 months.
How to Improve Your Credit Ranking Within a Year
750Credit Score
Increase Percentage 3 Months
Increase Percentage 6
Months

Increase Percentage 12 Months
Reduce Debts
2%
3%
9%
Credit Use <30%
4%
5%
7%
Non-Traditional Lenders Contributed to Credit Score
1%
1%
2%
No New Credit
1%
2%
2%
Source: Credit Sesame asked 200 Members with a base credit score of 650 who individually utilized the listed methods. The survey was conducted from August 2016 to August 2017.
Factors in your credit score
In order to fully understand your credit score, let's take a closer look at what goes into building your score.
Payment History. Your payment history accounts for 35 percent of your credit score, and tells the story of how often you make your payments on time — and how often (and for how long) your payments have been delinquent.
Credit Utilization. Simply put, your credit utilization represents how much of your available credit you're using at any given time. This makes up 30 percent of your score, and you should aim to keep this number as low as possible.
Credit Age. The age of your credit history is also a factor in your credit score. Always keep your oldest accounts open if possible. This portion is 15 percent of your total credit score.
Different Types of Credit. Lenders are looking for responsible use with a mix of credit types, such as credit cards, students loans, auto loans, and more. Balance this 10 percent with other factors.
Number of Inquiries. While checking your own credit won't hurt your score, a hard inquiry, such as when you apply for a new line of credit, will. Keep this number to a minimum but also remember it is only 10 percent of your credit score.
Notice in the chart below that each of these credit factors has a different impact on your score. Payment history and credit utilization have the most impact, while the different types of credit you and have the number of inquiries on your report have the least.
FICO Scoring Model Calculation (Weight) Factors

| Credit Factors | Credit Score Weight |
| --- | --- |
| Payment History | 35% |
| Credit Utilization | 30% |
| Credit Age | 15% |
| Different Types of Credit | 10% |
| Number of Inquiries | 10% |
Source: https://www.myfico.com/credit-education/whats-in-your-credit-score
Knowing the different factors that go into your 650 credit score can certainly help you take an educated approach into improving your credit. But, what if you don't have time to make big credit changes? What can you expect with a 650 credit score, assuming you make no improvements.
What can you expect with a 650 credit score?
One of the first questions we hear when talking to members is "What can I expect with my score?" As we mentioned, with a 650 credit score, your chances are good of being approved for a various number of credit cards and/or loans — but you may end up paying a bit more for the same things as someone with better credit, thanks to a hike in interest rates. Take a look at the numbers below:
Average Interest Rates Divided by Credit Score Range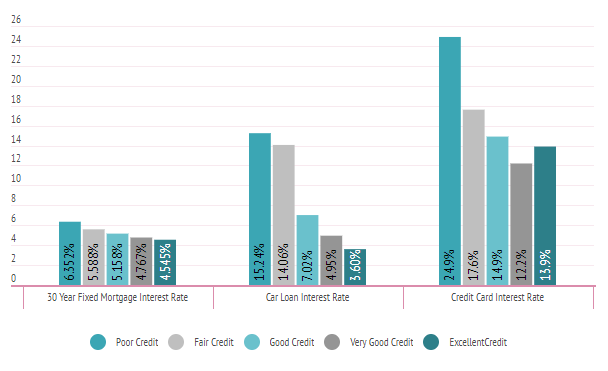 Type of Loan
Poor Credit
Fair Credit
Good Credit
Very Good Cred
Exceptional
Credit

30 Year Fixed Mortgage Interest Rate
6.352%
5.588%
5.158%
4.767%
4.545%
Car Loan Interest Rate
15.24%
14.06%
7.02%
4.95%
3.60%
Credit Card Interest Rate
24.9%
17.6%
14.9%
12.2%
13.9%
Source: Credit Sesame asked 400 members about their interest rates during a three week period beginning on January 18, 2018.
So what does this mean for you? With Fair credit, you're saving a significant amount on interest over someone with Poor credit (especially when it comes to purchases on your credit card), but as you can see, there is still room for improvement.
Even moving up one tier to Good credit can save you more than seven percent in interest on your car loan — which, when thinking about the total amount of the loan, can be quite substantial over the course of the loan.
Dealing with negative information on your credit report
Taking the steps mentioned above to improve your credit is a great start, but it's also important to make sure there aren't any errors contained in your credit report and to deal with any negative marks your report may contain. Below are some common credit report errors and the negative impact they can have on your credit score:
Largest Impacts in Inaccurate Credit Reports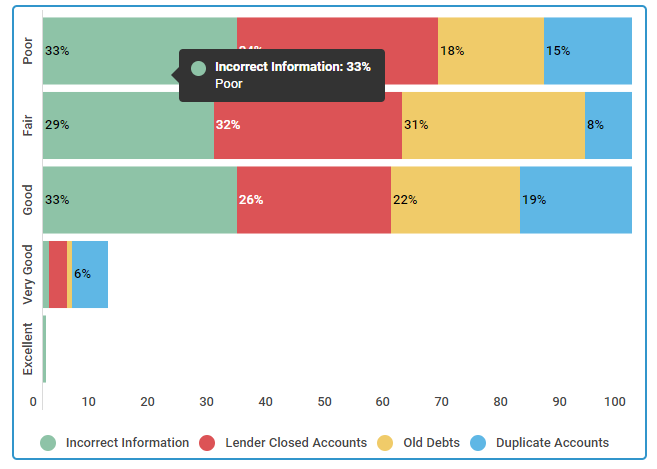 | Credit Ranking | Incorrect Information | Lender Closed Accounts | Old Debts | Duplicate Accounts |
| --- | --- | --- | --- | --- |
| Poor | 33% | 34% | 18% | 15% |
| Fair | 29% | 32% | 31% | 8% |
| Good | 33% | 26% | 22% | 19% |
| Very Good | 1% | 3% | 1% | 6% |
| Excellent | 0.5% | 0% | 0% | 0% |
Source: Credit Sesame surveyed 250 people, 50 had a Poor credit ranking, 50 participants had a Fair credit score, 50 members had a Good credit rating, 50 people were listed as Very Good, and 50 members reported they had an Excellent credit score. The study was conducted on October 20, 2017, over a period of two weeks.
The first step to improving your credit is to make sure that all the information on your current credit report is accurate. File disputes with the credit bureaus if you find any inaccuracies, and remember that accurate information, by law, can't be removed until it cycles off.
We talked to one member, Shelly, to find out how she raised her 650 credit score nearly 100 points in just three months. Here's what she had to say:
How Shelly improved her 650 credit score to 741 in just three months
We interviewed Shelly on May 18, 2018; she earns $49,000 a year, is 38 years old and lives in
Nashville, Tenn. She currently rents a condo with her boyfriend.
Member Since: 3/15/2015

| What | did | you | do | to | improve | your | 650 | credit | score? | | | | | | | |
| --- | --- | --- | --- | --- | --- | --- | --- | --- | --- | --- | --- | --- | --- | --- | --- | --- |
| When my father passed away I inherited a sizeable estate. I knew it was time to get my credit in better shape. My inheritance was enough to pay off all my debts, which I did immediately. After that, I started checking my credit score every month and working to improve the other factors that were bringing down my score. | | | | | | | | | | | | | | | | |
| What | is | your | credit | score | now? | | | | | | | | | | | |
| Paying | off | all | my | debt | at | one | time | improved | my | credit | score | enormously. | It's | at | 741 | now! |
| How | long | did | it | take | to | improve | your | 650 | score? | | | | | | | |
| It took just three months to raise my 650 credit score to 741. I know I am not your average consumer because of the inheritance, but even tax refunds can help pay down debt. I'm really fortunate that I inherited the money to help push my credit score to the next level. | | | | | | | | | | | | | | | | |
Shelly's story is unique and she was fortunate enough to have the ability to pay off all her debts. If you don't have a sizeable sum to start paying off your debts immediately, consider some of these strategies.
TLDR; what can you do with a 650 credit score?
Time, along with the proper steps and action, can improve even the lowest credit score. The impact of negative factors in your report lessens, and those negative marks will eventually fall off of your report. While you're waiting, good credit habits will help you build positive credit. Embracing these behaviors today means that when the negative reports cycle off of your credit report in the future, you're left with a better score — and who doesn't want that?