The recent Equifax data breach is estimated to have compromised the Social Security numbers of 145 million Americans, making it the worst data breach in U.S. history to date. When a data breach happens on this scale, your first reaction may be fear or panic over what that means for your financial situation.
A recent survey from Credit Sesame, however, suggests that despite those worries, Americans are still sluggish about taking action to protect their credit when a breach happens. Sound familiar?
Consumers are Worried but Slow to Respond
According to the survey responses, which were collected from over 5,500 Credit Sesame members in September 2017, the average consumer rated their level of concern about the breach a 6 out of 7. A 7 was "extremely concerned."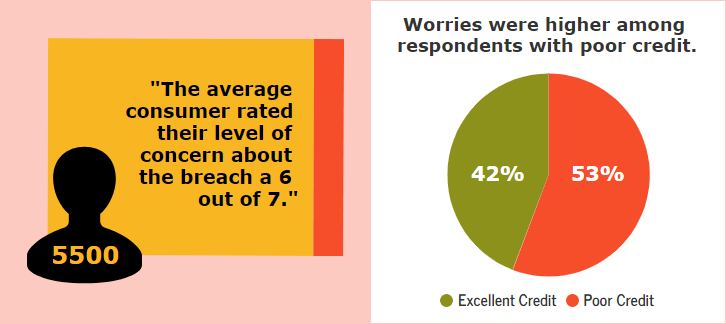 Worries were higher among respondents with poor credit, versus excellent credit. Fifty-three percent of those surveyed with poor credit scores said they were extremely concerned, compared to 42 percent of those with excellent scores.
What are consumers doing about their concern? The answer, surprisingly, is very little.

A credit freeze prevents new creditors from accessing your credit file. This will thwart most identity thieves who attempt to access new credit in your name, since the application is virtually guaranteed to be denied without a review of your file. Nothing can prevent all identity or financial fraud, but a credit freeze is an extremely effective prevention measure (and possibly the only real prevention measure you can take to mitigate the risk of damage caused by a data breach).
The Better Your Credit, the More Likely You'll Protect It
Credit scores seem to correlate with initiative. Consumers with excellent scores (760 or better) were nearly twice as likely as those with poor scores (500 or below) to place a freeze.
Credit Freezes and How They Work are not Common Knowledge
Lack of knowledge may be the reason credit freezes are not used more widely.
Among those who had not placed a freeze, 44 percent of consumers with poor credit and 29 percent of those with excellent credit said they didn't even know a freeze was an option.
About a fifth of respondents (18 percent with excellent credit and 21 percent with poor credit) don't know what a credit freeze is.
A fifth of respondents were reluctant to place a freeze because of the fees involved ($0 to $20; around $10 in most states).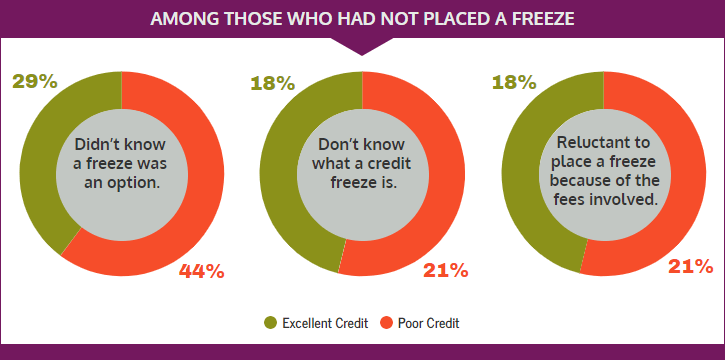 Many Consumers Don't Seek Information
We also found that the majority of consumers (59 percent of consumers with excellent scores and 73 percent with poor scores) didn't know whether their personal data had been affected by the breach.
Despite fears over the breach compromising their credit, there is a big disconnect between thinking about potential consequences and taking protective action.
Why Aren't Consumers Taking the Breach Seriously?
Considering how widespread the breach is, it seems natural that Americans would be putting up a stronger line of defense around their financial information. The survey data shows that's not the case. Something as simple as human nature may be to blame.
When you don't have the right knowledge about your credit or finances, it's easy to feel helpless when something serious like a data breach happens. In the survey, a clear majority of respondents hadn't taken steps to freeze their credit and many of them just didn't know they could. If you're not educated about what to do in this kind of scenario, it may seem easier to cross your fingers and hope for the best versus finding out what your options are.
Americans who are not in the habit of paying close attention to their credit or finances could be dragging their feet in addressing the data breach. When you don't have certain routines in place – like checking your credit report regularly or reviewing your bank and credit card statements each month – figuring out how to develop those habits can be overwhelming.
That doesn't make you lazy and it doesn't mean you don't care about your finances. Best-selling author Ramit Sethi puts it best this way: "Failing to create habits is not about laziness. It's about not having the right systems."
Good Habits Carry Through
The power of habit is something that the survey data bears out.
While most of the consumers in the survey had never placed a credit freeze or fraud alert on their credit reports in the past, the ones with excellent credit scores were more likely to do so last month. Those with poor credit scores, on the other hand, were least likely to set up a credit freeze or fraud alert.
The data suggests that if you're in the habit of watching out for your credit, you may be more inclined to be proactive about monitoring it after a data breach happens.
Adopting the habits of the credit elite could benefit credit-poor consumers. Those habits include checking your credit regularly, paying your bills on time and keeping your debt balances low.
Charles Duhigg, best-selling author and productivity expert, offers a simple formula for building habits:
Identify the routine
Experiment with rewards
Isolate your cues for following the habit behavior
Have a plan
Finding a motivator can be the hard part, especially if your reason for not freezing your credit is cost. But think of this way: is protecting your credit from identity thieves worth skipping one dinner date?
A relatively straightforward way to practice better credit habits in the wake of a data breach is to monitor your credit regularly. You can do that by signing up for a free Credit Sesame member account if you're not already a member. When you join Credit Sesame, you'll receive email alerts any time a change posts to your credit report. That's an effortless way to keep an eye on your credit and financial information if a data breach has you running scared.