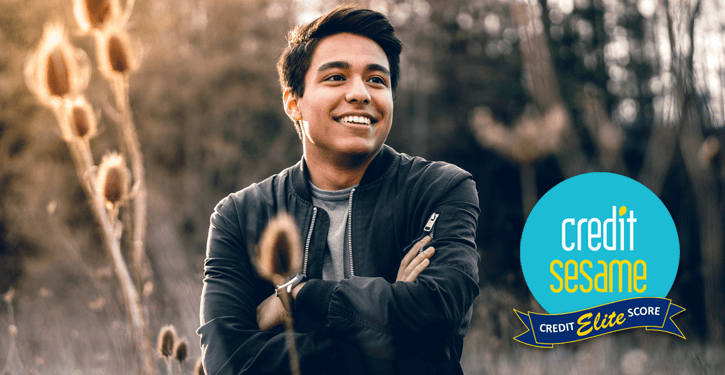 Loans are a solid way to build credit but they definitely aren't the only way.
Over the past decade, I built a credit score of 816 without ever taking out a single loan; I only used credit cards.
1. You might need help to start building credit
The Credit Card Act of 2009 makes it difficult for college students to take out a credit card on their own. I was in college earlier than that, but I didn't have to qualify on my own. Fortunately, my dad was willing to help me out by adding me as an authorized user on his account. I received a credit card with my own name on it. I didn't use the card but I got the benefit of his responsible credit behavior in my own credit file. My score started to build.
For young people aged 18 to 21 who don't have a family member willing to add them as an authorized user but who can show proof of income, student credit cards and secured credit cards are great options.
Student credit cards are designed to help young people learn how to use credit.
Secured credit cards require a cash deposit to open the account and that deposit is used as collateral. In both cases, you can use the card like any other credit card, and you need to make at least the minimum payment (on-time) every month if you charge anything.
2. Start building your own credit (carefully)
After about 6 months of being an authorized user on my dad's card, I started looking at credit card offers. I wanted something for myself.  I was approved for a basic card from a major bank that offers credit cards.
I heard of people getting into credit card trouble so I was very cautious. I rarely used my card and paid the balance off every single month. These two habits were enough to build a strong credit score.
When I graduated college, my score was over 700 even though I had never taken out a loan.
3. Face setbacks head-on

I struggled to get a steady job after graduation, and made some unwise purchases like an extra vacation (all on credit). I did continue to make my payments on time every month.
Facing $5,000 in credit card debt, I needed a plan to protect my score until I could get my finances in order.
I saw that about $50 a month was just going to interest – a total waste. Since I still had a good credit score, I applied for a 0% balance transfer card. With that, I was able to avoid interest charges for 15 months. The money I saved went towards paying off my debt.
4. Protect your score

Even though money was tight, I always made my monthly minimum credit card payment. Payment history is the single most important factor affecting your credit score.
Adding the balance transfer credit card helped my credit score by increasing my available credit.  At the time, my total credit limit was $15,400, so $5,000 of debt equated to a credit utilization rate of 32%. My new card added $13,000 to my available credit and brought my utilization rate down to 18%. Utilization is the second most important factor affecting your credit score.
Eventually my financial situation turned around and I paid off all my debt.
Today my score is 816.
Get a free credit report card and find out what's holding your score back.
Excellent credit and no loans

The absence of loans probably keeps me from achieving a perfect 850 credit score, but that's fine with me. I live in New York City and never drive so I don't need a car loan. I also don't plan on buying a house any time soon. Maybe one day I'll take a loan if I need one, but that isn't a requirement for excellent credit.
---
The examples above relate to the author's experience and are for the purpose of example only.
Advertiser Disclosure: The credit card offers that appear on this site are from credit card companies from which this site may receive compensation. This compensation may impact how and where products appear on this site (including, for example, the order in which they appear). This site does not include all credit card companies or all available credit card
offers. Credit Sesame is an independent comparison service provider. Reasonable efforts have been made to maintain accurate information throughout our website, mobile apps, and communication methods; however, all information is presented without warranty or guarantee. The editorial content on this page (including, but not limited to, Pros and Cons) is not provided by any credit card issuer. Any opinions, analysis, reviews, or recommendations expressed here are author's alone, not those of any credit card issuer, and have not been reviewed, approved or otherwise endorsed by any credit card issuer. All images and trademarks are the property of their respective owners.
See the online provider's application for details about terms and conditions. Offers are subject to change and the terms displayed may not be available to all consumers. Please visit the provider's site for current information and verify all terms and conditions of any offer prior to applying.
Responses are not provided or commissioned by the bank advertiser. Responses have not been reviewed, approved or otherwise endorsed by the bank advertiser. It is not the bank advertiser's responsibility to ensure all posts and/or questions are answered.
Disclaimer: The article and information provided here is for informational purposes only and is not intended as a substitute for professional advice.