Credit is a powerful tool for achieving financial goals, such as buying a car or owning a home but for many consumers, it's a mysterious concept. Young adults, in particular, tend to view credit with a certain degree of wariness. Thus, they often misunderstand basics of how credit works and why it's important.
Consider this. Sixty percent of Millennials polled in a 2016 Credit Sesame survey said they purposely opted out of using credit cards. Furthermore, they didn't view that choice as harmful to their credit or finances. The main reasons for their reluctance to embrace credit were a general distrust of credit card companies, a perceived lack of friendliness on the part of banks and a desire to avoid debt.
In another Credit Sesame survey, we wanted to know what might inspire Millennials to obtain a credit card. Twenty-two percent said they might be open to using credit if they could set their own APR or spending limit and 13% said that a generous rewards program might do the trick. Four percent, however, refused to budge on their decision to say no to credit cards.
Since April is Financial Literacy Month, we conducted another survey to see how well consumers understand the most common credit principles. The survey, conducted on Twitter, asked two questions:
What has the largest impact on your credit score?
What's the best way to improve your credit score over time?
The results show that some consumers still have a few things to learn when it comes to their credit scores. We also polled members of the Credit Sesame staff to get an idea of how knowledgeable our team is about credit. Here's what we learned.
Most consumers understand that payment history takes priority
The first question we tweeted asked which factor has the largest impact on credit scores: payment history, credit card balances, student loan balances or income.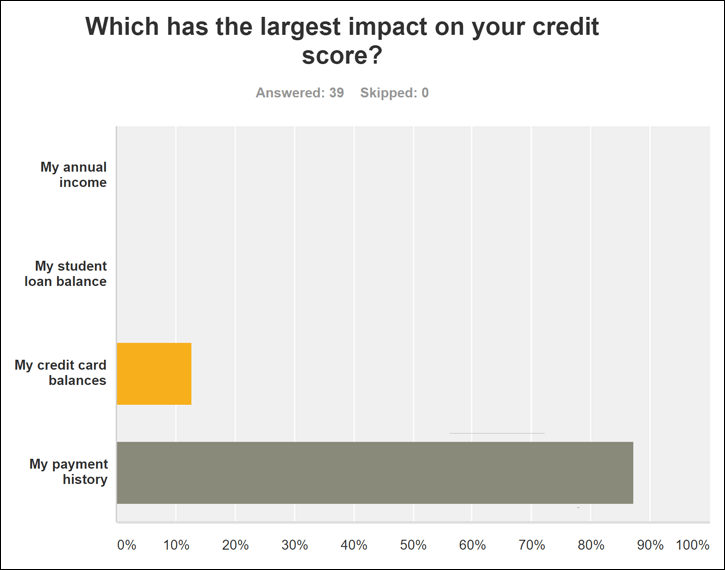 The majority, 55% of Twitter users who responded, correctly chose payment history. Nearly a third, 27%, said credit card balances had the largest impact. Just 10% chose student loans and only 8% said income. While more than half picked the right answer (payment history) the results show a sizable lack of knowledge of how credit scores are calculated.
Different models (like FICO® and VantageScore®) are used to generate credit scores, but a common thread is the inclusion of payment history as the most influential factor. In FICO® scores, for example, payment history carries more weight than credit utilization ratio or the age of your credit history. VantageScore® is similar.
How to improve your credit score – do you know?
Interestingly, 71% of Twitter users who responded said always paying your bills on time was the best way to improve your credit score. Thirteen percent said paying off student loans was the best way, and 11% thought closing down unused credit accounts helps most. Just 5% said that applying for a new credit card was the answer.
Two things stand out about the Twitter results. First, only 55% thought that payment history had the largest impact on their credit score but 71% said that paying bills on time is the best way to help their scores. That suggests that consumers understand on some level that payment history is important, but they may not fully grasp how or why it affects your credit.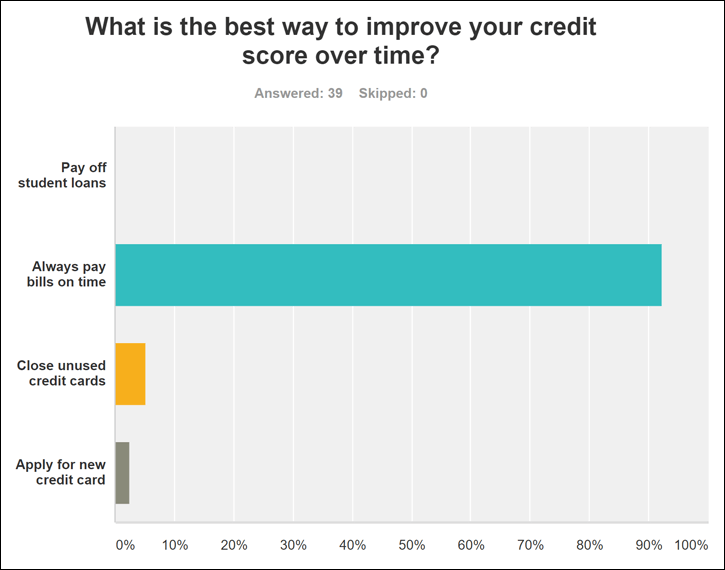 Second, some of the Twitter users who responded to this question chose actions that can be harmful, not helpful, to your score. For example, your credit score is based in part on your credit utilization ratio. This is the amount of debt you carry in relation to your credit limits. The lower this percentage is the better. Closing down accounts when you carry balances on other cards could have a negative impact on your score if it causes your utilization ratio to increase.
Applying for new credit can also ding your score. Each time a lender pulls your credit history, a hard inquiry shows up on your credit report. Each hard inquiry can knock a few points off your score. Your score will gradually recover over the course of a year from the date of each inquiry.
How the Credit Sesame staff measured up
When we posed our questions to members of the Credit Sesame staff, the results were very different. More than 85% said that payment history has the largest impact on your credit score and over 90% said that paying your bills on time was the best strategy for improving credit.
Does that mean you need to join the Credit Sesame team to improve your credit IQ? Not necessarily, unless you're just looking for a fun place to work where credit is the focus.
In fact, not even everyone at Credit Sesame knew that FICO® credit scores range from 300 to 850.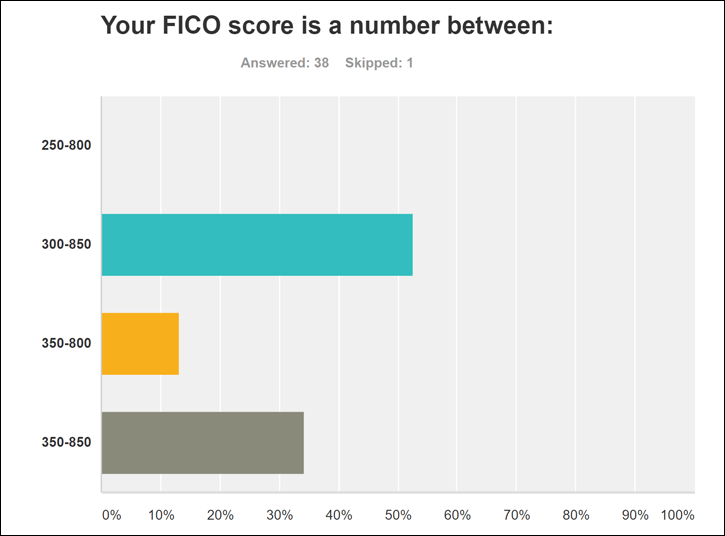 Managing your credit score boils down to how well you understand credit and what factors have the strongest influence on your score. The Twitter survey shows that payment history's importance is fairly widely known but that consumers may not in the know with respect to credit utilization, paying down debt and applying for new credit.
Why credit card avoidance can backfire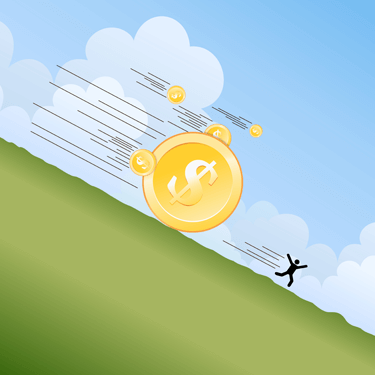 As the two earlier surveys suggest, young adults eschew credit cards more than their older counterparts. On the one hand, it's understandable that Millennials are apprehensive about debt. Total student loan debt in the U.S. is $1.3 trillion and climbing. Among Credit Sesame's network of more than 8 million members, those aged 18 to 34 owe a collective $10.5 billion in loans. For 25 to 34-year-olds, who account for a 41% share of that debt load, the average balance is over $21,000.
The problem is that by avoiding credit cards, Millennials may be hurting themselves financially. Credit is an important financial tool that, when used properly, saves consumers a great deal of money in the long run. When you have a good credit score, you can qualify more easily for loans or lines of credit, and at more favorable terms (think lower interest rates). A lower interest rate means a lower price for the credit you use. In the context of a mortgage, just one percentage point can easily amount to tens of thousands of dollars or more over the life of the loan.
You may not be thinking about mortgage terms in your 20s. But thinking about credit now helps you build the healthy credit file you'll need later on when you're ready to buy a home. Mortgage lenders want to see a lengthy credit history and a solid credit score, both of which are signs that you're responsible when it comes to managing your money. That's why you need to lay the foundation of good credit early on.
How to learn about good credit
Awareness is key when you want to improve your credit. Credit Sesame data shows that members who check their credit more frequently tend to see more of an improvement in their scores over time than those who don't. That suggests that proactively checking your credit reports regularly (to know what's in your report and to understand the habits that lead to better credit) can have a tangible payoff. If you're not already a Credit Sesame member, take the first step and create your free account.
If you missed out on the opportunity to participate in this survey, you're in luck. Credit Sesame has developed a new survey to test consumers' understanding of credit. Take the survey now to find out how your credit knowledge compares.