Credit Sesame examines the rise of America's credit dependency using U.S. Census Bureau Household Pulse Survey data.
Credit use in America is on the rise. This is an expected response to the shock of high inflation but also a cause for concern. Higher interest rates make borrowing more expensive, while the threat of a recession makes this a risky time to take on debt. It may be time to rein in your credit habit.
Credit dependency in America
During and immediately after the COVID-19 pandemic, the Census Bureau conducted a regular survey called the Household Pulse Survey to measure the pandemic's impact on Americans' everyday lives. The Census Bureau continued to field the survey when life returned to normal after the pandemic had run its course.
The survey covers various topics ranging from health and wealth to education and housing. The survey provides insights into the daily habits of Americans and, over time, shows how those habits change. One of the areas covered by the Household Pulse Survey is credit usage. The survey measures how many people use credit (loans or a credit card) to meet expenses and breaks the numbers down into demographic groups.
2022 was a year when many aspects of American lives, including economic activity, returned to normal. By looking at how credit card usage changed during the year, Credit Sesame examined the transition period and how dependence on credit changed for Americans overall and for specific groups.
Credit dependency is on the rise
How many Americans use credit to meet expenses every week? Credit Sesame calculated answers to that question based on the last Household Pulse survey of 2021 and the last survey of 2022. The chart shows how the number of adult Americans using credit to meet expenses changed from December 2021 to December 2022.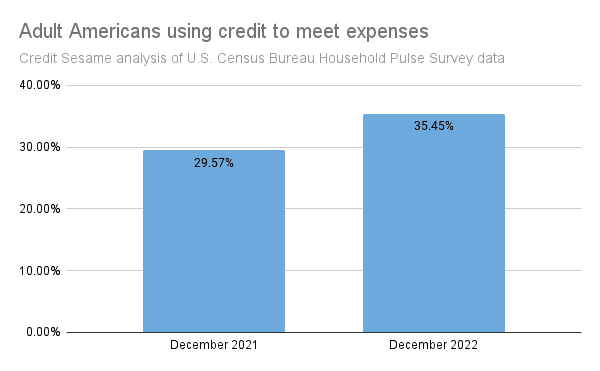 By the end of 2022, 35.45% of Americans used credit to meet weekly expenses, an increase of nearly 6% over the previous year. This means more people are using credit regularly. Bear in mind it says nothing about the extent to which existing credit users are relying on credit more heavily, which is also likely.
A jump in credit use immediately impacts household expenses by adding interest charges to regular spending. In the long term, it may also lead to trouble meeting payments, resulting in late fees and eventual credit damage.
Who is most affected by credit dependency?
People aged 25 to 39 years represent the highest percentage of credit users overall, but this group showed the smallest increase last year. This means some people who were not regular credit users in the past have started to turn to it more recently.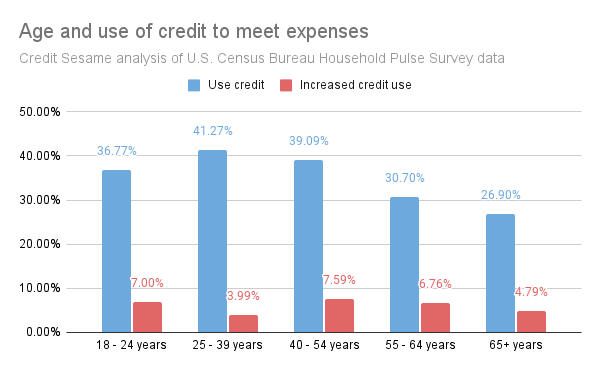 There are also apparent differences in credit usage between men and women. Women are roughly 5% more likely than men to use credit to meet expenses, and the percentage of women using credit jumped by just over 7% from the end of 2021 to the end of 2022. For men, the increase was under 5%.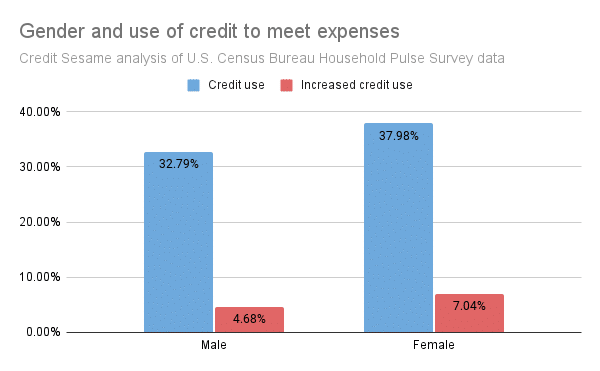 One trend all groups have in common is that more members now rely on credit to meet expenses.
Why this is the wrong time to become more dependent on credit
There's nothing wrong with using credit, but this may be a bad time for Americans to be ramping up credit use for a few reasons:
Higher interest rates make borrowing more expensive
Record debt levels mean future payments will cost more than ever
The threat of recession means that for some people, a loss of income could make debt repayments impossible
Now that student loan payments have resumed, the burden of debt payments has increased for many Americans (and not just young adults)
How to cut down on your credit habit
This may be a good time to use credit only when absolutely necessary. Here are a few ways you might reduce your debt burden:
Avoid increasing credit use for routine purchases. Adding to a credit card balance to meet regular expenses is a very costly form of borrowing and likely not sustainable. Long-term borrowing can help you afford occasional big-ticket items and is generally more cost-effective than using a credit card.
Shop around for better credit terms. Compare rates from different lenders and card issuers and consider refinancing high-interest debt to less costly options. This means more of your payments would go toward reducing what you owe instead of toward interest payments.
Work on your credit score. People with better credit scores pay lower interest rates. Every penny counts and every percentage point counts even more because they can translate into many dollars in savings.
There's nothing wrong with credit use. Credit can be a very useful way to afford large-ticket items and spread the cost. Credit use can become dangerous if it gets out of control. Rising credit dependency rates suggest this might be a good time for Americans to reexamine their credit usage.
If you enjoyed America's credit dependency is rising you may like,
---
Disclaimer: The article and information provided here is for informational purposes only and is not intended as a substitute for professional advice.