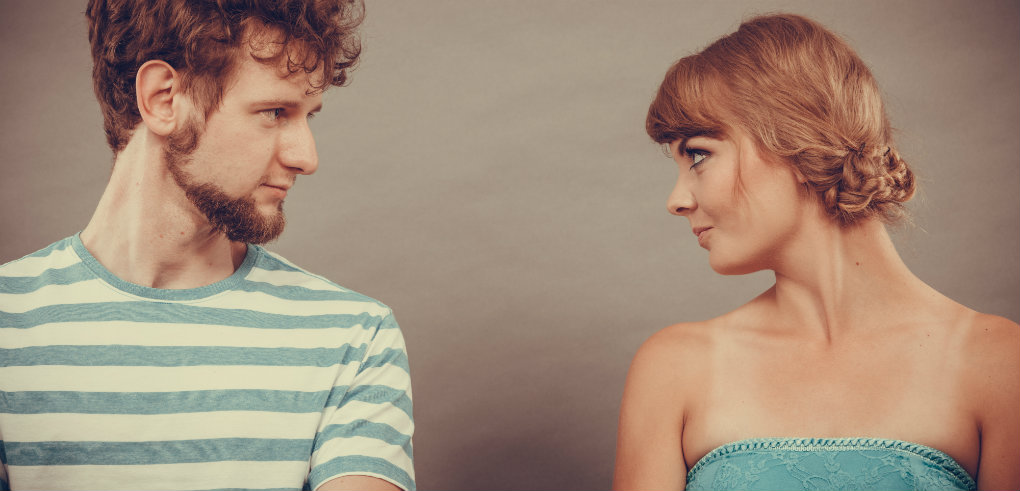 Ah, summer vacation. For some people, that dream destination involves a sandy beach. For others, it's a bustling city. You might prefer a classic American road trip or a flight overseas. Whatever the case, the challenge for most of us isn't planning what we'll do when we get there or how we'll kick back and relax.
Instead, the issue is figuring out how we'll obtain the necessary financing to get there in the first place.
It turns out men and women have somewhat different points of view when it comes to paying for vacation with cash or credit cards, or a combination of both, according to a new Google Consumer survey of 2,000 U.S. consumers, commissioned by Credit Sesame.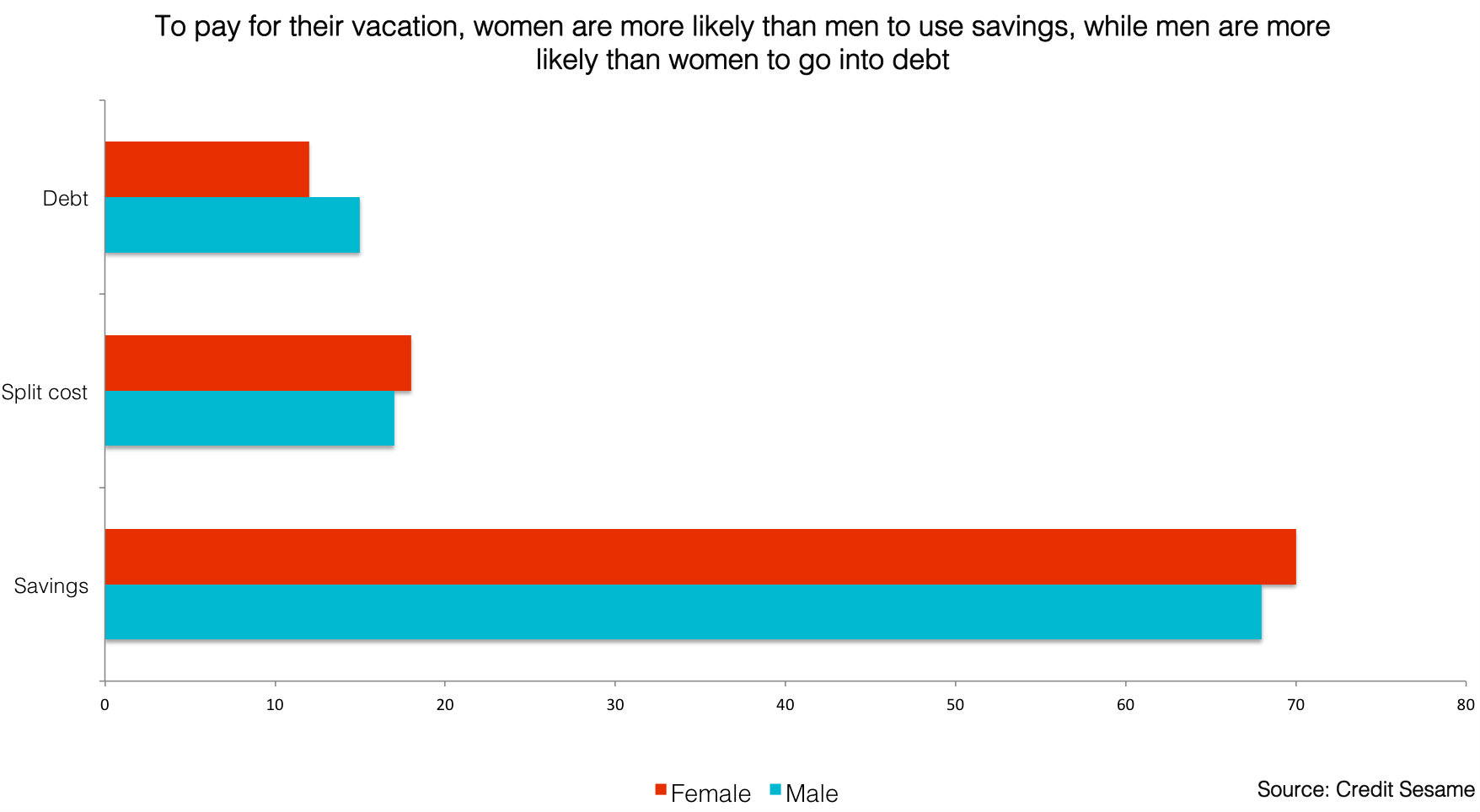 The survey adds new insights to a report earlier this year that examined some gender-based credit differences—among them, that men generally have higher scores than women, a fact that becomes particularly pronounced after age 65.
Here are the overall results we received from the survey.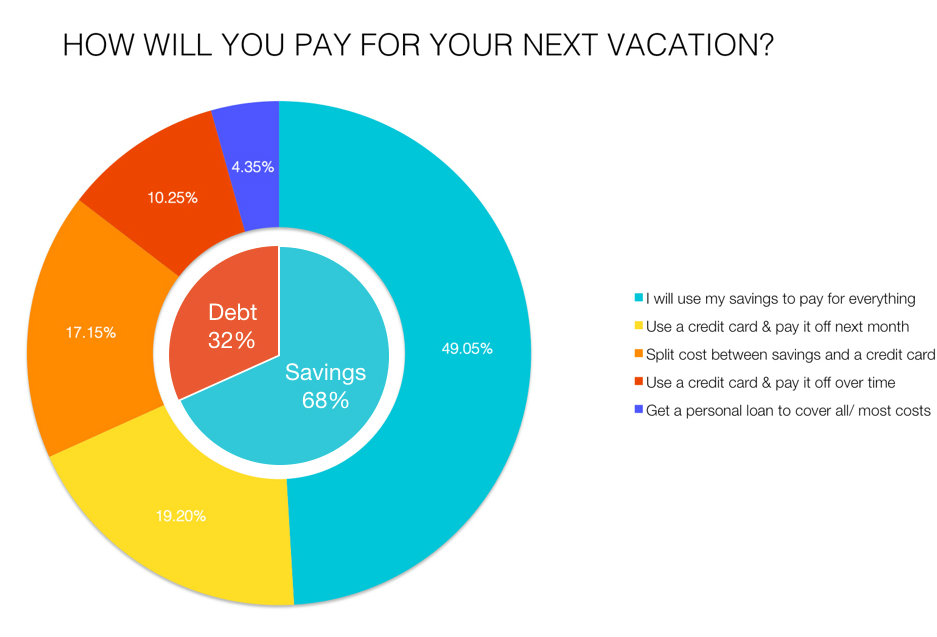 Survey results highlight differences between the way men and women spend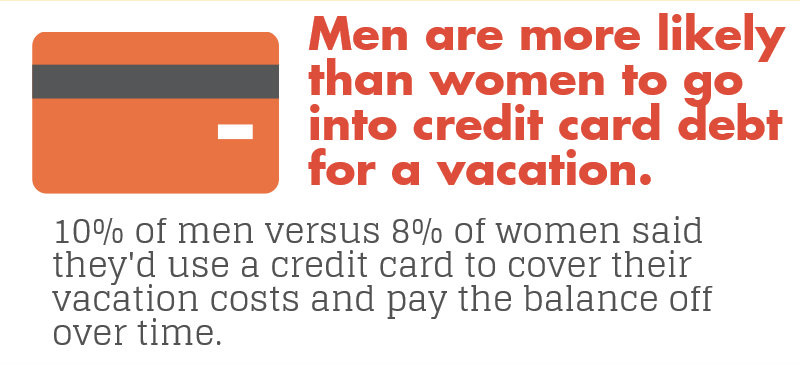 In general, men are more inclined to have fun now and pay later, according to the survey. Just 47 percent of male respondents said they would use savings to pay for everything on their next big vacation, compared to 51 percent of women.
| | Pay With Credit Cards Only |
| --- | --- |
| Men | 10% said yes |
| Women | 8% said yes |
| Verdict | Men prefer to use credit more than women, by 2%. |
| | Pay With Savings Only |
| --- | --- |
| Men | 47% said yes |
| Women | 51% said yes |
| Verdict | Women prefer to use cash more than men, by 4%. |
Although the difference is within the margin of error—as with many of the data points identified in the survey—it represents up to a 3-point preference for credit in some form among men.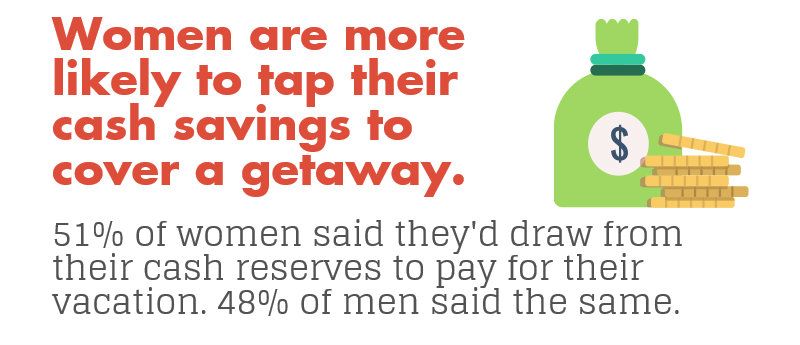 Approximately 18 percent of women say they will split the cost of their next big vacation between a credit card and savings. That's a higher percentage than men, of whom 16.8 percent would be willing to go halfsies with a combination of credit and cash. That gives women a 1.2-point advantage for women when it comes to using credit to help cover vacation expenses.
| | Pay With Both Credit Cards & Cash |
| --- | --- |
| Men | 16.8% said yes |
| Women | 18% said yes |
| Verdict | Women prefer to use cash and credit 1.2% more than men |
Men are champions of the all-debt approach
Among those who say they'd just as soon put the whole big trip on a credit card and pay it off over the months ahead, men come out ahead—once again articulating their overall willingness to engage with debt in exchange for the payoff of a vacation.
Men are more likely to put an entire vacation on a credit card than women are, according to Credit Sesame's survey.
Click To Tweet
Of respondents who selected this option, 10.1 percent of men answered in the affirmative compared to just 8.3 percent of women—a 1.8-point advantage for the men.
A similar but slightly less pronounced spread became evident when respondents were asked whether they'd be willing to get a personal loan to cover all or most of the costs of their next big trip. Here, men held a 1.6-point advantage with 4.8 percent of men saying they'd be willing to take this approach compared to just 3.2 percent of women.
The cash-versus-credit question divides young and older millennials of both genders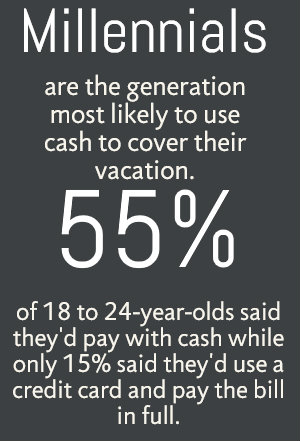 Although these trends are true for the respondents overall, they mask important differences in vacation payment preferences among generations. For example, while on average 47.7 percent of men said they'd use all cash, the percentage jumps to 54.9 percent for men ages 18 to 24, also known as young millennials.
That pattern is also true for young millennial women: While 51 percent of all women will pay only in cash, fully 55.1 percent of young millennials will take that route, more than 4 points higher than the group.
Factors influencing this generation's preference for cash might be limited access to credit, burdensome student loan debt, observations made of parents' or other adults' financial health during the Great Recession or others.
Interestingly, older millennials are much more willing to engage with debt to cover vacation costs, perhaps because they already use debt in the form of mortgages, student loans and car payments. For example, just 40.8 percent of men ages 25 to 34 say they will pay only with cash compared to 59.2 percent who say they'll use some form of debt.
The most popular options include splitting costs between savings and a credit card (21.6 percent), placing the entire vacation on a card and paying it off next month (21.1 percent), paying a card off over time (11.1 percent) and getting a personal loan (5.5 percent).
If you're planning to use a credit card for a trip but need a few months to pay it off, check out the Best Zero Percent Introductory APR Credit Cards for 2016.
By comparison, women who are older millennials are more in line with the average of women in all generations when it comes to paying for vacation: 50.6 percent will use entirely savings compared to 51 percent for the group overall. That means about half are willing to engage with debt in some form—though to be clear, older millennial men are still far more willing to use debt by a factor of nearly 10 points.
As with older millennial men, top preferences include splitting costs between a credit card and savings (21.8 percent), paying off a card next month (19.1 percent), paying off a card in installments (5.3 percent) and using a personal loan (3.2 percent).

It seems women are typically more likely than men to prefer cash over credit to pay for their next big vacation. But that preference generally appears to weaken a bit with subsequent generations, indicating financial choices on vacation are dictated by several interacting factors.
In the South and Midwest, women and men alike lean toward cash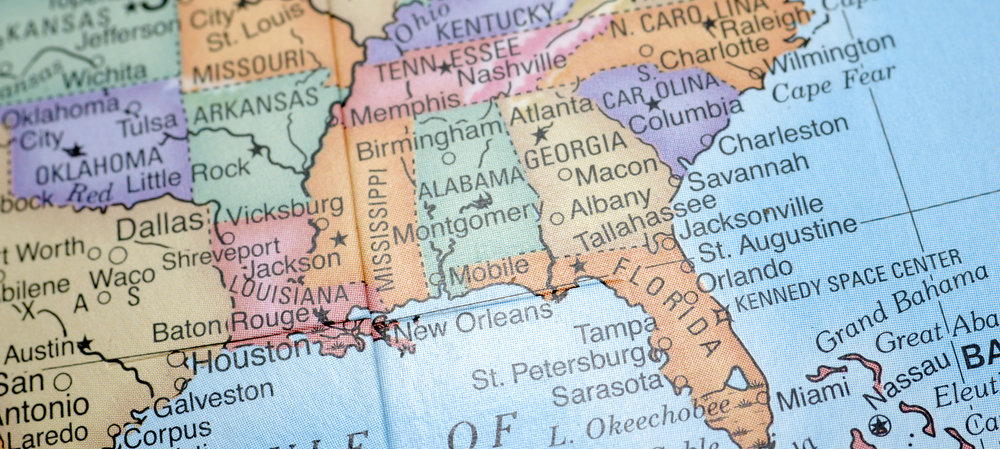 As a final example of factors that play into each gender's plans for vacation spending, consider the geographic region in which they live.
In the South and Midwest, both genders are more likely to avoid credit and lean toward cash, the survey shows.
In the South, 52.8 percent of men and 55.3 percent of women say they'll use savings to pay for everything on vacation. In the Midwest, it's 49.9 percent of men and 50.5 percent of women. Compare that to the West, where just 40.7 percent of men and 46.8 percent of women will use exclusively savings. The same distinction is evident in the Northeast, where just 44.5 percent of men and 48.8 percent of women will rely on cash only.
Regions in the U.S.:
Who's Likely to Pay With Cash Only
Men
Women
South
52.8%
55.3%
Midwest
49.9%
50.5%
West
40.7%
46.8%
Northeast
44.5%
48.8%
In the West and Northeast, women and men tend to prefer short-term credit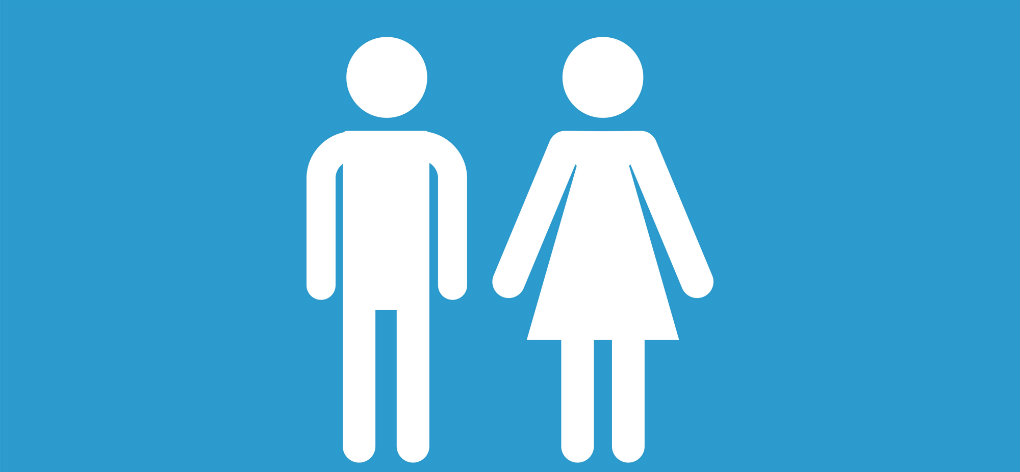 Don't write off the coasts just yet, though. It might be true these men and women are more comfortable using some form of debt, it doesn't appear they want it to hang over their head for very long.
In the West, nearly one in four men (24.5 percent) say they pay off their card next month, and exactly one in four (25 percent) of women say the same.
In the Northeast, those figures are even higher—26.8 percent of men will pay off their card next month. Roughly 1 in 5 women in the Northeast will do the same, while 17.8 percent will split costs between savings and a credit card.
In the West, 18.3 percent of men and 22.4 percent of women would opt to pay part credit card and part cash.
A significantly lower percentage of men and women in both regions would prefer to pay off a credit card over time to go on vacation or to take out a personal loan.
Our conclusion: Vacation spending is complicated
It would be easy to generalize that men are risky and thus more willing to put their vacation all or in part on a credit card, while women prefer the safe option of using at least some cash. But in reality, those choices also are influenced by factors such as age and geographic location.
An overarching theme, all factors included, is that a majority of both genders would prefer to enjoy that next big vacation by paying for it sooner rather than later—often within weeks of arriving back home, suntan and all.