I'm all about goal-setting. In school, I earned good grades—not straight As, mind you, but a healthy mix of As and Bs. In my work as a writer, I keep tabs on how my stories perform compared to those of my peers for the sheer joy of a little friendly competition.
So when it came time to sign up for my Credit Sesame account, I braced myself for the numbers. That's especially true since my wife and I achieved our stretch goal of paying down $100,000 in student loans and cutting up our credit card this past fall. Then again, we bought a house about a year ago with a 15-year mortgage, so debt is still in the picture. Maybe it would be a wash?
I'd heard that paying off debt could negatively affect a person's credit score. That's a myth, by the way. Dumping debt is great for your credit score. Closing accounts, however, can hurt. That's what happened to me.
If you are in a similar situation—paying down debt and unsure how your decisions today will reflect your access to financing tomorrow—I hope you can learn something from my experience.
Assessing My Credit from A To F
My lowest grade ever, to the best of my knowledge, happened in gym class in seventh grade. I flunked a written exam on the rules of football because 1) I thought gym was a pointless class (I'm a dyed-in-the-wool nerd), 2) I didn't study for the test and 3) I wrote that a touchdown is worth seven points. My P.E. teacher explained this abysmal performance to my parents during a somber conference in the library.
Talk about embarrassing: a big fat D. For years, that grade represented my nadir.
Until this spring, when I opened up my Credit Sesame account and found something even worse: a big red F.
Here's what I saw upon logging in.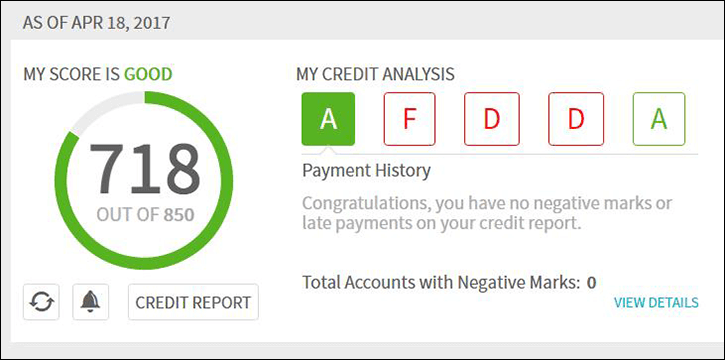 Metric: Payment History (influences 35 percent of score). This one is a cinch because it simply reflects whether I can reach the basic monthly goal of making on-time payments on any outstanding debt. Because my wife and I only have a mortgage and are blessed with good jobs, we can quickly scratch this one off the list each month. It's not easy to send a big chunk of our income out the door, but knowing that our home will eventually be ours outright makes it worth the time. It also translates to the "A" score you see here.
Action Item: None. With a good rating and no late payments, the objective here is to simply keep at it and remember to send money when the calendar says so.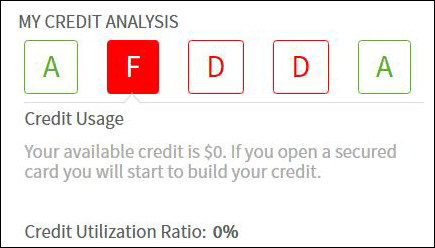 Metric: Credit Usage (influences 30 percent of score). If there's a dip in my family's financial journey, this is it. It looks really rough but, in our view, it's an indicator that we're moving forward. That's because this one is a reflection of how much of our available credit we active use. We chose to close our credit accounts and cut up the cards. That's what works best for us. We have a mortgage, which doesn't factor into the credit usage portion of my credit score because it's not revolving debt. The credit agencies can't give us a good grade for keeping balances low because we choose not to have any accounts. We wanted less debt and, in turn, we get an F for usage.
Action Item: None. The Credit Sesame dashboard rightly points out that not having any available credit is damaging to our credit scores. Leaving a credit card account open, but unused, can boost your score. My family decided not to get a credit card because our objective is to pay for expenses in cash only. We are totally comfortable with this decision. We've racked up credit-card debt before and regretted it later. We always have credit card options, including secured credit cards recommended on my dashboard.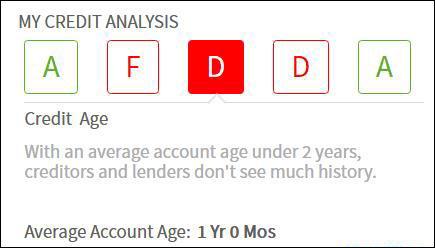 Metric: Credit Age (influences 15 percent of score). Here's another downer of a grade. The D you see here reflects the fact that our mortgage is just over a year old. Anything less than two years isn't enough for lenders and creditors to gauge your long-term track record with debt, as Credit Sesame points out. The way to turn this one around is to maintain a credit account for a long period of time. I suspect this grade will creep higher as we become multi-year homeowners.
I have student loan accounts that were paid off and closed in good standing. Those accounts should remain on my credit report (and factor in to my credit score) for ten years past the date they were closed. The most likely reason I don't see the loans reflected in my Credit Sesame Credit Age is that my lenders only report to one or two of the three major credit reporting agencies (Equifax, Experian and TransUnion). My Credit Sesame dashboard reflects information in my TransUnion file.
Action Item: Be patient. The only way to show the passage of time is to let time pass. I recognize that those mortgage payments will not only translate to a paid-for house but also eventually to a higher Credit Age calculation.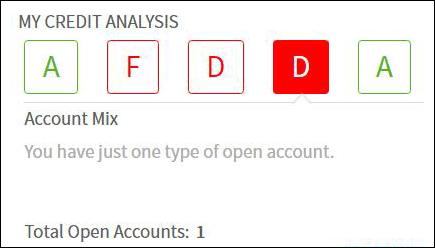 Metric: Account Mix (influences 10 percent of score). In the business world, we'd call this category "diversification." Our portfolio has virtually zero diversification because we've only got a mortgage. If my file included another type of credit product, this grade would be higher.
Action Item: Nothing. We plan to keep our diversification low because our goal is to build assets around cash and investments versus debt. But as the Credit Score Analysis points out, those objectives don't necessarily align with creditors and lenders, who prefer to see a mix of debt assets before extending credit. Leaving a credit card account open, paired with our mortgage, would help me on this factor.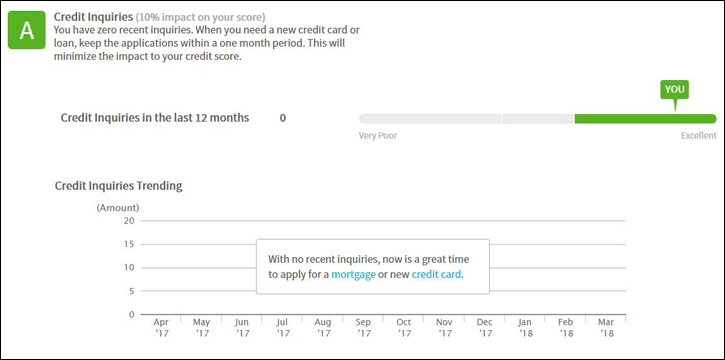 Metric: Credit Inquiries (influences 10 percent of score). Hurray! Another A! This means we're not applying for credit at every turn, which could raise lenders' eyebrows. (Incidentally, if we saw activity here, we'd suspect fraud.) As you can see in the image, Credit Sesame acknowledges that this is a prime opportunity to apply for a new credit card or loan because we have a clean bill of health in this area.
Action Item: Nothing. We intend to keep the mortgage as our sole debt. Inquiries always have the potential to temporarily lower your score by a few points. There's no reason to apply if you don't need credit.
Making Sense of the Numbers
Admittedly, my credit score is pretty vanilla. Yes, I got an F in credit usage, but my overall score ranks good. Credit Sesame's Credit Score Analysis is valuable as an educational tool. It tells members their credit score for free and clearly outlines the steps I need to take if I want to push my score higher. It's also a nice resource for scouting any unauthorized activity on credit accounts.
My wife and I plan to keep paying down our mortgage with an eye on building savings and investments toward our retirement, personal goals and our children's future education. As long as we have debt, we'll use the Credit Score Analysis to monitor our progress—or, depending on the grade, our lack thereof.