How to Pay Off Overwhelming Debt
Zach paid off nearly $100,000 in student loan debt. He did it in only four years, using simple strategies that you can use, too.
Zach's Debt Story: Student Loans Happen
I graduated from high school in 2005 as a lower middle class kid from Lancaster County, Pennsylvania who hadn't seen much. As a result, it took a little time for me to figure out what I really wanted and how best to get it.
My first move was to enroll in culinary school in Philadelphia. Soon afterwards, I transferred to the Johnson & Wales nutrition program in Denver, Colorado, where I discovered that the culinary credits I had earned in Philadelphia would not transfer.
This forced me to take out more student loans than I might otherwise have needed, and it also forced me to relocate to yet another school for a second degree in culinary science.
While I was in Denver, another student told me about a teacher who had lived on every continent, including Antarctica. I thought that sounded pretty cool, and decided I might like to do the same thing.
It was also around that time that I met somebody who was in a graduate program in public health. Even though I had never considered public health as a career up until that point, what she was doing sounded interesting to me.
By the time I finished my bachelor's degree — now in Rhode Island — I owed about $35,000 in student loans. My best job prospects at that time would have had me working every Friday and Saturday night, non-stop, for twelve bucks an hour. I knew I needed to do something else, and that is when I thought back to the idea of studying public health and traveling.
He Dove Head First Into His Credit
Zachary realized that in order to meet his goal of earning a graduate degree in public health and travelling the world, he would need to manage his finances very carefully.
That's when he started using Credit Sesame.
Zach's Credit Story: Credit Sesame's Free Membership
I had a goal, and I knew that Credit Sesame could help me reach it.
The first thing I did was take a screenshot of my Credit Sesame homepage so that I could remember where I started. It's a lot like how a person on a diet might snap a 'before' picture in order to measure their progress over time. For me, taking that screenshot was a symbolic beginning.
Zach's Secrets for Achieving Financial Freedom
Have a dream, and live like a student.
I really wanted to see the world. I really wanted to go to Antarctica, and my emotional attachment to that goal is what made me work hard. It's what made me throw as much money on my debt as I possibly could, every single month. If I made $60,000 per year, I would live on $30,000. The rest would go to taxes and paying down my debt.
When I tell people that I paid down $96,000 of debt within four years, they often react as though what I'm telling them is borderline impossible.
It isn't.
For me, it was a simple matter of priorities — and also of being able to monitor my progress towards reaching my financial goals.
Every Dollar You Spend is a Choice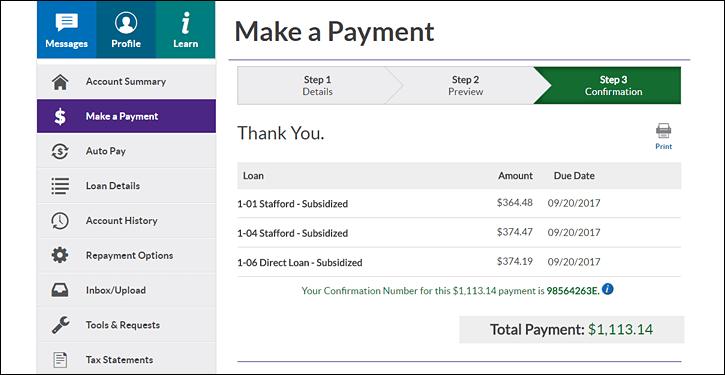 To this day I use an old fashioned flip-phone, not a smartphone. I don't do it because I can't afford a smartphone.
I do it in order to remind myself that I would rather live debt-free than have any particular luxury.
I've lived like a student for the past four years, but for me it was all worth it.
Using Credit Sesame helped me to see how my decisions and behaviors influenced my financial outlook, including my credit score.
Even though my overall debt was up to $96,000 by the time I finished graduate school — and even though my income was relatively modest compared to my debt — Credit Sesame helped me acquire the self-awareness I needed in order to pay down all of that debt within four years."
I now have a master's degree in public health from the University of Texas, and have been working in my field for a few years. I even did a short stint in Ghana!
As of recently, I am also totally debt-free.
Sure, I acquired more debt than I needed to, but that was part of my learning process. I moved around a lot, but I don't regret it at all. Perhaps that was my way of seeing as much of the world as I could, even though I didn't have a lot of money.
Whatever missteps I might have made along the way, there is no doubt that paying down my debt as quickly as possible was the smartest thing I could have done, because now I am set to start my new job in Antarctica.
The Bottom Line
On September 10th, 2017, Zachary sent us two screenshots of his Credit Sesame homepage, one from this year, and one from four years ago. It was plain to see that he had eliminated his $96,000 debt in less than four years, and had dramatically improved his credit score and financial health along the way.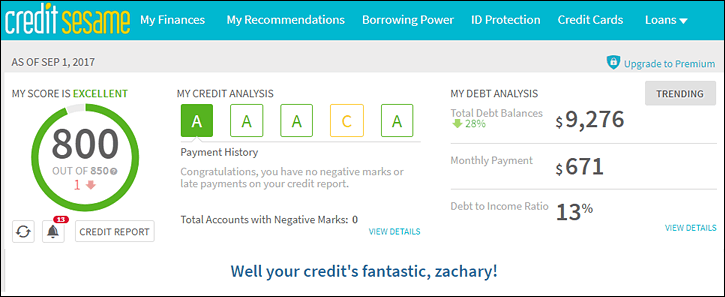 Credit Sesame did not define Zachary's dreams for him, nor did we tell him how to live his life — but we did help him help himself.