Credit Sesame polled social media with an informal fourth of July spending habits survey.
It's an American tradition to celebrate freedom from oppression on July 4th.
This year, the chief oppressor of Americans is inflation. In keeping with tradition, Americans are finding ways to celebrate July 4th that defy the tyranny of inflation.
An informal poll conducted by Credit Sesame found large numbers of Americans celebrating the 4th of July in cost-effective ways this year.
So, grab a hot dog or a scoop of fruit salad. Pull up a chair and crack open a cold one. Here's the story of how many of your fellow Americans are escaping the grip of inflation this July 4th. Your fourth of July spending does not have to be over the top to have a great time.
Few are spending a lot of money on travel
The Credit Sesame poll found that just 6.7% of respondents said travel would be their biggest 4th of July expense this year.
Wise choice. Energy costs have led the surge of inflation over the past year. According to the U.S. Energy Information Administration, gasoline prices are up $1.78 per gallon this summer, compared with a year ago.
That means that if your car gets 25 miles to the gallon, you'd spend $7.12 more this year for every 100 miles you drive. The chart below shows how the cost of driving 100 miles this July 4th compares with a year ago: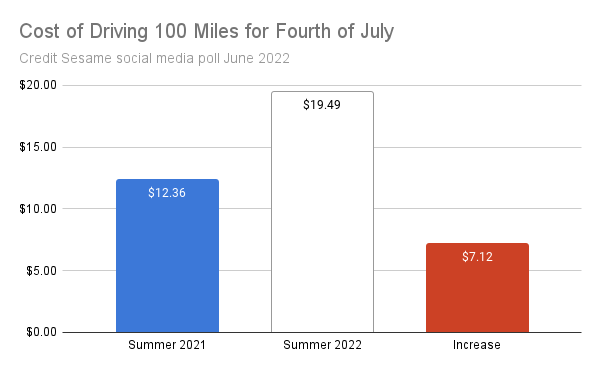 Last summer, a gallon of gas was selling for an average retail price of $3.09. This year, the price is up to $4.87.
At 25 miles per gallon, it would have cost you $12.36 cents to drive 100 miles last summer. This year, the same trip in the same car would cost you $19.49. That makes this a good time to cut down on travel.
Of course, because of inflation just about everything is more expensive this year. However, that's especially true of gas prices. So, if there's one expense you can avoid, travel costs are an excellent choice.
Most are looking at reasonable fourth of July spending
Besides not blowing a lot of money on travel, people are finding other ways to keep their costs of celebrating the 4th down this year.
The poll found that most people are spending less than $50 on the 4th of July this year. Here's how the different amounts people plan to spend break down: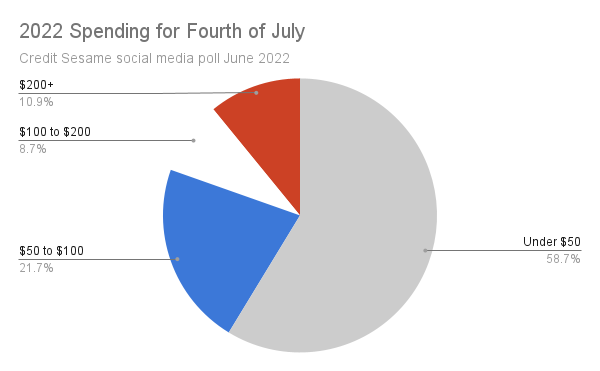 Good intentions can fizzle like a dud firecracker once you see all the 4th of July goodies lining the supermarket aisles. If you want to avoid costly impulse spending, set a budget before you stock up for the 4th. Go to the store with a list of what you really need, and avoid cruising parts of the store you don't need to visit.
Of course, not everybody is pinching pennies this July 4th. As you can see from the chart, just over one out of every ten respondents said they were spending more than $200.
If you're shelling out that kind of money this July 4th, have a great time. But here's a tip: it's better to be invited to that party than to be the one throwing it.
Most of the money is going for food
Here's another cost-effective aspect of people's fourth of July spending plans. Overwhelmingly, most people said the bulk of their spending was going towards food.
82% of respondents said food was going to be their biggest expense this 4th of July. Not fireworks, not travel, and not alcohol.
The significance of this is that food at least has nutritional value. Sure, some of that value might be marginal when it comes to party food. But you've got to eat anyway.
Be sure to get the most out of your food budget by getting things out of the hot sun after serving. That way you can stock your refrigerator and enjoy those good barbecue leftovers all week.
Sharing the day with others makes it more cost-effective
The Credit Sesame found one more practical aspect of people's 4th of July plans.
63% of poll respondents plan to spend the day with three or more other people. This includes 19.6% who plan to gather in groups of 7 to 15 people, and 8.7% who intend to party with more than 15 others.
Sharing meals and other expenses is typically more cost effective than paying for everything individually. And of course, there is more benefit to these get-togethers than just splitting costs.
After a couple years of isolating because of the pandemic, the chance to socialize may seem especially welcome. This 4th of July, that's another type of freedom that's well worth celebrating.
You may also be interested in:
---
Disclaimer: The article and information provided here is for informational purposes only and is not intended as a substitute for professional advice.