Credit Sesame's new survey reveals credit card use has changed over the last year from May 2021 to May 2022..
America's credit card use is rising – at exactly the wrong time.
The Personal Finance and Credit survey shows that American consumers are relying more on their credit cards this year than last. With higher interest rates this year, they'll pay extra for this increased credit card use.
For many Americans, the price of their credit card habits goes beyond interest payments. The survey found more Americans this year are having trouble keeping up with their credit card payments. That adds fees to the cost of credit card use.
Beyond that, the survey found that American consumers are paying a greater price this year in the form of stress over money. In many cases, even people with strong incomes are not immune to this heightened financial stress.
Credit card use has increased over then last year
The survey found that over the past year credit cards have become the most common method of payment for Americans. 47% of Americans say they most often pay for things with credit cards. That compares with 43% who most often use their debit cards, and 11% who most often use cash (the numbers don't add up to exactly 100% because of rounding).
This primary reliance on credit rather than debit is a flip from last year. In 2021, 46% of Americans said they used debit cards as their primary method of payment, compared with 40% who most often used credit cards.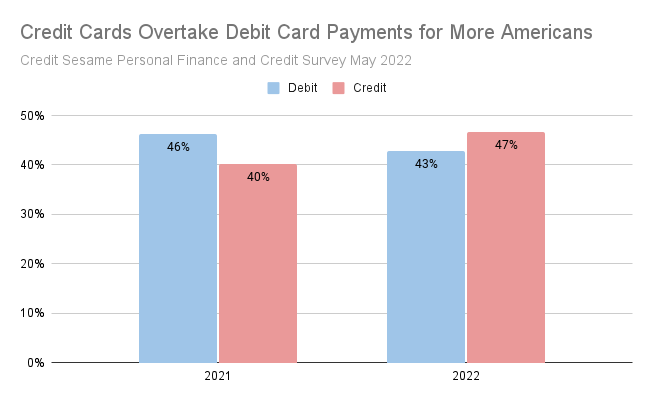 This increased usage is reflected in the total amount of credit card debt outstanding. According to seasonally-adjusted figures from the Federal Reserve, in April U.S. credit card debt reached an all-time high of over $1.1 trillion.
This elevated debt burden is stretching people's credit limits more this year. The survey found that the percentage of consumers using at least half of their credit card limits has increased this year, as shown in the chart below: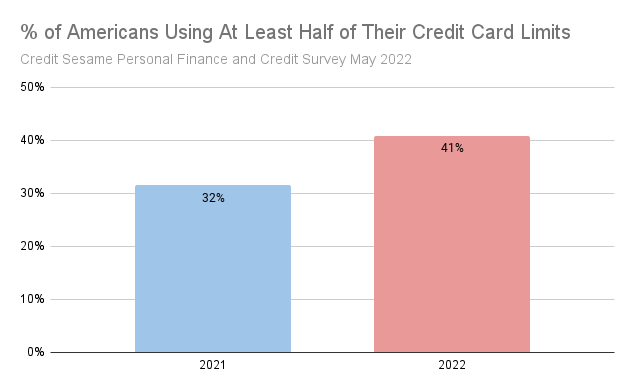 Consumers have picked a very bad time to increase their credit card use. Under any circumstances credit card debt is a very expensive form of debt to carry. This is especially true now, with interest rates rising.
Sadly, for some Americans interest payments may be just the beginning of the cost of credit card debt.
Credit card users are having more trouble paying on time
Larger debt burdens and higher interest rates make credit card payments harder to meet. The survey found this reflected in the number of people who've been late with credit card payments this year: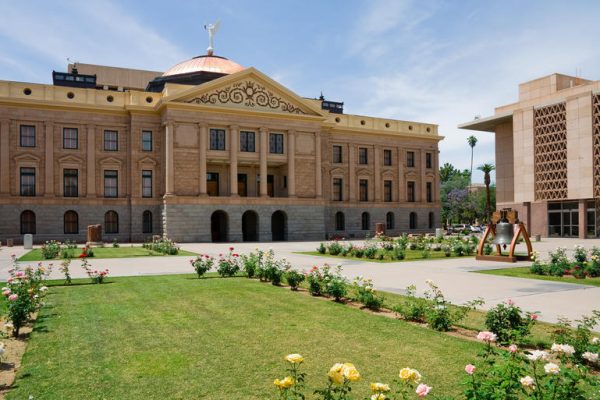 Being late with payments just adds to the problem. Besides resulting in people paying more interest, late payments are also likely to trigger penalty fees. Those, of course, make credit card payments even more difficult to afford.
Credit problems: A cycle of debt and stress
Heavier credit use and more late payments create a growing cycle of debt and stress. The survey found that worrying about money has increased this year. The percentage of survey respondents who say they often worry about money has jumped from 12% in 2021 to 30% in 2022.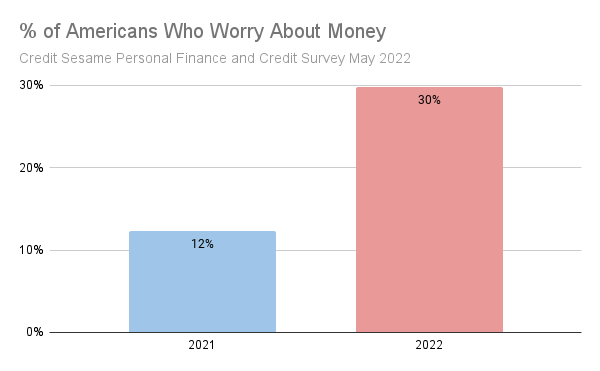 Understandably, these money worries are especially common among people with credit problems. People with low credit scores are much more likely to be worrying about money than people with average or high scores.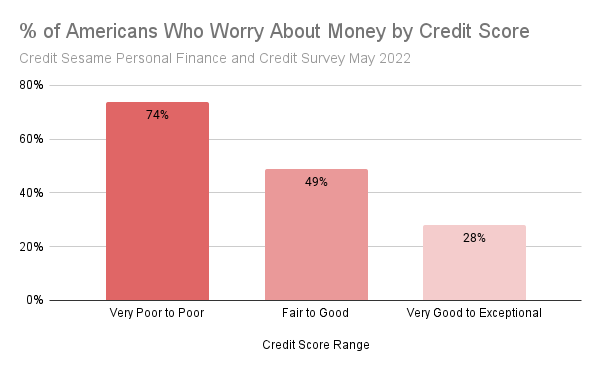 This cycle of debt and stress is made worse by the recent trends discussed earlier in this article. Both late payments and greater use of available credit are factors that can hurt credit scores. People with lower credit scores not only worry more about money, but they are also charged higher interest rates. And so the problem gets worse.
Credit card debt and inflation feed off each other
A big difference  between last year and this year is that inflation is much higher. That makes it tough for households to make ends meet, which helps explain why people are relying more on credit this year.
Unfortunately, that credit use magnifies inflation. People are already paying higher prices for goods and services. If they need to borrow to pay for those things, it adds to the cost. With people carrying more credit card debt, it means they're adding interest charges on top of those higher prices.
High income isn't always enough
A surprising finding of the survey is that having a high income isn't always enough to save people from worrying about money. Among people making between $100,000 and $150,000 a year, more than one in five say they often worry about money. That number has roughly tripled since last year.
This points to the fact that financial success depends not just on how much money you have, but on how you handle it. Responsible use of credit starts with budgeting before you borrow. Even low-income families can have good credit. The key is to avoid taking on debt you won't be able to pay.
Limiting your use of debt will help you avoid the kind of late payments that damage your credit history. It will also help you minimize interest charges and late fees. That way, more of your hard-earned dollars can go towards the things you need rather than to credit card companies.
The survey shows that financial conditions have gotten more challenging over the last year. That makes this a particularly good time to review your credit habits with an eye towards reducing reliance on credit.
---
Disclaimer: The article and information provided here is for informational purposes only and is not intended as a substitute for professional advice.
---
Survey methodology
The Credit Sesame Personal Finance and Credit May 2022 was designed and executed by Credit Sesame using the Momentive Inc. survey tool. General population data was collected online May 20-21, 2022. The survey sample comprised 1,222 U.S. residents aged 18 to 99 years balanced for age and gender using U.S. Census data. The sample data is accurate to within +/- 2.888 percentage points using a 95% confidence level.