Credit Sesame discusses the current 7% mortgage rate that is still below average in August 2023.
30-year mortgage rates recently hit 7% and higher. For many people, young adults in particular, that's a shockingly high number. Mortgage rates are now at their highest since June 2001. Until 2022, 30-year rates had remained below 5% for over a decade.
This means that the 7% mortgage rate represents a radically different environment than people are used to. It's a difference that matters. Mortgage rates have more than doubled since the start of last year, abruptly raising the cost of buying a home. For most would-be home buyers, this significantly alters their plans. For many, it puts those plans on hold indefinitely.
There's always the hope that this will pass. Perhaps these high rates will fade away just as quickly as they stormed onto the scene. However, a 7% mortgage rate is not that unusual. Historically, they are actually below average. It's possible that this mortgage rate environment is not so much a new normal as a return to normal.
If that's the case, it means people must approach buying a house very differently. It highlights the importance of saving for a down payment and maximizing your credit score in your home-buying strategy.
7% mortgage rate vs. historic rates
At the end of 2021, the 30-year mortgage rate was 3.11%. That did not seem unusual. During the previous decade, rates had averaged 3.78%. How quickly things change. It's easy to see why the sudden rise in mortgage rates to above 7% has come as such a shock. From a longer-term perspective though, it turns out the world of 3% mortgage rates was the outlier. Based on a Credit Sesame analysis of mortgage rate data from Freddie Mac, the 30-year mortgage rates over the last 50 years have averaged 7.75%. The recent 7.23% rate is actually below the 50-year average for mortgage rates.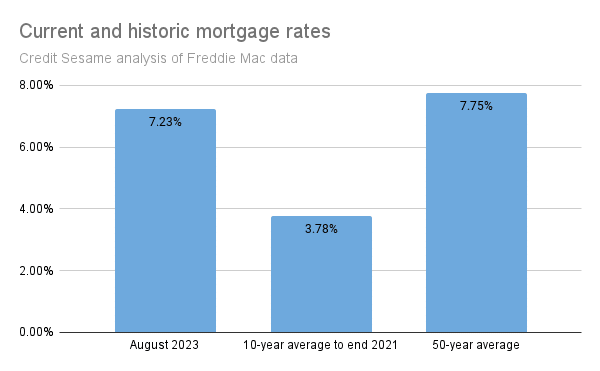 This is more than a statistical curiosity. It has a profound impact on anyone planning to buy, sell or refinance a house. Current mortgage rates may be much higher than what you're used to, but 7% is not unusually high. They are actually pretty normal. While they could go back down again, that won't necessarily be the case. In fact, they could rise even higher.
What drives mortgage rates up?
Mortgage rates are very sensitive to inflation. Understandably, lenders don't want to make loans at rates that are lower than what they expect the long-term rate of inflation would be. If they did, the return they get from principal and interest payments would have less purchasing power than when they made the loan.
That helps explain the general rise in mortgage rates since the end of 2021. Inflation ran wild in the first half of 2022. This caught mortgage lenders by surprise and sent mortgage rates up to keep pace with inflation.
However, what's been happening lately is a little harder to explain. Inflation peaked in mid-2022 and has been steadily easing since. Mortgage rates fell into line by drifting down late last year and early in 2023. Since early February 2023 though, mortgage rates have been rising again. Through late August, there were five straight weekly increases to reach 7.23%. That surpasses last 2022's high, and rates since 2001.
Mortgage lenders are wary of being burned again. When this year started, it was widely expected that a recession would occur sometime in 2023, further helping to cool inflation. Instead, the pace of economic growth accelerated in the second quarter.
On top of that, oil prices have risen by 18.8% since mid-March, and a continuing labor shortage has put pressure on wages. These are signs that inflation may remain stubborn.
Besides inflation, another factor may be driving mortgage rates higher. Consumer credit default rates have been rising steadily since late 2021. When lenders see growing instances of consumers not paying what they owe, they tend to increase rates in order to cover that risk.
Are mortgage rate rises finished?
Lenders are still trying to find the right mortgage rates after having been unusually low for a very long time. What that rate should be has to be judged in the context of inflation.
Mortgage rates have averaged 7.75% over the past 50 years, while inflation averaged 3.93%. That means 30-year mortgage rates have generally had a 3.82% cushion over inflation.
In August 2023, mortgage rates are at 7.23% while inflation is at 3.30%. That gives mortgage rates a 3.93% cushion over inflation. This is very close to the 3.82% 50-year average. Contrast this with the middle of last year, when inflation was at 8.93% and mortgage rates were at 5.70%, 3.23% below inflation. Viewed in this context, it was inevitable that mortgage rates had to rise and/or inflation had to fall. As it turns out, both occurred to bring rates back into alignment.
Now that mortgage and inflation are more or less in line, a lot depends on inflation's next move.
Mortgage rate rise impact on the home buyers
In the meantime, home buyers should keep in mind these two ways of dampening the financial impact of higher interest rates:
Save for a larger down payment. This reduces the amount you have to borrow and may qualify you for a lower interest rate.
Work on improving your credit score. People with weaker credit scores pay significantly higher rates on mortgages. Successfully working on your score can take some of the bite out of higher rates.
Saving for a down payment and improving your credit score does not happen overnight. However, if history is a guide, it may take even longer if you decide to wait for mortgage rates to come down.
If you found August 2023: 7% mortgage rate and still below average useful, you may find these articles helpful:
---
Disclaimer: The article and information provided here is for informational purposes only and is not intended as a substitute for professional advice.