Mortgage rates have been near historic lows for the past few years but recent Federal Reserve rate hikes have them inching back up. As of mid-April, the average 30-year mortgage rate was 4.08 percent, according to Freddie Mac. That's up a half a percentage point from a year ago, when 30-year home loans were going for 3.58 percent on average.
If you already own a home, you might be wondering whether it's time to pull the trigger on a refinance. Mortgage rates could go even higher this year.
Should you refinance now?
Whether to refinance now is a tough question with several factors to consider, starting with your credit and debt. If you're on the fence about whether to refinance, Credit Sesame can help you decide. If you choose to move forward, Credit Sesame can also help you find a deal on a new mortgage loan.
How to use Credit Sesame to evaluate your credit and financial health
As a Credit Sesame member, you get free credit score monitoring each month but you also get something else: access to the Credit Sesame member dashboard. This dashboard provides a snapshot of your financial situation based on what's in your TransUnion credit report.
You can see at a glance:
Your credit score
Your total debt
Which credit scoring factors are hurting or helping your score
First, look at your credit score. It must be up to par to qualify for the best rates. If your score is low because of late payments or you've maxed out one or more credit cards, that could make getting approved for a refinance more difficult, or increase your odds of paying a higher rate on the loan.
You need to know what's holding your score down before you can improve it.
Credit Sesame helps here, too. Your member dashboard includes your credit report card, where you're assigned a letter grade for five different factors:
Payment history
Credit usage
Credit age
Account mix
Credit inquiries
Second, look at your debt-to-income ratio or DTI. This is the percentage of your income you spend on debt repayment each month. To figure it out, add up all of the minimum payments you are obligated to pay each month on your financial liabilities. Those might include credit cards, student loans, auto loans, housing (mortgage, taxes, homeowners insurance, PMI, HOA fees) or other debt. Then divide the total by your monthly income.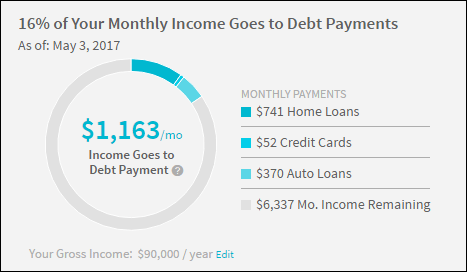 Credit Sesame calculates your DTI for you once you manually add your income (your income isn't included on your credit report and adding it only takes a second).
Generally, you want your DTI to be below 36 percent. If your DTI is above the 36 percent mark, getting that number down may need to be a priority before you can move ahead with refinancing.
How to use your Credit Sesame dashboard to improve your finances
Paying off a credit card is one way to reduce your DTI. You're thinking, "If I could pay off my credit card, I would have done it already!" This is another area where your member dashboard can help.
Find money-saving offers tailored for you on Credit Sesame. Click the My Recommendations tab at the top of your dashboard. This will take you to a list of credit card offers, which may include offers for zero percent balance transfers. If you can successfully transfer your balance to a card with a 0 percent annual percentage rate (APR), you may be able to pay it off faster.
Applying for a new card can temporarily ding your credit score, but adding more available credit without adding more debt can improve your utilization and give your credit score a boost.
Credit Sesame uses a proprietary algorithm to evaluate your credit and finances and present offers that you might qualify for and that could save you money.
Your member dashboard shows offers for credit products Credit Sesame thinks are a good match for you. Click on the My Debt tab in your dashboard to see all of your debts in one place, including your mortgage. You'll be able to view the current balance, the interest rate and your monthly payment. Below that, you should see recommendations for refinance lenders. My dashboard, for example, shows these two offers:

Compare the rates in the offers with what you pay now to get an idea of whether refinancing makes sense. Just remember that those rates aren't set in stone. Your rate will ultimately depend on several factors, including your credit score, income and debt.
Do the math to make sure refinancing will to save you money
Checking your credit score and analyzing your debt to determine whether you'll qualify for a refinance loan is the first step. The next is figuring out whether refinancing is worth it.
How much time do you have left on your mortgage? If you are 10 or 15 years into your loan, refinancing to a new 30-year mortgage probably won't save you any money.
What are the out-of-pocket costs? Generally, you'll need to save money with a new lower monthly payment for several years just to recover the closing costs. If you pay $4,000 for the refinance and your new payment is $100 lower than your old payment, you won't break even for more than three years. The lender may allow you to roll the closing costs into the loan, but that means you'll pay interest on that amount for the life of the loan.
What's the new payment? Refinancing to a 10-, 15- or 20-year term will save a significant amount in interest charges over the life of the loan, but in the short term means a higher monthly payment and possible strain on your budget.
What's the best deal? Compare rates and costs from different lenders to see how much you could save. In my case, the refinance rates offered were higher than the rate I locked on my FHA loan last summer so instead of trying to refinance, I'm focusing on paying my mortgage off ahead of schedule so I can save on interest.
Get more information in our mortgage guide and crunch your numbers with our mortgage calculator.