Credit Sesame discusses the slump in home prices and whether this is good for buyers.
All markets have buyers and sellers. Trends that favor one side usually hurt the other. However, the housing market is a little more complicated than that.
A recent slump in home prices might seem like good news for buyers and bad news for sellers. However, it's not as helpful to buyers as one might think under today's conditions. Also, it may not be as bad as one may imagine for sellers, depending on their reasons for selling.
Meanwhile, there's a large group that is somewhere in the middle. Even homeowners without immediate plans to sell are impacted by changing home prices. The effect varies depending on the situation of the homeowner.
Slump in home prices since June 2022
A leading measure of home prices is the S&P Corelogic Case-Shiller National Home Price Index. This measures home prices nationally.
The S&P National Home Price Index rose by 5.8% in 2022. There is nothing unusual about that. The index has now risen for 11 straight years. However, the second half of 2022 represented something of a turning point.
Home prices peaked in June of 2022 and then began falling. They have fallen for six straight months. The last time that happened was in late 2011 and early 2012.
Since June 2022, home prices have fallen by 4.4%. Making financial decisions often depends less on where markets are today than on where they're heading. The slide in home prices seems likely to continue because mortgage rates are up sharply. As this trend unfolds, it's worth taking a closer look at how it affects home buyers, long-term homeowners, and people looking to sell their homes.
Buyers: Good news, but not a lot of help
So far, home prices are only down slightly, but after more than a decade of rising prices, potential buyers may welcome any break. However, the circumstances under which home prices are falling make this trend of limited use to home buyers. The housing market is slumping because mortgage rates are higher. This means anyone who has to borrow to buy a home still faces rising costs. The following chart shows how rising mortgage rates can counter the benefit of falling home prices: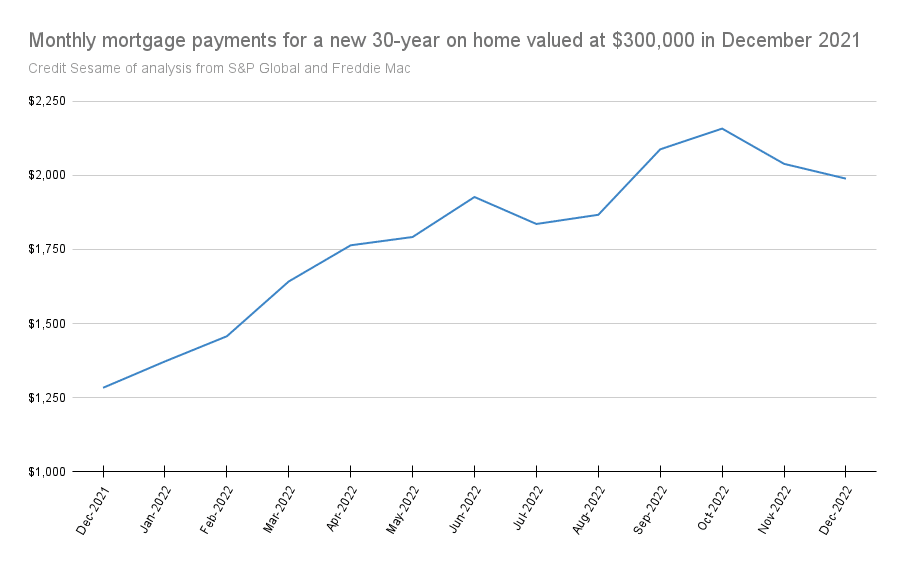 Credit Sesame examined data on home prices from S&P Global and mortgage rates from Freddie Mac. It used a Zillow calculator to calculate mortgage payments taking into account home price changes and mortgage rate changes.
As home prices and mortgage rates rose in the first half of the year, the monthly home buying cost increased steadily. Even after home prices started to fall in the second half of the year, the monthly mortgage cost continued to rise.
In the last couple of months of the year, the monthly cost dipped a bit, and that was because mortgage rates fell a little. By the end of the year, the average monthly mortgage cost was higher than it had been at mid-year when home prices started to fall.
Even the benefit of the late-2022 dip in mortgage rates proved to be short-lived. In recent weeks mortgage rates have resumed an upward trend, and are now higher than they were at the end of 2022.
So, although home buyers seem to be beneficiaries of falling home prices, that benefit has been negated by higher interest rates.
Excepting the few buyers who don't have to borrow to buy a home, there has been no real relief in the cost of buying a home.
Homeowners: Good news for some
It may seem obvious that people who own a home would root for higher home prices. In many cases, their homes are their most valuable asset, so any rise in home prices adds to their net worth.
However, the financial impact of home ownership is more complicated than that. If you plan to remain in your home for the foreseeable future, its market value matters only if you borrow against it. In that case, the boost to the home equity you get from rising prices increases your borrowing power.
If you're not planning to borrow or sell, rising prices are of little benefit. In fact, if you pay real estate taxes, one thing you don't want is to live in a neighborhood where prices are rising quickly. This may mean you must pay a bigger share of local property taxes.
Sellers: It depends on why they're selling
This is where rising home prices get really tricky. In theory, rising prices benefit sellers. In practice, it depends on why you're selling.
People who are selling to relocate or upgrade their homes just have to turn around and buy another property. This can neutralize the impact of rising prices or even hurt someone who is both selling and buying.
Rising prices have a greater dollar impact on more expensive properties. So, anyone upgrading or moving to a more expensive market loses more than they gain.
Only sellers who are downsizing are clear beneficiaries of higher home prices.
Which will crack first: Home prices or interest rates?
The impact of higher home prices is complex, with winners and losers. One thing that unites buyers and sellers is that higher interest rates are bad for both. So far in 2023 higher interest rates prevail.
There is often an inverse relationship between home prices and interest rates: when one rises, the other falls. An increase in mortgage interest rates counters a slump in home prices.
Recent months suggest that home prices have started to crack before interest rates. Home prices are falling while interest rates are rising again. Until there is some lasting relief from inflation, that will likely continue.
The sweet spot for someone looking to buy might be when mortgage rates start dropping by a meaningful amount. There might be a short time as soon as that happens when a buyer could benefit from falling mortgage rates before home prices have a chance to rise again.
If you enjoyed Is the slump in home prices good or bad news? you may like,
---
Disclaimer: The article and information provided here is for informational purposes only and is not intended as a substitute for professional advice.