Holiday commercials have already graced the airwaves for designated days of discounts and door busters. With these major deals comes a highly anticipated day (or two) of shopping for decorations, gifts for loved ones, and occasionally, our own self-indulgences.
At Credit Sesame, we conducted a consumer survey and it revealed that almost 30% of respondents plan to spend less than $100 on gifts and decorations for the holidays in 2016, an impressively low number compared to the national average of $539 on gifts alone, according to the National Retail Federation.
Regardless of the amount you plan to spend over the last months of the year, having a budget for the holidays, and sticking to it, will set you up for success and guide you towards a path of financial fortune for 2017.
Here's how you can budget for the holiday season:
Make a Game Plan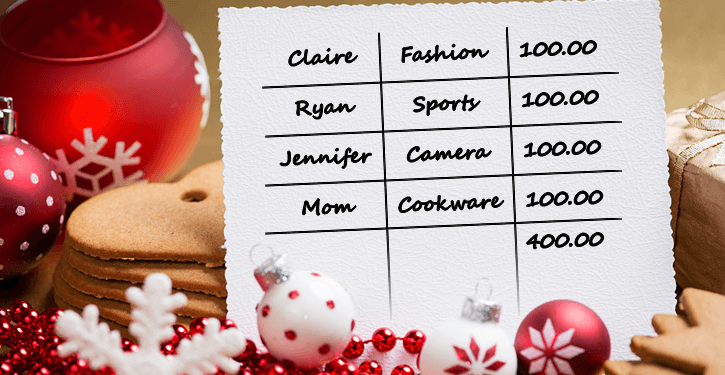 Our survey revealed that over 30% of consumers don't have a budget for their holiday spending and 8.5% did not have a budget in the past but plan to create one this year.
As tricky as it may seem, it's important to have an idea of how much you plan to spend for the holidays. If you can get at least an estimate of all your holiday costs, including gifts, food, and decorations, your budget will already be half-way done.
On a piece of paper, draw four columns.
In the first column, make a list of the names of people you will be giving gifts to this year.
In the second column next to the names, brainstorm a few gift ideas that fall within the same price range.
In the third column, jot down the average price of those three gift ideas.
At the bottom of the list, total up the average price per person and jot it down. This is your expected amount of holiday spending.
Planning to decorate or host? The average consumer spends $20 to $50 on plants and decorations, and another $100 on food. Add the appropriate amount to your holiday spending total.
Do Your Research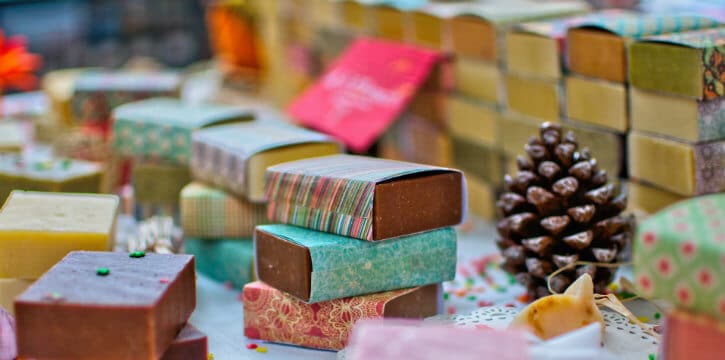 Online research is a great way to know where and when you can get the best deals. Now that you have an idea of what gifts and supplies you need and how much it might cost, it's time to look into getting them at a cheaper rate.
Scope out any deals that are being promoted from retailers you plan to spend with. Use the internet to look up what sales they conducted last year. Most retailers will run similar deals on an annual basis.
If you're purchasing consumer electronics, like TVs or game consoles, or other large ticket items, like dishwashers or mattresses, consider delaying your purchase until the big spending holidays, Black Friday and Cyber Monday.
Shopping early can make budgeting for holiday spending much easier. Approximately 41% of consumers will shop early, in October or earlier. If this is you, do your shopping around the other major holiday weekends with known discounts, Labor Day and Veteran's Day.
Finally, be willing to spend with online retailers that can offer a lower price. Just play it safe and be sure to look for social proof and high-quality reviews of their products.
Consider how much you can save when comparing shipping costs versus the amount of money you will spend on food, gas, and the value of your time to shop in-store. According to the NRF, 48.2% of online stores plan to provide free shipping as a holiday promotion.
Next to each item on your list, jot down where and when you plan to purchase in order to get the best price. Indicate whether the purchase will be "online," "in-store," or if you can "DIY."
Create a Savings Strategy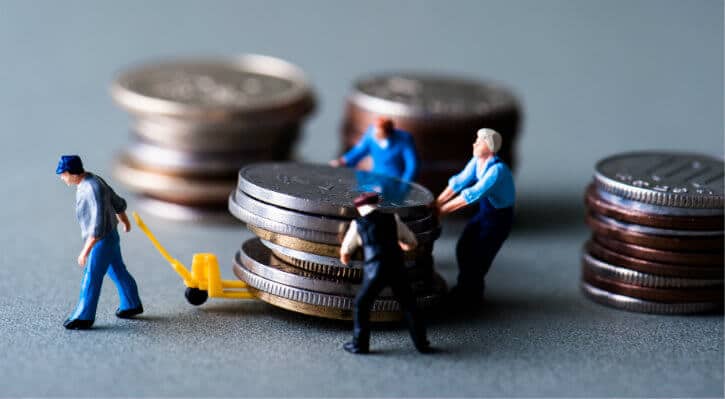 Now that you've figured out how much you are expecting to spend on holiday shopping, it's time to put a savings plan in place.
Eighteen percent of consumers will wait until December to get their shopping done. If this is you, figure out how many weeks you have until these shopping trips take place, divide your total spend amount by the number of weeks and stash that amount of money away each week.
Note that the "total spend amount" should be the average gift prices, added up, without the discounts. This ensures you will have ample money for all of your gifts, and hopefully some leftover after the holidays.
Depending on how you plan to purchase your items, you can either withdraw cash each week, or simply earmark a specified dollar value in your bank account to pay for any debit or credit card transactions.
Over 43% of our Google Consumer Survey respondents plan to pay for all of their holiday purchases with cash, while 37% will finance with a credit card.
Our best advice is to save up your money before you plan to spend it. Use the cash you withdrew to make your purchase or transfer the amount you saved in your checking account to pay for your credit card bill when it comes due.
How to Handle Shopping Day
When shopping day rolls around, make a list and stay focused to avoid impulse buys.
If you are shopping online, always leave "impulsive items" in your online shopping cart for at least one full day.
Return after 24-hours to the cart – if you remember – and if you don't care much about the item inside anymore, you can simply delete it without having to return it to its shelf or grudgingly hand it over to the cashier.
Set Yourself Up for Success Next Year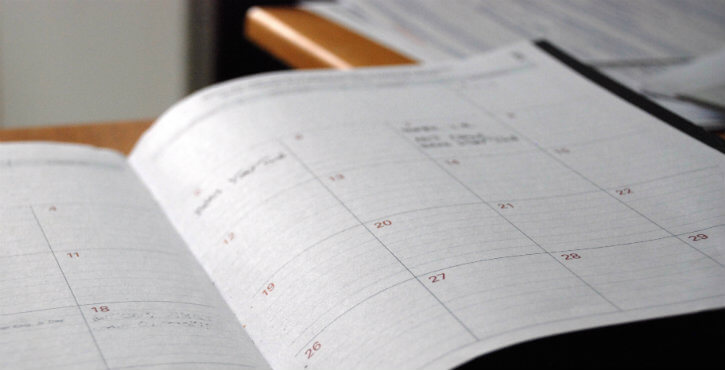 If this year was too late to set yourself up for budget-friendly success, then get a head start and put a plan in place for next year.
Now that you have an idea on how the budget setting process works for holiday spending, start your list today and continue to revisit it throughout the year.
Look for after-Christmas shopping deals and keep your eyes open for deals year-round. Plan to buy all your decorations and seasonal gifts in the off-season.
Finally, create a better saving strategy by opening up a sub-savings account through your online bank, as long as they don't charge any excess fees. If your bank isn't online, they don't allow you to open up another savings account, or they do charge obnoxious fees, consider finding a no-fee bank online to set up a separate savings account. Online banks and local credit unions are usually great options.
Nickname this new sub-account your "Holiday Savings Account," and begin transferring a small amount of money with every paycheck. To find the exact amount you need to transfer, use the calculation documented in the above "saving strategy." As an example, if you get paid twice per month, divide your "spend amount" by 24.
Although it's safe to assume the average individual may find it difficult to stick to their budget during this time of year, nearly 40% of our Google Consumer Survey respondents replied that they have been able to do just that.
Use these methods to set your own holiday budget and become part of the 40%. Commit to keep your 2016 holiday spending under wraps this year and for the many years to come.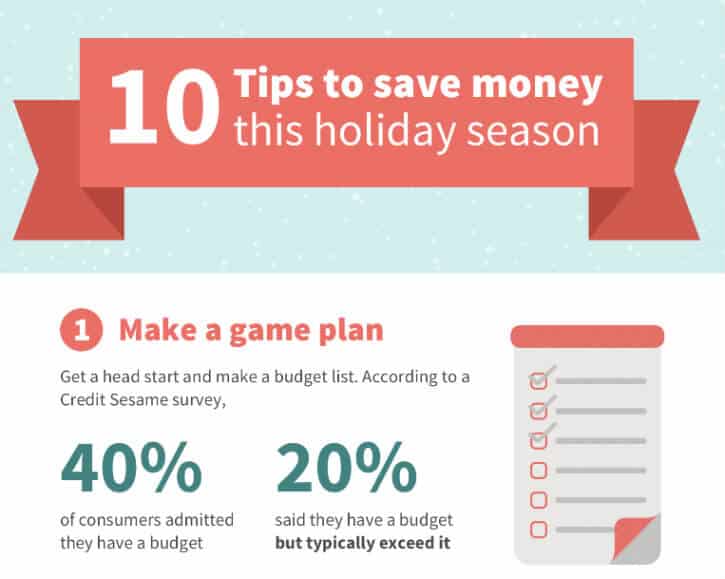 Click to See Full Infographic