Credit Sesame discusses how consumer spending could contribute to or divert a recession in 2023.
News coverage of the economy focuses mostly on business leaders and government officials, but consumers have the greatest impact. In 2023, the US can expect a slowdown in consumer spending. Whether that slowdown is enough to cause a recession depends on how quickly inflation cools down.
Consumers are the dominant force in the economy
How important is consumer spending to overall economic activity? ignoring the impact of international trade, US consumer spending contributes two-thirds (over $14 trillion) of the US GDP followed by business investment and government spending at around one-sixth each.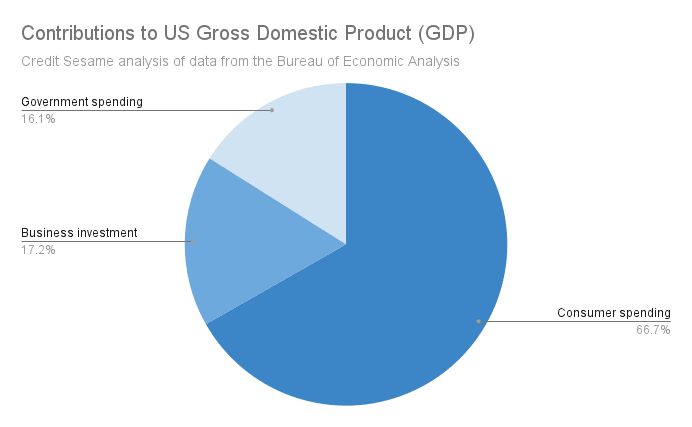 The upshot of this is that consumers play the leading role in determining how the economy is doing.
Consumer spending is growing but more slowly
Given the importance of consumers to the economy, a recent survey by the Federal Reserve Bank of New York provides a sneak preview of what type of year 2023 will be.
The New York Fed's Household Spending Survey measures recent trends and expectations for the near future. The latest results show that consumer spending has slowed in recent months. They also show that consumers expect it to slow even more in the year ahead.
As of December 2022, consumer spending was 7.7% higher than in December 2021. This is a slower growth rate than the peak year-over-year growth rate of 9.0% in August 2022.
The survey shows that spending growth is expected to decelerate in the year ahead. The median expectation for spending growth over the next 12 months is 4.0%.
A survey about expectations is not a guarantee of outcome. However, the survey suggests that most households plan on increasing spending more cautiously. Such widespread caution may become a self-fulfilling prophecy.
The impact of inflation
The good news is that slow growth is still growth. Slow growth is different from a shrinking economy. It's one thing if the pace of economic growth slows down and quite another if economic activity declines. If a decline lasts long enough, it could become a recession.
The fate of the economy depends not only on spending but on inflation. Economic growth is measured on an inflation-adjusted basis. Inflation-adjusted growth is referred to as the "real" growth rate.
For example, if growth in spending is 4% and inflation is 2%, the real growth rate is still positive because growth outpaced inflation.
In contrast, if growth in spending is 4% and inflation is 6%, the real growth rate is negative. If sustained, that would be considered a recession.
Since consumers represent two-thirds of overall spending, consumer spending growth is generally the biggest contributor to overall economic growth. The New York Fed survey says consumers expect to spend 4% more over the next 12 months. The question is, is that enough to outpace inflation?
The Consumer Price Index rose by 6.5% in 2022. However, it slowed drastically in the second half of the year. Over the last six months of the year it rose by just 0.94%. If this continues, that will represent an annual inflation rate of less than 2%.
If 2023 repeats the 6.5% inflation rate of 2022, 4% consumer spending growth is negative real growth. If the inflation rate continues at 0.94% as in the latter half of 2022, 4% consumer spending is positive real growth.
In short, whether or not there is a recession in 2023 may depend on whether or not the inflation rate slows more than consumer spending.
Necessities are driving spending growth
An interesting detail from the New York Fed survey is that households are planning to cut back especially on non-essential spending.
While consumers expect 4.0% overall spending growth in the year ahead, they plan to spend just 1.7% more on non-essential items. However, they expect to spend 5.2% more on necessary expenses.
This illustrates the extent to which spending growth is driven by inflation. For the most part, consumers aren't splurging. They expect to spend more primarily because the things they need cost more.
Higher-income earners are also slowing spending growth
That consumers control spending where possible is reinforced by looking at spending expectations broken down by income level. Compared to a year ago, households earning over $100,000 a year expect the biggest spending slowdown of any income group for non-essential items.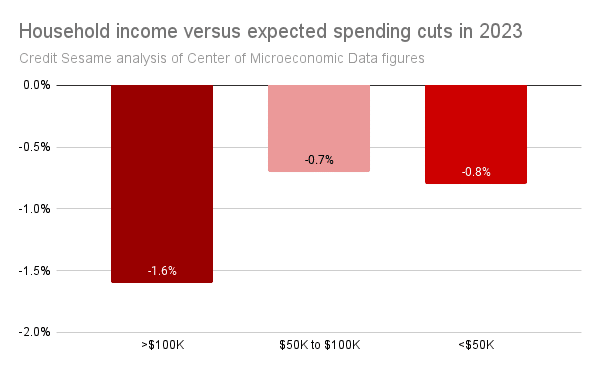 A big reason for this may be that higher-income households had more to spend on luxuries, so it is an easy reduction. However, another interpretation is that even wealthier households feel the effects of higher prices and economic pessimism.
Slower consumer spending growth means slower debt growth
The bottom line is that consumers expect less growth in spending this year on both essential and non-essential items. This may happen because slowing inflation reduces price increases.
One positive effect of slower spending growth is slowing the pace at which consumer debt grows. This debt reached a record high in 2022.
Cutting back spending on non-essential items may mean households can pay down debt in 2023. Ultimately this means less money on interest payments and more money for the households.
If you enjoyed The Impact of Consumer Spending on the Economy in 2023, you may like:
---
Disclaimer: The article and information provided here is for informational purposes only and is not intended as a substitute for professional advice.