Credit Sesame prepares students on what to expect from back to school expenses this year and offer tips on how you can ease the pain of back-to-school inflation.
It's a funny commercial. To the tune of "It's the Most Wonderful Time of the Year," parents gleefully stock up on back-to-school supplies while gloomy kids trudge along behind. 
Many parents can relate to the idea of looking forward to a peaceful house when the kids are back in school after a long summer. However, the commercial's ecstatic vision of back-to-school shopping doesn't include the parents' reaction when the bills come due. 
With inflation pushing costs up, parents can expect those back-to-school shopping bills to be higher than ever this year. That makes it especially important to shop purposefully to keep expenses down.  
Americans plan to spend more on back-to-school shopping
According to the National Retail Federation, the average back-to-school budget for children from elementary through high school last year was $848.90. For kids in college, the cost of back-to-school supplies was even higher, at $1,200. 
Those are sizable expenses, especially if you have more than one child heading to school this fall. And, whatever you spent last year, expect to find costs even higher now. 
The Mastercard SpendingPulse survey projects that non-automotive U.S. retail sales will be up 7.5% during this year's back-to-school shopping period, compared with the same period a year ago. 
That would mean an added $63.67 over last year's average elementary through high school back-to-school budget, for a total of $912.57. 
On top of that, a recent Credit Sesame survey found that people are relying more on credit this year. Debit cards were the leading method of payment in 2021, switching to credit cards in 2022. 
If you don't pay off your credit card debt promptly – and credit card balances have been rising, not shrinking lately – the interest on that debt will add to your cost. At the average interest rate charged on credit card balances, that back-to-school price tag of $912.57 could cost you an extra $147.56 a year, bringing the total up to $1,060.13.
As shown in the chart below, that would be a total of $211.23 more than the average back-to-school spend last year. 
The same increases on last year's average back-to-school spend of $1,200 for college students would result in $90 of extra purchase costs plus $208.59 in interest costs for a combined increase of $298.59.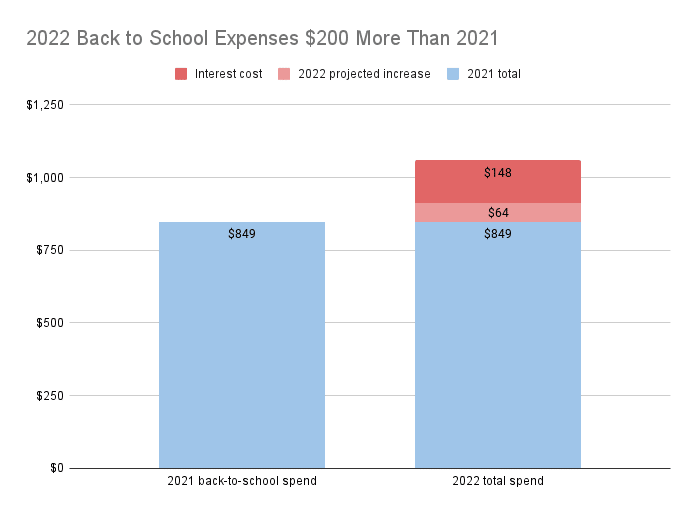 Inflation may mean paying more and getting less
Perhaps the toughest part of these increased costs is that you may end up spending more and getting less. 
Significantly, while the Mastercard survey found that consumers are planning on spending 7.5% more this year, the inflation rate over the past year has been 8.6%. 
The extra money people plan to spend won't be enough to keep pace with inflation. That means settling for buying less. 
In addition to inflation, if you plan on adding this year's purchases to your credit card balance the resulting interest charges would be additional money spent that wouldn't actually buy you more. 
To some extent though, smart shopping can counteract the impact of inflation and allow you to get more for your money – and for your child.
Online shopping for back to school expenses
One way people are celebrating the easing of health restrictions this year is by doing more in-person shopping. While that's understandable, it may not be the most economical decision. 
The Mastercard survey found people plan to spend 8.2% more in-store this year, compared to 4.3% more online. 
While shopping in person can be valuable for things like getting clothing sizes right, pick your spots. For some things that don't require in-person shopping, you may do better shopping for bargains online. 
Also, with today's high gasoline prices, minimizing in-person shopping might be one way to reduce the bite that inflation takes out of your back-to-school budget. 
Planning saves money on back to school expenses
Despite inflation, you can still get more for your money if you plan before you shop. Here are some tips:
Contact the school for information on requirements.

Make sure you're aware of any special materials or equipment your child will need before you set your budget. That way those requirements can be fit into your budget rather than added on at the last minute.
Make a prioritized list.

You don't always know how much things will cost until you start shopping. So, put your shopping list in priority order so you can get the essentials first. If that eats up your budget, you may just have to skip some of the other items. 
Research before you buy.

Even if you plan on shopping in person, doing some price comparisons online can point you towards where the best deals are before you start racking up the car mileage.
Create a budget and payment plan.

Once you've done your research, set a budget for how much you're willing to spend. Also check that budget against your income and other expenses so you can plan for how to pay for this year's back-to-school shopping before your child is ready to graduate to the next grade.

Don't buy everything at once.

Despite the annual back-to-school ads, there's no reason you have to buy everything this summer. Spreading your purchases out over the school year can allow you to buy more things with cash and skip the interest charges on credit. It might also be the way to keep a fast-growing child in clothes that fit throughout the school year. 
Choose your payment options wisely
Besides having a strategy for how to shop, you should also have one for how to pay for back to school expenses.
Credit can actually be more cost-effective than cash if you have a rewards card, and can then pay the balance off in full within the first month to avoid interest charges. 
If you're going to have to carry a credit card balance, check your current credit card APRs before you shop so you use the cheapest one. Remember, with recent interest rate increases these may have changed since you last checked.
Finally, don't worry that being cost-conscious might make you look cheap or hard up in the eyes of your kids. If you use back-to-school shopping as a teaching opportunity they might learn valuable lessons that will help their finances someday.
You may also be interested in:
---
Disclaimer: The article and information provided here is for informational purposes only and is not intended as a substitute for professional advice.
---
Survey methodology
The Credit Sesame Personal Finance and Credit Survey 2022 was designed and executed by Credit Sesame using the Momentive Inc. survey tool. General population data was collected online May 20-21, 2022. The survey sample comprised 1,222 U.S. residents aged 18 to 99 years balanced for age and gender using U.S. Census data. The sample data is accurate to within + 2.88 percentage points using a 95% confidence level.