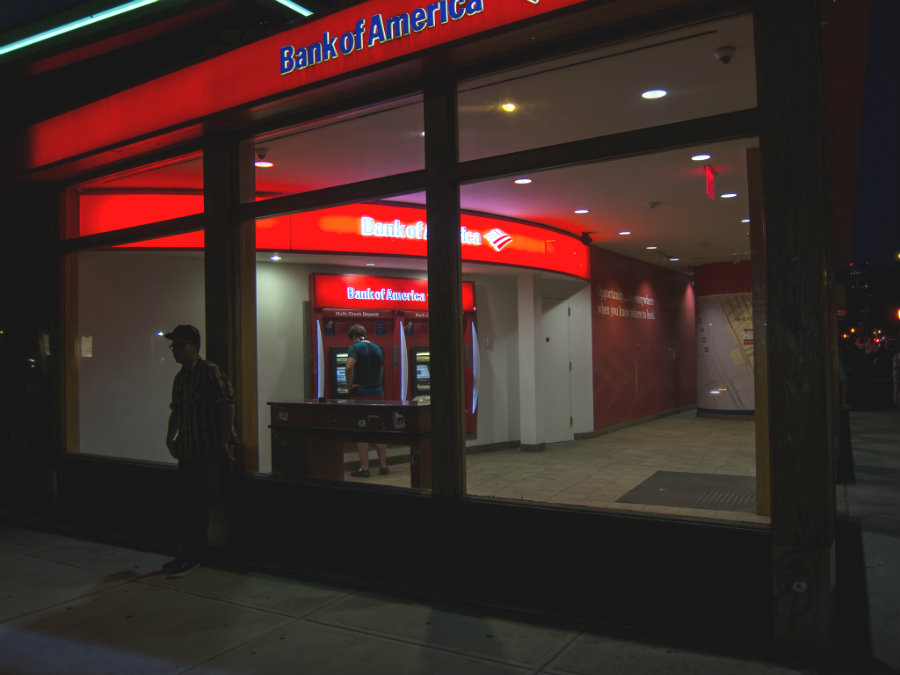 Paying with plastic can be a lot more convenient than carrying around a wallet full of cash and for some people, a prepaid debit card may be the answer. With a prepaid card, you have the ability to make purchases when cash isn't accepted but unlike a credit card, there are no interest charges or monthly payments to worry about.
A number of banks offer prepaid debit and credit cards and we decided to take a closer look at the options available from Bank of America. Bank of America prepaid cards come in several different varieties and we've explained each one in a little more detail below.
CashPay Card
The CashPay Card is the first Bank of America prepaid card on our list. This is a Visa-branded debit card that's linked to your payroll account through your employer and it's designed for people who either don't have a checking account or don't want their paycheck deposited into their checking account.
This type of prepaid Bank of America card isn't available to the general public. Your employer must have a CashPay account for you to enroll in the program and receive a card. Employees who are able to get a CashPay card have access to their money 24 hours a day, 7 days a week and they can make purchases anywhere Visa is accepted.
The CashPay card offers convenience and it also allows employees who don't have a checking account to avoid expensive check-cashing fees. Some check-cashing companies, for example, may charge a fee as high as 15% to process a paper payroll check. If you're bringing in $500 a week, that's $75 right off the top that you'd be wasting on fees.
Bank of America Merrill Lynch Reward Visa Card
The Merrill Lynch Reward Visa card is a Bank of America prepaid commercial card. These cards are only sold to businesses that have a current Commercial or Treasury relationship with Bank of America and they're perfect for bonus or reward incentive for employees. Like the CashPay card, this prepaid debit card can be used to make purchases anywhere Visa Debit is accepted.
This type of Bank of America prepaid debit card is not reloadable, which means once you spend the balance down you can't add additional funds to the card. You also can't use them to get cashback at the register or make an ATM withdrawal. These cards expire nine months from the date they're issued so if you receive one from your employer, you'll want to make sure you use it so the funds don't go to waste.
Consumer Payments Prepaid Card
The Consumer Payments prepaid card is another Bank of America commercial prepaid offering. These cards are distributed by businesses to their employees and can be deemed a "business funds" card or a "personal funds" card, based on the sponsor's preference. The sponsor who purchases the card is responsible for loading money onto it and they have the option of making the card reloadable or non-reloadable.
These cards can bear the Visa or MasterCard logo and are accepted anywhere you can use a Visa or MasterCard debit card. It's possible to make cash withdrawals at Cirrus and Visa ATMs worldwide or get cash back when making PIN-based purchases at grocery stores, gas stations or other merchants. You can use the card to make purchases online but you'll need to make sure the card is registered with Bank of America before you start loading up your online shopping cart.
Money on a Consumer Payments Prepaid card can't be transferred to an outside checking or savings account. If the card expires before you've spent down the balance, Bank of America will send you a paper check for the difference.
Prepaid Cards vs. Credit Cards
While prepaid debit cards are convenient, they won't help you to build a credit history. For that, you need a credit card that reports to each of the three major credit reporting bureaus each month. Fortunately, you have the option of getting a secured Bank of America credit card to get the ball rolling.
The BankAmericard® Secured credit card is geared for someone who is relatively new to using credit or is recovering from a past credit mistake, like a bankruptcy or foreclosure. You make a minimum cash deposit of $300 to Bank of America and, you get a credit card you can use to make purchases and with responsible use by you you can establish a positive payment history.
Unlike the prepaid cards Bank of America offers, this is a credit card which charges interest on what you purchase. Currently, the variable APR is set at 21.24%. There's also a $39 annual fee that you need to be aware of. If your goal is to improve your credit score while simplifying the way you spend, with responsible use by you this card can help you do it. Just make sure you keep your balance low and pay on time each month to avoid a black mark on your credit.
---
Disclosure: Credit Sesame is an independent comparison service provider. Reasonable efforts have been made to maintain accurate information throughout our website, mobile apps, and communication methods; however, all information is presented without warranty or guarantee. Please visit the provider's site for current information and verify all terms and conditions of any offer prior to applying. The editorial content on this page is not provided by any company or credit card issuer. Any opinions, analyses, reviews or evaluations provided here are those of the author's alone, not those of any company or credit card issuer, and have not been reviewed, approved or otherwise endorsed by any company or credit card issuer. The offers that appear on this site are from companies from which we may receive compensation. This compensation may impact how and where products appear on this site (including, for example, the order in which they appear). This site does not include all companies or all available products or all available credit card offers. All images and trademarks are the property of their respective owners.
See the online provider's application for details about terms and conditions. Offers are subject to change and the terms displayed may not be available to all consumers. Please visit the provider's site for current information and verify all terms and conditions of any offer prior to applying.
Responses are not provided or commissioned by the bank advertiser. Responses have not been reviewed, approved or otherwise endorsed by the bank advertiser. It is not the bank advertiser's responsibility to ensure all posts and/or questions are answered.