In this exclusive research from Credit Sesame, we share an in-depth report about the state of America's credit and the health of American consumers.
We give our analysis and trends on which ZIP codes have the best credit scores, how homeowners and renters compare, and how "maxed out" consumers are when it comes to credit cards.
The 2016 analysis was extracted from a subset of Credit Sesame's 7 million members. Specifically, we examined 2.5 million members.
Average credit score by state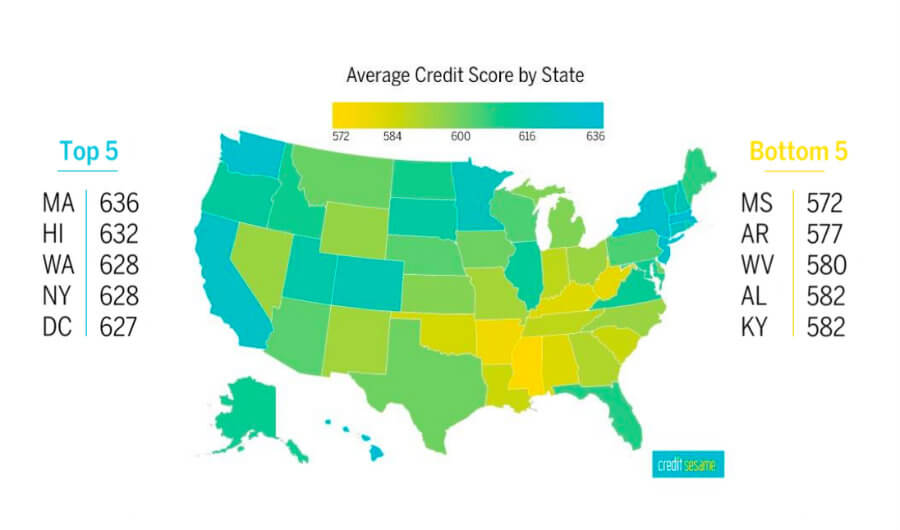 The average credit score in the United States is 625. That's a score most lenders would consider subprime.
Credit Sesame uses VantageScore 3.0, which is a different scoring model than FICO®. An average VantageScore of 625 can be roughly translated to an average FICO® score of 650.
Credit Scores vs. Household Income

The credit bureaus will tell you that income plays no role in the calculation of your credit score. But a single glance at the average credit score and median household income in each state shows that there is a strong correlations between the two.
Posh neighborhoods top our credit score charts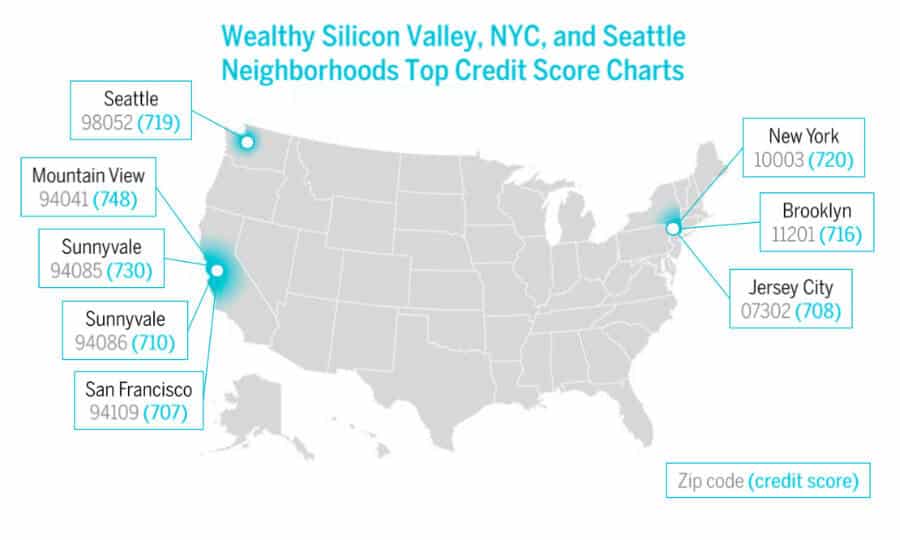 On the ZIP code level, the highest average credit scores are in Seattle, Silicon Valley and New York City — all areas that have benefitted strongly from the recent tech boom. Is it a coincidence that you can find the highest average credit scores in the same places where you find the highest-paying jobs?
Is poverty becoming synonymous with a subprime credit score?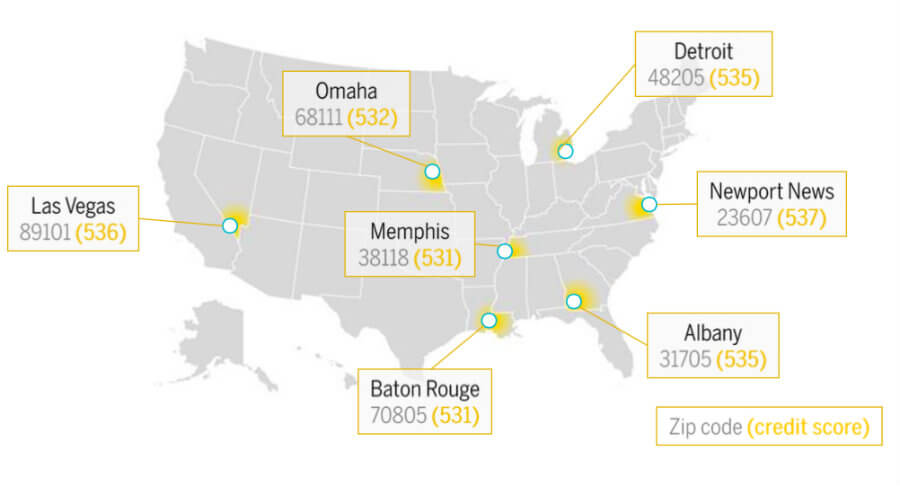 Some of the lowest credit scores are in ZIP codes where household income is less than half the national average and more than a third of the population lives below the poverty line.
The city with the largest credit discrepancy: Chicago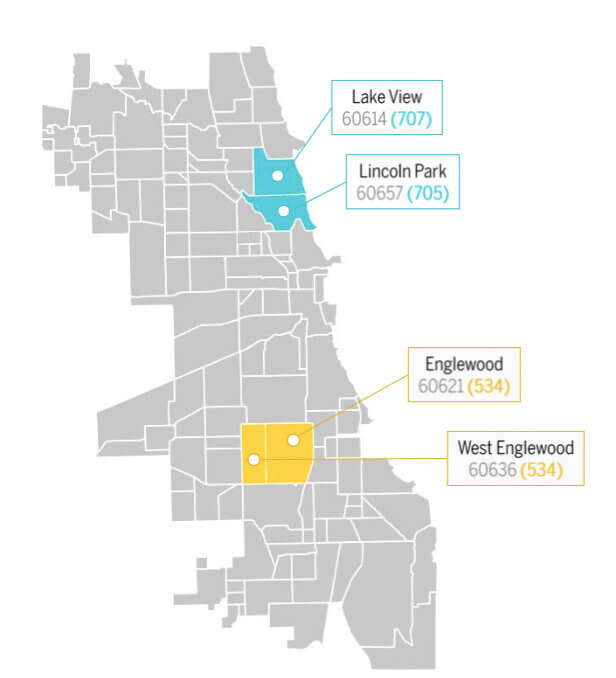 The largest intra-city divide can be found in Chicago, where two ZIP codes have credit scores in the top 10, and two ZIP codes have scores in the bottom 10.
Homeowners vs. Renters: Who handles their credit better?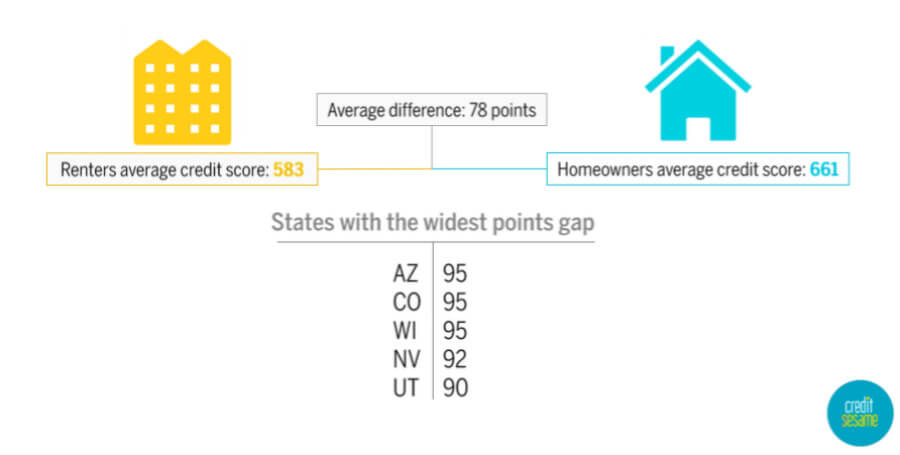 It comes as no surprise that, on average, homeowners have higher credit scores than renters.
Are Americans maxed out?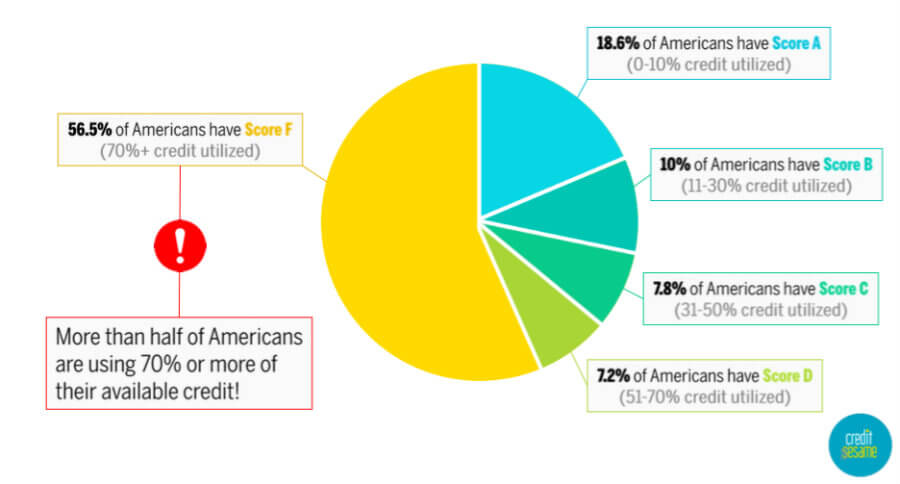 Credit utilization: the amount of available revolving credit used by a consumer, mostly through credit cards and a home equity line of credit.
*A breakdown of average credit scores are available by state and by city.
Graphics for United States of Credit were created by Jess Bachman. The data was analyzed by Aleksandra Todorova.