The word "splurge" used to mean spending like it's going out of style at a department store or mall. Today, it has taken on new meaning as credit cards enable consumers, particularly those coveted Millennials who range in age from 18 to 34, to make larger purchases. And in the heat of the summer, few large purchases are as attractive as a vacation getaway.
In a recent Credit Sesame survey of 2,000 people on Google Consumer Surveys, 10 percent of respondents say they plan to cover the cost of their next vacation on a credit card and pay it off over time.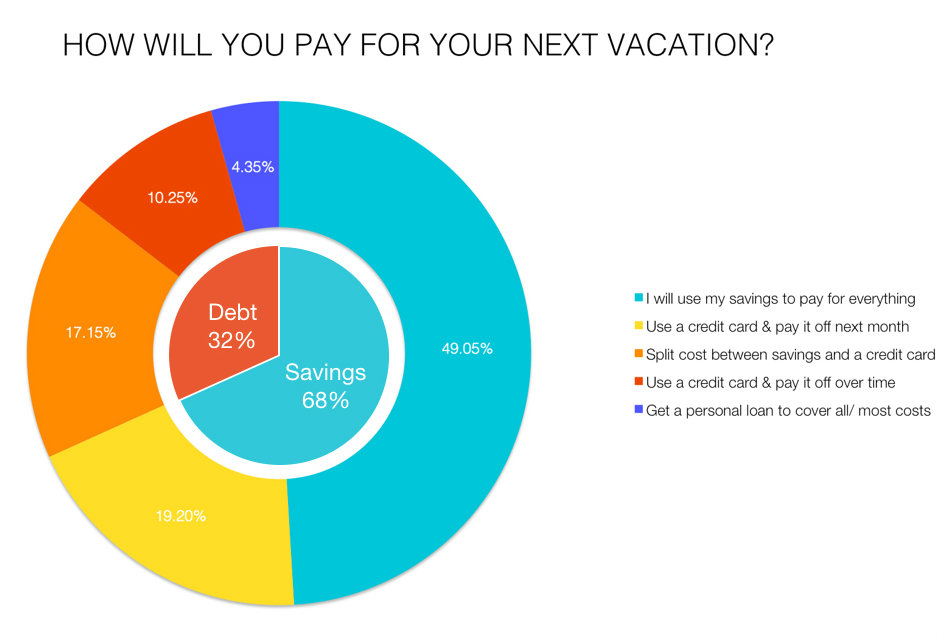 Vacations are particularly attractive to Millennials, many of whom have more flexibility to travel compared with older generations who have full-time jobs or children in school. This generation is also no stranger to credit cards. On average, Credit Sesame members aged 25 or younger have a credit card balance of $1,778 and 2.5 credit cards; members aged 25 to 34 carry a balance of $2,735 on 4.1 cards.
10 Simple Tactics I Used to Save $18,000 for My 6-Month Dream Trip
Take 28-year-old Kim Willard and her husband. The couple holds a couple of rewards cards. Two years ago, they booked a trip to Egypt and Istanbul using one of their reward cards. Their $5,500 visit included $1,200 in airfare and $2,600 for a cruise.

Willard, a Credit Sesame member, signed up for a free account to check her credit score and to review any negative marks that might have appeared on her credit report. She regularly uses Credit Sesame to stay up-to-date on monthly credit score changes and her debt-to-credit ratio.

"We made the decision kind of quickly, purchasing airfare first, and debated during the whole first 24 hours [when] we could still cancel for free whether or not it was worth it," Willard recalls. "We ultimately decided that the trip would be worth it and that the best way to see the highlights would be through the Nile Cruise.
After the purchase, we were mostly excited about the trip while also a little concerned about how we were going to pay it off. After the trip, we were really grateful for the experiences we had and some of the people we met along the way."
The couple paid off their vacation splurge in five months by paying down their credit card in increments of roughly $1,000.
Many prefer cash or quick repayment for travel, survey finds
Although credit is a popular option for vacation financing, it isn't in the majority, according to the Credit Sesame survey. For example:
49 percent will pay for their next big vacation only with savings
19 percent will pay for the trip in full in the next month with a credit card
That means close to 70 percent of respondents will pay for travel with money they have on hand—or will have on hand in a matter of weeks.
Conversely, 17 percent say they'll split the cost between savings and credit cards, and 4 percent will take a personal loan.

If you plan to use a credit card for vacation, Willard shares the following tips:
Make sure you're earning points. She opened credit cards that offer rewards programs geared for travel and that also included bonus offers. Check to make sure you qualify for the bonus offer and if you do you will be required to meet certain conditions to earn the bonus offer – generally you will need to spend a specified amount on purchases using the new card within a set period of time.
Shop around. Be flexible with your dates, and look for the best deals, Willard advises. You'll regret purchases a lot less if you realize you got a good deal for them.
Fly for free. Take advantage of this and other perks for signing up for new cards.
Demographic data reveal distinct travel preferences by age, income, gender
A breakdown of the Credit Sesame survey data reveals several noteworthy trends about vacation spending.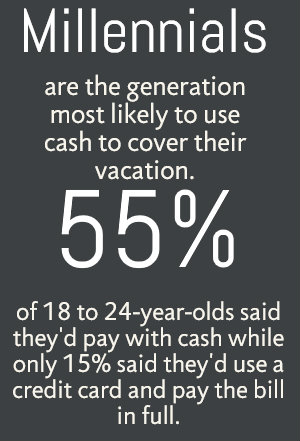 Takeaway #1: Young people are most likely to lean on savings first. The survey finds 55 percent of Millennials 18 to 24 will use exclusively savings, whereas just 14.9 percent will use a credit card and pay off the balance in full within a month. Compare that figure to the 25.6 percent of consumers 65 and older who will opt for the one-time credit card payment or the 27.1 percent of young baby boomers in the same category.
This could underscore the fact young people have fewer credit cards and lower limits, making a pricey vacation untenable from the start. It's also possible that younger people are not willing to exploit credit card points-earning strategies and risk falling into debt.
Takeaway #2: The sandwich generation is less worried about lengthier repayment. Nearly 13 percent of people 35 to 44 are willing to pay off vacation-related credit card debt over time, compared with under 10 percent of those 45 to 54.
As a generation, younger consumers may not fully appreciate the importance of of balancing discretionary debt with student loans, auto loans, mortgages, care for aging parents and other expenses that come to mid-career professionals.
About one in 10 Midwesterners will use a credit card and pay it off over time.
Takeaway #3: For those in the South, cash is critical. Roughly 54 percent of consumers in southern states will only pay for vacations with savings. That's nearly 4 points higher than people in the Midwest (50.2 percent), more than 7 points above those in the Northeast (46.8 percent) and more than 10 points more than our consumers out West (43.8 percent).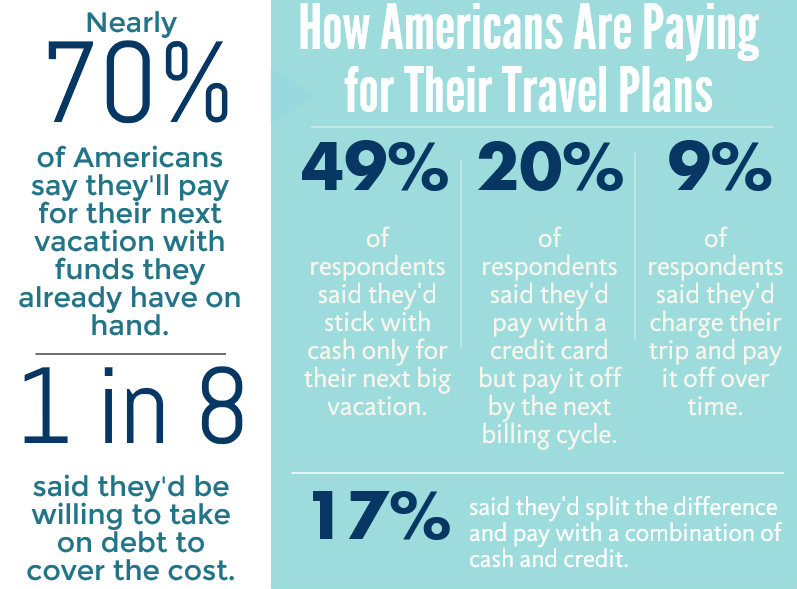 Chalk it up to conservative fiscal views, lower average income and credit limits, perhaps? In an interesting twist, southern consumers are a bit more likely to say they'd take out a personal loan for vacation (5.5 percent) than those in the West (3.6 percent), Midwest (3.4 percent) and Northeast (2.2 percent).
Takeaway #4: Consumers in the West opt to pay in full—next month. Nearly 25 percent of consumers in western states say they will put vacation expenses on a credit card and pay them in full next month, compared to just 15.7 percent of southern consumers.
Takeaway #5: Suburbanites OK with delaying payment, rural residents prefer to use savings. It's a tale of two philosophies when it comes to the suburban-versus-rural divide. Nearly 22 percent of consumers in the suburbs say they'll use credit cards for a vacation and pay off the balance next month, compared with 18.4 percent in urban areas and just under 16 percent in rural ones.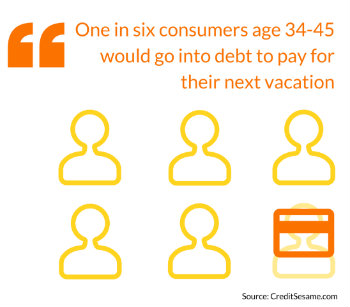 Meanwhile, 53.2 percent of rural residents say they'll pay with savings compared with 48.9 percent of urban residents and 48.3 percent of those in the suburbs. Yet those in the suburbs won't let the debt last: Under 8 percent will put all costs on a card and pay over time, compared with 10.7 percent in urban areas and 8.5 percent in rural areas.
Takeaway #6: Lower incomes rely on savings; higher incomes rely on one-time credit card bills. Consumers earning $150,000 are more likely to take on a one-time credit card expense for vacations (47.6 percent) compared to just 12.4 percent of those in the lowest-earning category of up to $24,000.
Meanwhile, those in the middle who earn between $50,000 and $99,999 are most likely to spend on a credit card for vacation and gradually repay over time.
Takeaway #7: Poorer consumers turn to personal loans. Nine percent of those earning $24,999 or less say they will use a personal loan for vacation compared to just 3.5 percent of those earning between $25,000 and $74,999; 3.4 percent for those earning $75,000 to $99,999 and 3 percent of those earning $100,000 to $149,000.
This could be an indicator of less access to credit cards with high spending limits, or simply a measure of available discretionary income. For many consumers, it's easier to pay a bill than to stash away monthly savings.
Travel on a credit card can be memorable

For Willard and her husband, the Egypt trip proved to be well worth the expense despite their initial second-guessing.
"In our experience, it's better to splurge on experiences rather than material items," Willard says. "Memories will last a lifetime, and traveling while you are young is something you will never regret. It is possible to travel cheap and do the whole backpacker experience and spend hardly any money."
Highlights included taking a sunrise hot air balloon over the Valley of the Kings, traveling on an overnight train to Cairo, smoking hookah in an open-air café and riding camels and ATVs in the desert.
The trip to Egypt proved to be one of many international adventures for Willard and her husband, who hadn't traveled outside of the U.S. before they started dating.
"We have been together six years (married for three) and have traveled to 13 countries outside of the U.S. since then," Willard says. "Earlier this year, we backpacked in Cartagena, and we just got back from a week in Mexico. … We mostly travel for fairly cheap, staying in hostels and backpacking around, and we pay for flights with points. This was one of our biggest splurges in luxury travel, but was a fantastic experience that we won't regret."
---
Disclosure: This article reflects examples of the authors and others experiences and may not reflect the experience of other Cardmembers. The miles or points required for flights and lodging in the article are examples for the purpose of this article. Rates and fares will vary based on a number of factors including but not limited to, where your travel originates from, your destination and the sales channel you choose. Miles/points needed for travel and lodging are subject to change. Check with your card issuer, hotel/resort and airline carrier before you book your travel arrangements as there may be taxes, fees, service charges and carrier charges that are the responsibility of the Cardmember and/or guest and are not included within the rewards program. The value of reward points or miles may vary according to how you choose to use them. Check with your card issuer and travel source for additional information. Terms and conditions may apply.
Advertiser Disclosure: Many of the offers that appear on this site are from companies from which Credit Sesame receives compensation. This compensation may impact how and where products appear (including, for example, the order in which they appear). Credit Sesame provides a variety of offers, but these offers do not include all financial services companies or all products available.
Credit Sesame is an independent comparison service provider. Reasonable efforts have been made to maintain accurate information throughout our website, mobile apps, and communication methods; however, all information is presented without warranty or guarantee. All images and trademarks are the property of their respective owners.
Editorial Content Disclosure: The editorial content on this page (including, but not limited to, Pros and Cons) is not provided by any credit card issuer. Any opinions, analysis, reviews, or recommendations expressed here are author's alone, not those of any credit card issuer, and have not been reviewed, approved or otherwise endorsed by any credit card issuer.
Provider's Terms: *See the online provider's application for details about terms and conditions. Reasonable efforts have been made to maintain accurate information, however, all information is presented without warranty or guarantee. When you click on the "Apply Now" button, you can review the terms and conditions on the provider's website. Offers are subject to change and the terms displayed may not be available to all consumers.
The information, including rates and fees, presented in this article is believed to be accurate as of the date of the article. Please refer to issuer website and application for the most current information. Verify all terms and conditions of any offer prior to applying.
Responses are not provided or commissioned by the bank advertiser. Responses have not been reviewed, approved or otherwise endorsed by the bank advertiser. It is not the bank advertiser's responsibility to ensure all posts and/or questions are answered.
Reviews: User reviews and responses are not provided, reviewed, approved or otherwise endorsed by the banks, issuers and credit card advertisers. It is not the banks, issuers, and credit card advertiser's responsibility to ensure all posts are answered. The Credit Sesame website star ratings are an average based on contributions from independent users not affiliated with Credit Sesame. Banks, issuers and credit card advertisers are not responsible for star ratings, nor do they endorse or guarantee any posted comments or reviews.
Disclaimer: The article and information provided here is for informational purposes only and is not intended as a substitute for professional advice.