So, you just found out you have a 750 credit score. Great! But do you know what that really means? Read on to find out all you need to know about your 750 credit score, including how your score is calculated, what you can expect with a 750 credit score, how to improve your score, and more.
 The basics of a 750 credit score
While there are a number of different credit scoring models, such as FICO Score and VantageScore, for the purposes of this article, we'll talk about your FICO Score, since it is by far the most used model. Your FICO Score is a three-digit number that represents your creditworthiness to a potential lender. Scores range from 300 to 850, and the higher your score is, the better credit you have.
Here's a quick look at credit score ranges, as well as where Credit Sesame members fall on the scale.
Comparing Credit Score Ranges of Credit Sesame Members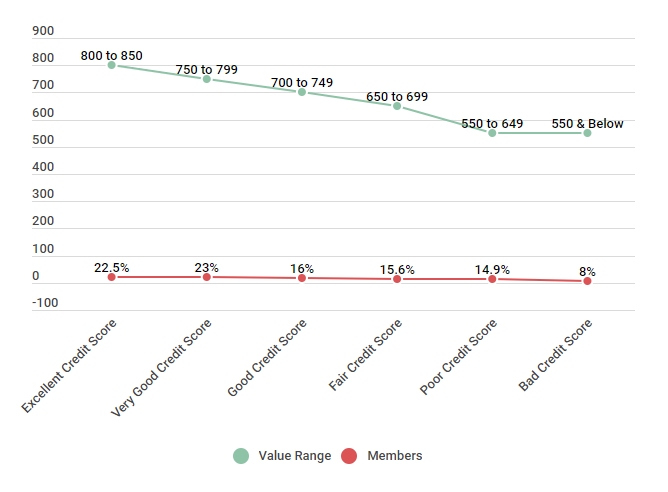 | Score Range | Value Range | Members |
| --- | --- | --- |
| Excellent Credit Score | 800 to 850 | 22.5% |
| Very Good Credit Score | 750 to 799 | 23% |
| Good Credit Score | 700 to 749 | 16% |
| Fair Credit Score | 650 to 699 | 15.6% |
| Poor Credit Score | 550 to 649 | 14.9% |
| Bad Credit Score | 550 & Below | 8% |
Source: Credit scores were calculated from 350 Credit Sesame members on 3/6/18.
As you can see abore, a FICO score of 750 is considered to be very good. Consumers with credit scores of 750 are likely to be approved for almost all credit cards and loans, with interest rates and terms that are better than average.
Again, FICO scores range from 300 – 850, so while a 750 credit score is good, it still isn't perfect. But you're closer to a perfect score than you might think, so you may want to double check your current credit report to see where you stand. Checking your credit report is a great place to start making small improvements, to see where you stand, and to check for any inaccuracies.
Factors in your credit score
Your credit score is a direct reflection of several factors that come from your credit report: .
Payment History. Your payment history is the single biggest factor that contributes to your credit score. This shows potential lenders how often your payment have been on time — or if they have been late or missed.
Credit Utilization. While this may sound complicated, your credit utilization is simply the percentage of your total available credit that you are currently using. This number is expressed as a percentage and, to keep the best score, you'll want to keep your number below 30 percent.
Credit Age. The age or length of your credit history also contributes to your score. To make the most of this factor, make sure to keep your oldest accounts open and in good standing.
Credit Mix. Potential lenders like to see a mix of different credit types on your report, such as credit card accounts and an auto or mortgage loan.
Number of Inquiries. While checking your credit score won't hurt your account, hard inquiries, such as when you apply for a new credit card, will. Limit the number of hard inquiries on your credit to keep your score high.
As you can see below, these are the factors that make up your basic credit score. You'll also notice that some are weighted more heavily than others. For instance, your payment history factors into your score more than 3 times as much as the number of inquiries you have.
FICO Scoring Model Calculation (Weight) Factors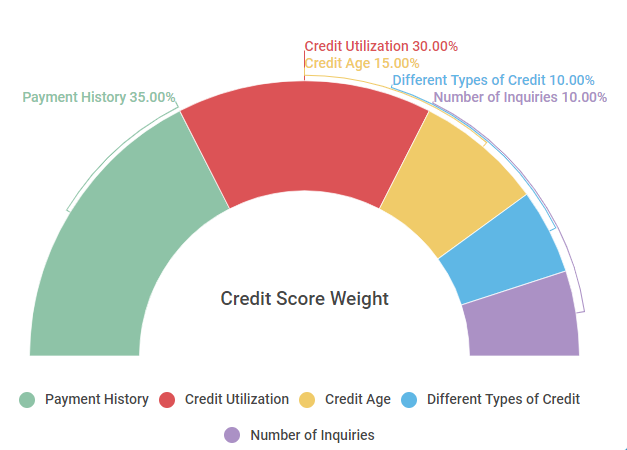 | Credit Factors | Credit Score Weight |
| --- | --- |
| Payment History | 35% |
| Credit Utilization | 30% |
| Credit Age | 15% |
| Different Types of Credit | 10% |
| Number of Inquiries | 10% |
Source: https://www.myfico.com/credit-education/whats-in-your-credit-score
If you want to improve your credit score, there are several steps you can take to raise your credit score. Read on to find out more.
How to maintain or improve your 750 credit score
If you're wondering how to maintain or improve your score, consider the following information. We look at Credit Sesame members who were actively trying to improve their score — you can see that in just 3 months, members were able to increase their score by 4 percent by reducing their credit utilization — and their scores continued to improve with time (a trend that continues across the board).
How to Improve Your Credit Ranking Within a Year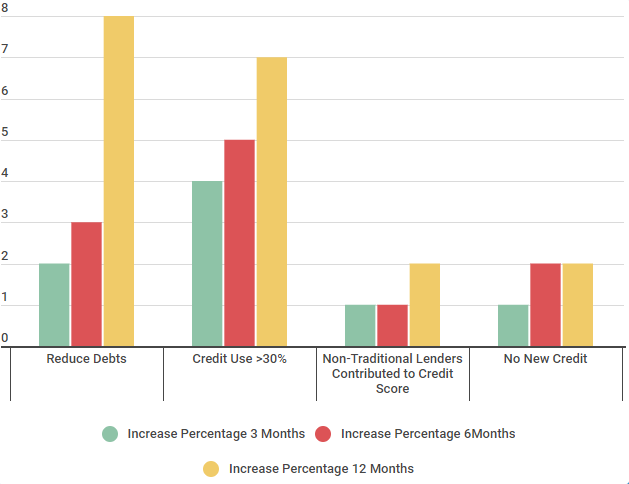 750 Credit Score
Increase Percentage 3 Months
Increase Percentage 6
Months

Increase Percentage 12 Months
Reduce Debts
2%
3%
8%
Credit Use >30%
4%
5%
7%
Non-Traditional Lenders Contributed to Credit Score
1%
1%
2%
No New Credit
1%
2%
2%
Source: Credit Sesame asked 200 Members with a base credit score of 750 who individually utilized the listed methods. The survey was conducted August 2016 to August 2017.
Now that you know how your score is calculated and some basics on how to improve your score, let's look at what you can expect to get with a 750 credit score.
What can you expect with a 750 credit score?
As you can see from the numbers below, having a good credit score not only makes it easier for you to secure credit or a loan when you need it, it will also save you a significant amount of money in the process.
Average Interest Rates Divided by Credit Score Range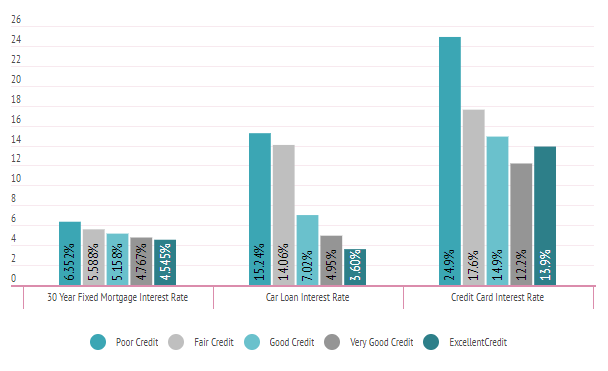 Type of Loan
Poor Credit
Fair Credit
Good Credit
Very Good Cred
Exceptional
Credit

30 Year Fixed Mortgage Interest Rate
6.352%
5.588%
5.158%
4.767%
4.545%
Car Loan Interest Rate
15.24%
14.06%
7.02%
4.95%
3.60%
Credit Card Interest Rate
24.9%
17.6%
14.9%
12.2%
13.9%
Source: Credit Sesame asked 400 members about their interest rates during a three week period beginning in January 18, 2018.
Let's take a more practical look at what this means.
Let's say you want to purchase a house with a $150,000 mortgage. With "Very Good" credit, you could receive an interest rate of 4.767 percent. With a 30-year fixed loan, that translates into monthly payments of roughly $784.01. By the time the 30 years is over, you'll have paid $132,243 in interest. On the flip side, if you have "Poor" credit and receive a rate of 6.352 percent, your monthly payment is roughly $933.55 and you'll have paid $186,077.84 in Interest by the end of the loan.
As you can see, it's financially in your best interest to improve your credit —regardless of how good it is— so you can get the best possible terms for things like auto loans, credit cards, mortgages, and more.
Dealing with negative information on your credit report
It comes as no surprise that negative information can have a huge impact on your credit score and your credit report — not to mention your ability to get new credit with favorable terms, moving forward. Fortunately, negative marks don't last forever.
Here are some of the negative factors currently contributing to low credit scores of Credit Sesame members, broken down by generation.
Negative Factors that Contribute to Low Credit Scores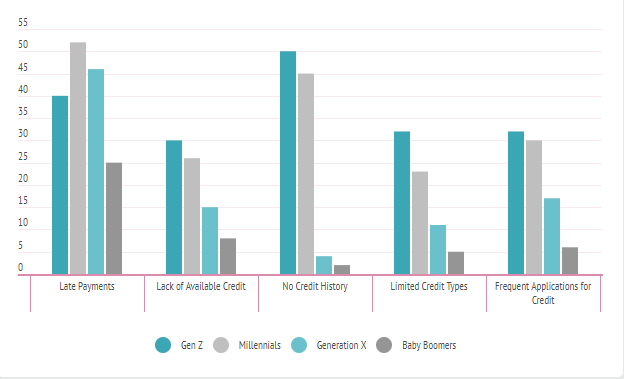 | Negative Factors | Millennials | Generation X | Baby Boomers |
| --- | --- | --- | --- |
| Late Payments | 52% | 46% | 25% |
| Lack of Available Credit | 26% | 15% | 8% |
| No Credit History | 45% | 4% | 2% |
| Limited Credit Types | 23% | 11% | 5% |
| Frequent Applications for Credit | 30% | 17% | 6% |
Source: Credit Sesame polled 400 participants between February 10, 2018 and February 17, 2018. 100 participants were Gen Z, 100 participants were Millennials, 100 participants were Gen X, and 100 participants were Baby Boomers.
As you can see, there are negative factors that impact the credit scores of everyone across the board.
Errors that impact credit scores
The first step to improving your credit is to make sure that all the information on your current credit report is accurate. Get a copy of your credit report from all 3 major credit bureaus, and check it closely for any errors or outdated information. It is estimated that as many as 1 in 5 reports contain inaccurate information that can negatively impact your score.
Here is a list of some of the most common errors that can have a negative effect on your credit score.
Errors Which Affect Credit Rankings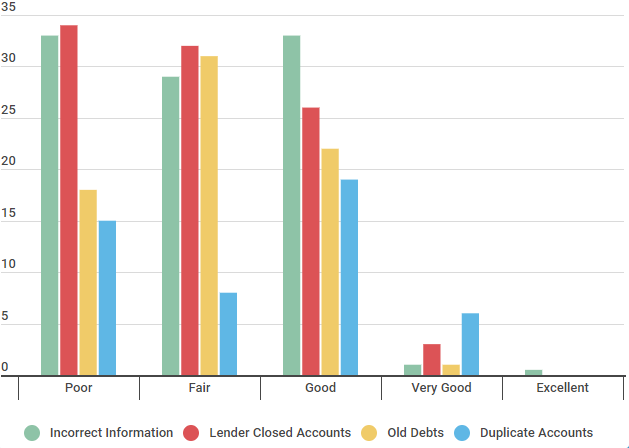 | Credit Ranking | Incorrect Information | Lender Closed Accounts | Old Debts | Duplicate Accounts |
| --- | --- | --- | --- | --- |
| Poor | 33% | 34% | 18% | 15% |
| Fair | 29% | 32% | 31% | 8% |
| Good | 33% | 26% | 22% | 19% |
| Very Good | 1% | 3% | 1% | 6% |
| Excellent | 0.5% | N/A | N/A | N/A |
Source: Credit Sesame surveyed 250 people, 50 had a poor credit ranking, 50 participants had a fair credit score, 50 members had a good credit rating, 50 people were listed as very good, and 50 members reported they had an excellent credit score. The study was conducted October 20, 2017 over a period of two weeks.
Inaccuracies could literally be costing you money since the lower your credit score, the higher the interest rate you will have to pay is.
Now that you know what impacts your credit score and what you can do to improve your score, let's take a look at how one Credit Sesame member did just that.
How Ned improved his 696 credit score to 750 in 18 months
We spoke to Credit Sesame member, Ned, earlier this year to find out how he was able to raise his score more than 50 points in less than 2 years. Here's what he had to say:
Member Since: 4/16/2015
We interviewed Ned on May 18, 2018; he earns $53,000 a year, is 28 years old and lives in Bethesda, Md. He is married, owns his car and currently rents a condo with his wife.

| What | did | you | do | to | grow | to | a | 750 | credit | score? | |
| --- | --- | --- | --- | --- | --- | --- | --- | --- | --- | --- | --- |
| I thought I was good with finances, but once I started checking my credit score through Credit Sesame, I realized that I had been ignoring a few factors that were pulling down my credit score. The biggest piece was my credit utilization. I only had one credit card, and between student loans and my car loan I was using far too much of my available credit. I started to aggressively pay down these loans and also got a second credit card, which increased my total credit, making my credit usage drop. The card also added another line of credit, which is one of the main credit score factors. | | | | | | | | | | | |
| What | is | your | credit | score | now? | | | | | | |
| My score is 750. I've still got some student debt to pay off, so I hope my score continues to improve as I work at that. | | | | | | | | | | | |
| How | long | did | it | take | to | improve | your | credit | score | to | 750? |
| It took 18 months to raise my score from 696 to 750. I've got more room to grow and would tell everyone to start checking your credit score, because sometimes these changes take some time. | | | | | | | | | | | |
Ned's story reminds us that improving your credit score really can be pretty simple. Check your credit report, and know what factors and behaviors impact your score. Keep your credit utilization down, make your payments on time, and watch your score improve each month.
TLDR; what are the main benefits of a 750 credit score?
A 750 credit score is considered to be a "Very Good" score, and you're in a great place. You can enjoy great interest rates on your credit cards and loans, and you shouldn't have any trouble getting approved. If you want to improve your credit score, there are steps you can take to improve your score. Time, coupled with smart credit habits, can improve nearly any score.