Most people have heard the term "credit score" and know it has something to do with their personal finances. But what is it? How do you get one? And how does yours compare with people like you?
The credit score is a three-digit number based on your credit report. Lenders report your debts and payments on accounts like a mortgage, car loan and credit cards to the credit bureaus — Equifax, Experian and TransUnion. That's your credit report. Lenders, employers, and even insurance companies use credit reports to determine whether to lend you money, give you a job or offer you the best rate for car insurance in some states.
The credit score is derived from that report. The higher your credit score, the lower interest rates you'll be charged on loans. It's that simple.
We've collected data that show the average American credit score based on the FICO model, as well as specific comparisons that show how you can benefit financially by improving your score.
The graph below compares the average American credit score, which grew from 695 to 699 during this four-year period, with the average Credit Sesame member score, which increased by 8 points during the same period.
Comparing National & Credit Sesame Credit Scores (TransUnion)

Year
Average (National)
Credit Score

Average Credit Sesame
Member Credit Score

2018
699
707
2017
697
705
2016
696
702
2014
695
699
Source: We surveyed 1,000 Credit Sesame members on 2/19/2018 who were actively working on their credit score and compared it to the national average (both based on the FICO score model).
While being a Credit Sesame member won't necessarily improve your credit score, we found that active members on our Personal Credit Management platform tend to be more proactive about improving their credit score.
If your credit score has increased along with the average American credit score, you may wonder how you stack up with others. Let's dive deeper into how the average score varies by age and income, how you compare with the rest of the population, and what it means to have an "average" score in real life.
American credit score ranges
There are three different credit bureaus using slightly different credit ranges to determine whether Americans have excellent, very good, good, fair, or poor credit. As you can see, there are a few naming variations within the ranges, but it means the same thing. Understanding these ranges is important because this is how financial lenders evaluate potential customers.
Credit Score Ranges: TransUnion (VantageScore 3.0), Equifax, Experian

| Ranges | Equifax | Transunion | Experian |
| --- | --- | --- | --- |
| Poor | 280 to 559 | 300-550 (Bad) | 300-499 (Deep Subprime) |
| Fair | 560 to 659 | 551-649 | 500-600(Subprime) |
| Good | 660 to 724 | 650-699 | 601-660(Near Prime) |
| Very Good | 725 to 759 | 700-749 | 661-780( Prime) |
Source: Data found October 3, 2018. Experian Information Systems website. Credit Score FAQs. Retrieved from https://www.experian.com/blogs/ask-experian/credit-education/faqs/credit-score-faqs, Equifax website. Equifax Credit Score Range ™ US Only. Retrieved from https://help.equifax.com/s/article/Equifax-Credit-Score-ranges-US-only, TransUnion VantageScore 3.0 model.
Why is knowing the average American credit score important?
The most important reason to know the average American credit score is so that you can improve your own credit score. The better your score, the less interest you will pay on a loan. Below are interest rates the average American will pay for auto loans and credit cards depending on their credit score range.
Comparing Credit score ranges & Interest rates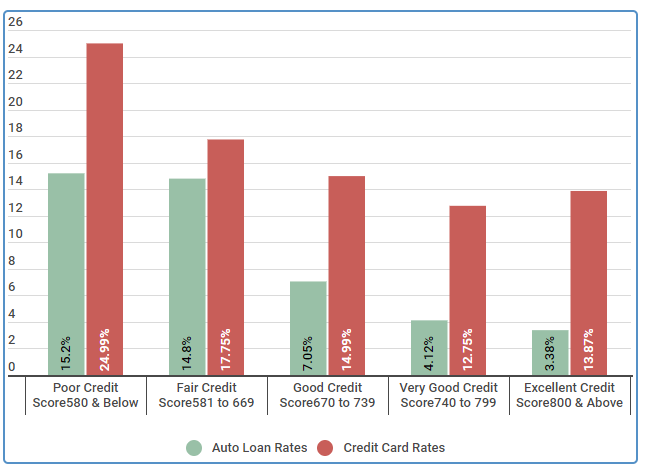 Score Range
Auto Loan Rates
Credit Card Rates
Poor Credit Score
580 & Below

15.2%
24.99%
Fair Credit Score
581 to 669

14.8%
17.75%
Good Credit Score
670 to 739

7.05%
14.99%
Very Good Credit Score
740 to 799

4.12%
12.75%
Excellent Credit Score
800 & Above

3.38%

13.87%
Source: Data acquired through a survey of 2,000 Americans conducted 2/15/2018.
As you can see, there is more than 11% variance between those with Excellent credit and those with Poor credit when seeking an auto loan. With credit card interest rates, there is a 11.12% gap. This can result in the difference between saving or paying hundreds if not thousands of dollars in interest fees. Every borrowing decision you make will likely be tied to your credit. By knowing the average score, you can see what you might expect to pay based on your own score. Then you can create a plan to improve your score.
Breaking down the average American credit score
Let's start by digging a little deeper into each credit score range (using FICO ranges) and how much of the American population lands in each category.
Population vs. Credit Score Range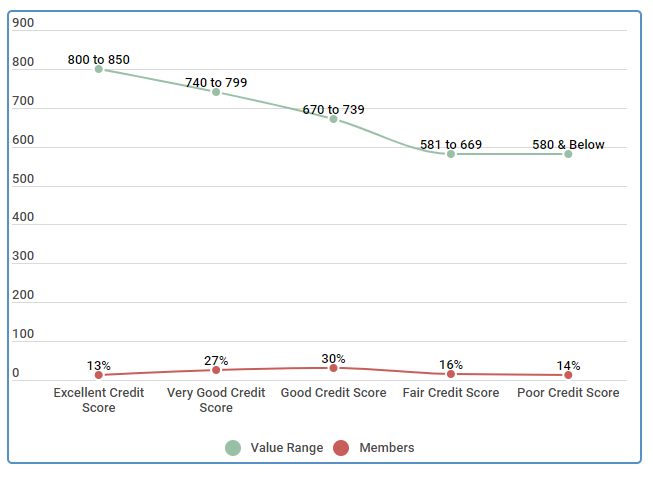 | Score Range | Value Range | Members |
| --- | --- | --- |
| Excellent Credit Score | 800 to 850 | 13% |
| Very Good Credit Score | 740 to 799 | 27% |
| Good Credit Score | 670 to 739 | 30% |
| Fair Credit Score | 581 to 669 | 16% |
| Poor Credit Score | 580 & Below | 14% |
Source: Credit scores were calculated from 5,000 Credit Sesame members on 2/6/18.
30% of the population has a credit score that is fair or poor, which means that almost 1 in 3 Americans are paying high interest rates and having more difficulty acquiring new loans than if their scores were in the good range (or above).
Average Credit Score by Age Group
Does the average American credit score vary by age? The table below breaks each age group into credit score ranges in order to determine how many Americans in each age group have a fair credit score.
Percent of Americans in each Credit Score Rank by Age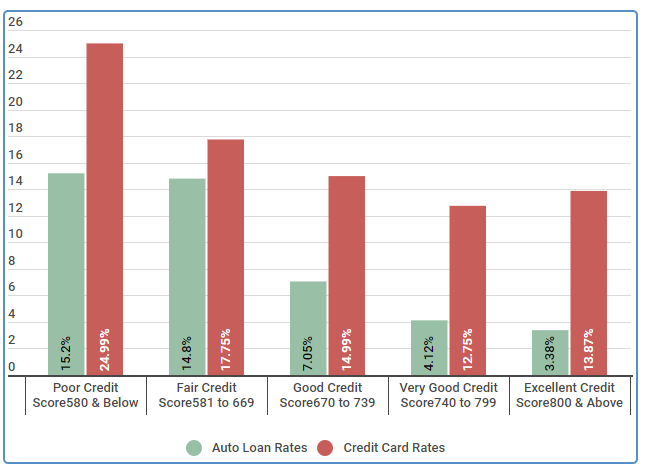 | Age | < 580 | 580 - 669 | 670 - 739 | 740 - 799 | 800 > |
| --- | --- | --- | --- | --- | --- |
| Under 30 | 29% | 38% | 17% | 11% | 5% |
| 30 - 39 | 35% | 24% | 10% | 16% | 15% |
| 40 - 49 | 26% | 24% | 10% | 17% | 23% |
| 50 - 59 | 19% | 22% | 10% | 17% | 32% |
Source: We ran a survey of 550 US consumers in different age groups on 9/26/2018 to understand which credit score ranges they fell into.
What this chart shows is that among those surveyed, the older one is, the higher their credit score averages are. There is a couple of reasons for this.
As consumers age and use credit responsibly, their credit scores are likely to improve. This is evident by the fact that 81% of those between the ages of 50 to 59 have fair or better credit. By this age, consumers should be building healthy credit scores to enable them to get the lowest rates on mortgages, car loans or credit cards.
In addition the older an individual is, the longer they have had to create a credit history. Assuming you begin your credit journey at 18, if you are 19, your credit history will be approximately 1 year old. If you are 68 however, you have 50 years of possible credit history.
Payment history: 35%
Amounts owed: 30%
Length of credit history: 15%
Credit mix: 10%
New credit: 10%
For all age groups, learning about credit scores and how to improve them will improve their financial lives.
Benefits of having average credit scores
Being average isn't that bad! Let's revisit some of the rates for mortgages, auto loans, credit cards, and car insurance premiums.
Being in the fair credit score range may give you a 14.8% interest rate on an auto loan and 17.75% for a credit card. Now if you had excellent credit those interest rates would be at 3.38% and 13.87% respectfully. It's easy to see that jumping to an excellent credit range can reduce your interest rates quite a bit. Those rates are for smaller things, like a car loan which is an average of $24,000 over 5 years and a credit card with an average maximum balance of $5,000.
The largest loan you'll likely take in your life is a mortgage for your home. Let's take a look at our research on how interest rates differ for the average American.
Interest rate comparison for excellent and poor credit.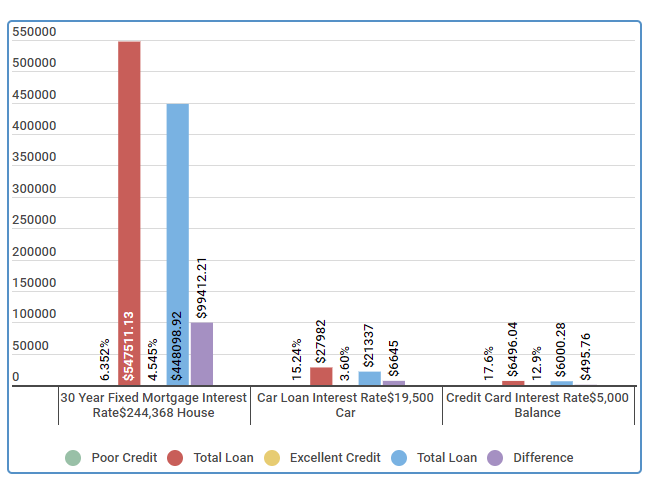 Type of Loan
Poor Credit
Total Loan
Excellent Credit
Total Loan
Difference
30 Year Fixed Mortgage $244,368 House
6.352%
$27,982
4.545%
$448,098.92
$99,412.21
Car Loan Interest Rate
$19,500 Car

15.24%
$27,982
3.60%
$21,337
$6,645
Credit Card Interest Rate
$5,000 Balance

17.6%
$6,496.04
12.9%
$6,000.28
$495.76
Source: Credit Sesame asked 400 members about their interest rates during a three week period beginning in September 18, 2018.
The average American credit score as of 2015 was 699 which means that roughly half the population have lower credit scores, resulting in higher interest rates. By reviewing the charge above, the difference between a poor credit score and an excellent credit score — could mean almost $100,000 over the course of a home loan. Even a small improvement in credit score may bump them to the next range and reduce their mortgage APR. Lowering a mortgage rate by even just 1.807% as seen above, can make a huge difference in monthly payments.
Car insurance is another area of your finances that will be affected by your credit score. It's quite easy to see the difference between the premiums paid by Americans with excellent credit compared to those with good credit. In some cases the jump is quite significant, while in others, it's barely noticeable. There are many other variables, including local State regulation, accidents on your credit, and tickets that affect car insurance rates, however, this is a basic example of the value in improving your credit score.
Auto Insurance Monthly Premiums & Credit Score Ranges

| Insurer | Excellent | Good | Poor |
| --- | --- | --- | --- |
| USAA (Progressive) | $104 | $142 | $253 |
| SAFECO Ins | $205 | $287 | $398 |
| Allstate | $176 | $201 | $347 |
| State Farm Mutual Auto | $131 | $169 | $320 |
| Gieco | $75 | $113 | $204 |
Source: We looked at different areas of the United States and compared the FICO score against the provider of insurance and the premiums the person had to pay; surveying 1,500 US consumers on 05/15/2018.
Benefits of understanding the average American credit score
Understanding the average American credit score can show you where you stand with your credit. Having fair credit, like the average American, is middle of the road, in terms of interest rates and ability to procure loans. It will give you access to decent interest rates and financial products.our goal, however, should be to have very good or excellent credit scores, and that requires closely monitoring your credit and understanding what affects your credit score.
Conclusion & summary
The average credit score in the United States, according to our 2018 analysis, is 699, and for a Credit Sesame member, it's 707. We have seen slow growth in the average American credit rating or score, which is a trend that everyone would like to see continue. Buying power is important, and the higher your personal credit score, the better your buying power is.
At Credit Sesame, we believe that working to educate Americans on Personal Credit Management will help them not only understand their credit but improve their credit scores. This will improve individual's ability to achieve financial goals, as well as decreasing interest rates paid for those goals, be it a vehicle, or a house.