1. Disputes, Judgments, & Removal of Collections
2. Credit repair software: What is it and how does it work?
3. How to protect yourself from credit repair scams
4. How to evaluate credit repair companies and their services online
5. Helpful Resources to Mail or File Disputes
Your credit score rating says a lot about you. It represents the most important impression you'll make on a potential lender. The better your score, the more creditworthy you appear and the more likely you'll be approved for a loan or credit card at the best terms. Those terms make or break your cost of credit.
Bad credit is a problem that's more predominant across the U.S. than you might think. According to recent data from credit bureau Experian, more than a third of all Americans have a FICO score below 601. About 22 percent of Credit Sesame members struggle with poor to very poor credit.
[Offer:
Free Credit Score
]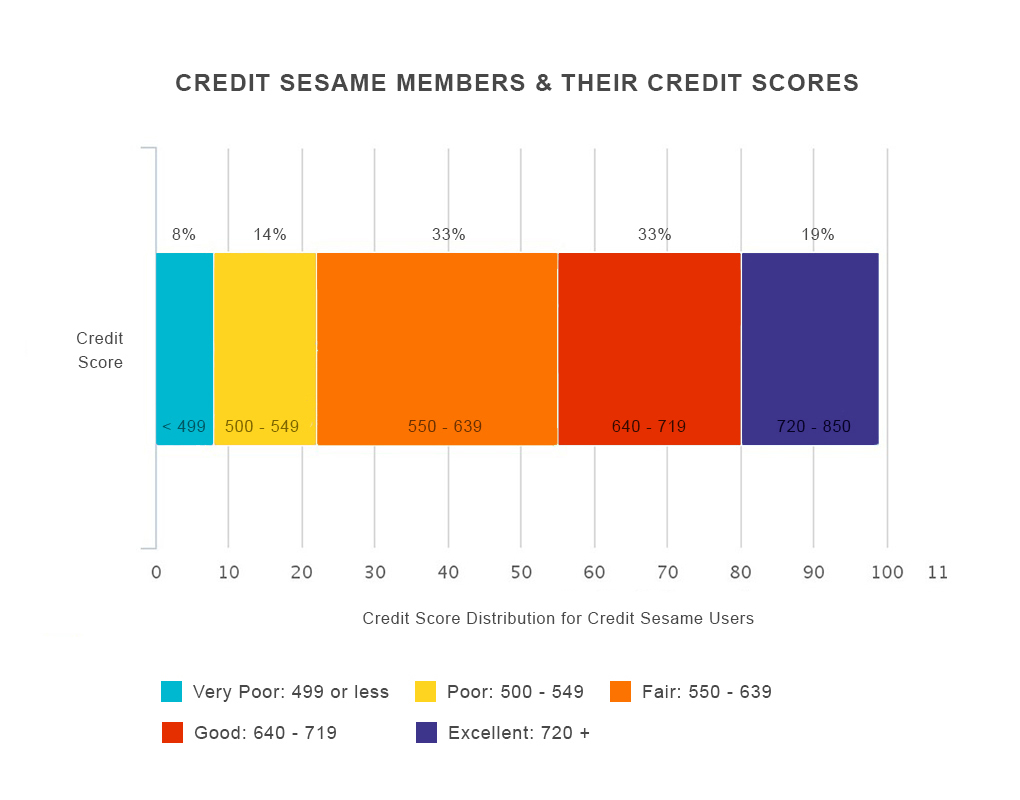 Bad credit exists for a variety of reasons. Maybe you have unpaid collections in your file that you had forgotten about. Maybe you went through a bankruptcy. Maybe you see an account or a public record listed that is definitely not yours. Maybe you see late payments on your credit report but you definitely know you didn't make any late payments. Maybe you are in the midst of a divorce. Maybe your bad credit is a combination of all or some of these things.
Even after you've acquired a better credit consciousness, a bad credit score doesn't just go away on its own. Thankfully, there are some direct ways to repair your credit and make it stronger than ever before.
What goes into your credit score?
Credit scores generally follow a poor-to-excellent scale. This is the TransUnion scale:
Excellent (720+)
Good (640-719)
Fair (550-639)
Poor (500-549)
Very poor (0-499)
Your score will reflect what's in your credit report, a history of your relationship with credit that's reported to the three credit bureaus: TransUnion, Experian and Equifax.
As thorough as your credit report may be, it may not be entirely accurate or up-to-date. Some consumers have bad credit through no fault of their own; data from the Federal Trade Commission indicates that at least five percent of people have credit reporting mistakes that impact their credit scores.
Disputes, judgments, & removal of collections
First, check your credit report. You're entitled to one free copy per year from each of the major credit bureaus. Get them by visiting AnnualCreditReport.com. You can also sign up for Credit Sesame's free service and get your free credit report card, as well.
Here is an example of Joe Credit's credit report.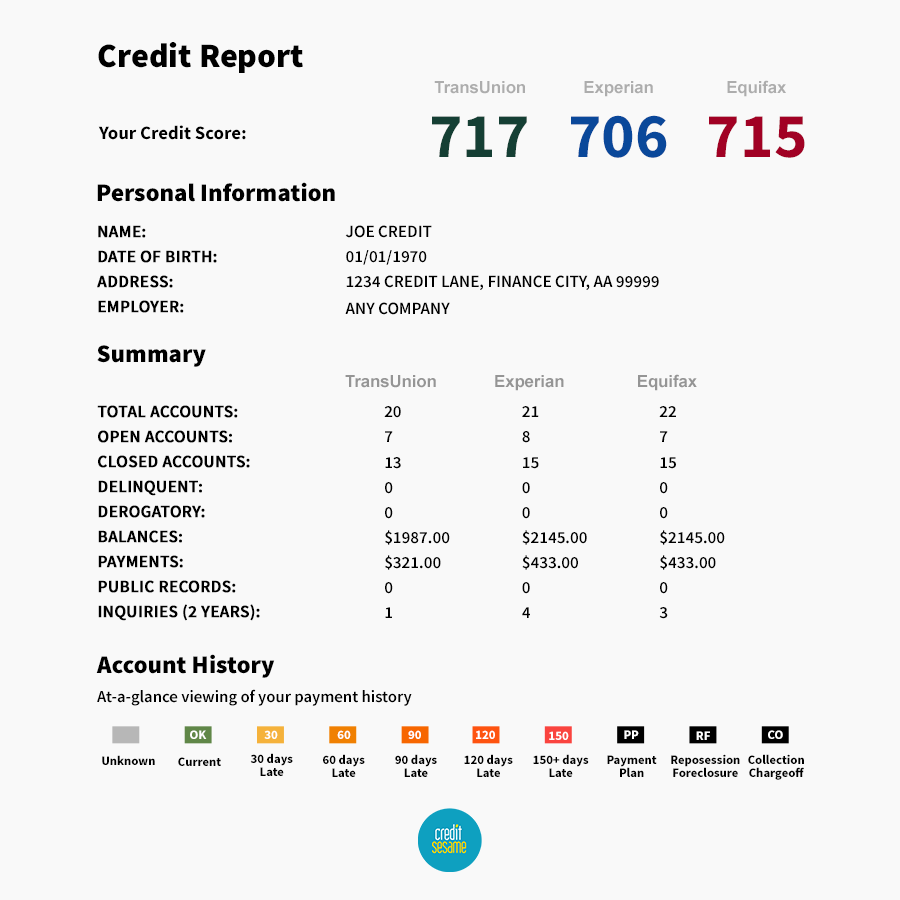 As you are scanning through your report, check for inconsistencies:
Incorrect balance information
Outdated information
Collection accounts that don't look familiar
Judgments and liens
Other errors, like mistaken identities — it's not uncommon for one person's credit file to be mixed with that of someone else with the same or a similar name.
[Learn More:
Rebuilding Credit
]
The credit bureaus aren't perfect. You're the only one who can truly confirm the accuracy of your file.
Any erroneous information, including data errors like account numbers and balances that are misreported, has the potential to affect your credit score in a big way. For example, a paid-off account may be listed as open and delinquent, or an account that should have been removed from your file because of its age may still be listed in your file.
[clickToTweet tweet="Stagger your free credit reports once every 4 months so you can keep a closer watch on your credit." quote="Stagger your free credit reports once every 4 months so you can keep a closer watch on your credit." theme="style3″]
Identity theft may play a role in bad credit if a fraudster opened fake accounts in your name.
One of the first and best ways to rectify credit file reporting errors is to follow the online dispute process while viewing your credit report.
You can also file a dispute by mail. If you do, keep a copy of everything you send to the credit bureau. If you believe the creditor doesn't have accurate information to report to the bureau, send a copy of your documentation to them as well. Credit bureaus and creditors who report to them are obligated to investigate the dispute.
Disputing judgments on a credit report
In the same league as liens, bankruptcies or loan defaults, a judgment listed on your credit report is no laughing matter. If you're sued or taken to court and a judge orders you to pay a debt, that legally-binding decision will be included on your credit report. This will damage your credit score, and a judgment can stay in your file for up to 10 years. Judgments can also be renewed, making it hard for consumers to ever be free of a judgment's credit effect.
To make matters worse, a judgment on your credit report can also include a negative account, which can hurt your credit score further.
The first way to dispute a judgment on your credit report is to file a motion in court to dismiss or vacate the order. (In this case, it's best to consult an attorney on your options!)
If you believe the judgment is in your file by mistake, challenge it with the credit bureaus as you would challenge any other inaccurate item. Follow the same process for each bureau listed above, and include specific details. In your dispute letter, ask the bureau(s) to investigate: Does the debt belong to somebody else? Is it outdated or already satisfied? The more documentation you can provide, the better.
TransUnion's dispute process
For a credit report dispute, TransUnion can be reached via snail mail, phone, fax or online. Online access requires that you view your TransUnion credit report via AnnualCreditReport.com or open an account on TransUnion.com.
TransUnion will begin its investigation by contacting the data provider or information source listed on your dispute, and they'll have 30 days to respond (45 if you submit additional documentation during the 30-day response time). You'll be notified whether the data will remain on your credit report. If the source fails to respond, the information will be removed from your file, accurate or not, which will help your credit.
Equifax's dispute process
Before launching a full-fledged dispute process, Equifax recommends first contacting your creditors to verify the accuracy of the information. If you still find inaccuracies exist, the bureau will investigate.
For quicker results, Experian's online dispute form allows you to draw up your credit report, choose the area of the file you'd like the bureau to review, and click to submit it for investigation. You'll be notified by email within 30 days; if your claim is correct, the information will be deleted from your report.
Filing an Experian dispute
Like the other two, an Experian credit dispute is also available through regular mail or email. You'll need to provide some important information to the bureau first, including your full name, Social Security number, addresses for the last two years, the details about each item in your file that you believe is inaccurate, and details about your claim.
On the Experian website (via Experian.com or AnnualCreditReport.com), you can dispute errors, check the status of your claim, view the results of completed disputes, and verify your credit history's accuracy. Investigations from Experian take up to 30 days to complete.
Before filing a dispute claim, Equifax recommends requesting and obtaining your credit files from both Equifax and TransUnion to see whether their files contain the same errors.
Credit repair software: What is it and how does it work?
A quick web search for "credit repair" will turn up a handful of results for software programs that claim to offer an easy fix for bad credit. These products are designed for consumers who have seen their credit scores suffer and want to gain some points relatively quickly.  According to Credit Sesame's internal data, 22% of our members have a score of 549 or below so if you are part of that group, credit repair software may seem like an attractive solution.
The premise is fairly simple: you purchase and download one of these do-it-yourself credit repair software programs to your computer. The software analyzes your credit reports from all three of the major credit bureaus—TransUnion, Equifax and Experian—to look for errors or inaccuracies.
If the program finds something that looks incorrect, it automatically generates a dispute letter that you forward along to the credit bureau that's reporting the information in question. The credit bureau then has 30 days to investigate your claim and either remove or correct the error if it determines there is one.
These kinds of software programs make it relatively easy to initiate and track multiple disputes simultaneously. As far as the cost goes, this is end-user software so you're paying a one-time fee to download the program. The prices typically runs between $30 and $50, depending on which program you use.
Is credit repair software legit?
One of the major selling points of do it yourself credit repair software is that if the credit bureau doesn't investigate your request within 30 days, then they legally have to remove whatever it is you're disputing. While that's true, you shouldn't assume that credit repair software can take you from bad credit to good overnight.
For example, if the credit bureau is able to validate the information, then they're not required to change it or remove it. If that's the case, you wouldn't see any return on the money you spend buying the program. You'd simply have to wait until the negative information ages off your report, which is seven years for late payments and collection accounts, and up to 10 years for bankruptcies.
Credit Sesame spent some time researching different credit repair software reviews for some of the most popular programs. We've highlighted the main pros and cons for each one here, based on what they advertise and what consumers reported after using the software.
Credit Repair Software Reviewed
Credit-Aid
For $29.95, Credit-Aid promises to raise your credit score by up to 250 points. When you buy the package, you get the software, a credit repair secrets e-book, identity theft protection tools and a lifetime user license. If you don't see an improvement, you're covered by a 100% Money-Back Guarantee.
Does it work? The site includes testimonials from satisfied users who say they saw a marked improvement in their scores. One client said her score went up by 237 points while another said he was able to remove all the negative marks on his credit report within 30 days.
When we checked Credit-Aid's Better Business Bureau profile, we found that it's not BBB-accredited but only two complaints were filed in the last two years. That's pretty low. This software has received positive reviews from CNN, MSNBC and personal finance guru Suze Orman so we believe it's the real deal. That said, remember that individual results will vary.
Credit Repair Cloud
Credit Repair Cloud is designed for professionals who want to start their own credit repair business. It's made by the same company that offers the Credit-Aid software. Pricing for this program ranges from $179 to $599, depending on how many people are on your team and what you need the software to do.
The Credit Repair Cloud site includes testimonials and success stories from people who have used it to build their business. The software also got a positive write-up on BadCredit.org so if you want to venture into credit repair on the entrepreneurial side, it's an option to consider. If you're a consumer, there are lower-priced options that may be a better fit.
CreditUmbrella
CreditUmbrella is similar to Credit-Aid. You pay a one-time fee (in this case, $39.95) to download the TurboScore software, which scans your credit reports to find errors that you can dispute. It creates the dispute letters for you. You can monitor the disputes through an easy-to-use online dashboard.
CreditUmbrella measures its effectiveness in terms of how much money users are able to save on interests by using the software to achieve a higher credit score. According to the site, clients save anywhere from $2,000 to just shy of $10,000 a year with TurboScore. A quick look at CreditUmbrella's BBB profile found that there were seven complaints resolved in the last three years. Again, your own success with the program may vary.
Question: Will credit repair services help to fix my credit?
Answer: Building credit is something you can do all on your own, without paying a fee to a credit repair company. Paying your bills on time, keeping your balances low and disputing errors on your credit report are the best ways to raise your score.
That said, if the credit process overwhelms or confuses you, there's nothing wrong with seeking the help of a qualified professional who can walk you through the process and teach you how to maintain your credit on your own in the future.
Some consumers like the hands-off approach.
For free or low-cost help, try working with a credit counselor first. Find one near you by visiting NFCC.org.
How to protect yourself from credit repair scams
Whether you're using credit repair software or going through a credit repair company, one of the things you have to watch out for is scams. The Federal Trade Commission warns consumers about protecting themselves against companies that are just out to make a quick buck.
Figuring out whether a service is really a scam can be tricky but we're going to tell you about a few red flags to look for. Personal credit repair scams are something Credit Sesame has touched on before, but to recap, here's what you need to know to keep from getting fleeced.
Federal law dictates what credit repair companies can and can't do
The Credit Repair Organizations Act (CROA) spells out what the responsibilities and duties of companies are that sell credit repair services or products. Under the Act, credit repair companies must:
Give you a written contract explaining your rights and outlining what services they perform
Explain your three-day right to cancel without being charged
Tell you how long it takes to see results from using their software
Outline the total cost of using the program
Clarify any guarantees they make as far as product quality or satisfaction refunds
If you buy a credit repair software program and the company selling it doesn't do these things, you can sue them in federal court for actual losses or whatever you paid for the product, whichever is more. You could also seek punitive damages or initiate a class action suit, which would force the company to pay your attorney's fees if you win the case.
Know the warning signs of a credit repair scam
Before you sink money into a do-it-yourself credit repair software program, research the product and the company behind it carefully. The following are all potential signals that a company isn't operating on the up-and-up:
Their claims seem too good to be true. If the software company tells you that you can raise your score by hundreds of points in no time at all, take that claim with a grain of salt. This is especially true if a company tells you that it can get accurate negative information removed from your file.
The website or sales page looks sloppy or not right. A legitimate, reputable company should have a professional, well-presented website. If the site doesn't function correctly, includes outdated information or is riddled with spelling or grammatical errors, it may have been slapped together just for the purpose of luring in unsuspecting consumers.
The sales team is unprofessional. A company that's really dedicated to helping people improve their credit will go above and beyond to answer questions and to make sure that you're satisfied in general. If representatives are rude, seem to lack basic knowledge about how credit reporting and credit scores work or try to bully you into buying their software, look elsewhere.
Report fraud if you get taken for a ride
If you get swindled by a credit repair software company, you don't have to take it lying down. Report the fraud to your state attorney general and to the Federal Trade Commission by filing a complaint on their website or calling 1-877-FTC-HELP. The FTC can't resolve a credit dispute for you but they can take legal action against credit repair companies that violate your rights.
Is credit repair software worth the investment?
The most important thing to keep in mind about credit repair software programs is that they can't do anything for you that you can't do yourself. Pulling your credit reports, writing dispute letters and following up on your requests may be time-consuming but it won't cost you a dime. Indeed, in exchange for your time, you'll be paid in valuable knowledge about how the credit process works. In the end, a credit repair company can't promise results that are superior to what you can achieve for yourself.
How to fix your credit by finding and using a reputable credit repair service
You've checked your credit score and credit reports and found they are a total mess.  You may need serious credit repair help. Professional help. Not doing it yourself or doing it with some software. Real person-to-person, experienced help for your bad credit history whether it is your fault or through no fault of your own.
Bad credit happens more than you think. Credit Sesame's internal data from members' most recent log-ins shows that more than half (55%) have fair or worse credit scores (under 639). If that's you and you have a complicated credit report or financial life, you may want to consider a professional, experienced credit repair service.
A professional credit repair service can't do anything that you can't do
According to the Credit Repair Organizations Act, every consumer has the right to work directly with the credit bureaus and their creditors and collection agencies to challenge or dispute items on their credit report to have them removed or reported correctly.
"There is nothing we can do to help repair your credit that you can't do for yourself," says John Heath, Directing Attorney at Lexington Law Firm, "so the question becomes whether you have the knowledge and time to repair your credit yourself."
Here are a few ways a credit repair company might know more than a typical consumer who wants to challenge negative or inaccurate items (all of this is covered on our blog, by the way; none of it is secret industry knowledge):
When an item listed on your credit report is outdated
How the different consumer protection statutes such as The Fair Credit Reporting Act, The Fair Debt Collection Practices Act and The Fair Credit Billing Act apply to challenging items on your credit report
The best way to dispute credit errors when you find them on your credit report
Which medical collections or paid collections belong on your credit report
How collections, judgments, public records and other negative items on your credit report can be challenged and removed
Anyone can research the answers or use do-it-yourself credit repair software. Anyone can also research how to install new brakes on a car. But many people would find the challenge uninteresting or overly complicated. Professionals in any industry know more than the average Joe. A professional service might save time and lower stress.
"Clients should hand those bad credit issues to a credit repair company focused specifically on credit repair issues with experience and knowledge of the consumer protection laws surrounding the process," explains Heath.
How to evaluate credit repair companies and their services online
When you search for "credit repair" the first entries (under the ads and any local companies on a map) you get are likely the biggest, most reputable experts in credit repair on the web. Let's evaluate some of those entries to determine whether they are legitimate and experienced in credit repair and whether there are any credit repair scam red flags.
Remember that even reputable credit repair companies (just like any other company) can have negative reviews when customers don't understand that the credit repair process is extremely time-consuming and that no one can promise specific results.
If any entry on your credit report is legitimate and the information reported can be verified accurately, then by law, it cannot be removed, explains Heath. Often credit repair companies can challenge the information and if it cannot be verified, the item must be removed. But customers may not understand that once the debt is updated correctly and if it is still within the statue of limitations for collections for your state, you still owe the debt and it will most likely be reported back to the credit bureau the following month. Customers don't always have the proper expectations when using a credit repair company which can lead to dissatisfaction.
"A credit repair company can help you improve your credit report to the point where your credit score is increased and you can have several options for credit available to you," explains Heath. "But, it's not an overnight fix. It took some time to get into the credit mess and it may take some time to get out of it."
Lexington Law Firm
Lexington Law is a full-service law firm first and a specialist in credit repair second and has been in business for 25 years.
The website claims that past clients have seen an average of 10 items (where the same item removed from each of the three credit bureaus counts as three removals), or 24% of initial negative items, are removed within four months. There is no guarantee of your results because each credit report and and financial situation is so highly individual. You can call up Lexington Law for a free credit repair consultation, which includes a complete review of your free credit report summary and score by phone when you call 1-844-259-3482.
At Lexington Law, you will be working with licensed attorneys and their paralegals who specialize in credit repair. Their sole job is to be familiar with the consumer protection statutes in play that relate to credit repair and to communicate with the credit bureaus, the creditors and the collection agencies on your behalf as applicable to your unique case until you reach a resolution.
You can track your case and monitor your results 24/7 through the website and even a mobile app.
But you won't pay law-firm hourly fees for this service. Because the process of credit repair can be a time-consuming process, the typical monthly fee is $99.95 per month (which you don't pay until after the first full month of service) plus a one-time $99.95 case set-up fee on initiation.
Lexington Law maintains an "A" Better Business Bureau (BBB) rating and the main reasons for this is how long Lexington Law has been in business and its response and resolution of any complaints.
Creditrepair.com
The first thing you notice when this website loads is the claim that they can increase your score 40 points in four months. In 2013, their internal statistics showed that previous CreditRepair.com clients experienced an average of around 11 item removals (where the same item removed from each of the three credit bureaus counts as three removals).
The credit scores of these same CreditRepair.com members improved an average of 70 points after one year of service. However, some members did not see those results and CreditRepair.com makes no guarantee that you will receive those average results.
Along with the $99.95 per month credit repair services working with trained credit repair experts who will communicate with both creditors and the credit bureaus, you get an online personalized dashboard, an educational credit score tracker and analysis, a mobile app for access on the go, text and email alerts and TransUnion credit monitoring.
Veteran's United Lighthouse Program
This service is offered for free to Veterans to help provide credit fixes for Veteran home buyers so they can qualify for a Veteran's Administration (VA) home loan. This company also offers VA home loan services and all other home loans for all types of consumers.
Be aware that the VA does not originate VA mortgage loans itself through their own government website so veterans still need to apply for a mortgage using a traditional lender just like everyone else. As such, no lenders or credit repair services are officially affiliated with the VA and that is clearly stated on the Lighthouse website. When veterans are evaluating credit repair websites, be wary if a lender states they are affiliated with the VA or the federal government.
Veterans can apply for their certificate of eligibility for a VA home loan online through the VA website or they can apply through most lenders, including Lighthouse.
The Lighthouse website says veterans work with specialized credit consultants who are trained to help educate consumers and strengthen their overall finances with personalized tasks so they can get qualified for a VA home loan or any other type of home loan. There is no contractual obligation for a Lighthouse credit consulting participant to use Veterans United as their lender once they can be approved for a loan, although that service is available.
To get the best interest rates, we still suggest you compare rate offers with other lenders, once your credit is improved.
Veteran's United Lighthouse Program VA home loans and credit repair received a BBB rating of "A+."
Scott's credit repair
Here's an example of a credit repair company that may come up high in the search results but is tricky to determine what they offering and for how much money.
First, the website looks low-budget. But when you click on "Services" to see what they offer, you get a checklist chart where all services are checked for all three service levels and the price is paid in a lump sum from $600 for one year up to $1,800 for three years of service.
They do guarantee on the home page to refund 110% of your money if they can't improve your credit but there is no explanation of how payment works, how they repair your credit or how you can work with them. The company has a "F" BBB rating which is not as bad as it sounds because they had just one complaint, but failed to address that complaint resulting in the "F."
Even so, you might want to steer clear of credit repair companies that present themselves with such little attention to detail.
The very best ways to build credit
If you have a bad credit history, or even any credit score under 639, you are not being offered the best loans and interest rates for credit products that you could get if you had a higher credit score. That's when you will want to learn more about how to fix your credit.
Check your credit score at least monthly and check your credit reports monthly, too. If you notice one small error on a collections account or a small error in your personal information on your credit report, you can certainly try to dispute it yourself. Credit experts advise using the snail mail method instead of the online challenge/dispute form so you can establish a paper trail and attach enough supporting documents proving there was a mistake in the reporting as well as what the correct information is.
[Learn More:
How to Build Credit
]
Send the letter to all the credit reporting agencies listing the error and also to any collections agency and even the original creditor to have the error corrected. If they can't substantiate the error, the have to correct it or remove the item.
If you have many negative accounts, collections or other serious credit problems listed on your credit report, consider getting help from a reputable, experienced credit repair company. A messy financial divorce is one example.
"Divorce can be like dropping an atom bomb on your credit, depending on how the debts are split up and we can help sort that out for you," says Heath.
But whether you retain a credit repair company or not, the best credit repair tool is education, says Heath.
Make a habit of reading the Lexington Law credit education blog, the CreditRepair.com blog and the Credit Sesame Daily blog if you want to understand the factors that make up your credit score, learn how to read what's on your credit report and adopt financial management methods that can only improve your score over time.
Helpful Resources to mail or file disputes
The credit bureau phone numbers, addresses, and online dispute resolution centers are as follows:
P.O. Box 740256
Atlanta, GA 30348
1-866-349-5191
Experian Information Solutions, Inc.
P.O. Box 4500
Allen, TX 75013
1-866-200-6020
P.O. Box 2000
Chester, PA 19022
1-800-916-8800
For a fraud alert, you only need to contact one bureau and that bureau will notify the other two.
Experian fraud alert and credit freeze
Equifax fraud alert and credit freeze
You can request a fraud alert on your Equifax credit file, and Equifax fraud alert will also result in a fraud alert at the other two bureaus.
You can request an Equifax security freeze. Equifax customer service is offered almost exclusively online, except for customers who have purchased a product. Those customers may log in to the Equifax Member Center for assistance.