If you are struggling to pay off your debt or want to build your credit, or even if you just need some help understanding how to improve your credit score, you may want to seek credit repair services. Not sure where to begin? Here's a quick overview of the services that are offered, what to look for in a credit repair agency, and more.
Introduction
Credit repair services and agencies help by removing information that shouldn't be on your credit report, so that it will stop pulling down your credit score. However, keep in mind that regardless of what these agencies promise, they aren't able to remove negative marks on your report if the information is timely, accurate, and able to be verified.
Why are credit repair services important?
Credit repair services can be helpful if you're not sure where to start in repairing your credit. Credit counseling agencies typically offer services in the following areas:
General budgeting

Debt management plan

Bankruptcy counseling

Student loan counseling

Housing counseling
While credit counseling agencies will typically offer most (if not all) of these services, what they are really known for is their debt management plans. Debt management plans are a type of debt relief that is less drastic than bankruptcy or a debt settlement — both of which deliver harsh blows to your credit score.
We polled 2,000 consumers to get a better idea of how many people are using credit repair services. As you can see below, credit repair services are relatively popular, especially among those with poor or fair credit.
Percent of CS members and non-members who utilized credit repair services
Credit Ranking
CS Members
Used CR

Non Members Used CR
Poor Credit Score
17%
21%
Fair Credit Score
12%
16%
Good Credit Score
7%
9%
Very Good Credit Score
2%
4%
Excellent Credit Score
0.5%
1%
Source: Survey of 2000 members and non-members 5/5/2018.
Regardless of credit score, fewer Credit Sesame members utilized these services than their non-member counterparts, indicating that a key to managing and repairing your own credit is simply staying on top of your credit score and the information contained in your credit report.
So, if you're trying to repair your credit, where do you begin?
The best credit repair strategies
It can be difficult to navigate through today's society with a bad credit score, especially considering the number of companies that can (and do) use your credit to decide whether or not they want to do business with you.
If you have a troubled past when it comes to your credit, many consumers will choose to seek the services of a credit counseling agency to help them improve their credit. Whether you choose to do it yourself, or whether you use an agency for help, the strategies are the same to improve your credit.
How credit repair can help credit scores
According to research, as many as 37% of consumers found errors on their credit report in 2017. While this may not sound like a big deal, these types of errors could actually cause significant damage to your credit score, which is calculated based on the information contained in your credit report. And a lower credit score could lead to you being denied credit — or if you are approved, that you'll have to pay a higher interest rate to get it. In other words, it pays to check your credit report and get any inaccuracies taken care of.
Among the errors that can be addressed with credit repair agencies:
Accounts that do not belong to you

Bankruptcy or other legal actions that were not yours (or that can't be proved)

Misspellings (may bring in negative entries for someone with a similar name, or may mean positive entries for you are not showing up)

Incorrect dates

Debts that can't be validated and verified

Debts that should have aged off of your report
While you may not think these errors occur often, you'd likely be surprised at how frequently errors occur in credit reports. Take a look at the data below:
Percent of credit reports that contain errors for members and non-members between 2014-2017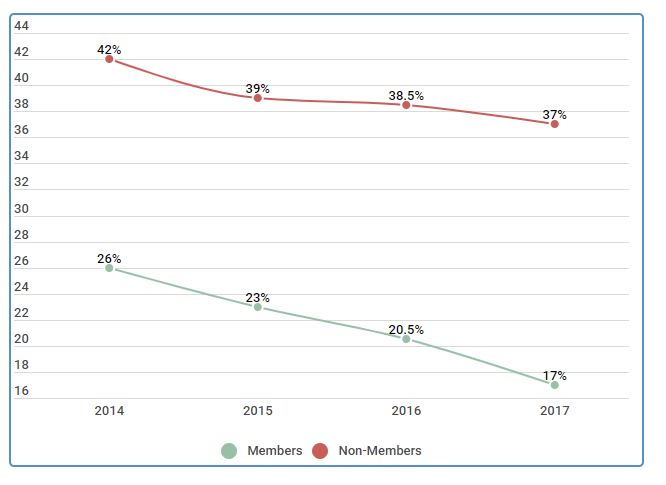 | Found Inaccuracies on Credit Report | Members | Non-Members |
| --- | --- | --- |
| 2014 | 26% | 42% |
| 2015 | 23% | 39% |
| 2016 | 20.5% | 38.5% |
| 2017 | 17% | 37% |
Source: Survey of 500 members and non-members who check their credit reports yearly. Survey was done in December annually.
While the number of consumers finding errors on their credit reports has been steadily declining since 2014 (for both Credit Sesame members and non-members), there are still a significant number of reports that contain inaccurate information.
If you decide to seek the services of a credit repair agency, you'll want to do your due diligence to make sure you are working with a reputable company.
How to choose a reputable repair company
Hiring an agency to help in repairing your credit isn't as simple as outsourcing other household services, which can be accomplished by picking a name from a list in an online search. While there are many legitimate companies out there, this particular industry is full of scams and fly-by-night companies looking to make a quick dollar.
If you choose to go with a credit repair agency, be sure to do your research on the company first. And keep in mind that a credit repair company does not have any rights that you don't in disputing inaccurate information found on your credit report.
Consumers who utilized credit repair services versus actively repairing themselves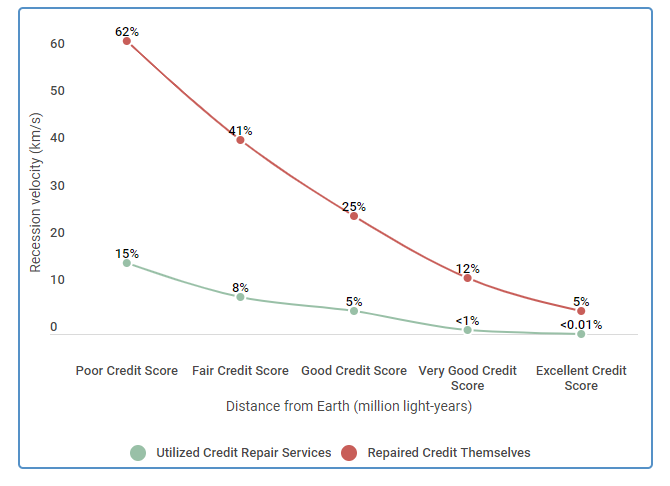 | Credit Ranking | Utilized Credit Repair Services | Repaired Credit Themselves |
| --- | --- | --- |
| Poor Credit Score | 15% | 62% |
| Fair Credit Score | 8% | 41% |
| Good Credit Score | 5% | 25% |
| Very Good Credit Score | <1% | 12% |
| Excellent Credit Score | <0.01% | 5% |
Source: Survey of 1500 members who's credit rose by greater than 15 points between 3/1/2018 and 7/5/2018.
As you can see above, the number of consumers who chose to repair their credit themselves is higher than those who use credit repair services across the board, regardless of credit score range.
What to look for in a credit counseling agency
There are several things to look for when choosing a credit counseling agency. Consider the following:
Accreditations and certifications.

This is a great start to verifying that the agency you're working with is a reputable agency. Most legitimate credit repair agencies are nonprofit, so be wary of any companies that are for-profit and claim to be a credit counseling agency. Most nonprofit agencies are members of either the National Foundation for Credit Counseling or the Financial Counseling Association of America. Both of these groups have certain requirements and standards that ensure a certain level of education among their counselors.

Access.

Another thing to consider is how you'd like the agency to contact you — would you prefer to receive services over the phone, in person, or online? While many agencies are accredited in all 50 states to provide services over the phone, many only offer in person counseling in select locations.
We spoke to Credit Sesame member, Tina, earlier this year to find out how she was able to raise her score more than 50 points in less than 1 year by working with a credit repair agency. Here's what she had to say.
Why Tina used a Credit Repair Agency and her experience
Member Since: 7/16/2018

We interviewed Tina on October 2, 2018; she earns $47,000 a year as a paralegal, is 31 years old and lives in Mobile, Ala. She lives with her boyfriend of 12 years, and they have no children.
Q
You mentioned that you improved your credit score by using a credit repair agency. Why did you choose to go with a credit repair agency?

A
My boss is a very high-paced attorney and I didn't have a lot of time to dig into my credit score or credit report. There were weeks that I was only home long enough to sleep and then I was back at work for big cases. I figured that my credit score and credit report were great since we did everything right. We went to buy a new car and that was when I realized that my credit score was really bad. When I got my free credit report I noticed a lot of errors and information that didn't belong to me. I didn't know what to do.

Q
How did you choose your agency?

A
I work in the downtown area so I see a couple of signs when I come into work. One morning I remembered to get down the name and then I did a BBB search to make sure that they were credible and did not have a lot of negative feedback. The priced looked good so I decided to spend the money.

Q
Would you have done anything differently if you could do it again?

A
While they did do what they advertised, it cost what turned out to be a lot of money. Looking back on it, all the stuff they did, anyone could have done easily and for free. In fact right after I joined Credit Sesame I realized that they give you the information on exactly how to fix your Credit Report, without spending a lot of money. I am upset that I spent that money for someone to do what I could have done in my spare time. From now on I know that I can check my credit score online and can get a free credit report yearly.

Benefits of credit repair services
While you will end up paying, on average, somewhere between $60 and $100 per month for credit counseling services, these services can sometimes end up paying for themselves — and then some. Utilizing a legitimate credit counseling or repair agency can help you to greatly improve your score, which can save you thousands of dollars.
Your credit score has an impact on nearly every aspect of your life, from the interest rate on your credit cards to whether or not you can get a loan to buy a new car. It is always in your best interest to do whatever you need to do to maintain the best credit score possible.
Conclusion & summary
Credit counseling or repair services may be right for you if you are struggling to pay off your debt or if you need to improve your credit score quickly. However, it is important to know that these credit repair agencies don't have any rights that you don't have — in other words, you can do the very same things they do to help repair your own credit.
If you have negative marks on your credit report, unfortunately they will remain there for 7-10 years. This helps give lenders a clearer picture of your credit history. However, while you can't change the past, you can certainly demonstrate good credit habits moving forward by paying all of your bills on time and as agreed. As you build your positive credit history, your credit score will also improve over time.