When 47-year-old Princess of Evans, Georgia, signed up for Credit Sesame early this year, her credit score was 585. Here's how she raised it 70 points to 655 in just six months:
Step 1: Face your credit
Princess was ashamed about her poor credit. She avoided applying for certain jobs for fear that she would automatically be disqualified because of it.
You've got to face your credit situation before you can improve it.
Step 2: Pay off collections
Princess had four debts in collections, ranging from $50 to over $600. She contacted the collection agencies and made arrangements to pay them off in full.
She paid off three and is close to paying off the last debt.
How did she do it?
To figure out how to pay off delinquent debts, Princess:
Located the names of the collection agencies on her Credit Sesame member dashboard
Found and contacted each agency online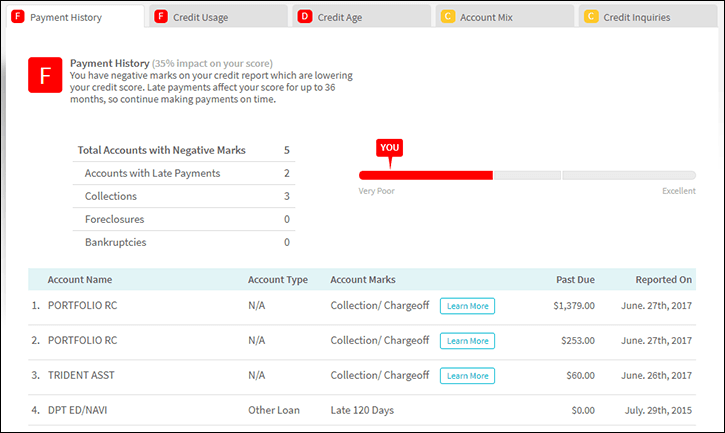 After she paid off each debt, she checked her credit report card about a month later to make sure the debt was gone.
See: Helpful Resources to Mail or File Disputes in the Credit Sesame Guide to Fixing Your Credit.
Step 3: Lower your credit utilization ratio
Your credit utilization ratio is the amount of revolving debt you have divided by your credit limits. It is calculated for each card and overall. For a healthy score, this number should be under 30 percent, and as close to zero as possible.
Princess brought down her credit utilization ratio down from 70 percent to just 13 percent.
How did she do it?
Princess made weekly payments against her debt.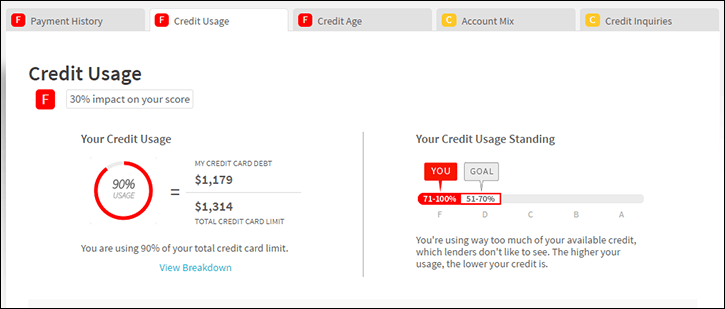 She also opened several new credit card accounts. That may seem counterintuitive, but even people with poor credit can get secured cards. A card with available credit but no balance brings your utilization ratio down.
Princess chose cards by checking Credit Sesame's personalized credit card recommendations.

Find money-saving offers tailored to your credit profile on Credit Sesame.
Step 4: Continue to pay down debt
Princess sets aside money from every paycheck to apply toward debt.
You don't have to be wealthy to pay off debt. Princess committed to weekly $25 payments on each of her three credit cards with balances.
Weekly payments help her credit and finances in a few ways:
She'll pay off her credit card debt faster
She'll save on interest charges
Each payment brings her utilization ratio down more
Paying above the minimum looks great to underwriters when it comes time to apply for a loan
Step 5: Get educated
Princess learned a tremendous amount about credit through her Credit Sesame membership and all the tools on her member dashboard. She now has a solid understanding of credit basics.
Ironically, Princess works as a lead generator for a credit repair company, but it wasn't until she became a Credit Sesame member that she really learned how credit works and what you can do about it. Her Credit Sesame education has helped her succeed at work.
"I stopped treating people as a 'potential' and more as a person. I started caring for them," she explains. "I'm now more informative at what I do. Credit Sesame helped me with that."
Sign up for free email alerts, credit improvement tips and monthly score updates on Credit Sesame.
Step 6: Monitor your credit
Princess regularly monitors her credit. She logs into her account frequently to check for errors or suspicious activity. She enjoys evaluating the money-saving offers and watching her score go up.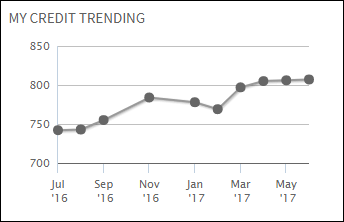 Step 7: Focus on a goal
Princess would like to purchase a home for herself and her daughter. She has her sights set on a score high enough to take advantage of the most favorable interest rates and terms on a $200,000 mortgage.
"It's inspiring to know that I'm halfway to reaching my credit score goal," says Princess.
Princess's tips for rebuilding your credit:
Face your credit situation head-on without shame
Pay off collections as soon as possible
Lower your credit utilization ratio
"Signing up for Credit Sesame has taught me so much and helped me get back on track," says Princess. "It's wonderful how much Credit Sesame really changed my perspective on credit. I now know not to let credit control me, but how to control my credit instead."