Credit Sesame's Personal Credit and Finance Survey May 2022 indicates that working Americans worrying about money frequently has more than doubled (13% to 31%) over all income levels during the last 12 months.
According to the Bureau of Labor Statistics, the average annual wage in the United States is $58,260. The number of surveyed working Americans in the middle income range $50,000 to $75,000 with money worries has quadrupled from 2021 to 2022 (7% to 31%).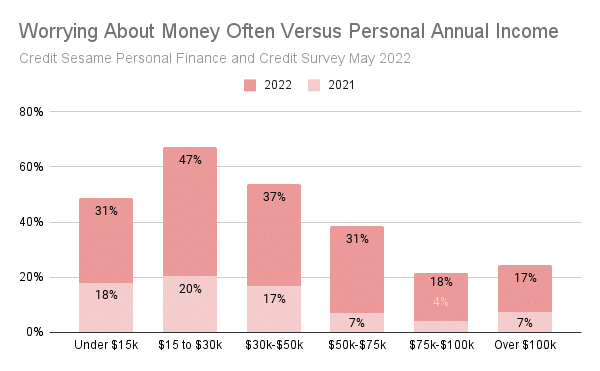 Why are working Americans worrying more about money, especially middle-income earners? Inflation is the likely answer.
Income and inflation
The annual inflation rate in May 2022 was 8.6%, its highest level since 1981, as measured by the consumer price index, according to a report by the Bureau of Labor Statistics. The inflation rate is almost quadruple what most people are used to. From 1991 through 2019, year-over-year inflation averaged about 2.3% a month, and exceeded 5% only four times.
At least most people have jobs. The national unemployment rate was 14.7% in April 2020, but as of May 2022 it has fallen to 3.6%, the BLS reports. 
Workers in the middle-income and the next salary band up earning $50,000 to $100,000 annually showed the biggest increase in worrying about money with more than four times as many worrying about money often in 2022 as 2021. At the upper and lower end of the income scale increased worrying doubled.
Inflation and small pay raises contribute to worrying about money
No matter how much money you earn, rising prices for gas, groceries, dining out, electricity, clothes, and just about everything else you buy are evident every time you make a purchase. If your pay raise isn't as high as inflation, then your money has less purchasing power and you're losing ground.
This can be tough on anyone, but middle-income people may be feeling it the most because they're not getting pay raises as much as other income groups.
Low income workers are hit the hardest when inflation rises, but they've also gotten the biggest bump in earnings, the Los Angeles Times reports. The hospitality and retail industries, for example, have given raises to many workers.
Middle-income households, however, aren't getting similar raises, the Times says. A 2% raise for a teacher doesn't make up for 8% inflation.
Inflation may also be a psychological barrier for the middle class. Consider grocery shopping, which is at least a weekly chore for most people and is something they see first-hand when prices change. Higher grocery prices can cause anyone to worry about their money.
But food accounts for only about 13% of a typical household's budget for goods and services, the Times says, based on the weight in calculating consumer price inflation. But grocery spending can have an outsize effect on how consumers feel about their finances and economic conditions generally.
And if all of that isn't enough to keep consumers up at night over their money problems, economists surveyed by The Wall Street Journal have raised the probability of recession at 44% in the next 12 months, according to a June 19 WSJ story. Such a high level is usually only seen on the brink of or during actual recessions.
High credit scores and worrying about money
Regardless of income bracket, even people with high credit scores worry about money often. In fact, in the lowest credit score bracket, there was no change in the number of people worrying often. In the next lowest (poor) credit score bracket, the number of people doubled, but still not as much as those in the higher credit ranges.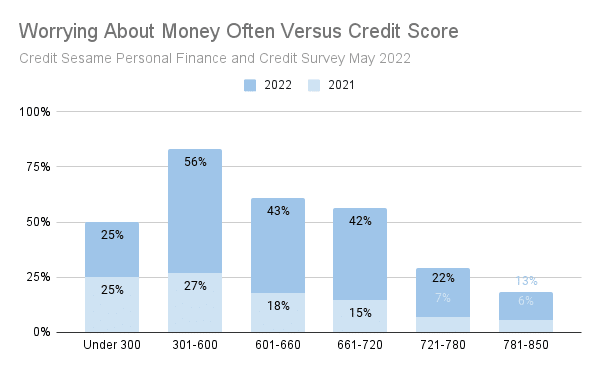 It is possible that people with low credit scores always have financial worries, so while inflation may be a factor, it is not causing additional worrying about money.
Higher prices affect everyone. High credit scorers may rely on credit cards to pay their monthly bills, and are essentially taking out a loan if they don't pay the balance off each month. They may not be living beyond their means, but higher prices may push their household budget over the brink and make credit card purchases more common. 
High credit scores aren't always tied to high incomes, though they can be perceived that way. If your credit score is high, you probably have good credit habits of paying your bills on time, having low debts, have a variety of credit accounts, and have a long credit history.
But high inflation, the possibility of losing your job if a recession happens, and a small raise, if any, at your job can cause even high-income families to worry their finances.
While people with high credit scores worried much more over the past year about money, those with poor credit scores of 301-600 worried the most in 2022, with 56% saying it was a worry for them often.
This may be because like those earning less than $50,000 annually, and especially those earning $35,000 or less, they have some of the worst money problems of any group. 
They may have a roof over their heads, but paying their regular bills can be a month-to-month worry. Deciding which bill you can't pay this month can of course be stressful, and could cause someone with poor credit to rely on credit cards or other high-interest credit options such as payday loans to get through the month.
You may also be interested in:
---
Disclaimer: The article and information provided here is for informational purposes only and is not intended as a substitute for professional advice.
---
Survey methodology
The Credit Sesame Personal Finance and Credit Survey 2022 was designed and executed by Credit Sesame using the Momentive Inc. survey tool. General population data was collected online May 20-21, 2022. The survey sample comprised 1,222 U.S. residents aged 18 to 99 years balanced for age and gender using U.S. Census data. The sample data is accurate to within + 2.88 percentage points using a 95% confidence level.