Credit Sesame discusses unemployment in November 2022 and historically.
On December 2, the Bureau of Labor Statistics announced that employment grew by 263,000 jobs in November. Fewer people without jobs can't be bad, right?
At 3.7%, unemployment is close to its fifty-year low. While job growth and low unemployment are positive developments, perhaps it is too much of a good thing for the economy.
There are pros and cons of today's high employment economy. There are also things workers should consider doing to get the best out of this environment.
Are we at full employment?
The pace of job growth has been slowing recently. One reason may be a shortage of qualified workers. Although economists talk about a concept called "full employment," there is an assumption that the United States can never reach a national unemployment rate of zero.
There are always going to be people who are between jobs. Some may not happen to live where the jobs are. Some occupations may require special skills that not just anyone can acquire. Some people are hard to employ in any capacity for a variety of reasons.
Assuming 0% unemployment is impossible, full employment is considered to be when the unemployment rate is as low as it can possibly be. Just how low can it go?
A look at history gives some idea of where the low and high extremes of unemployment have been in the past. The Bureau of Labor Statistics has unemployment data going back to January of 1948. The chart shows the highs, lows and average for the unemployment rate since then compared to the unemployment rate in November.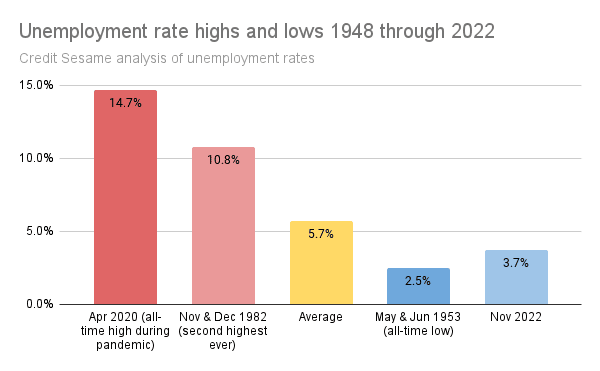 From January 1948 through November 2022, the average unemployment rate was 5.7%. The highest level of unemployment was reached in April of 2020, at 14.7%. However, this was due to pandemic shutdowns rather than purely economic reasons. Outside of the pandemic, the highest unemployment rate was 10.8% in November and December of 1982. The all-time low was during May and June 1953 (2.5%). At 3.7%, today's unemployment is well below the historical average. The unemployment rate has been lower for only six of the last 75 years. So, while today's 3.7% may not be as low as the unemployment rate can go, it seems to be getting pretty close.
A shortage of workers can hurt the economy
Having enough jobs to go around is generally good. However, reaching the point where there are more jobs than qualified people to fill them can hurt the economy. According to the Bureau of Labor Statistics, for much of 2022, there have been about two job openings for every person looking for work.
When jobs go unfilled, it hampers growth. Companies cannot do as much business as they could with a larger workforce. Consumers can't always find the goods and services they want.
Those shortages also fuel inflation. As 2022 has demonstrated, that is a problem for everybody.
This is an opportunity for many … but not for all
For some, the inflation problem is offset by the career opportunities created by strong labor demand. This is more true in some areas than others. However, there are significant geographical differences in unemployment rates.
In 18 U.S. cities, the unemployment rate is 2% or less. That gives workers in those areas a lot of bargaining power. They can negotiate larger raises from their employers or find more rewarding work elsewhere.
The flip side of this is that there are American communities that are not enjoying a jobs boom. There are 11 metropolitan areas where the unemployment rate today is higher than the historical average of 5.7%. The worst problem is in Yuma, Arizona, where the unemployment rate is 17.9%.
Job availability also depends on what you do for a living. In sectors like information, finance, education and health services, and government work the unemployment rate is 2.1% or lower. In these sectors, workers are in high demand and should be able to command better wage increases.
In contrast, the unemployment rate for workers in agriculture and leisure and hospitality is still above 5%. These workers are more than twice as likely to be out of a job than those in the low-unemployment sectors. Those who are working already have less bargaining power.
How to change your luck
Today's low unemployment is a mixture of problems and blessings. It's certainly good for workers who are participating in the boom. The best advice for these employees is:
Make the most of your opportunities for wage increases
Build savings while times are good
Use this time to pay off debt and improve your credit
The downside of low unemployment is that it slows growth for some businesses, and contributes to inflation generally.
The worst thing about that is that while these problems affect the whole country to some degree, not everybody gets to participate in the employment boom. People in depressed geographic regions or out-of-favor lines of work are not getting the same opportunities.
For those workers, the following are possible ways to change their luck:
Consider relocating to areas where unemployment is lower
Pursue training in new skills for in-demand occupations
You may also be interested in:
---
Disclaimer: The article and information provided here is for informational purposes only and is not intended as a substitute for professional advice.