Your credit score tells lenders how responsibly you use credit. If your score is on the low side, getting new credit or the best rates may be an uphill climb.
There's no better time than now to get a head start on next year's resolutions, especially if achieving a better credit score is one of them. Credit Sesame offers several tools that can help you make a positive difference in your score before the year is out.
Learn how to read your credit report card
One of the perks of a free Credit Sesame account is access to a customized dashboard that includes a snapshot of your credit and debt. When you log in, you can view your credit report summary, which assigns letter grades to five key factors:
Payment history
Credit usage
Credit age
Account mix
Credit inquiries
Here's a peek at my credit report card. I have a "B" in Credit Usage. Look at your credit report card to see what you're doing right and what you need to work on.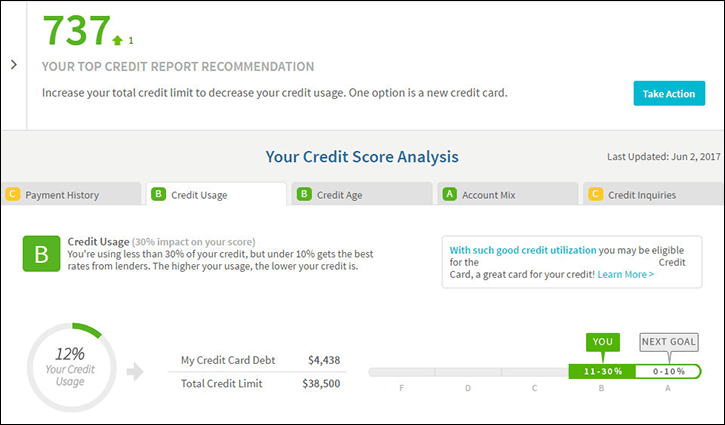 As you can see, I'm doing pretty well when it comes to credit usage, credit age and account mix but my payment history and the number of inquiries showing up on my credit report have room for improvement.
My credit report card gives me a blueprint for the next step, which is to create a plan to address the issues holding my score down.
Target your trouble spots
If you're determined to improve your credit score by New Year's Eve, you need an action plan for making it happen.
For example, if your grade is poor in the payment history category, pay all your bills on time going forward. My score was dinged a couple of years ago because I consolidated my student loans and missed a payment as my debt was being transferred over to the new lender.
An easy way to stay on top of your bills is by scheduling automatic payments from your checking account each month. If you can't do that for all your bills, or you'd rather pay them manually, use a bill pay app or set up payment reminders.
Payment history is the most influential factor affecting your credit score.
If your credit usage is high, then the next task on the list is to work on paying down those balances. That may take time but there's another way to improve your utilization ratio, and you can use your Credit Sesame member dashboard to take the first step.
Your credit usage is the amount you owe compared to your credit limits. If you owe $900 on a $1,000 credit card, your utilization ratio is 90%. For a top credit score, it needs to be under 7%. For a good credit score, bring it down to 30% or lower.
If you open a new revolving credit account but don't use it (make a charge every month to keep the account active, and pay it off completely), your overall credit usage will go down because your overall credit limit has gone up. If you owe $900 and you have two credit cards with $1,000 limits, your credit usage is only 45% and that's a huge improvement.
Credit usage is the second most influential factor affecting your credit score.
Furthermore, you could save money on interest charges and pay that balance down even faster if you score an introductory zero percent balance transfer offer.
The only way this strategy works is by resisting the urge to run up a balance on the new card.
Check the My Recommendations tab in your dashboard to see what balance transfer credit cards you're most likely to qualify for, based on your credit profile.
Compare offers and fees carefully before you commit to a card. Some things to look for:
No annual fee, at least the first year
Low or no balance transfer fee
Long interest-free period
If you do get approved for a new card, don't max it out with the balance transfer. To keep the credit usage on each card low, spread the total balance out.
If you don't want to transfer a balance or you don't have any recommendations for balance transfer cards, request a credit limit increase on your existing cards. I did this earlier this year. I reviewed the credit limits for each of my credit card accounts and chose two to approach for a higher credit line. After I made my request, both card issuers bumped up my limit.
The following month my credit score increased by six points.
One thing to note: requesting a credit line increase is likely to trigger a hard inquiry on your credit.
Track your credit score alerts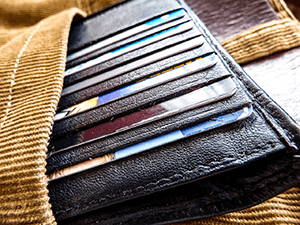 When you join Credit Sesame, you automatically get free monthly credit monitoring. Any time your credit score changes, you'll receive an alert letting you know that something's different.
For example, I recently got an alert me that one of my credit card accounts had been closed. It was a card I hadn't used in years, so I wasn't too upset. But it did cause my score to go down by five points because it affected my credit utilization. Knowing that my score went down motivated me to bring it back up so I paid off a small balance I had on another card to try to even things out. I'm waiting to see whether that's going to pay off when my score is updated next month.
Credit Sesame helps you combat fraud
Another good reason to keep an eye on your credit score alerts is to spot potential fraud. Last year, I received a notification that my score had changed and when I logged in to my account, I saw that a card I never use had a $200 balance. It turns out that someone had managed to hack my card and take a $200 cash advance from an ATM in another state.
The charges were small enough that the bank didn't red flag them. Since I don't log in to that card's online account regularly, I may not have noticed until the identity thief had run up a huge balance, or until I had enough missed payments to trigger communication from the card issuer. Because I paid attention to the Credit Sesame alert, I was able to head off more fraud and any serious damage to my credit.
If you haven't signed up for a free Credit Sesame account yet, you've still got time to get your credit score on track before the year is out. Reviewing your credit report card, checking your recommendations and monitoring your credit alerts are all low-stress ways to work towards a better score in just a few months.