Credit Sesame discusses whether banks are taking unfair advantage of rising interest rates.
Interest rate are rising this year. What people aren't talking about is a notable exception to that trend.
While interest rates that consumers pay for credit cards, mortgages, and car loans are all clearly higher than they were when the year began, the rates they earn on their savings accounts have barely budged.
In other words, banks are getting the best of both worlds. They are charging lots more interest for the money they lend out, without paying much more on the money deposited with them.
You may be asking yourself: is that fair? You should also be asking yourself what you should do about it.
Rising interest rates in 2022
Generally speaking, the trend for rising interest rates this year has widespread. Here are some prominent examples: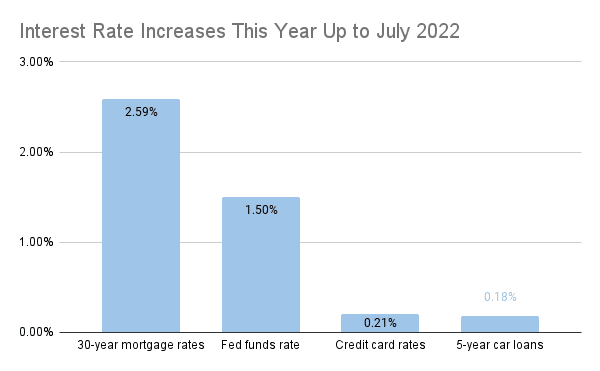 A reason why rates on credit cards and car loans show smaller increases than those for the Fed funds rate and 30-year mortgage rates is that the most recent credit card and car loan figures are from May – before the Fed's 75-basis point rate increase in June.
Savings accounts are lagging far behind
While interest rates generally are significantly higher this year, there's a notable exception. As you can see from the chart below, compared to other rates the average interest banks pay on savings accounts has hardly changed at all:
The lack of movement in savings account rates is especially irksome when you think about why interest rates have been rising this year. The underlying reason is the surge of inflation.
While savings account rates are paying just 0.10%, inflation over the past year has been 9.1%. And yet, banks seem in no hurry to adjust savings rates for the high inflation environment.
People put their money in savings accounts to keep it safe. Under current conditions though, that money is losing purchasing power and an increasingly rapid rate.
Is what banks are doing fair?
What banks are doing is taking care of themselves first. They are acting quickly to make sure the rising interest rates they charge are keeping up with the times.
However, they are under no obligation to take care of making sure savings account rates adjust equally quickly. So, when banks raise the rates they charge far ahead of the rates they pay customers, it's somewhat understandable.
Banks are within their rights to act this way, just as many businesses raise prices immediately in response to inflation, even though they may have bought their inventory some time before at lower prices.
Ultimately, informed consumers are what keep any business honest. For years, customers have put up with huge differences in the rates banks pay on savings accounts.
The fact that the largest banks often pay some of the lowest rates shows that consumers haven't made it enough of an issue. Perhaps now that the rates their savings are earning are falling far behind inflation consumers will be more choosy about their savings accounts.
What can you do about it?
The silver lining in all this is that the financial sector offers many choices. There are over 4,700 FDIC-member banks, and that doesn't include NCUA-member credit unions. In short, there are plenty of places to find federally insured savings accounts.
Here are some things you can do to take advantage of all the choices in financial service providers, instead of letting those institutions take advantage of you:
Compare credit card and loan rates. People are paying more to borrow money these days, but not every credit card company or lender's rates have gone up by the same amount. This is a good time to take a fresh look at who has the best deal on credit products.
Shop around for a better savings account. With thousands of savings accounts to choose from, chances are there's one out there offering a better rate than your bank. This is especially true because the banks with the most customers often have the lowest savings account rates.
Make the switch to online savings. Online savings accounts offer two advantages over traditional, branch-based banking. First, the ability to bank online gives you access to many more choices than limiting yourself to local branches. Second, online savings accounts typically offer higher rates than branch-based accounts.
Use your credit card for convenience, not for borrowing. Credit cards work best when you use them as a convenient substitute for cash, but pay off your balance in full each month. They become very expensive when you use them for long-term borrowing. Credit card rates are higher than most loan rates, and they're getting even higher under current conditions.
Work on improving your credit score. People with better credit scores pay less for credit cards and loans. So, while interest rates are generally moving higher, improving your credit score could push yours in the other direction.
Move some savings into CDs. Unless you plan on using your savings in the near future, you could earn more by shifting some of that money into a CD. This means locking up your money for a specific period, but that can be worth it if you won't need the money during that time anyway. CD rates are usually higher than savings account rates, but the gap has been getting wider lately. The average 5-year CD paid 0.22% more than the average savings account when the year began. Now that gap has more than doubled, to 0.47%.
Whether you are paying interest on loans or credit cards or earning interest on a savings account, rising interest rate trends aren't always going to go in your favor. However, by being an informed consumer you can always make choices that nudge those trends a little more in your favor.
You may also be interested in:
---
Disclaimer: The article and information provided here is for informational purposes only and is not intended as a substitute for professional advice.