Credit Sesame discusses resetting your budget for inflation.
The evidence is unavoidable. It's seen every week at the gas pump and the grocery store. It's especially shocking when you're shelling out for something big like a car, a trip or home improvements. Inflation has seemingly come out of nowhere, and now it's all but inescapable. To prevent long-term damage to your finances, you need to reset your budget to at least dampen the impact of inflation.
Even if you can afford constantly-rising prices, simply paying more and more each work could put your long-term plans behind schedule. It might even scuttle them forever. Worse, if you're one of the many consumers who had little budget leeway to begin with, you need to rethink your budget so inflation does not put you increasingly deeper into debt.
Inflation's impact on consumers
If inflation has taken you by surprise, there's a good reason for that. The economy has gone from several years of very low inflation to a period of extremely high inflation.
Based on data from the Bureau of Labor Statistics, Credit Sesame calculated how the inflation rate since the start of 2021 compares with inflation for the ten years prior to that: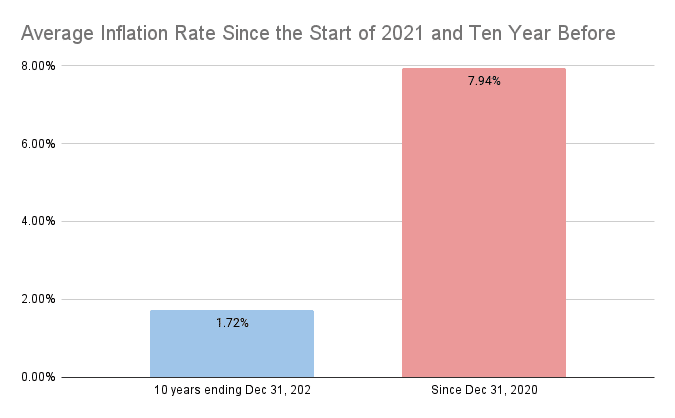 Up until the end of 2020, Americans got used to a period in which inflation averaged just 1.72% a year for ten years. That's well below the long-term historical rate of inflation.
Since the beginning of 2021 though, inflation has been much worse. It has surged to an average annual rate of 7.94%.
What makes inflation's impact even harder on some consumers is that it raises some prices a lot more than others.
For example, for the year ending May 31, 2022 overall inflation was up 8.6%. That's bad enough, but for the same period fuel oil was up 106.7%. Gasoline was up 48.7%.
So, depending on how you heat your home or how much you travel for work, you may have seen costs really go through the roof over the past year.
Consumers had little cushion for large price rises
Price increases are pushing consumers to the edge because they didn't have much room in their budgets to begin with.
A recent Credit Sesame survey found that the number of people spending at least 90% of each paycheck has doubled in the past year: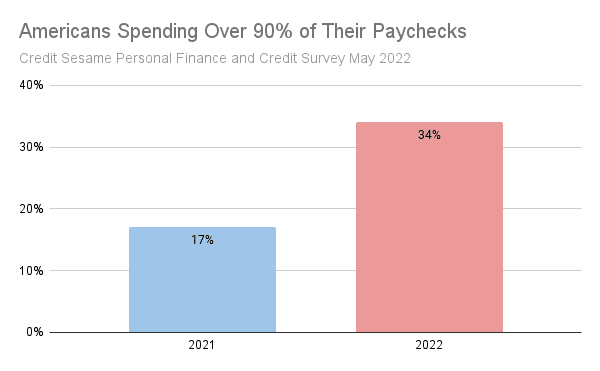 When rising prices push people's spending beyond what they earn, they often turn to debt to make up the difference.
The same Credit Sesame survey found that credit cards have passed debit cards as the primary method of payment over the past year. More people have maxed out their credit limits or are getting close to maxing out those limits this year.
Overreliance on credit only makes the problem worse. When you borrow money you add interest charges to the cost of your spending. This is especially true when you carry a credit card balance, because credit cards are a very expensive way to borrow.
Resetting your budget for inflation based on income, not costs
From week to week, it's natural to continue to buy the same things even as you keep paying more and more for them. At some point though, something's got to change. You need to consider resetting your budget for inflation.
Unless you're going to allow yourself to get deeper and deeper in debt, your budget needs to be based on your income, not on what things cost.
This is where budgeting comes in. Start with a budget that's based on what you can afford to spend. Then list all the things you're likely to spend money on.
Now for the tough part. Prioritize the list from most to least essential. Put a dollar figure next to each item based on up-to-date prices.
Create a running total of all these costs, starting from the top of the list. When that total reaches the amount of your budget, stop. Draw a line through the list at that point. Anything below that line has to be cut from the list, or at least put off until later.
It hurts to cut back on the number of things you buy or do. However, if you don't live within your budget the cost of borrowing will ultimately crowd out even more spending. That will just make those choices even tougher.
Make sure retirement saving doesn't get crowded out
Speaking of things getting crowded out of your budget, in times of rising prices it's important to guard against saving for the future being one of the things that gets crossed off your budget.
Already, the Credit Sesame survey found that the percentage of Americans who save regularly has dropped by just over 10% during the past year: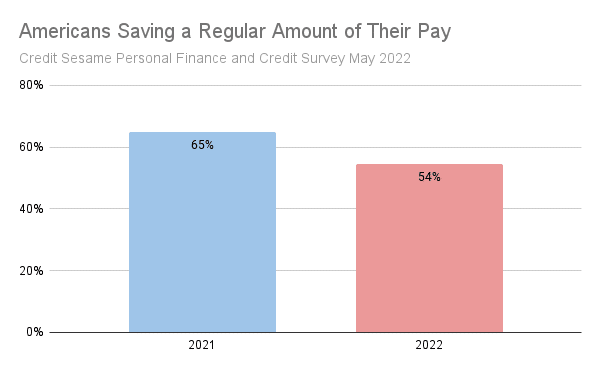 The temptation to skip saving for the future in favor of immediate needs is understandable when prices are rising. However, it's important to fight that temptation.
Retirement planning is based in part on assumptions about how much money you'll need when you retire. The higher the inflation rate, the more money you'll need. That means saving more now, not less.
Also, if you participate in a retirement plan there may be other costs to cutting back on saving. You'll miss out on the tax benefits of retirement plans. Worse, if your employer matches part of your retirement savings, you'd be leaving money on the table if you don't save enough to get the maximum match available.
Get the most out of the tight labor market
As noted previously, even in a high-inflation environment your budget should be based on your income, not rising costs.
There are things you can do to help your income keep up with inflation. One cause of the recent surge in pricing is strong demand for labor. That makes this a good time to seek a pay raise.
Don't give ultimatums, but go into your next pay review loaded with facts about how you add value to the company. Use this to get more than just a routine pay bump. Also inquire about promotion opportunities.
If you can't get satisfaction from your current employer, take a look at the job market to see if there are better opportunities out there. Don't do anything rash like quitting without having another job lined up, but look around to see if you're getting paid what you're worth in today's job market.
Again, demand for labor is one of the few bright spots of the inflationary environment. It might not last, so make the most of it while you can.
You may also be interested in:
---
Disclaimer: The article and information provided here is for informational purposes only and is not intended as a substitute for professional advice.
---
Survey methodology
The Credit Sesame Personal Finance and Credit Survey 2022 was designed and executed by Credit Sesame using the Momentive Inc. survey tool. General population data was collected online May 20-21, 2022. The survey sample comprised 1,222 U.S. residents aged 18 to 99 years balanced for age and gender using U.S. Census data. The sample data is accurate to within + 2.88 percentage points using a 95% confidence level.