Credit Sesame examines which types of spending should and should not be delayed in response to high inflation.
Current high inflation is affecting just about everything consumers buy. Some people are changing their spending habits as a result, but not always in the right ways.
The highest inflation in over 40 years is scary. But you shouldn't let it scare you off certain purchases. As prices rise, there can be a cost to delaying some types of spending.
High inflation is causing sticker shock everywhere
According to the Bureau of Labor Statistics, the Consumer Price Index has risen by more than 11% since the beginning of 2021. That means that a dollar today buys just 90 cents worth of the goods it could have bought at the start of last year.
Fuel oil has led the trend by more than doubling in price over the past twelve months. However, steep price increases have been seen across a wide spectrum of different necessities:
Gasoline prices are up 48.7% over the past year
New vehicle prices are up 12.6% and used vehicle prices are up 16.1%
Food prices are up 10.1%
Paychecks are not keeping up with rising prices
Most people are finding their incomes can't keep up with such sharp price increases. A recent Credit Sesame survey found that most respondents (56%) did not get a pay raise at all over the past year. Only 7% got a pay raise big enough to keep up with inflation: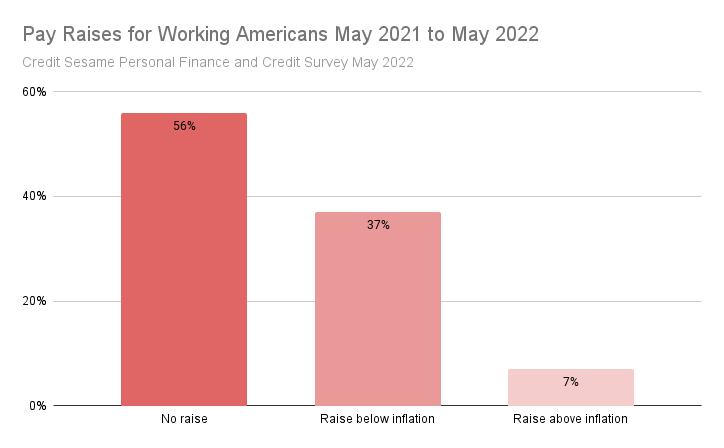 When prices rise faster than incomes, it squeezes consumers' budgets. The Credit Sesame survey found that the percentage of people spending 90% or more of their paychecks each week has doubled in the past year: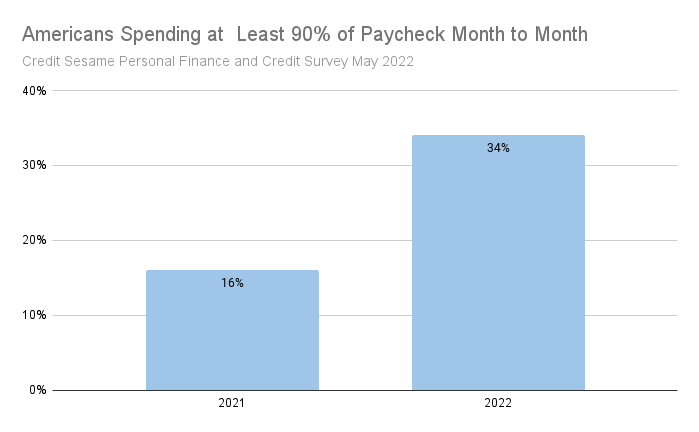 Survey finds some delaying major expenses
When there's little or no room to spare in the household budget, it forces consumers to make some hard choices. One of the choices consumers are being forced to make is to delay some major expenses. The Credit Sesame survey found significant numbers of consumers have responded to rising prices by putting off big expenditures.  Here are some examples: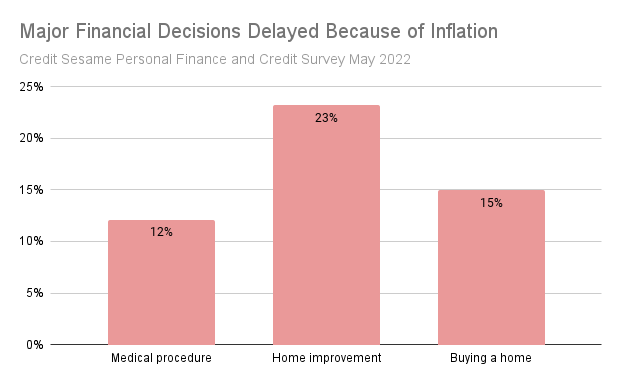 In many cases, refraining from spending is a prudent thing to do when money is tight. The survey also found that large portions of Americans are travelling less and eating out less in response to economic conditions. Those are examples of optional expenses. Passing up some of that spending is a sensible way to find room in your budget for higher priorities.
However, not all expenses are the same. In some cases, putting off a financial decision can cost you more in the long run.
Why delays can sometimes backfire
Taking a closer look at the three types of delayed expenses from the previous chart, it becomes clear how putting off certain decisions may not be the most prudent decision:
12.11% of survey respondents say they've delayed a medical procedure over the past year. Medical bills can be scary, but as you've probably noticed the cost of healthcare isn't getting any cheaper. Besides the suffering that may be involved, delaying a medical procedure could cause the condition to worsen. That may require an even more costly treatment in the long run.
23.23% of respondents say they've delayed home improvements. Some projects are more urgent than others, but be advised that construction costs are rising sharply. According to the Bureau of Labor Statistics, the cost of private construction projects is up 20.5% over the past year. So, your project is likely to get even more expensive if you wait.
14.99% of respondents say they've delayed buying a home. You should buy a home only if you're confident you can afford it. However, don't expect it to become more affordable anytime soon. Besides the fact that home prices tend to rise over time, mortgage rates are also rising now. On top of that, if you're paying rent in the meantime that might also be subject to increases that take up more and more of your budget.
The point is, there are choices to be made about which expenses to avoid when times are tight. Passing on a vacation or a dinner out truly saves money. However, delaying necessities or high priorities may prove more costly than taking the plunge now.
The wrong people may be worrying most about inflation
High inflation seems to be causing people to worry more about inflation. The survey found that the percentage of people who say they are often kept awake worrying about money has more than doubled over the past year, from 12% to 30%.
Given the rapid pace of price increases, the elevated stress level is somewhat understandable. What's interesting, though, is that some of the wrong people seem to be worrying most about inflation.
The percentage of survey respondents n the 721 to 850 who say they're kept awake worrying about money often nearly tripled over the past year, from 6% to 17%.
While inflation is a problem for just about everyone, people with strong credit are in pretty good shape to face it. High credit scores suggest they've been able to keep up with their bills. Those high scores also help qualify them for lower interest rates should they need to borrow.
Regardless of income or credit score, the best solution is to prioritize expenses, shop around for better deals and reduce borrowing so you're less exposed to rising interest rates.
In short, take positive action and chances are you'll sleep better.
---
Disclaimer: The article and information provided here is for informational purposes only and is not intended as a substitute for professional advice.
---
Survey methodology
The Credit Sesame Personal Finance and Credit Survey May 2022 was designed and executed by Credit Sesame using the Momentive Inc. survey tool. General population data was collected online May 20-21, 2022. The survey sample comprised 1,222 U.S. residents aged 18 to 99 years balanced for age and gender using U.S. Census data. The sample data is accurate to within +/- 2.888 percentage points using a 95% confidence level.