Credit Sesame's looks at the inflation and healthcare and changes over the last year.
The consequences of rising inflation are evident everywhere and consumers have experienced price increases across the board from daycare to utilities and everything in between. This is no surprise. It is easy to understand that managing finances has become more of a challenge for many people.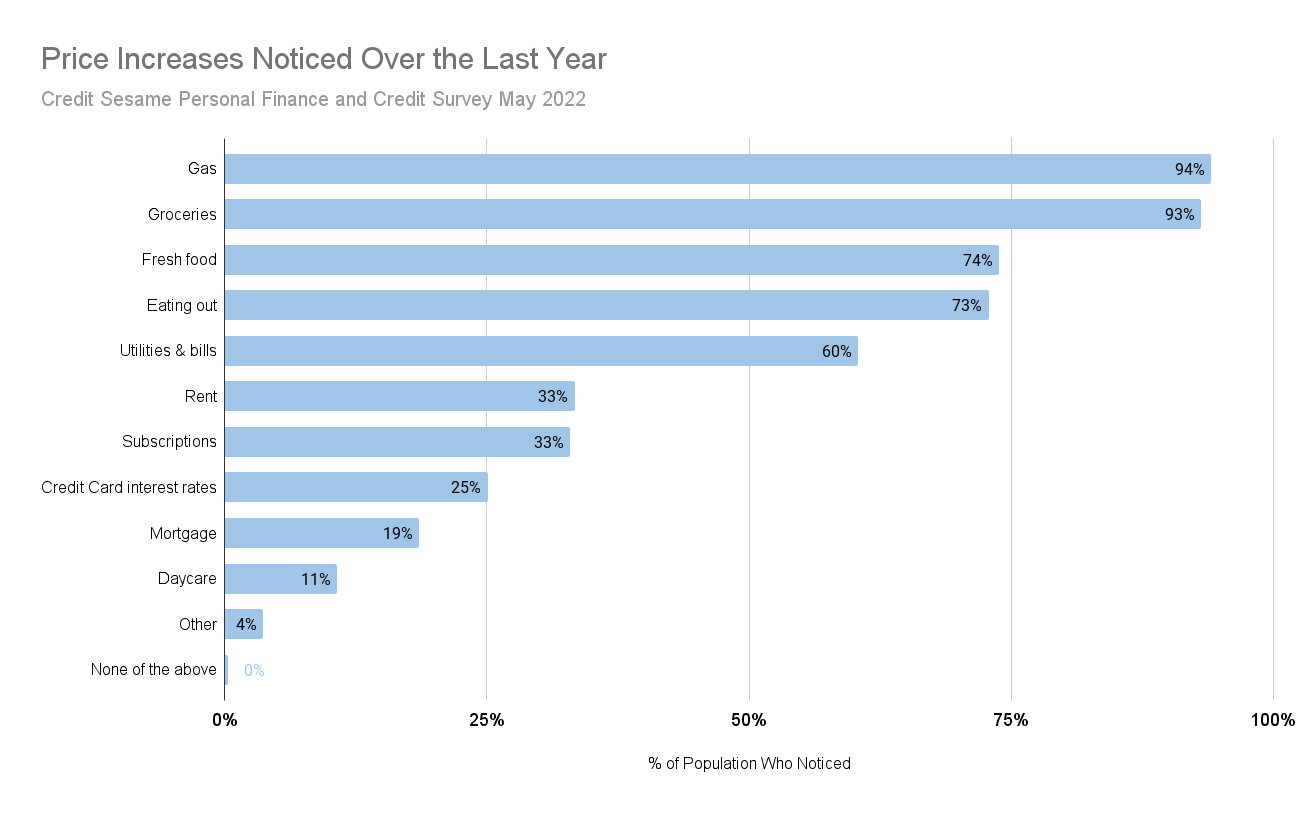 What do consumers do when prices increase across the board? If the cost of feeding yourself and your family increases, there is a good chance that spending has to decrease elsewhere.  One of those places is healthcare.
Americans delay access to medical help due to rising inflation
Credit Sesame conducted a survey in May 2022 and found that 88% of consumers changed purchasing habits over the last year. Most spending cuts were money-saving exercises and, while undesirable, should have no major affect on the physical health and wellbeing of consumers. However, several cost-cutting measures had significant impact on those affected. For example, delaying a house purchase, putting off a major life event such as getting marries, and delaying medical treatment. More than 12% of respondents indicated they had delayed a medical procedure because of price increases in other areas over the last year.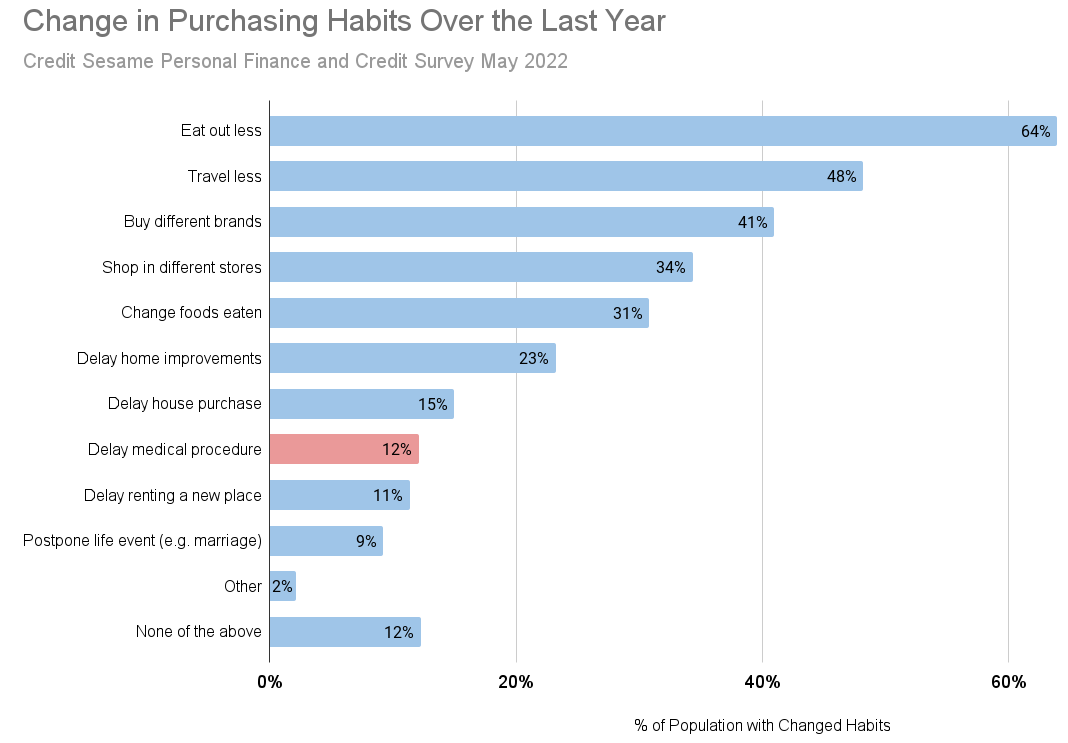 In fact, the Credit Sesame survey may only hint at the severity of the situation in the United States. A June 2022 report by the Kaiser Family Foundation indicates that 28% of people without existing healthcare debt put off healthcare in the last year. Among those with existing medical debt, a staggering 64% "put off or postponed getting health care they needed." Meanwhile, a whopping 61% of all respondents had resorted to at least one of six medical-debt avoidance tactics.
Relied on home remedies or over the counter drugs instead of going to see a doctor
Put off or postponed getting health care they needed
Not gotten a medical test or treatment that was recommended by a doctor
Not filled a prescription, cut pills in half, or skipped doses of a medicine
Purchased or attempted to purchase prescription medications from outside the United States
Traded, purchased, or accepted donations of leftover medications from another person
Source: KFF Health Care Debt Survey Feb. 25-Mar. 20, 2022
So, most Americans delay seeing a doctor or proceeding with a course of therapy because they fear medical debt.
Inflation and healthcare inflation
Many Americans are struggling to fill their car or supermarket trolley while keeping up with existing debts. In those circumstances, you simply don't have the disposable income to take on additional obligations in the form of medical bills. Even relatively affordable treatments are beyond the purses of many. On top of that, healthcare inflation adds to the distress of people in need of medical treatment.
Between May 2021 and May 2022, consumer prices rose 8.1%, according to the Bureau of Labor Statistics consumer price index. CNBC reckons that's the sharpest rise since December 1981. In other words, rising inflation was last such a big problem more than 40 years ago.
When global management consultants McKinsey & Company took a look at healthcare inflation in February 2022, it concluded that "Consumer prices are rising fast, and healthcare isn't far behind." It seems medical costs haven't risen quite as quickly as general consumer inflation.
That's a bit of a surprise because, over recent decades, medical costs have been setting the pace, as McKinsey Insights confirms:
Over the last 30 years, consumer prices have rarely risen faster than healthcare inflation, from doctor visits to surgeries and prescription drugs. In fact, the inverse has typically been the case, particularly during economic downturns: after the 2008 financial crisis, for example, overall inflation slowed to almost nothing while medical prices continued to grow at a 2 to 3 percent rate.
Rising inflation and lagging incomes
Rising consumer prices are far outstripping income increases. Credit Sesame's May survey found that nearly half of the American workforce had no change in their pay  over the last year. A further 8% suffered a pay cut. Only 7% of working Americans enjoyed a salary increase that exceeded inflation.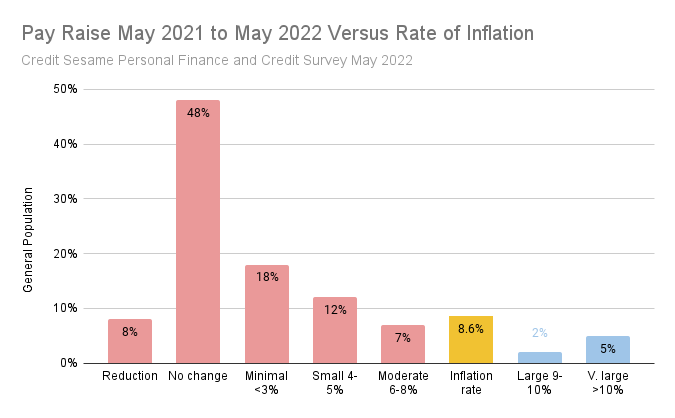 Back in the 1970s, inflation was "sticky." That means companies built in price rises, and employees demanded similar pay raises automatically in their annual plans. The country was in a wage/price inflation spiral.
This time around there is no such spiral. Americans who had no pay raise in the last year are dealing with significant real reductions in the purchasing power of their incomes.
For low income Americans or Americans who spent more than 90% of their income in 2021, their disposable income is spiralling downwards.  For many, as the Credit Sesame and the Kaiser Family Foundation studies showed, healthcare has become an unaffordable luxury.
How long will rising inflation last?
The late Harvard economist John Kenneth Galbraith once wrote, "The only function of economic forecasting is to make astrology look respectable." Roughly translated, that means it is difficult to forecast economic behavior.
At the time of writing this article, in June 2022, the Federal Reserve had started to tackle rising inflation. It was doing so by the serial hiking of its own rate (which affects most other interest rates) and the running down of the assets on its balance sheet. Some economists question how effective that will be.
Trade disruptions have caused most of the inflation over the last few years. The pandemic broke many fragile supply chains, leaving more money chasing fewer goods. And Russia's war on Ukraine then pushed up prices of many commodities, including oil. The hope is that monetary policy (rate and asset changes) will fix inflation. Few economists expect much relief in 2022. "Sometime in 2023" seems the consensus for when inflation might finally get back to normal.
In the meantime, rising inflation may continue to compromise the health of too many Americans.
Living with increased medical costs and debt
In April 2022, the White House announced new initiatives to ease the burden of medical costs. The administration plans to:
Hold medical providers and debt collectors accountable for harmful practices
Reduce the role that medical debt plays in determining whether Americans can access credit. This should open up new opportunities for people with medical debt to buy a home or get a small business loan
Help over half a million of low-income American veterans get their medical debt forgiven
Inform consumers of their rights.
In the meantime, there are ways to access healthcare when money is tight.
Community health centers
For example, the Healthcare.gov website says, "If you can't afford any health plan and don't qualify for coverage through Medicaid and the Children's Health Insurance Program (CHIP), you can get low-cost health care at a nearby community health center."
Not everyone's eligible. But you should see if you can enroll. Start by using the government's lookup tool, which will find centers close to you. Then ask the center or use the website whether you qualify.
Hill-Burton facilities
Some hospitals receive funds under the Hill-Burton program. Most states have at least one. In exchange for their funding, those hospitals promise to provide free or reduced-cost health care to people on low incomes.
Check this list to discover whether a hospital near you has subscribed to the program. Apply for help at the admissions or business office at your closest Hill-Burton facility.
Low-cost or free health insurance programs
WebMD suggests a number of ways to get low-cost and free health services and has a useful list of state and other organizations.
The first suggestion is to apply to your state's Marketplace for health cover. Most states have one but each state's program is different.
Minimize your medical debt by negotiating down your bills
CNBC suggests several ways to drive down bills you've received, including:
Request an itemized from your hospital or healthcare provider and check for errors. CNBC reports that one specialist company in this area "generally finds that 25% of the charges on the bills it has reviewed are not billable"
Make sure you're getting all the aid you're entitled to from the federal and state governments. You may be eligible for Medicaid or subsidized insurance.
Ask your healthcare provider's billing department to reduce your bill. On request and an explanation of why many will reduce costs. Ask to pay Medicare rates
Consult Healthcare Blue Book to make sure you've been charged roughly appropriate amounts for each procedure
Ask for a payment plan. You may be able to pay in affordable installments.
You may also be interested in:
---
Disclaimer: The article and information provided here is for informational purposes only and is not intended as a substitute for professional advice.
---
Survey methodology
The Credit Sesame Personal Finance and Credit Survey 2022 was designed and executed by Credit Sesame using the Momentive Inc. survey tool. General population data was collected online May 20-21, 2022. The survey sample comprised 1,222 U.S. residents aged 18 to 99 years balanced for age and gender using U.S. Census data. The sample data is accurate to within + 2.88 percentage points using a 95% confidence level.